The Dunehawk is Nissan's solution to matching full MPV versatility with the dynamic attributes of a genuine SUV. Combining eye-catching lines with thoughtful features and genuine practicality, Dunehawk paves the way for Nissan's 4x4 future. A tough, modern and innovative seven-seater SUV, it's large enough for the entire family and more than capable off-road, yet remains a strong and nimble performer on-road.
Dunehawk has genuine off-road ability thanks to its rugged chassis, ground clearance and advanced, electronically controlled ALL-Mode 4x4 system. It also has an exceptionally roomy interior full of useful features, making it perfect for active families who need a versatile car to fit in with their hobbies. Whether it's a family trip away sailing, mountain biking, horse riding or simply exploring, Dunehawk would make the ideal companion: the perfect sports utility vehicle (SUV).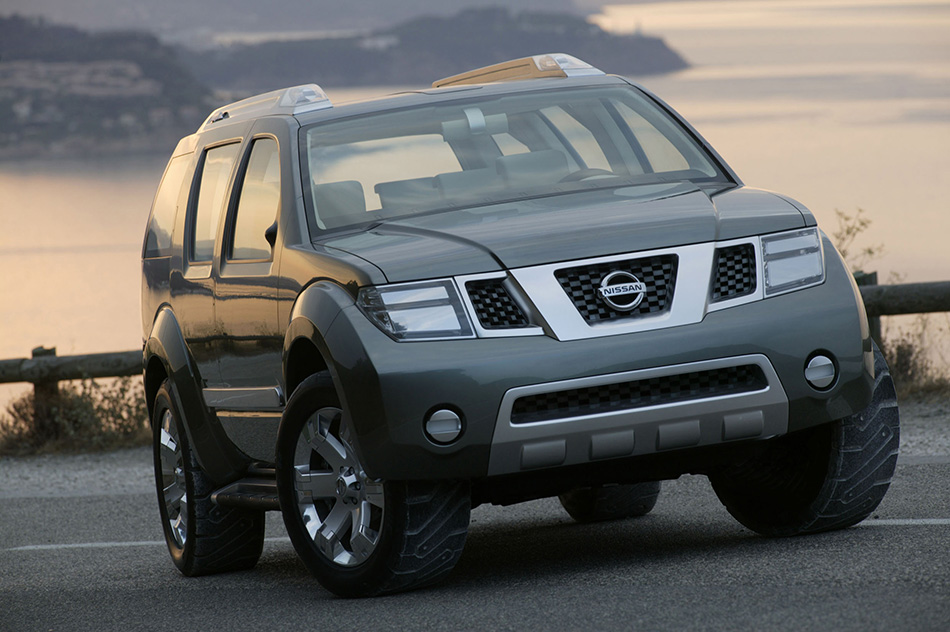 There are neither door handles nor door mirrors to disrupt the Dunehawk's surfaces. The doors are opened electrically by brushing a pad on the flanks of the Dunehawk, while rear facing cameras with pop up screens at either end of the dashboard take care of what's happening behind.
Inside, the cockpit is dominated by an angular theme with a 'T-bone' centre console which houses all the vital driving information systems, including a screen showing critical real-time traction information via sensors on all four wheels and within the ALL-Mode 4x4 system. Nissan's pioneering interactive N-Form dashboard has also been adopted and reveals how it could function in the future. The cylindrical dashboard incorporates a compass, altimeter and inclinometer - all highly useful instruments for serious off-road work.
Ingress is straightforward thanks to doors that open to a full 90 degrees, while access to the rearmost seats is eased by the middle row which slides forward out of the way. All the passenger seats fold completely flat to create an intrusion-free load bay which is long and tall enough to hold two mountain bikes upright. With the front wheels removed, the bike forks can be securely locked into special fixings found on the back of the middle row of seats, while the rear wheel is strapped into a special shoe neatly integrated into the boot floor.
Source: Nissan
Gallery:
Nissan Dunehawk Concept (2003)