Since its launch in March 2007, the Nissan Qashqai crossover has taken the market by storm, turning into the fastest selling model in the history of Nissan Europe.  Its marriage of distinctive style, practicality and excellent driving dynamics, offering an alternative to traditional compact hatchbacks, has captured the imagination of European customers.
 
And although other manufacturers started to bring their own compact crossovers to market, Nissan moved the goalposts again, introducing the first family crossover, the Qashqai+2, with more space and a flexible seven-seat configuration, adding even more strongly to the appeal of the Qashqai range.
 
Qashqai+2 combines the best of both three-row people carriers and the family hatchback with none of the drawbacks. So it enjoys the driving dynamics, ride comfort and refinement of a finely tuned hatchback with the added benefit of the practical interior of a bigger car. But what it has that MPVs and hatchbacks don't have is a striking, attractive exterior and interior design. At the same time previous compact SUV customers will appreciate the third row of seats.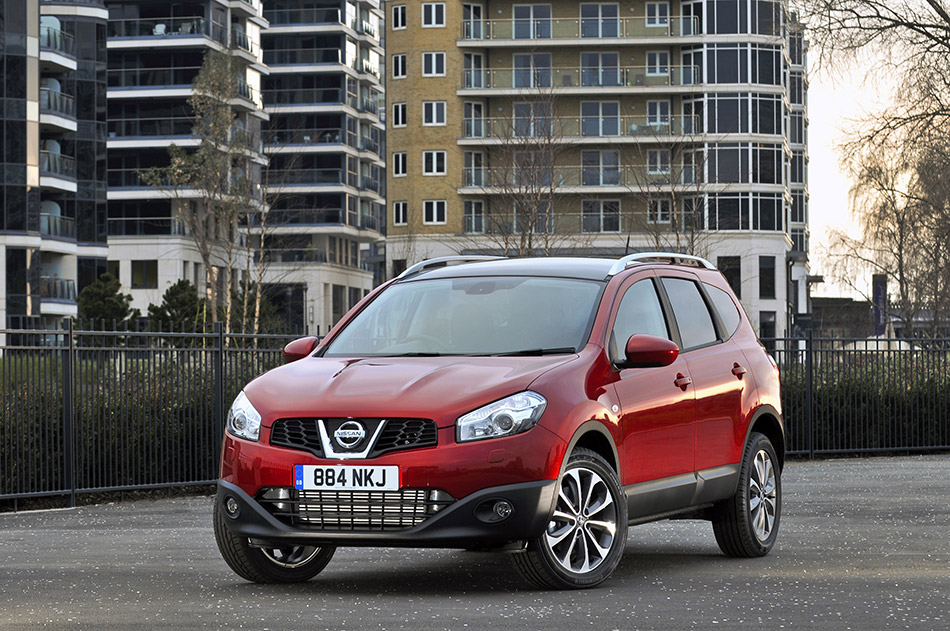 The SUV-influenced styling, 'command' seating position and genuine driving enjoyment are all carried over from the standard Qashqai, but the greater length is aimed squarely at busy families seeking practicality without sacrificing style.
 
Qashqai+2 joins the five-seat Qashqai and the compact Juke to cement the company's status as the 'Crossover Brand'.
 
The strength of appeal of the Qashqai range is reflected in its outstanding reception in the marketplace - since launch in March 2007, it has turned into the fastest selling model in the history of Nissan Europe and redefined Europe's mid-sized hatchback market in the process. Its resounding success has meant that European sales of Qashqai and Qashqai+2 have exceeded 1,000,000 units, with more than 80 per cent going to first time Nissan buyers. Importantly, that success has been sustained right through the model's history, with sales increasing year on year. During 2011, the Sunderland Plant operated 24-hour production of Qashqai throughout the 12-month period, on average building 1,200 examples every day, and more than 80 per cent of production was exported from the UK.
 
CHANGES FOR 2012
Underlining its leadership of the booming Crossover market, Nissan has now made a number of significant changes to the range to keep Qashqai+2 one, or even two steps ahead of the opposition.
 
In particular, the 2012 range sees the introduction of a new Pure Drive version of the top selling Qashqai+2 equipped with a new state-of-the-art 1.6dCi engine coupled to the Stop/Start system already introduced as an option on the 1.6-litre petrol model. This advanced new engine lets drivers enjoy the best of both worlds - greatly reduced emissions with improved in-gear performance.
 
Replacing the 2.0dCi unit in manual guise, the 1.6-litre diesel not only boasts CO2 emissions of just 123g/km, but also offers the same level of performance as the bigger engine. Thanks to an output of 130PS, it is the most powerful of its size in the world, while its peak torque figure - an exceptional 320Nm, exactly the same as the 2.0-litre engine - is developed at only 1,750rpm with some 80 per cent available from a mere 1,500rpm. The resulting dynamic performance lifts Qashqai+2 well above the 1.6-litre class: top speed is 117mph, with 0-62mph taking 10.9 seconds (2WD model). Importantly, acceleration in the crucial 30-50mph bracket is also quicker, taking only 6.29 seconds.
 
But this performance gain is not at the expense of the environment and combined consumption is 60.1mpg compared to the 2.0dCi's 47.1mpg, an amazing 28 per cent improvement. With ever increasing pressure on fuel prices, this new model arrives at the perfect moment.
 
And if the requirement is an ability to cope with harsh winter weather and slippery campsites, then there's also a 4WD version which becomes one of the lowest CO2 emitting crossovers on sale in the UK (139g/km) - and certainly the lowest of any seven seat crossover on the UK market.
 
The Stop/Start system automatically stops the engine and selects neutral when the car comes to a standstill, restarting it as soon as the driver presses the clutch, improving fuel economy by up to 3%.
 
In addition to its efficient new engine, Qashqai+2 has also benefited from a number of innovative items of equipment including for the first time in its class, Around View Monitor. Up until now this type of advanced visual parking aid has more usually been found in the luxury car class, but Nissan's commitment to delivering the latest technology to its customers means Around View Monitor is fitted as standard to all n-tec+ and Tekna variants.
 
Using a set of discrete external cameras, Around View Monitor makes manoeuvring and parking as safe and easy as possible by giving the driver a real-time bird's eye view of the surrounding environment.  Working seamlessly with the popular Nissan Connect touch screen navigation system, Around View Monitor adds three additional cameras to the Qashqai+2's existing rear view system to create the ultimate 360° overview. What's more, the driver can choose to focus on the image feed from any particular camera when looking out for a particular obstacle in front, behind or to either side of the Qashqai+2.
 
THE QASHQAI+2 RANGE
March 2010 saw the first major change to Qashqai+2 as a refreshed model was introduced to help it maintain its class-leading sales performance, a move that surprised many competitors who, at the time, were still playing catch up and had yet to bring their own crossovers to market.
 
There were visual changes including a new bonnet, grille, wings and new headlamps at the front and new rear lights and a re-profiled tailgate at the rear. The changes were set off by fresh designs of alloy wheel. Discreet aerodynamic improvements, including the adoption of full-length underbody panels, saw the CD figure fall to 0.33. As well as smoothing the airflow under the car, the panels helped reduce noise intrusion into the cabin.
 
Inside there were easier to read instruments and a great emphasis on quality with new materials, new colours and other subtle touches for a feeling of increased sophistication. Mechanically a number of small changes enhanced the vehicle's dynamics still further. Dampers were retuned for improved body control, reduced noise and better bump-thump absorption while the steering feel was also improved.
 
The basic mechanical layout remained unchanged with front- or ALL MODE four-wheel drive and fully independent suspension by sub-frame mounted struts at the front and a multi-link rear.
 
With the arrival of the new 1.6 dCi engine, the range line-up now encompasses two petrol and three diesel offerings. The entry-level 1.6-litre petrol develops 117PS while the 2.0-litre petrol produces 140PS. The entry-level diesel is the 110PS 1.5 dCi, while the 150PS 2.0-litre dCi unit remains to power the automatic 4WD version only. As before, the range runs through Visia, Acenta and Tekna specifications with the special version n-tec+ featuring a high level of equipment as well as reinforced exterior Crossover design.
 
DESIGN DNA
Although sharing clear family design DNA with its sibling, Qashqai+2 is nonetheless subtly different from virtually every angle. Created by designers at Nissan Design Europe in London's Paddington, the larger model is essentially identical to Qashqai from the A-pillar forward... but everything else behind has been changed.
 
Longer and taller, Qashqai+2 has been designed to provide greater interior space and more practicality. External changes include new front and rear doors, side glass, a new tailgate and new-look grille.
 
PANORAMIC ROOF
Qashqai+2 Acenta models and above come with a huge fixed panoramic glass roof that opens up the cabin to create a sense of airiness - if the sun becomes a little too intense, then a sunshade will glide into place at the touch of a button. Rear seat passengers also travel incognito thanks to standard privacy glass for all windows beyond the front doors, and standard roof bars provide an added sense of exclusivity.
 
A 135 mm extended wheelbase and a 211 mm increase in length bring added space for larger families and the ingenious third row of seats can be used by children or for occasional use by adults. Their reclining backrests - with seven adjustment settings - will fold completely flat without the need to remove the head restraints first, opening up the luggage space to give 450 litres (VDA), an increase of 40 over Qashqai.
 
The standard full-depth roller-blind tonneau cover can be stored beneath the boot floor when the third row seats are being used, while the underfloor storage lid can double up as a cargo divider if you need to keep fragile items separated from heavier objects.
 
Second row passengers enjoy increased kneeroom and the 40/20/40 split backrest reclines over a range of 15 degrees. Added versatility is provided by the centre '20' portion which can be folded forward to act as a large multi-function armrest, complete with two cupholders, a lidded storage box large enough to hold personal music players and a power outlet. The whole second row bench now slides (in a 60/40 split) fore and aft to improve ingress and egress.
 
Mechanically, Qashqai+2 follows the lead set by the original model with strut-type front suspension and a fully independent multi-link rear set-up. Suspension settings have been revised to take account of the extra weight and payload potential, while steering assistance has also been retuned.
 
CHASSIS AND TRANSMISSION
Two versions of the chassis are available, offering the choice of front-wheel drive or sure-footed ALL-MODE four-wheel drive, while there is the choice of 1.6 and 2.0-litre petrol and 1.5, 1.6 and 2.0 dCi diesel engines, ranging from 117PS to 140PS (petrol) and 110PS to 150PS (diesel).  All engines are Euro 5-compliant.
 
Transmission options include a five-speed manual (1.6-litre petrol), six-speed manual (2.0 petrol and 1.5dCi and 1.6dCi), six-speed automatic (4WD 2.0 dCi) and, unique in class, a highly efficient CVT transmission on the 4WD 2.0-litre petrol offering a choice between 'stepless' changes or a manual over-ride with six fixed ratios.
 
As well as the brand-new 1.6dCi range described above, Qahsqai+2 1.6-litre petrol and 1.5-litre diesel engined models are particularly wallet-friendly. The 110 PS 1.5 dCi is capable of an attractive 53.3mpg combined and 139g/km CO2 - not bad for a car capable of transporting seven and clocking a 0 to 62mph of 13.2 seconds while delivering driving flexibility in spades, thanks to 240Nm of torque at 1,750 rpm.
 
Those who prefer petrol power can instead opt for the feisty 117PS 1.6-litre petrol engine which sees 6 mph coming up in a crisp 12.9 seconds and a top speed of 112mph. It still achieves 42.8mpg combined and 154g/km CO2. Opt for Nissan's Stop/Start system and those figures improve to 44.1mpg and 149g/km.
 
The 2.0-litre diesel - now available exclusively in 4WD automatic configuration - produces 150PS and peak torque of 320Nm, sufficient to propel the Qashqai+2 to 62mph in 11.6 seconds and on to a top speed of 116mph. Despite this performance, combined fuel consumption is 39.8mpg. Equivalent figures for the 140PS 2.0-litre petrol engine are 35.3 (2WD manual) and 34.4mpg (4WD CVT).
 
Like its smaller sibling, Qashqai+2 is offered in four trim and equipment levels, Visia, Acenta, n-tec+ and Tekna and all are available with any engine  combination, with the exception of the 2.0dCi (n-tec+ and Tekna only).
 
All models are well-equipped and as well as privacy glass and roof bars, Visia spec includes power windows with driver's one touch operation, air conditioning, a drive computer, Bluetooth hands-free, a four speaker CD audio system, 16 inch alloy wheels, satin silver front grille and alarm. Ample storage is provided by a large glovebox and deep door pockets. A full safety package mirroring that of the five-star Euro NCAP rated five-seat Qashqai, includes ESP, six airbags plus front seat active headrests and seatbelt pretensioners.
 
Move up to Acenta and you get the panoramic roof, a leather trimmed steering wheel and manual gear knob, a centre rear armrest and a choice of interior trim colours. The audio system is upgraded to an in-dash six-disc autochanger, six speakers and steering wheel controls and the air con becomes dual zone and climate controlled. Automatic wipers and headlamps, cruise control, 17 inch alloys and rear parking sensors complete the package.
 
n-tec+ with AVM Nissan Connect
The n-tec+ models build on the specification of Acenta models with some up-to-the-minute technology including the latest Around View Monitor described above. This is closely integrated with and uses the colour screen of the Nissan Connect system, an integrated audio, navigation and communication package which not only provides full connectivity with external audio players, but also incorporates a neat, user friendly satellite navigation system.
 
Nissan Connect's dashboard mounted screen brings together all of Qashqai+2's audio and navigation functions into one logical system. This fully integrated communications package provides clear navigation, full mobile phone connectivity and the ability to listen to music in the way you want. Features include Bluetooth connectivity, five-inch touch screen navigation with 2D/3D map and full postcode search facility, CD with MP3/WMA playback, FM/AM radio, aux socket and USB port for full iPod connection.
 
n-tec+ models also enjoy 18-inch alloy wheels, satin silver roof rails and aluminium pedals.
 
Select the top spec Tekna and as well as AVM you enjoy the luxury of heated, leather seats with contrasting stitching, the convenience of the Intelligent Key, and the added safety of xenon headlamps. A Bose audio system to complement the Tekna's Connect system is now also standard fitment.
 
THE MARKETPLACE
Against opposition that tends to appeal to the head more than the heart, Qashqai+2 combines practicality with genuinely attractive design and a fun to drive attitude. It targets vehicles in both the C-MPV segment - Volkswagen Touran, Ford C-Max and Vauxhall Zafira - as well as larger seven-seat C-SUVs, such as the Mitsubishi Outlander.
 
The Qashqai+2 is seen as perfectly complementing its smaller sibling. "Our research has shown that we can expect as much as 60 per cent of the volume to be pure conquest sales. It makes sense: if you are in the market for a compact seven-seater, the five-seat Qashqai doesn't have what you are looking for," says Simon Thomas, Senior Vice President, Sales and Marketing for Nissan in Europe.
 
The same research showed that 12 per cent of potential buyers rejected Qashqai because it didn't offer enough space for their needs. The extra interior space offered by Qashqai+2, regardless of the extra row of seats, will appeal to those customers. "In the same way that Qashqai provided the antidote to the conservative, conventional hatchback so Qashqai+2 offers a real alternative to compact SUVs, as well as the current crop of dull mini MPVs."
 
Qashqai+2 plays the role of 'Family Crossover' within Nissan's range. "We are targeting active families who probably have only one or two children. But those children have friends and they have grandparents, meaning that a family outing can now be undertaken in one rather than two cars," says Simon Thomas.
 
"In the same way that Qashqai has allowed customers to look beyond the Golf and Focus, so Qashqai+2 will provide a welcome alternative to the boring, boxy design of the typical C-MPV."
 
While some versions of Qashqai+2 are equipped with Nissan's technically advanced ALL-MODE 4x4 system, all-wheel drive is not a prerequisite of ownership: in certain markets - notably those which endure harsh winters - sales of the ALL-MODE version outstrip sales of 2WD models but in the UK the split is 25/75 in favour of two-wheel drive. The Qashqai crossover was never engineered to be a serious off-road vehicle, but uses four-wheel drive to deliver enhanced traction in slippery conditions on road.
 
QASHQAI AND QASHQAI+2: WHAT'S DIFFERENT
 
Although visually and mechanical similar, there are a number of fundamental changes that have been made to the structure of Qashqai to create the practical seven seat +2 version.
 
THE MAIN DIMENSIONAL CHANGES ARE:
Wheelbase extended by 135mm to 2,765mm
Height increased by 40mm to 1,645mm
Overall length increased by 211mm to 4,541mm
Headroom improved by up to 10mm
Knee room improved by 15mm
Luggage space increases to 450 litres (VDA)
Trunk loading height lowered by 13mm to 770mm
Qashqai+2 shares obvious design elements with the original, but when placed side by side the differences between the two are equally clear. Longer overall by 211mm, Qashqai+2's wheelbase has been extended by 135mm to ensure there's plenty of room in the cabin for seven passengers.
 
To provide ample headroom in the middle and rearmost sets of seats, the roof has been lengthened and has been restyled towards the rear of the vehicle, creating a flatter, taller profile. Both front and rear side doors have also been altered: the window frames of the front door are squarer in line with the reprofiled roofline, while the rear pair is completely new - longer by 135mm and also with squarer window frames.
 
Lengthening the rear doors has improved ingress to the passenger compartment while access to the rearmost pair of seats is further eased by revisions to the middle bench, which now slides fore and aft.
 
NEW TAILGATE
Other styling changes include larger side windows at the rear of the vehicle to provide a light and airy environment for occupants of the third row of seats. Further differentiation between five and seven-seat versions is provided by a new tailgate with a deeper rear window and revised bumper profile at the rear and a sleek new grille, exclusive to Qashqai+2, at the front.
 
The tailgate opening increases from 962mm in the Qashqai to 1186mm in the seven-seater; loading height has been reduced by 13mm to 770mm to ease the loading of heavy items.
 
All models except Visia grade feature a huge panoramic glass roof - 140 mm longer than the equivalent one offered on Qashqai - with a one-touch electrically operated sunshade.
 
SLIDING MIDDLE BENCH
The main interior changes relate to the provision of a third row of seats. To ease access to the rear, the middle bench now slides through 240 mm (in a 60/40 split) and the seat backs are split 40/20/40: the five-seat version is split on a 60/40 basis. The backrest also reclines and has no fewer than nine adjustment positions over a range of 15 deg from 10 deg to 25 deg.
 
The centre '20' portion doubles as a seat or a generously wide multi-function armrest. When used as an armrest, as well as providing a greater feeling of spaciousness for those in the third row, the seat back incorporates a pair of cup holders and a lidded storage box large enough to hold personal music players, games consoles and CDs. It also has an integrated power outlet. When upright, the box transforms into a storage recess for those in the rearmost seats.
 
FOLDING 3RD ROW
Designed for children or adults up to approximately 1.6m tall, the angle of the backrest has seven adjustment settings and can be folded completely flat to increase luggage space. The seats split on a 50/50 basis and each can be folded away simply by pulling on a single strap: there is no need to remove head restraints first.
 
When folded away, there's a large flat loading area left behind which provides 450 litres of potential luggage capacity (measured to tonneau cover, 2nd row seat 100 mm forward of rearmost position), an increase of 40 litres over Qashqai.
 
Folding both 2nd and 3rd rows opens up 915 litres to the glass line - the comparative figure for Qashqai is 860 litres.
 
CLEVER STOWAGE
Unlike many seven-seat vehicles, Qashqai+2 has a full depth roller-blind style tonneau cover. With the rearmost seats folded it can be used conventionally but if the third row of seats is to be occupied, it can be removed and stowed in a special compartment under the boot floor.
 
The lid of the underfloor stowage area, meanwhile, can also double as a cargo divider so fragile shopping - eggs or bottles for example - can be safely loaded where it won't be damaged by heavier items. The load area is set off by a stylish stainless steel kick plate which offers protection to the leading edge of the boot floor when loading heavy items.
 
REVISED SETTINGS
Because it is larger than the five-seat Qashqai, the new seven-seat version is a little heavier - kerb weight increases by approximately 100 kg, depending on variant. Taking account of the extra weight, and the higher payload potential, suspension settings have been revised and steering assistance retuned. The braking system is essentially unchanged from Qashqai, though larger front brakes have been fitted to take into account the additional weight.
 
The engineering changes for Qashqai+2 were developed and overseen by Nissan Technical Centre Europe (NTCE) in Cranfield in the UK.
BREAKING WITH CONVENTION
 
AT A GLANCE
    Innovative crossover design
    Cross between agility and solidity
    Closely linked to original Qasqai...
    ... but with unique styling features for +2
    Designed in London by Nissan Design Europe
Work had started on the family seven-seat version even before Qashqai was launched. But although the compact crossover had yet to break cover, the Nissan product planning team was confident the time was right for a car that broke the mould.
 
Qashqai was the first ground-up project to have been produced at Nissan Design Europe (NDE). Based in the Rotunda, a unique building constructed in the 1960s from reinforced concrete and situated beside the Grand Union Canal in London's Paddington Basin, NDE's urban environment helped shape Qashqai's crossover credentials.
 
And it was here in this high security complex - now protected as a building of architectural interest - that Qashqai+2 grew out of the original compact crossover project.
 
As the word implies, a crossover merges contradictory design and packaging influences from two or more market segments into one vehicle. The key design elements that turn Qashqai and Qashqai+2 into crossovers can be found above and below the waistline.
 
The silhouette of the top half of the car suggests agility, while below the waistline the styling - accentuated by the strong shoulders and pronounced wheel arches - suggests a strength and robustness. The design expresses a solidity tailored to cope with the demands of urban driving, but its appearance is not aggressive.
 
Dynamically angled A-pillars, significantly elongated side glass and a long roofline culminating in a gentle flick up at the rear are far removed from the box-like lines of a typical SUV.
 
And thanks to its longer wheelbase and three rows of seats, the extended roofline on Qashqai+2 differs from the original. Taller and longer, it gives the seven-seat version an elegant, sophisticated profile while the full-length panoramic glass roof (Acenta and above) ensures the interior is light and airy. A practical touch is provided by the standard fit roof rails which accentuate the extra length of Qashqai+2 over the original.
 
Another styling change is the shape of the third side window, which is now longer and deeper to provide better visibility for those in the third row of seats. At the rear, a new tailgate and bumper assembly incorporates a deeper rear window to help maximise the visual differences between the two versions.
 
Above all, the design remains balanced and cohesive, without the awkward feeling of a design that has been stretched to accommodate extra space and a temporary row of seats that don't comfortably fit.
 
Typical SUV features common to both versions include the bluff nose, the sturdy bumpers and contrasting black finish to the sill/door protection panels and lower bumper assemblies. Higher ground clearance than conventional hatchbacks also hints at SUV capability. Subtle curves over the wheel arches and on the doors allow reflections to soften what would otherwise be a comparatively large expanse of metal.
 
Wraparound head and tail lamp assemblies provide a physical link between the side profile and the front and rear of both models. Aerodynamically shaped tail lights follow the curve of the rear haunches where they provide a distinctive slash of colour. The lamp assemblies are split to maximise the loading width of the trunk and a high level brake light is incorporated into the rear spoiler at the top of the tailgate.
 
The large headlamp assembly, an irregular polygon, is split into four distinct 'pockets' for the sidelights, twin headlamps and blue tinted turn indicators.
 
The four bar grille frames the Nissan roundel in its centre. Reinforcing the power and character of the front end, the central element of the grille links to the bonnet's distinctive twin 'power' ridges.
PRACTICALLY PERFECT
 
AT A GLANCE
Seven seats always on board
Easy fold operation
Sliding middle bench
Reclining backrests for all seats
Practical storage opportunities
In the same way that Qashqai+2's exterior design is a series of contrasts in true crossover fashion, so its interior has been created by combining practicality with driver appeal.
 
DRIVER COCKPIT
From the driver's perspective, the interior of the car is more akin to a cockpit. All the major and minor controls are wrapped around the driver, who is separated from the front seat passenger by a sturdy centre console.
 
Incorporating a cutaway section on the driver's side for the handbrake, the centre console houses twin cup holders, a storage box with integrated sliding armrest, an aux-in connection jack for MP3 players and, on four-wheel drive versions, the switch for the ALL-MODE system (replaced by a storage area on two-wheel drive models).
 
Ahead of the driver, and sitting beneath a hooded cowl, is the instrument panel and trip computer. Minor controls are ergonomically sited in the centre of the dashboard above the gear lever and beneath twin chrome-ringed air vents. Remote audio controls can be found on the steering wheel.
 
White LED lighting illuminates the dials night and day, while a new saturated orange shade is used on all other illuminated parts, including the trip computer in the centre of the instrument panel, the power window switches and the audio and navigation controls. The latest models feature low level lighting around the footwells, giving a warmer interior ambience.
 
DRIVER AND PASSENGER ZONES
Accentuating the different cockpit/lounge 'zones', the soft-feel slush moulded dashboard ahead of the front seat passenger is finished in a contrasting grain effect to the area in front of the driver.
 
LEATHER UPHOLSTERY
Tekna models have graphite leather upholstery with contrasting stitching and technical foil highlights.
 
The main purpose of the Qashqai+2 crossover, of course, is to provide space inside for up to seven people. The third pair of occasional seats is designed for children or adults up to 1.6 metres in height and when they're not in use they fold in a 50/50 split. The backrests have seven adjustment settings and can be folded completely flat to increase luggage space. Each backrest can folded away simply by pulling on a single strap: there is no need to remove head restraints first.
 
SLIDING SEATS
Access to the rear is eased by the longer rear side doors and revisions to the middle seat which now slides fore and aft through 240 mm (split 60/40). Whereas the rear bench in the five seat version has a 60/40 split folding backrest, the seat back in Qashqai+2 has been completely re-engineered with a three-way 40/20/40 split fold.
 
One novel aspect is the centre '20' portion, which works either as a seat with its own three-point seat belt, or as a generously wide arm rest. As well as housing two cup holders, the armrest has a storage box with a sliding lid. The box is big enough to house personal music players and games consoles, which can be plugged in to the integrated power socket.
 
The middle row backrests also recline and have no fewer than nine adjustment positions over a range of 15 deg from 10 deg to 25 deg.
 
MORE LUGGAGE SPACE
With the rearmost seats folded flat, luggage space increases by 40 litres over the five-seat version to 450 litres (with the second row seat 100mm forward of the rearmost position) thanks to an extra 134mm in floor length. And with the middle row folded as well, available space rises to a remarkable 915 litres to the glass line (Qashqai 860) and 1520 litres to the roof.
 
With the third row of seats in place, there is still a total of 130 litres of trunk capacity (to top of seat back).
 
The new rear door and revised interior panels mean the loading height has been reduced by 13mm to 770mm while, at 1186mm, the opening width is 224mm wider than the five-seat version. The load area is set off by a stylish stainless steel kick plate which offers protection to the leading edge of the boot floor when loading heavy items.
 
HIDDEN STORAGE
Beneath the boot floor is a hidden stowage area where valuables can be kept away from prying eyes. Alternatively, the floor panel can also double as a cargo divider so fragile shopping can be safely loaded where it won't be damaged by heavier items.
 
Qashqai+2 has a full depth roller-blind style tonneau cover. With the rearmost seats folded it can be used conventionally but if the third set of seats are to be occupied, it can be removed and stowed in a special compartment under the boot floor. Like the third row of seats the tonneau can remain in the vehicle at all times.
 
The huge cooled glovebox (not available on Visia) has 14 litres of storage space - large enough to hold no fewer than 15 cans of drink - as well as an integrated sunglasses holder while the front door pockets can each take a 0.5 litre bottle and an A4 map book. Mesh pockets on the backs of the front seats are large enough to hold A3 sized map books (Acenta, n-tec+ and Tekna models).
 
The centre console storage box has a 3.5 litre volume and can hold up to eight CDs in their jewel cases, plus it also contains an AUX-IN jack to connect an MP3 player. Thanks to the longer rear doors, storage bins are larger than on the original.
 
A huge panoramic glass roof is standard on Qashqai+2 Acenta models and above. Measuring 1177 mm by 880 mm, the fixed roof extends over all three rows of seats to create a light and airy interior. It uses laminated privacy glass which filters out UV rays and reduces heat soak into the cabin, though an electrically operated sunshade can be used to add further protection from the sun. Darkened privacy glass is also used for all windows behind the B-pillars.
 
THE BEST OF BOTH WORLDS
 
AT A GLANCE
Two- and four-wheel drive versions
Strut front suspension, multi-link rear
Diesel and petrol options - Euro 5-compliant
DPF standard on diesel engines
Manual, automatic and CVT options
Latest generation ESP on all models
Qashqai+2 is built on a stretched version of the latest Nissan and Renault Alliance 'C' Platform. The wheelbase length has been increased by 135mm to 2,765mm while the overall length of the vehicle is 4,541mm, 211mm longer than the original five-seat Qashqai.
 
While the extra length delivers a roomy interior with space for up to seven passengers, Qashqai+2 remains shorter overall than a typical seven seater SUV, ensuring strong ride and handling dynamics and ease of manoeuvrability.
 
CHASSIS
The front suspension features a sub-frame mounted strut-type system with combined coil-over-strut assemblies and a forward lower link. The sub-frame has compliant rubber mounts to isolate road noise and vibration from the platform, improving both general refinement and ride comfort. A front anti-roll bar is attached directly to the strut assembly for more effective control of body roll under cornering.
 
Fully independent multi-link rear suspension has been used for precise handling and high-speed stability. Attached to the vehicle via a rigid rear subframe to keep unwanted noise and vibrations to a minimum, the compact assembly features an aluminium rear upper link to reduce weight: the saving is in the region of 4kg. The design ensures minimal intrusion into the trunk area.
 
Rebound springs reduce body roll to give a greater feeling of security behind the wheel while ride comfort is enhanced by the adoption of friction control dampers. Fine tuning of the ride and handling has been carried out by engineers from Nissan Europe's technical centres in the UK and at Barcelona in Spain, with minor adjustments made to spring and damper settings to account for the slight rise in vehicle weight and its payload capacity.
 
RIGID STRUCTURE
Qashqai+2 has an extremely rigid structure with extensive use of high strength steel which also enhances general refinement, handling and crash safety.
 
Handling and manoeuvrability are aided by the adoption of electric power steering (EPS). This state-of-the-art system offers greater assistance at lower speeds with more steering feel provided as speeds rise.
 
The system checks speed inputs every 40 milliseconds and is speed sensitive to 0.01 km/h. It is tuned specifically for European tastes to give a strong self-centering action at lower engine speeds for easier town driving and greater feel at higher speeds and again has slightly revised settings to account for the extra weight of the Qashqai+2.
 
The system uses a brushless DC motor resulting in lower friction losses which, in turn, means reduced wear and lower service costs. And with no traditional hydraulic pump in the system, there are fuel consumptions benefits, too. Under tests, electric power steering has been shown to improve fuel consumption. Helping to provide the perfect driving position, the steering column is adjustable for rake and reach.
 
BIGGER BRAKES
Discs brakes all round with standard anti-lock (ABS) are boosted by Brake Assist and Electronic Brake Force Distribution (EBD). Brake Assist maintains maximum deceleration during an emergency stop while EBD constantly alters the front rear balance to achieve optimum brake performance, automatically compensating for differing load conditions. Larger front brakes have been fitted to take into account the Qashqai+2's extra weight.
 
ALL-MODE 4x4
The four-wheel drive system used on Qashqai+2 incorporates some of the most sophisticated technology available anywhere. Developed by Nissan, the ALL-MODE 4x4 system allows secure and relaxed driving with advanced electronics taking care of all traction needs.
 
In essence, ALL-MODE 4x4 ensures Qashqai+2 has grip at all times no matter how severe the conditions. But unlike some other automatic four-wheel drive systems, ALL-MODE uses advanced electronics rather than dual hydraulic pumps to ensure drive is transferred between wheels and axles the instant grip becomes marginal.
 
Under normal conditions, the Qashqai+2 operates in front-wheel drive which reduces energy losses and saves on fuel. The instant wheel slippage is detected however, a centre clutch in the rear final drive is electronically activated and drive is correctly apportioned between front and rear axles.
 
THREE MODE SETTINGS
The system has three modes, selected via a switch on the centre console. In 2WD, the system is permanently set in front-wheel drive, ideal for fine weather on-road use. When the Lock setting is pushed, however, the system switches to permanent four-wheel drive mode with drive split 50:50 front to rear.
 
The most often used mode, however, is 'select-and-forget' Auto, in which the system is left to its own devices. Sensors linking the engine's ECU with the four-wheel drive and ABS controller constantly monitor wheel slippage and automatically send signals to the electromagnetic centre clutch mounted just ahead of the rear axle to apportion torque correctly.
 
Left in Auto, the system will automatically compensate for unexpected slippery conditions on-road, such as wet leaves in autumn, early morning winter ice or loose gravel at any time of the year.
 
ADVANCE ELECTRONIC SYSTEMS
ALL-MODE 4x4 is linked to Bosch's eighth generation Electronic Stability Programme (ESP) which is now standard on all Qashqai+2 models. Using sensors linked to the brakes, steering, wheels and the body itself, ESP constantly monitors the way the car is being driven.
 
From the steering angle and wheel speeds, ESP calculates what manoeuvres the driver intends to perform and from signals from the yaw-rate and lateral acceleration sensors ESP recognises whether the vehicle might skid off course. In an emergency ESP reacts swiftly, and by selectively applying the brakes at each wheel ESP 'steers' the vehicle in the desired direction.
 
Among the other electronic control systems that Qashqai+2 has in its armoury are cornering brake control (CBC) and EUC, which stands for enhanced understeer control. In the latter case, the system applies the brakes to all four wheels to reduce excessive understeer. Finally, hydraulic fade compensation (HFC) prevents brake fade after a period of heavy brake usage.
 
CHOICE OF ENGINES
Of the five engines available to power Qashqai+2, the two petrol units are Nissan designs while the common rail diesels have been developed by Alliance partner Renault. All are Euro 5 emissions compliant.
 
PETROL ENGINES
The smaller petrol engine is an all-aluminium unit displacing 1598cc producing 117PS and 158Nm of torque. Exceptionally light and highly thermally efficient, it has four valves per cylinder, variable valve timing, multi-point port injection and vane-type continuous intake cam phasing.
 
Combined fuel consumption is 42.8mpg and CO2 emissions are 154g/km. Drive is to the front wheels through a five-speed gearbox. The engine is also offered with Nissan's Stop/Start system which sees those figures improve to 44.1mpg and 149g/km. Stop/Start automatically stops the engine and selects neutral when the car comes to a standstill, restarting it as soon as the driver presses the clutch, improving fuel economy by up to 3%.
 
LIGHTWEIGHT 2.0-LITRE
The 2.0-litre petrol unit - another all-aluminium 16 valve design - displaces 1997cc and develops 140PS (104kW) and 196Nm of torque. Some 90 per cent of that torque is available from 2000rpm providing the accelerative 'punch' more usually expected in larger engines.
 
Among its key design features is a notable reduction in internal friction. A mirror-like finishing technique is applied to the surfaces of the crankshaft pin journal and the cam lobe journal and to a new machining method that ensures truly circular bores is used: this procedure is common practice in the machining of bores of racing engines but is seldom used in volume production engines.
 
The 2.0-litre petrol engine is available with either two or four-wheel drive and the choice of a six speed manual transmission or a continuously variable transmission (CVT). Fuel consumption over the combined cycle is 35.3mpg in two-wheel drive form, while CO2 emissions are 189g/km. Major service intervals are 12,500 miles/12 months.
 
CVT EFFICIENCY
CVT is a computer controlled 'stepless' transmission providing a virtually limitless number of ratios, ensuring the engine is always working as efficiently as possible, resulting in smoother acceleration as well as better fuel economy and lower emissions.
 
It's more comfortable, too: a long uphill drive in a conventional automatic will invariably be accompanied by regular down shifts as the engine hunts for power. With CVT, the engine revs stay constant as the transmission itself adjusts seamlessly to ensure momentum is maintained. CVT also ensures less power loss, resulting in better efficiency and acceleration.
 
For a more sporty drive, the CVT system has a manual override. Operated via the central gear stick, six set ratios can be accessed manually by nudging the lever forward or back, motorcycle style.
 
DIESEL ENGINES
Qashqai+2 has three dCi diesel offerings with second-generation common rail direct injection for improved performance, refinement and emissions.
 
The entry-level diesel uses the most powerful version of Renault's acclaimed 16 valve 1.5 dCi (K9K) engine, developing 110PS and 240Nm of torque and is fitted as standard with a diesel particulate filter (DPF). Praised for its fuel efficiency and low noise, it features a flexible flywheel to filter out the effects of acyclic movements. Specifically developed to comply with Euro 5 legislation the engine has a lowered compression ratio (15.3:1) and a variable geometry, multi-blade turbocharger.
 
Combined fuel consumption is 53.3mpg and CO2 emissions are 139g/km.
 
The 1.5 dCi drives the front wheels through a six-speed manual transmission.
 
The 2.0 dCi is fitted with a Bosch piezoelectric-controlled injection system to develop 150PS (110kW) and 320Nm of torque. Piezoelectric technology gives fast, very precise control allowing a 'five squirt' injection cycle: two pre-squirts, one main squirt and two post-squirts.
 
The pre-squirts improve engine acoustics by minimising the characteristic diesel clatter. The post-squirts sustain the main injection combustion, to burn off soot and thus bring down pollutant emissions before the exhaust gases have even left the combustion chamber.
Exhaust gas recirculation (EGR) produces a controlled temperature rise in the combustion chamber to reduce pollutant emission levels (NOx) and thus enhance the engine's overall environment performance, ensuring it complies with Euro 5 legislation. A diesel particulate filter (DPF) is also standard and designed to reduce the levels of soot from the exhaust.
 
Acoustics was one of the engineering priorities for this engine. The bottom of the engine, with its aluminium bedplate, is designed for higher efficiency and improved vibration absorption. Twin counter rotating balancer shafts cancel crankshaft rotary vibration, making a major contribution to refinement.
 
Fuel consumption for the 2.0dCi 4WD automatic model over the combined cycle is 39.8mpg while CO2 emissions are 188g/km. Major service intervals are again 12,500 miles/12 months.
1.6dCi
This new 130PS engine has been jointly developed with Alliance partner Renault. Its arrival in Qashqai+2 is in line with Nissan's policy of 'penalty-free' engine downsizing: the 1.6-litre direct injection diesel engine gives the fuel economy and emissions expected from an engine of its size, but with power and torque figures anticipated from a 2.0-litre engine.
Notably compact, the 1598cc engine is a state-of-the-art unit with more than 30 patents registered representing an investment of €230 million.
 
The starting point for the engineering team was 'square' architecture, allowing large-diameter valves to be housed in the cylinder head for more efficient filling of the combustion chambers. It's a technique inspired by motor racing and seldom seen in modern diesel road car engines.
 
Reducing the weight of the cylinder block, cutting mechanical losses and reducing dynamic forces have resulted in the best balance between fuel consumption and performance.
 
It also utilises cold-loop, low-pressure exhaust gas recirculation - a first for a European manufacturer. By recycling the exhaust gas at a lower temperature, emissions of nitrogen oxides and CO2 are reduced.
 
The system uses a valve located in the cooling circuit upstream of the cylinder head and cylinder block. When the engine starts from cold, the valve is closed and prevents water from circulating around the combustion chambers. This allows the engine to reach its ideal working temperature more quickly, optimizing combustion efficiency.
 
Internal friction is also reduced thanks to the quicker warm-up of the oil. The result? More power, lower fuel consumption and lower emissions.
Unlike a conventional oil pump which has a fixed capacity, the Variable flow pump delivers only the right amount of oil to avoid unnecessary energy loss. The power needed to drive the oil pump is minimised and varies with engine speed.
 
'Swirl' describes the phenomenon of air rotating inside the cylinder, much like a cyclone. As a result the air-fuel mix is optimised for engine speed conditions reducing fuel consumption, while also minimising the emission of CO2 and other pollutants like nitrogen oxides and particulates.
 
Among many other refinements, considerable attention was paid to the new engine's acoustic performance thanks to advanced work on combustion in order to deal with noise generation at source.  Customers get a smooth, quality, refined ride experience.
 
"This is a remarkable engine, best in class in so many respects. It provides the dynamic driving performance expected of a 2.0-litre diesel yet produces fuel consumption and emission figures better than the 1.5-litre dCi unit," said Jerry Hardcastle, Vice President, Vehicle Design and Development, Nissan Europe.
 
"Its refinement levels are a match for anything you'll find in the D-segment and with Stop / Start System its environmental credentials are all the more impressive. All in all, it's a perfect example of engine downsizing - and the philosophy behind Pure Drive - at work."
 
The 1.6dCi is mated to a 6-speed manual gearbox and is available in either 2WD or 4WD guise.
 
DPF technology
All diesel engines are equipped as standard with a Diesel Particulate Filter (DPF) with a periodic regeneration system. When the particulates that have been collected from the engine emissions reach a specified level, the engine runs a process called thermal regeneration performing a second post-injection to overheat the exhaust gas. Above a certain temperature, the soot in the filter oxidises off, and the filter can continue trapping particulates.
 
LIFE ON BOARD
 
AT A GLANCE
New Around View Monitor parking system
Nissan Connect standard on n-tec+ and Tekna models
Bluetooth connectivity
Mild flow air conditioning
Ambient mood lighting
Intelligent Key
Automatic lights and wipers
Every item of standard or optional equipment on any Nissan is there for a reason, and Qashqai+2 is no different. Whether it's standard Bluetooth connectivity for mobile phones or a rear view camera for added safety when reversing, all the features have a real-world purpose rather than simply having showroom appeal.
 
Research has shown that a comfortable driver is likely to be a safer driver... and that's why Nissan aims to ensure that every Qashqai+2 driver is as comfortable as possible.
 
One example is the air conditioning system. Whether it's a manual (Visia) or a fully automatic dual zone system (Acenta, n-tec+ and Tekna), it incorporates an independently controlled mild flow vent which wafts a light breeze of cooled air around the cabin.
 
COMFORT COOLING
As well as cooling the cabin more quickly than conventional air conditioning, it does it more quietly and more comfortably. Instead of having to turn the ventilation fan to a high setting - and having cold air blown directly at your face as a result - the mild flow vent gets on with the job of lowering the temperature as efficiently, as quietly and as gently as possible, an operation which is helped by the fitment of a larger air conditioning compressor to ensure third row passengers benefit from this ventilation.
 
BLUETOOTH AS STANDARD
Safety is also a prime consideration behind the standard fitment of Bluetooth connectivity for mobile phones. Fully integrated into the audio system, calls can be made and answered hands-free. A microphone is sited near the interior rear view mirror to improve voice quality while incoming calls are automatically heard over the car's sound system, which mutes the audio source for the duration of the call.
 
Total integration means incoming caller ID is displayed on the audio read-out and the system has an internal phone book which can store up to 40 numbers.
 
Keeping the driver well informed is another safety aid and to make sure that information from the instruments can be quickly assimilated at any time of day, they are permanently backlit. The trip computer, which sits between the speedometer and tachometer, has a white LCD screen and provides real-time journey information, including fuel economy, distance travelled, time, and also monitors under bonnet performance and service requirements.
 
NISSAN CONNECT: JOINED UP THINKING
When it comes to fully integrated in-car communications packages providing clear navigation, full mobile phone connectivity and the ability to listen to music in the way you want, the family car sector has been rather left out in the cold. Until now, that is, because the Qashqai+2 n-tec+ and Tekna feature the communication system Nissan Connect, offering a level of innovation and affordability previously unavailable in this segment.
 
Nissan Connect has been designed to be intuitive, with buttons for the most commonly used functions and a five-inch touch screen for rapid navigation through the menu system. Further versatility comes from steering wheel mounted controls.
 
Audiophiles will appreciate the fact that as well as a single CD player and AM/FM radio, Nissan Connect offers full digital music connectivity with both a USB connector and a 3.5mm auxiliary input socket (aux in). That means tracks stored on iPods, other MP3 players, USB storage devices and USB external hard drives can be played via the in-car system. MP3 and WMA sound files held on CD can also be played.
 
Once an iPod is connected, the touch screen can be used to search for and select tracks and while a track is playing, the song title, artist and directory folder are all displayed on screen. The steering wheel buttons offer volume adjustment and track selection.
 
The music-listening possibilities don't stop there, since tracks on mobile phones or audio devices that support Bluetooth audio-streaming (A2DP) can be played wirelessly via Nissan Connect, with on-screen display of current track and selection of previous/next tracks.
 
Naturally, it is possible to make hands-free calls using Bluetooth-enabled mobiles and as long as your phone supports synchronisation, the phone book and call log are automatically downloaded.
 
The latest Tekna models feature a Bose audio system for an enhanced listening experience.
 
NAVIGATION FEATURES INCLUDE GYRO AND SPEED SENSORS
When it comes to satellite navigation, Nissan Connect packs in all the user-friendly features of portable devices backed up with the latest technology for quicker and more reliable calculations.
 
In particular, as well as GPS navigation, gyro and speed sensors constantly monitor the car's movement, allowing quick responses and rapid rerouting when wrong-slotting. Furthermore, it means that if the GPS signal is weak - when entering a tunnel for example - then the navigation capability is retained.
 
Clear displays in either 2D or 3D formats are backed up by voice navigation (in nine languages) and destinations can be inputted using post codes. Zoom level adjusts automatically depending on road type, but the scale can be adjusted using the convenient dial on the right of the unit.
 
You can choose fastest or shortest route, but for the first time there's an 'Eco' option which selects a route aimed at optimising fuel economy. That's complemented by TMC (Traffic Message Channel) with alternative route calculation when congestion levels are sufficiently high.
 
ADVANTAGES OVER AN AFTERMARKET SYSTEM
Aftermarket portable navigation devices (PNDs) may be popular, yet there are a whole host of benefits to be had by opting for a fully integrated advanced communications package such as Nissan Connect. For a start it is seamlessly blended into the centre of the fascia, while a high resolution, 2-DIN 5 inch touch screen makes it easy to use and view. You also don't have the problem of hiding it or taking it with you when leaving the car and there's an added safety consideration: a portable unit may become a projectile in a crash. Above all, where Nissan Connect scores highly is in the number of advanced features it offers, including the gyro and speed sensors which make for a far more efficient sat nav capability.
 
Neither will the navigation database become outdated, since map updates can be purchased and easily loaded using an SD data card slot on the front of the panel. Similarly, points of interest and speed camera locations can be updated via the USB port.
 
AROUND VIEW MONITOR
Qashqai+2 n-tec+ and Tekna models are now fitted with Nissan's Around View Monitor: it's the first time such an innovative feature has been available on a C-segment car.
 
Combining the feeds from small cameras mounted on the front grille, tailgate and both door mirrors, the system projects an overhead 360o 'helicopter view' of the area around the vehicle onto the Nissan Connect satellite navigation and infotainment screen.
 
A natural progression from the rear facing parking camera pioneered by Nissan - its first application was on the 2002 Nissan Primera ­- Around View Monitor makes parking or slow speed manoeuvres simple and safe. The 360o helicopter view gives the driver a clear indication of obstacles around the car. The system switches on automatically when the car is placed in reverse or, while driving up to 6 mph, by pressing the "camera" button on dashboard; then it switches off once the car has reached a set speed.
 
If preferred the feed from each camera can be displayed individually and the system can operate as a simple reversing camera which incorporates course lines on the screen to guide the driver to the correct path into the chosen parking spot.
 
FULL SAFETY EQUIPMENT
Safety is another of Qashqai+2's key attributes. Active safety equipment includes anti-lock brakes (ABS) with brake assist (BAS) and electronic brakeforce distribution (EBD) while electronic stability programme (ESP) and ALL-MODE 4x4 provide the ultimate traction no matter how tricky the conditions are.
 
Passive safety equipment starts with six airbags standard on all models. As well as dual stage driver and front passenger airbags, there are thorax side airbags mounted in the front seats and full-length curtain airbags on both sides giving extra protection for all occupants in a side impact.
 
The front passenger airbag can be deactivated to enable a rear facing child seat to be used. The cut-off switch is located on the passenger side of the dashboard and is accessible when the door is opened. It is activated using the vehicle key, so the bag cannot be switched on or off inadvertently. An audible driver's seatbelt reminder on all models is a further safety measure.
 
THREE POINT BELTS FOR ALL
Front seat belts are equipped with pre-tensioners to take up any slack in the seat belt at the moment of impact. Using sensors to determine the speed of deceleration - and therefore the severity of the crash - the system triggers a pyrotechnic gas generator to rewind the retractor thus tensioning the belt. All seven seats have full three point harnesses while there are ISOFIX latches for child safety seats in the middle row.
 
As well as creating an airy cabin, the full-length panoramic glass roof is made from laminated glass to ensure it will not shatter in the event of a roll-over crash.
 
STANDARD EQUIPMENT
Standard on all versions are power windows with one touch operation of the driver's, ESP, manual or automatic air conditioning, flat blade wipers, drive computer, a CD audio system, MP3 audio jack, rear privacy glass and roof rails. There are ample storage opportunities, with a large glovebox and deep door pockets. All models also feature alloy wheels as standard (16 inch on Visia 1.6 and 1.5 dCi; 17 inch on Visia 2.0 petrol and 1.6dCi and Acenta; and 18 inch on n-tec+ and Tekna models).
 
Acenta/n-tec+/Tekna models add the Panoramic glass roof, leather covering for the steering wheel and (manual) gear lever knob, a centre rear armrest and front fog lamps; the air conditioning system is upgraded to dual zone climate control. On Acenta models the stereo is upgraded with a 2 DIN CD player with USB, iPod and aux inputs, while n-tec+ and Tekna models of course gain Around View Monitor and Nissan Connect.
 
Other features standard on Acenta/n-tec+/Tekna grade include rain sensing wipers, automatic headlights and cruise control. Externally, Acenta and Tekna models can be distinguished by their body coloured door handles, gear shift surround and steering wheel finishers. n-tec+ models feature unique satin silver roof rails and aluminium pedals.
 
LEATHER TRIM
As well as Nissan Connect, top of the range Tekna models also enjoy a Bose audio system with seven speakers and the luxury of leather upholstery with contrasting stitching, with heated front seats. Added convenience is provided by Nissan's Intelligent Key while safety at night is enhanced by xenon headlamps.
 
SERVICE, WARRANTY & INSURANCE
 
AT A GLANCE
Three-year 60,000 mile manufacturer warranty
12-year anti-perforation warranty
Low insurance ratings
All Qashqai+2 models, like 5-seater Qashqai, have a 12 month/12,500 mile service interval. They are covered by a three-year/60,000 mile warranty. There's also a 12-year anti-perforation warranty.
 
Insurance groups range from 6 for the 1.6-litre petrol Visia and Acenta and 1.5-litre diesel Visia, Acenta and n-tec+ models to 11 for 2.0 petrol Tekna models and 2.0 diesel Tekna 4x4 models.
Source: Nissan
Gallery:
Nissan Qashqai+2 (2012)