During this year, nothelle looks back on a fourty-year history of vehicle individualization programs. Since 1967, the name nothelle has been affiliated with supreme engineering aesthetics. Nothelle offers an unmatched array of extensive experience far beyond any other company within this field. Hardly any other company has gathered such a wealth of experience. The refinement program for top-range Audi models meets the highest standards and combines experiences acquired from motor sports with the traditional nothelle values of quality and exclusivity. The enthusiasm for motor sports and innovative concepts is the foundation of the individualization programs for vehicles from Audi.
For it's anniversary year 2007, featured highlights offered from the nothelle program include extensive modifications for Audi TT, inculding both versions Coupé and Roadster.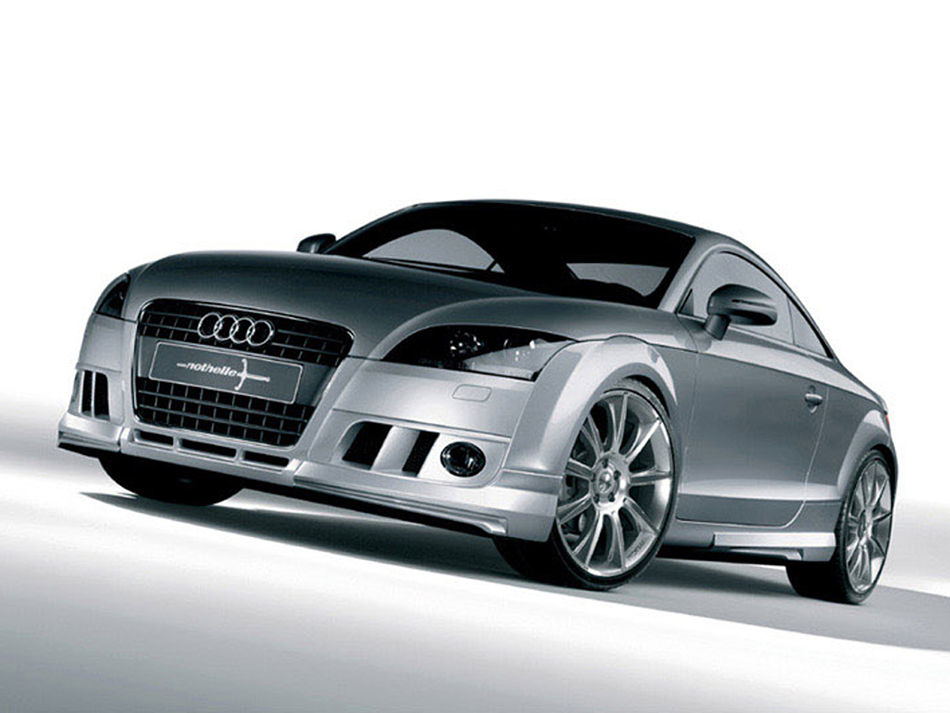 Aerodynamic, Design, Sport Exhaust System
With the aim of giving the TT an individualized and emotionally expressive look, Nothelle offers a shaply aerodynamic kit for a perfect match to the Audi original design really spicing it up.
A three-piece front spoiler as well as other front apron air intakes (Double Frames) bestow the TT an expressive face. The nothelle side sill elements give the Audi TT a much sturdier profile building up a sort of lateral muscle mass look. In back, a rear apron in special nothelle design comes with complete, perfectly integrated end pipes extending from the silencer – which is offered by nothelle in combination with the rear apron – guaranteeing a super spine-tingling sound with very distinctive rear view. Perfect to the completion of the rear, nothelle provides a 3-part rear spoiler providing extra downforce and particularly at higher speeds, a better stabilization effect. Additionally, nothelle offers a roof spoiler, excluding however the Roadster version.
Sport Suspension System
Because reduction to the center of gravity results in better agility, nothelle offers a set of sport springs. This brings TT to about a 25 mm lowering. The high-end solution in nothelle program is a coilover suspension with integrated adjustable compression and rebound settings. The driver can choose from three different shock absorbing levels. The suspension strut housing is made of high value stainless steel, with anodized suspension plates and gaskets of Teflon. The material provides for long-lasting life and offers something for the eye as well. Not a bad investment, in terms of the pleasure endowed while taking those curves quick as a flash.
Motor Performance Increase
Matching the racier look, nothelle makes available more zest for the TT motor as well. The Ratingen (Germany) -based Audi specialists help the 2.0 TFSI Motor (series-produced 200 HP) to charge forwards with four different increase performance programs. From Chip tuning (+ 40 HP, + 75 Nm) through to complete rebuild (+ 130 HP, + 120 Nm) everything is possible. Then, nothelle drops the big one: A world premiere is celebrated for the 3.2 V6 being modified through twin turbo technology. This increases performance up to 520 HP and 635 Nm and a Vmax of approx. 308 km/h turning the TT from the underdog to a Porsche-killer per se! The conversion is available for manually shifted versions as well as for TT´s with DSG-transmission (direct shift gearbox). The conversion of course includes a reinforced clutch and a specially adapted gear transmission ratio. Because on one hand the sheer power should be transmitted without causing damage, and on the other hand it should enable a full gallop of the 520 ponies.
Light Alloy wheels
The superior, distinctive and modern design of the "NOVEDRA IX" is immediately noticable, due to its' complete self-containment. The nine spokes (hence "IX") consists of a broad basic design in which a slender ridge runs into the rim flange. The sporty dynamics of this perfectly-shaped masterpiece makes every vehicle look fast even while when just standing still. These are offered in 20-inch for the Audi TT by Nothelle.
Nothelle makes available no less than 4 different surface finishes. For variations "silver", "white", and "black" the spokes and rim flange are polished. Trendy again particularly for white vehicles is the white finish really standing out with an individualized look.
The variation "NOVEDRA IX brillant" features an elaborate, high-polished finish available by Nothelle through special ball-polishing techniques and high-polished clearcoat. Through these processes, the wheel not only receives its own individual non-imitable look, but possesses increased durability as well. The sealing of the surface occurs through a transparent baked-on lacquer finishing process.
The attractive wheels are made available from Nothelle as a set with tires in sizes 255/30-20, contributed by its' technology partners Hankook and Continental.
The Nothelle wheels, manufactured from high-grade aluminium alloy, stand out because of their minimal weight. This means reduced unsprung mass, decreased wheel tramp resulting in increased driving comfort. Over and above this, large spacing between spokes guarantees prefect cooling of the brake system. For security aspects, a point not to be underestimated.
Also optionally is the Nothelle "NOVEDRA VII SPORT" wheel in multiple-parts look available in 8.5 x 19".
Source: Nothelle
Gallery:
Nothelle Audi TT (2007)