AC Schnitzer offers exclusively custom-made vehicle components for BMW, MINI and Land Rover vehicles. Our flexible modular system allows us to provide individual components, assemblies or complete conversions. All components are precisely matched to each other.
Complete conversions achieve the best result in vehicle optimisation. We call these vehicles "genuine AC Schnitzer" and "enhance" these models with our logo and a type designation.
We have now completed our product range for the new BMW 4-series models to include not only performance upgrades, wheel and tyre combinations, sports and racing suspension and accessories for the interior, but also a complete range of aerodynamic bodystyling components.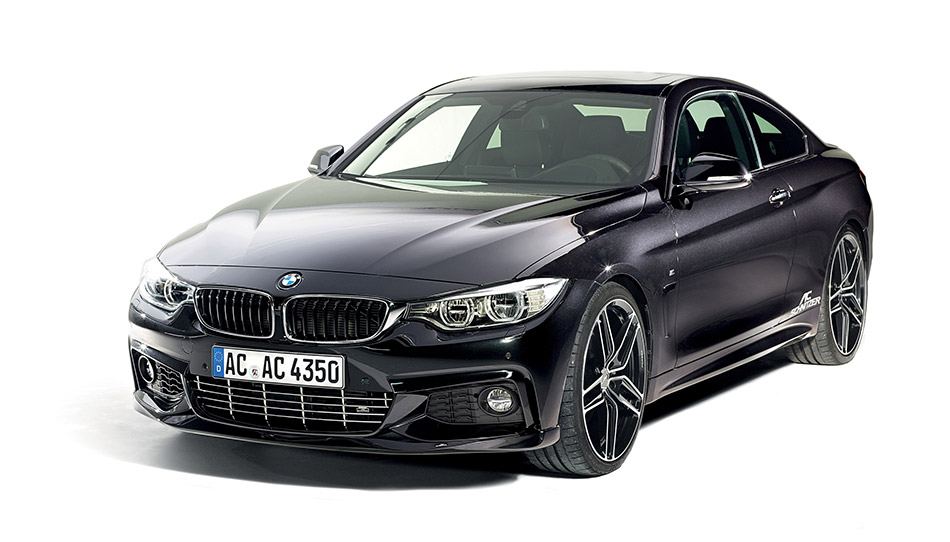 The AC Schnitzer aerodynamic range for the BMW 4-series coupé (F32) and cabriolet (F33) models comprises the following special accessories, available both individually and in combination:
Front spoiler for vehicles with M-Technik pack
Front spoiler for vehicles without M-Technik pack
Front grille, chrome for vehicles with M-Technik pack
Rear roof spoiler (F32)
Rear spoiler (F32)
Rear diffuser
Rear skirt protective film
Form follows function: This is the principle behind the work of the engineers and designers of the aerodynamic components for the BMW 4-series models. At the rear, a diffuser draws the vehicle down to the asphalt, while the sonorous AC Schnitzer silencer in the latest Racing Evo tailpipe design is harmoniously integrated into the rear end styling.
Further downforce is provided thanks to a rear roof spoiler and front spoiler. All aerodynamic components lend exciting new contours to the body of the 4-series models, but at the same time integrate harmoniously into and subtly emphasise the styling lines of the vehicle.
Your personal benefit:
Efficient Performance by AC Schnitzer
Original AC Schnitzer aerodynamic components minimise drag to improve driving behaviour.
Greater agility
The AC Schnitzer certificate of authenticity on all aerodynamic components by AC Schnitzer guarantees high quality, extensively tested materials with a long service life.
Greater safety
Excellent durability thanks to the use of high quality materials, where the motto is:  at least BMW standard - preferably better.
Perfect fit at series level
Easy to fit: original fixings are used as far as possible and detailed fitting instructions provided. All parts are TÜV approved.
Greater driving pleasure
Perceptible gain in sporting performance of your vehicle for a more intensive experience, thanks to the AC Schnitzer aerodynamic components.
Source
Gallery:
AC Schnitzer BMW 4-series (2014)