Just a few months after the very successful launch of the five-door model, the Astra family welcomes a new member. The new Astra station wagon will have its world premiere at the International Motor Show in Madrid, Spain (May 20 – 30, 2004). The dynamic and elegant station wagon can be ordered beginning in June, and European dealers will have it in their showrooms in October. Thanks to its 2.70-meter wheelbase, the new Astra station wagon has ample space for passengers and luggage.
Numerous details such as an optional sliding rear bench seat or the FlexOrganizer system make the up to 1570-liter cargo space even more versatile. These features are complemented by a broad range of engines with a total of five gasoline and four CDTI common-rail diesel engines as well as a technology package extraordinary for this segment. This includes, for example, the adaptive, interactive IDSPlus chassis with electronic damping control, steering-linked AFL (Adaptive Forward Lighting) dynamic curve light headlamp system and a trailer stability program.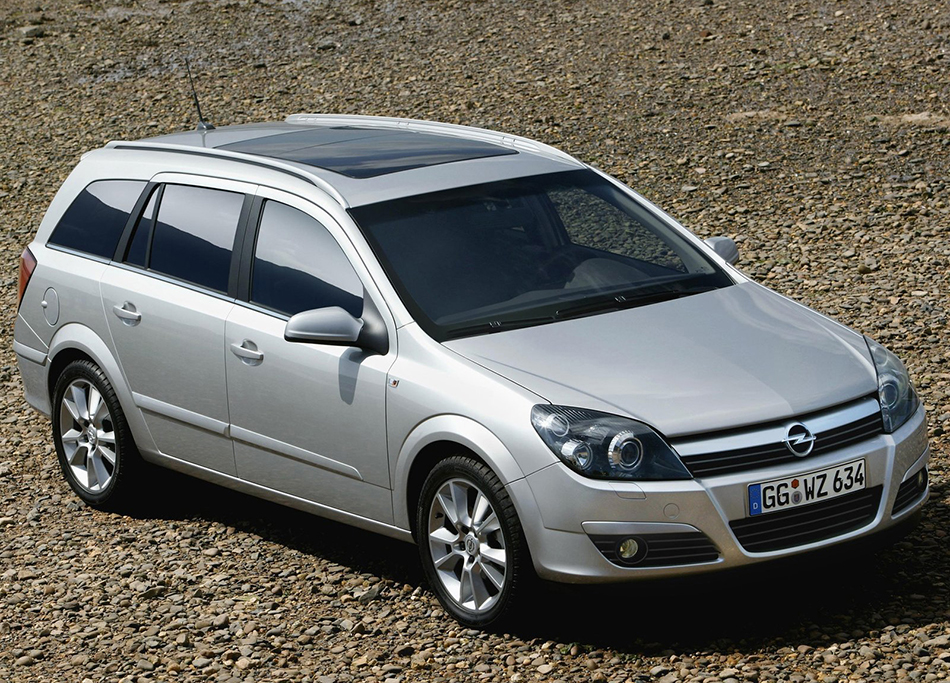 "We want to take a leading role in the compact station wagon segment with the new Opel Astra station wagon", says Opel Chairman and Managing Director, Carl-Peter Forster. "It offers the same driving dynamics as the Astra five-door, which had such positive test results also due to its safe and agile driving performance. This is now complemented by the generous luggage compartment space. For me, the Astra station wagon is a car in best Opel station wagon tradition that you can use for a variety of purposes."
Spacious interior even more versatile thanks to sliding rear seat bench
With its 2.70 meter wheelbase, which is around nine centimeters longer than the five-door and station wagon predecessor models, the Astra station wagon (length/width/height: 4.51/ 1.75/1.5 meters) offers very generous load volume of up to 530 liters (according to VDA, the German Automotive Industry Association) under the luggage compartment cover.
By folding down the rear bench seat and seat backs (both with standard 60:40 split or optional 40:20:40 split), its cargo capacity can easily be expanded to around 1570 liters, substantially more than its predecessor (1500 liters according to VDA).
The optional sliding rear bench can be adjusted to increase the spacious legroom of 897 mm (26 mm more than its predecessor) by around 40 mm to 936 mm. The rear bench, which has a total longitudinal adjustment range of 105 mm, can simply be slid forward when more luggage space is needed. This increases the load capacity by more than 60 mm up to1135 mm compared to the standard version's 1072 mm. With the optional foldable front passenger seat, maximum load length can even be extended to 2.75 m.
With straight side walls, a storage area beneath the floor, side storage and an additional 12-volt socket, the new Opel Astra station wagon's generous luggage compartment is extremely versatile. The standard stainless steel rim protects the 582 mm low luggage compartment sill from scratches and complements the high quality look. Opel´s understanding of customer needs is also reflected in the new luggage compartment cover. Just a gentle touch and the handy opening mechanism smoothly and quietly rolls back the cover to enable easy loading. Already proven in the Vectra station wagon, the patented FlexOrganizer system for versatile and secure storage of goods was further enhanced for the Astra, with the horizontal side rails in anodized aluminum. An extensive range of accessories enables individual arrangement and organization of the loading space to meet every driver's needs.
Sporty, elegant look, dynamic chassis and special trailer-towing package
The new Opel Astra station wagon, with its dynamic front-end, eye-catching three-dimensional rear lights and distinctive side window graphics, continues the five-door hatchback's progressive design line. The high quality flat roof rails, familiar from the Opel Signum, are available in black or silver and accentuate the station wagon's elegant appearance.
A completely new dimension of balance between comfort and active safety can be experienced in the new Astra station wagon with the optional, adaptive IDSPlus suspension system and electronic Continuous Damping Control (CDC). This integrated chassis control network (ICC), where the control units and sensors of ESPPlus, ABS and CDC communicate constantly via the high-speed CAN (Controller Area Network) data bus system, highlights the dynamic driving characteristics of the new Astra station wagon. Further options such as the automatic levelling system, innovative trailer stability program and Hill Start Assist (HSA) predestine the new model for trailer towing.
Broad engine range: five gasoline and four CDTI common-rail turbo-diesel engines
The Astra station wagon, which will first be produced in Bochum/Germany and shortly thereafter also in Antwerp/Belgium, will be available with the same broad engine range as the five-door model. This includes modern ECOTEC gasoline and diesel engines with displacements between 1.4 and 2.0 liters and power outputs from 80-200 hp. Besides the 1.9 CDTI with 150 hp – the most powerful diesel in this class – the new 1.9 CDTI with 120 hp expands the variety of dynamic diesel engines for the Astra range to four. Both 1.9 CDTI engines can be ordered with an optional state-of-the-art maintenance-free diesel particulate filter. All Astra engines comply with the Euro 4 emissions standard.
The transmission range consists of a six-speed manual gearbox (standard equipment for all 1.9 CDTI and 2.0 Turbo engines, optional for the 100 hp 1.7 CDTI), a five-speed manual transmission, a four-speed automatic (optional for 1.8 ECOTEC) as well as the latest version of the Easytronic automated manual transmission, which is available for the 1.6-liter engine with fuel-saving TWINPORT technology.
Source: Opel
Gallery:
Opel Astra Station Wagon (2004)