With three more powerful and economical engines, a sportier look and new model variants that offer even greater value for money, the second-generation Opel Zafira is all set for its February 2008 market launch. The new, refined 1.6 ECOTEC gasoline engine with innovative cam-phase technology produces 85 kW/115 hp and is Zafira's new high-volume engine, replacing the 1.6-liter four-cylinder unit with 77 kW/105 hp. Opel continues to pursue its engine downsizing strategy with two highly economical 1.7 CDTI common-rail turbo-diesel engines (81 kW/110 hp and 92 kW/125 hp). The new diesel engines replace the 1.9-liter with 74 kW/100 hp and 1.9-liter with 88 kW/120 hp and manual transmission.
Sporty design accents and the enhanced interior emphasize the fully variable seven-seater's distinctive powerful appearance. The new model of course features the Zafira's trademark variable Flex7 seating system – an unrivalled innovation that transforms the car's interior in seconds without cumbersome removal of the seats. This design masterstroke has helped drive the Zafira's sales success since 1999: the two-millionth Zafira is expected to leave the production lines during the new model's market launch. Together with the smaller Meriva, the Zafira has led the monocab segment in Europe since the Meriva's market launch in 2003.
" The new Zafira is exactly the right offer at the right time. We know that customers are very satisfied with our bestseller's functionality and versatility, and now we've given the Zafira an even sportier look and equipped it with more economical engines. This maintains the Zafira's benchmark position in the European compact MPV class." Alain Visser, Chief Marketing Officer, GM Europe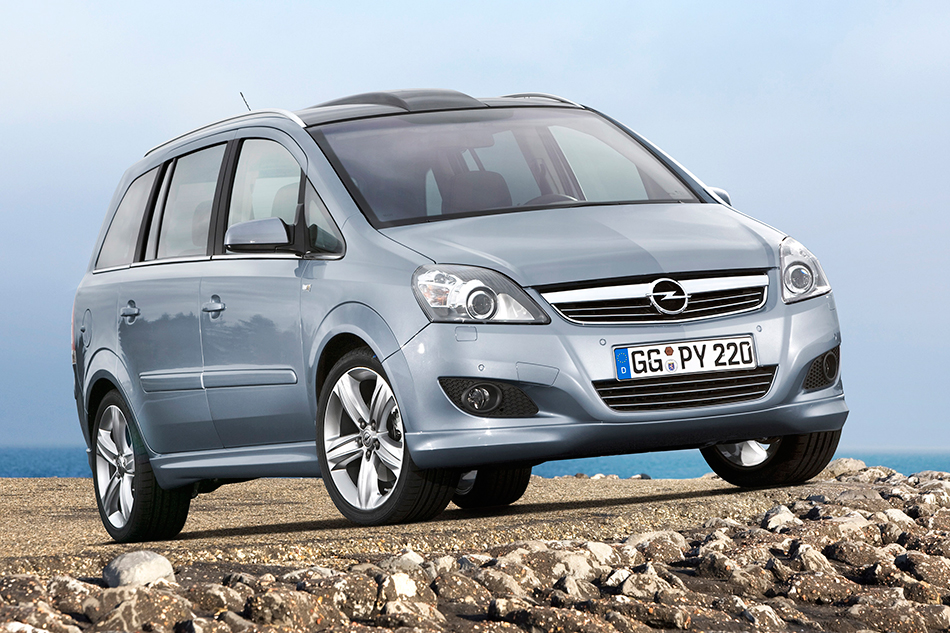 New engine range – more output with lower consumption  
Increasing efficiency was an integral part of Opel engineers' engine strategy while working on the newly expanded Zafira engine range. The result of this is that Zafira customers enjoy a double benefit from the three new gasoline and diesel engines, which are all in a highly popular displacement and output segment. Customers enjoy significantly higher driving performances and still save fuel. The improved fuel economy also corresponds to a CO2 reduction compared to the previous top-selling engines.
1.6 ECOTEC: Enhanced in every respect
The new 1.6 ECOTEC with 85 kW/115 hp offers improved elasticity, smoothness and ten percent more output than the previous 1.6-liter engine with 77 kW/105 hp. It also has lower fuel consumption and CO2 emissions: the engine requires an average of seven liters of fuel per 100 kilometers, which is a 4.3-percent reduction compared to the predecessor engine. The improved torque curve is especially noticeable, peaking at 155 Nm (3.3 percent higher than 1.6 with 105 hp) and available across a wide rpm range. With this new engine, the Zafira accelerates from zero to 100 km/h in 13.4 seconds and reaches a top speed of 185 km/h.
The strengths of the new four-cylinder, four-valve engine are based primarily on"Cam-Phase" technology. This involves continuous variable valve timing control via intake and exhaust camshafts, which adjust to the driving situation. Both camshafts are controlled seamlessly and independently from one other in real time by engine management, with two compact, vane-type hydraulic adjusters controlling the timing. This allows the intake and exhaust valve timings, and therefore also the engine's response, to be more spontaneous and better matched to each power and performance requirement. The driver "defines" these requirements via the accelerator pedal and gear change.
Opel engineers enhanced the intelligent and extremely effective TWINPORT concept in the 115 hp, 1.6-liter engine. Its cylinder head has two separate intake ports per cylinder. While until now manifold flaps were required to ensure stable and consistent combustion, the new 1.6 ECOTEC functions without these flaps with its variable two-length plastic intake pipe. Engineers were able to achieve this thanks to optimized inlet port alignment combined with cam-phase. The resulting dethrottled gas exchange improves fuel economy.
For the first time in this engine class, Opel uses laser-structured cylinder barrels in the 1.6 ECOTEC unit. The exactly defined, minute recesses are etched during a special production stage, and act as a micro-pressure chamber system. This leads to reduced piston friction and abrasion, as well as lower fuel and oil consumption. Other technological highlights of the high-tech engine include the map-controlled thermostat and low-drawn exhaust manifold with integrated catalytic converter.
Two new 1.7 CDTI engines strengthen diesel range
Both new 1.7 CDTI engines (81 kW/110 hp and 92 kW/125 hp) come with six-speed manual transmission and – like all Zafira diesels – a maintenance-free diesel particulate filter as standard. Just like the gasoline engines, they boast increased power with reduced consumption and emission levels compared to the 1.9-liter predecessor units. Both 1.7 CDTI engines feature common-rail direct injection and four-valve technology with swirl control for pronounced refinement, high responsiveness and exemplary fuel efficiency. With an average consumption of 5.7 liters per 100 km, the two diesel units are considerably more economical than the 1.9 CDTI engines they replace. And thanks to engine downsizing, the 1.7 CDTI units produce 152 g CO2/km – an improvement of around five percent compared to the 1.9-liter engines.
The high-tech engines also produce better driving performances: zero to 100 km/h takes the new turbocharged 110 hp unit 13.4 seconds, and the 125 hp variant just 12.3 seconds. Top speeds for the 110 and 125 hp engines are 179 and 189 km/h respectively.
The Zafira's range of ultra-modern turbo diesels now extends from the new 1.7 CDTI with 81 kW/110 hp to the 1.9 CDTI with 110 kW/150 hp. The most powerful diesel unit is available with six-speed manual or six-speed automatic transmission. The 120 hp 1.9-liter diesel engine with six-speed automatic transmission remains in the range.
"Despite greater output from both the 1.6 ECOTEC gasoline engine and 1.7 CDTI units, we were able to reduce consumption and emissions once again. This benefits the environment and drivers' budgets. Customers also pay less motor vehicle tax thanks to the smaller engine displacements. Opel engines perfectly combine the virtues of driving fun and economy." Rita Forst, Executive Director Product Engineering, GM Powertrain
Six from ten: One CNG and five gasoline units
The new Zafira is available with a range of ten engine variants. There are now five gasoline units, plus the 1.6 CNG engine optimized for natural gas operation. The next engine up from the new 1.6 ECOTEC is the 1.8 ECOTEC with 103 kW/140 hp, which is also fitted with two adjustable camshafts to optimize consumption and output. The 1.8-liter unit comes with a five-speed manual transmission or optional automated Easytronic manual gearbox.
The 2.2 DIRECT ECOTEC aluminum engine with direct injection produces 110 kW/150 hp and comes with manual six-speed gearbox or an optional four-speed automatic transmission. The 2.0-liter turbo engine with six-speed manual transmission has an impressive output of 147 kW/200 hp. The top-of-the-line sporty variant is the "high-speed" OPC model, whose powerful turbo engine (177 kW/240 hp) propels the sporty car from zero to 100 km/h in just 7.8 seconds. The OPC variant's top speed of 231 km/h makes it the fastest compact van in the world.
The engine range is further expanded by the especially economical and environmentally friendly 1.6 CNG (Compressed Natural Gas) unit. This natural gas-powered Zafira also sets standards: with an average fuel consumption of around five kg of H-gas per 100 km, fuel costs are reduced considerably. Tax and insurance levels are on par with the technologically similar 1.6-liter ECOTEC gasoline unit. The 69 kW/94 hp natural gas-powered Zafira also offers clear benefits in environmental compatibility: this type of propulsion produces 80 percent less nitrogen oxide than a diesel, and the exhaust gases contain almost no soot particles. Average CO2 emissions are just 138 g/km – a top value in the compact van segment. With six passengers plus driver, the Zafira 1.6 CNG – available as an Opel ecoFLEX model from spring 2008 – produces just 20 g CO2/km and passenger.
Dynamic Looks: Distinctive design elements on front and rear  
The new Zafira is characterized by more pronounced front and rear design elements that give the compact van a sporty look. The confident wide front chrome beam with integrated Opel logo takes the hood tapering and draws it into the two-part radiator grille fins, which are now fully chromed. The distinctive lines around the fog lamp recesses also integrate the bumper into the dynamic V-styling; headlamp housings are also in chrome-look. With its bold, full front lip, the Zafira Sport sends a clear statement about the model line's new dynamic appearance. The resulting sweep continues from the flared wheelarches, over the side sills to the pronounced rear apron. Other new eye-catching features include two transparent 3-D cells in the red tail lamps. The design enhancement is rounded off by the rear lamps' silver-white strip, which crosses over into the rear chrome beam.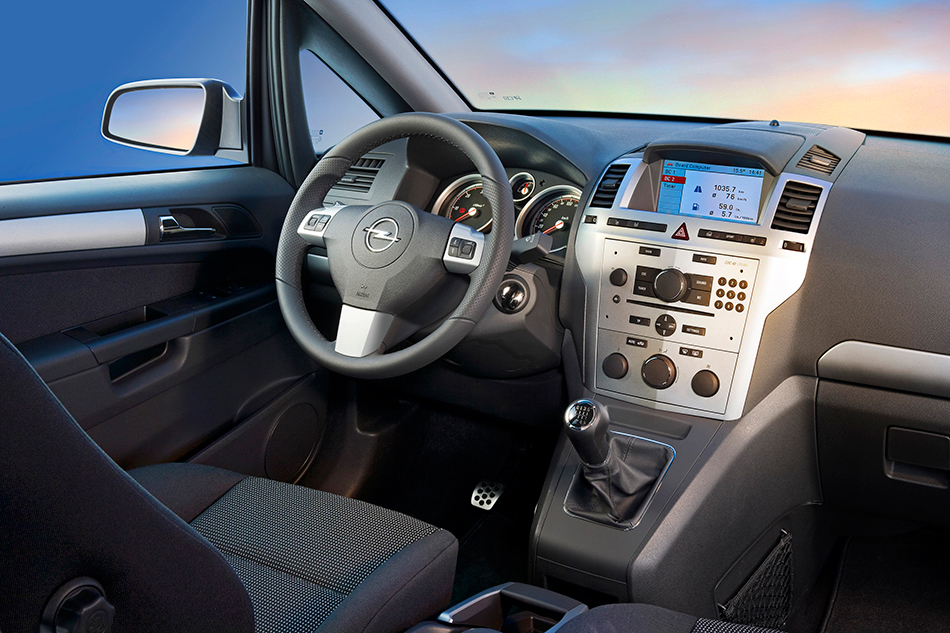 Glossy chrome-ringed climate and radio control elements, as well as new decorative trim on the instrument panel and doors, give the interior an even more chic look. The Cosmo version features elegant piano lacquer trim on the center console and steering wheel's decorative molding. The infotainment systems with navigation, CD, DVD and MP3 functions also have stereo inputs for external audio equipment, such as an iPod.
"We wanted to give our Icon of flexibility a dynamic, upscale new fresh face and further refine its quality of execution." Mark Adams, Vice President, GM Design Europe
Flexibility and Versatility: Transformation within seconds  
The new Zafira of course features the trademark variable Flex7 seating system – an unrivalled innovation. Flex7 transforms the car's interior from a seven to a five, four, three or two-seater in seconds without cumbersome removal of the seats, and has also set flexibility standards beyond its own segment. As a five-seater, it even exceeds all
seven-seat compact vans with its 645-liter load volume, and has a trunk capacity of 1820 liters in its two-seat configuration.
The front passenger seat can also be ordered with a foldable seat back, storage compartment beneath the seat cushion and a fold-down table on the seat back. The FlexOrganizer system is optionally available for the Zafira. This clever luggage compartment management system features side rails integrated into both sides of the luggage compartment. It also has fixture points for various dividing elements, storage boxes, nets and hooks, so that every type of cargo can be safely and neatly transported. For practical interior organization, the roof console running down the length of the ceiling houses five large drop-down storage compartments. This feature comes with the unique panorama roof, whose four tinted glass panels give the car's design an even more elegant and dynamic look from the outside. In strong sunlight, the panorama roof's power-operated shading system covers all panels simultaneously and in perfect synchronization (with one shade per panel). The panorama roof comes as standard with the Zafira Cosmo.
Innovation and technological excellence: From IDSPlus to AFL  
The new-edition Zafira also offers innovative technological highlights unique in this vehicle class. These include the adaptive IDSPlus chassis system (Interactive Driving System) with electronic Continuous Damping Control (CDC). In this integrated chassis control system, the control units and sensors of ESPPlus, ABS and CDC exchange data constantly, resulting in almost immediate optimization of chassis fine-tuning and an exclusive dimension in driving comfort and safety. The new edition's further improved Trailer Stability Assist (TSA) is also far from a matter of course when looking at other brands. The sophisticated system monitors the intensity of yawing motions in the car-trailer combination. Such motions are stabilized by control electronics via regulated brake application. A further innovative highlight in the Zafira is the AFL bi-xenon headlamp system (Adaptive Forward Lighting) with dynamic curve light, which Opel introduced to the compact van segment with the Zafira. Hill Start Assist (HSA), Open & Start keyless entry system and high-quality infotainment systems including navigation, CD, DVD and MP3 functions round off the Zafira's comfort features.
" A key characteristic of the Opel brand is that we make innovative and useful technology features available to a wide customer base. We call this democratization of high-tech. There have been many impressive examples of this throughout our brand's history, and the new Zafira is no exception." William Mott, Marketing Manager Europe – Compact Cars
SAFETEC system enhances best value car   
The Zafira's standard SAFETEC system ensures maximum safety. It ranges from the Interactive Driving System (IDS) with McPherson front axle, patented torsion-beam rear axle and electronic assistance systems to the numerous occupant protection elements. The Zafira comes ex works with eight airbags, active head restraints, ISOFIX child seat mountings and Opel's patented Pedal Release System (PRS), which decouples the pedals in the event of a frontal collision. In the Euro NCAP (European New Car Assessment Programme) crash test, the Zafira achieved the maximum rating of five stars for passenger protection. The compact van also boasts ideal child and pedestrian protection.
Source: Opel
Gallery:
Opel Zafira (2008)