Opel moves mobility forward and makes good on its promise: the revolutionary, sleek and practical Opel Ampera is Europe's first electric vehicle to enable 'go anywhere at any time' mobility. First deliveries of the series production car will be made before the end of this year.
The wheels of the Ampera are electrically driven at all times. A unique 16 kWh lithium-ion battery pack feeds an advanced, 111 kW/150 hp electric drive unit to deliver between 40 and 80 km of pure electric operation with zero emissions – depending on terrain, driving technique and temperature – when fully charged. According to the ECE R101 regulation for measuring fuel consumption and CO2  emissions, the Ampera consumes less than 1.6 l/100 km and emits less than 40 g/km CO2 (preliminary data).
On the road, the Ampera's Voltec electric propulsion system ensures lively performance and promises an unrivaled driving experience. Instant torque of 370 Nm enables zero to 100 km/h acceleration in around 9 seconds and a top speed of 161 km/h. The Ampera delivers nearly silent electric drive under battery power and a highly refined NVH performance even in extend-range drive mode.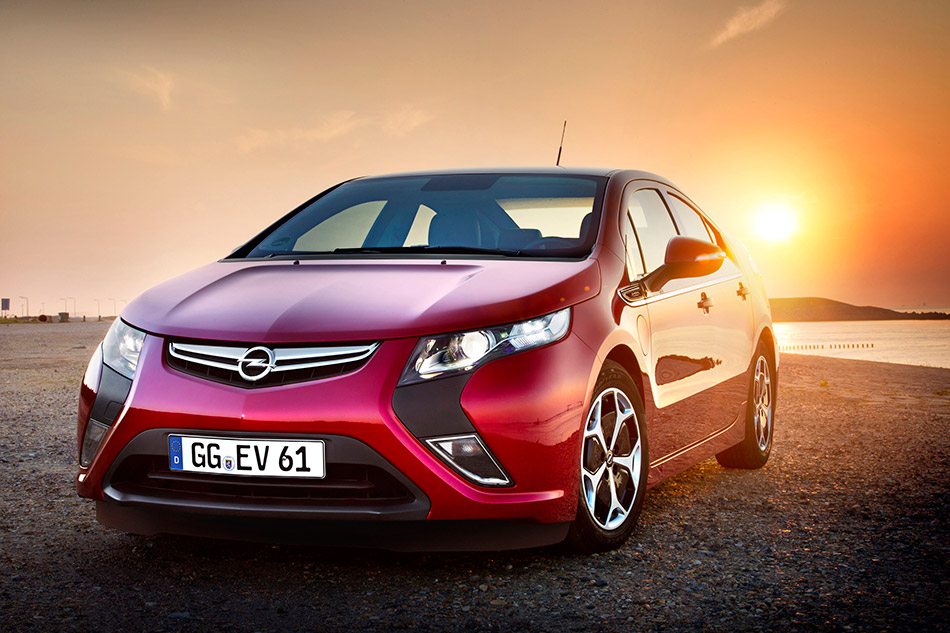 Thanks to the Ampera's intelligent and practical extended-range capability, drivers enjoy peace of mind because they will never be left stranded by the roadside with a depleted battery. The Ampera offers all the environmental benefits and spirited driving performance of a battery-powered car with none of the drawbacks.
While independent research shows that the Ampera's pure battery zero-emissions driving range is sufficient to meet the daily needs of 80 percent of European drivers, it also provides a total driving range of more than 500 kilometers thanks to its range-extending gasoline engine. This is seamlessly engaged to generate electricity if and when the battery has reached its minimum state of charge.
Just as revolutionary as its unique Voltec electric propulsion system, is the Ampera's eye-catching design. Sleek, aerodynamically-efficient styling encapsulates a cabin that replaces conventional dials and gauges with high-definition color displays and touch-screen functionality.
It is also a car that's practical to use. The five-door body format provides comfortable accommodation for four adults with flat-folding rear seats and a trunk capacity of 310 liters.
On sale later this year, the Ampera embodies Opel tradition in offering advanced technology that delivers real-world benefits at realistic prices. Like all Opel products, the Ampera is backed by a lifetime/160,000 km vehicle warranty (Germany/UK) and an eight year/160,000 km guarantee for the battery system.
The Ampera goes on sale throughout Europe at a recommended retail price of 42,900 euros (incl. VAT; in view of differing trim levels between markets, prices in each country may vary). In contrast to other manufacturers, Opel's pricing scheme eliminates confusion by always listing the total cost of the car and battery.
The Opel Ampera is receiving enthusiastic receptions across the board. It has already been chosen as the winner of numerous awards by both the media and public. Opel's EV is also electrifying thousands of ePioneers across Europe. These are potential customers who were among the first to take the Ampera for a test drive. They are receiving exclusive information and services, together with a host of other benefits. Over 5,000 potential customers have already joined the ePioneer community at www.opel-ampera.com. Opel expects Ampera sales in 2012 to reach around 10,000 units.
"Unlike a conventional electric vehicle, the Opel Ampera can be the only car you need to own," says Alain Visser, Vice President of Sales, Marketing and Aftersales at Opel. "The Ampera delivers it all: revolutionary propulsion, progressive styling, excellent safety, high quality and user-friendly functions, all combined with superb driving dynamics."
The Ampera is more than a fascinating high-tech product with great environmental value. Visser adds: "It transforms visions into reality, and so interprets the Opel brand's philosophy and values in a highly advanced, trend-setting way. The Ampera stands for the company's greenest, most positive, creative and future-oriented thinking with which we are taking on the challenges of the future."
The Ampera spearheads the roll-out of Opel's industry-leading, e-mobility product program, which includes small, purely battery-powered cars for city driving and the development of hydrogen-powered fuel-cell vehicles that generate their own on-board electricity supply.
Revolutionary Voltec electric propulsion system
The electric drive unit, located under the hood alongside the gasoline engine, consists of an electric traction motor, an electric generator/motor, and a planetary gear set that improves overall efficiency by reducing the combined rotational speed of the electric motors. Unlike a conventional powertrain, there are no step gears.
In extended-range mode, which activates whenever the battery has reached its minimum state of charge, motive power from a generator is seamlessly inverted to the electric drive unit. The generator is driven by a highly-efficient 1.4-liter, 63 kW/86 hp gasoline engine.
Opel expects that 90 percent of the time, drivers will select one of the two main driving modes: Normal and Sport. 'Sport' mode increases the sensitivity of the accelerator pedal. There are two additional modes for special driving situations: 'Mountain' mode ensures sufficient battery energy is available for sustained driving on alpine roads. 'Hold-charge' mode preserves the remaining energy capacity of the battery pack by activating the gasoline engine – a useful feature to take full advantage of the Ampera's battery-powered driving range for use in restricted emissions zones, such as urban areas and city centers.
The unique T-shaped, 198 kg, 16 kWh (installed capacity) battery pack is positioned in the center tunnel of the vehicle and protected by ultra high-strength Martensite support rails. It comprises 288 prismatic lithium-ion battery cells and is configured for optimum performance and durability. A genuine industry first, it uses a liquid thermal management system and is the only mass produced battery pack that can be warmed or cooled. Opel's Alternative Propulsion Center Europe in Mainz-Kastel near Rüsselsheim played a key role in the battery system's advanced engineering.
The Ampera is as easy to recharge and comes equipped with a six meter long charging cable conveniently stowed in the trunk. Using a standard 230V/16A power outlet, owners can fully recharge the battery in less than four hours and also program the charging time to take advantage of lower, off-peak electricity rates.
Exterior and interior design: Electrifying good looks
Sleek, sculpted and precise: the Ampera takes Opel's award-winning design language into the EV segment, blending sculptural artistry with German precision. Finely balanced proportions are combined with a low, wide stance that gives the Ampera a dynamic, future-oriented appearance. EVs have never looked this good before!
Distinctive 'boomerang' headlamp housings – a new element of the Opel design language – are a clear Ampera identifier, as is its prominent grille and bold Opel badge. Every aspect of this revolutionary car has been designed and analyzed for efficiency. The Ampera is one of the most aerodynamic, energy-conserving vehicles on the market.
The cabin of the Ampera reflects the ground-breaking nature of its propulsion system. Two interactive, high-definition color screens denote the car's unique status within Opel's product portfolio. They are integrated within a signature Opel wraparound front fascia design.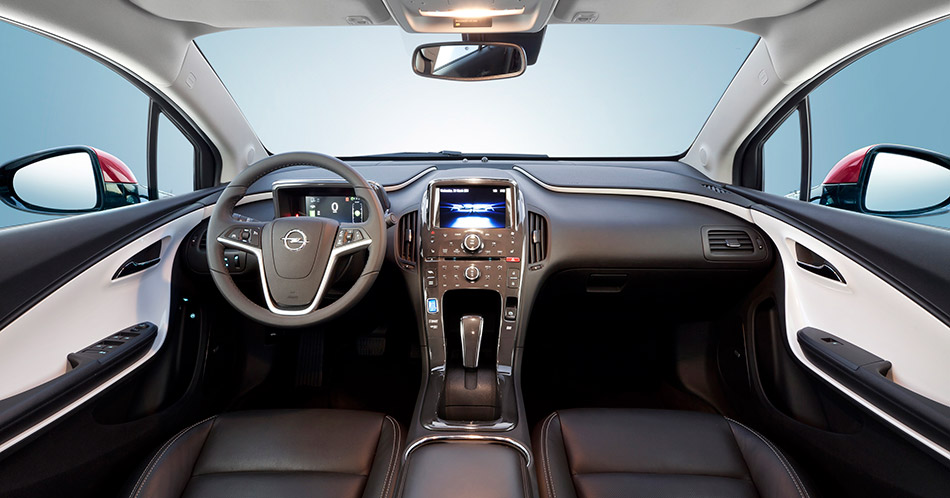 Replacing conventional instruments in front of the driver is the Driver Information Center (DIC), a reconfigurable graphic display. Designed for maximum ease of use, the DIC is teamed with a full-color, touch-screen display in the top of the center stack, which is the primary interface for all infotainment, navigation, climate control, power use and charging functions.
A driving efficiency display, alongside the speed read-out in the DIC, depicts a revolving ball, which moves up or down and changes color according to vehicle speed, acceleration and braking. Keeping the ball in the center of the display denotes optimum power usage.
The cabin offers all the space, comfort, and convenience features you would expect from a premium compact car: five-door flexibility, comfortable accommodation for four adults, and a seat up/seat down load carrying capacity of 310/1005 liters. The battery pack is located low down in the center of the car, which enables the use of flat-folding rear seat-backs.
Extensive equipment: State-of-the-art infotainment options
In addition to the standard electronic climate control and radio with steering wheel controls, a Bose® premium audio system is offered together with a navigation system as an optional package.
The Bose® Energy Efficient Series sound system delivers a superior listening experience while consuming 50 percent less energy than a conventional audio system with similar performance. The infotainment system includes audio with six speakers and a sub-woofer; a 60-GB hard drive offering 30-GB music storage; satellite navigation with 'real-time' dynamic guidance; steering wheel controls; voice recognition and Bluetooth hand-free phone connectivity.
An electrically-powered cabin heating and air conditioning system, including heated front seats, ensures interior comfort in a wide range of ambient conditions. There are three climate mode settings – Fan only, Eco or Comfort – which adjust the climate control system's effect on the vehicle's electric driving range or fuel economy.
Fun-to-drive chassis developed for European demands
The Ampera handles like a tightly tuned sports sedan. Developed by Opel engineers in Rüsselsheim, its chassis characteristics have been honed to satisfy the expectations of discerning customers.
Front suspension is by McPherson struts with aluminum lower control arms and hydraulic ride bushings. The semi-independent rear suspension features a compound crank (torsion beam) which combines the packaging advantages of a conventional torsion beam axle with low weight and consistent wheel camber control.
The rack-mounted, electric power steering system incorporates premium quality ZF components. It has dual pinions, one for steering and the other to add assistance, giving variable effort turning.
The advanced friction brake blending system maximizes the energy generated during braking. It allows for maximum regenerative braking through the electric motor, recharges the battery when braking, and seamlessly engages the friction brakes when the pedal is stepped on harder for a fast stop – all completely imperceptible to the driver.
Maximum passive safety
The Ampera's core body structure ensures outstanding crashworthiness and stiffness.
More than 50 crash tests at various speeds and angles were conducted in the development of the Ampera's safety systems, including front, side and rear impacts as well as rollovers.
A number of tests were also carried out to ensure the safety of the lithium-ion battery system, including its water tightness in wet or flooded road conditions. In an emergency, the battery pack can be easily disconnected by rescue services.
The Ampera will be assembled at General Motors' Hamtramck plant in Detroit. The battery pack is produced at GM's own battery assembly facility in Brownstown, near Detroit, the first such plant built in the US by a major carmaker.
Source: Opel
Gallery:
Opel Ampera (2013)