A new name and a new segment for Opel: At the start of the New Year and two months ahead of its world premiere at the Geneva motor show on March 6, 2012, Opel is releasing the first photos of its new dynamic, sub-compact sports utility vehicle, the Opel Mokka. With the new Mokka, Opel is the first German manufacturer to launch a contender in the growing sub-compact SUV segment.
Despite its 4.28 meter measurement, the Mokka generously accommodates five people in a commanding position. It also delivers on Opel's promise to combine attractive design with innovative technologies and upmarket functionalities, making them accessible to a wider segment of customers.
"The Opel Mokka takes its strengths from traditional, larger SUVs and fits them into a modern compact format," says Opel CEO Karl-Friedrich Stracke. "The Mokka extends Opel's vehicle line and continues the momentum we've built up over the last few years with our strong product offensive. It also energizes the new SUV B-segment that is predicted to grow considerably over the next years." 
Dynamic driving experience and lifestyle
The Opel Mokka blends functionality and a comfortable, high seating position with a flavor of adventure. It can be fitted with an all-wheel drive technology that seamlessly shifts torque to the rear wheels when required for better traction and handling. Power is provided by three efficient engines. All manual transmissions are equipped with the fuel saving Opel Start/Stop system. The gasoline offer comprises an 85 kW/115 hp, 1.6 liter naturally-aspirated engine as well as a 103 kW/140 hp 1.4 l Turbo with 200 Nm of torque. On the diesel side, there is a 93 kw/130 hp 1.7 CDTI turbo diesel with 300 Nm of torque. Both the 1.4 Turbo and the 1.7 CDTI can be combined either with six-speed manual or six-speed automatic transmissions.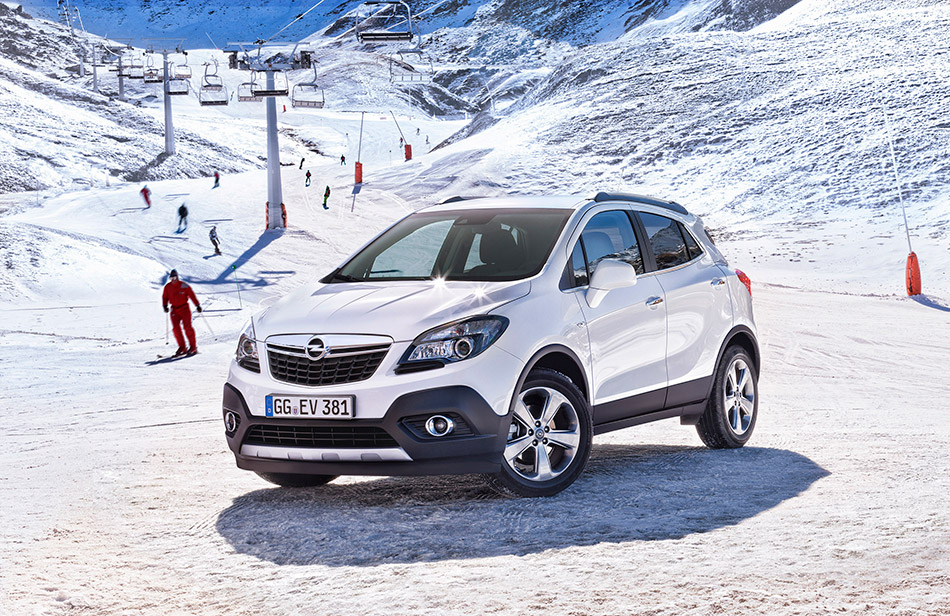 The Mokka introduces new cutting edge technologies to the SUV B-segment, such as a string of Driver Assistance Systems based on the Opel Eye front camera system, as well as a rear view camera. Furthermore, the Opel Mokka carries ergonomic seating that has been certified by AGR – the German healthy back expert organization "Aktion Gesunder Rücken e.V.". In addition to a generous loading space, the Mokka offers the fully integrated, latest generation Flex-Fix bicycle carrier that is exclusive to Opel.
With all these features, the Mokka has been designed for people with active and refined lifestyles. This is also reflected in its name which is inspired by the small, round coffee beans of the prestigious Coffea Arabica variety. Mocha-based coffee beverages are sophisticated and cultivated, rich in character and full of energy. Just like them, the Opel Mokka is compact whilst big in attitude.
Bold SUV design combined with refined functionality
With the Mokka, Opel's design philosophy of blending "sculptural artistry with German precision" finds a new expression in the sub-compact SUV segment. The Opel Mokka displays a bold attitude with sculpted and elegant traits while retaining a sporty edge with muscular and athletic body lines. These are energized by Opel's typical "blade" on the bodyside that sweeps upwards to the rear. The Mokka's sporty character is also re-enforced by its higher ground clearance which also makes it suitable for gravel roads, as well as its 1540 mm wide tracks. Its robust looks are further enhanced by 18" alloy wheels which are standard in the Enjoy and Cosmo trim levels.
In the interior, the new Mokka displays typical Opel values such as versatility and user-friendly functionality. The Mokka provides up to 1,372 liter of loading space, as well as up to 19 storage locations. Loading capacity of the Mokka can be complimented with the new generation rear bicycle carrier Flex-Fix – which perfectly supports an active lifestyle. Opel is the only manufacturer to offer such a system. The user-friendly carrier is fully integrated in the rear, functions like a drawer and can accommodate up to three bicycles at a time.
All-Wheel-Drive, Front-Wheel-Drive and exclusive technologies are available
Front-Wheel and All-Wheel-Drive are both available in the new Opel Mokka. The All-Wheel Drive System ensures a high level of stability and safety, while also extending Mokka's capabilities to more rugged environments. When handling and traction are put to the test, the system automatically and seamlessly transfers power to the rear wheels.
Standard features that enhance the driving experience across all Mokka versions include the Electronic Stability Control (ESC), the Traction Control (TC) as well as the Hill Start Assist (HSA) and Hill Descent Control (HDC) systems – which improve driving comfort and safety in uphill or downhill terrain.
Rich and refined, the Opel Mokka makes cutting-edge upmarket technologies available to the SUV B-segment. The Advanced Adaptive Forward Lighting (AFL+) which increases driving safety is based on the 3rd generation Bi-Xenon lighting system that includes High Beam Assist (HBA). The new generation Opel Eye front camera is also available on board. It gives the driver access to several functions including Lane Departure Warning (LDW) and the second generation of Traffic Sign Recognition. No other sub-compact SUV offers such a system that increases safety and driving comfort.
The Opel Mokka will be available at Opel dealerships end of 2012.
Source: Opel
Gallery:
Opel Mokka (2013)