Despite its distinctive personality, Twingo respects the tradition of the brand, but with its own individual ambitions. It embodies Renault's values that are rooted in a form of modernity that combines both the human and the affectionate touches.
Twingo reinvents the car
The Twingo project was deemed so daring that it almost stayed on the shelf. This new 3-door single box concept with its offbeat styling revisited the very fundamentals of automotive design. A deliberately minimalist car with a strong character, Twingo made its mark.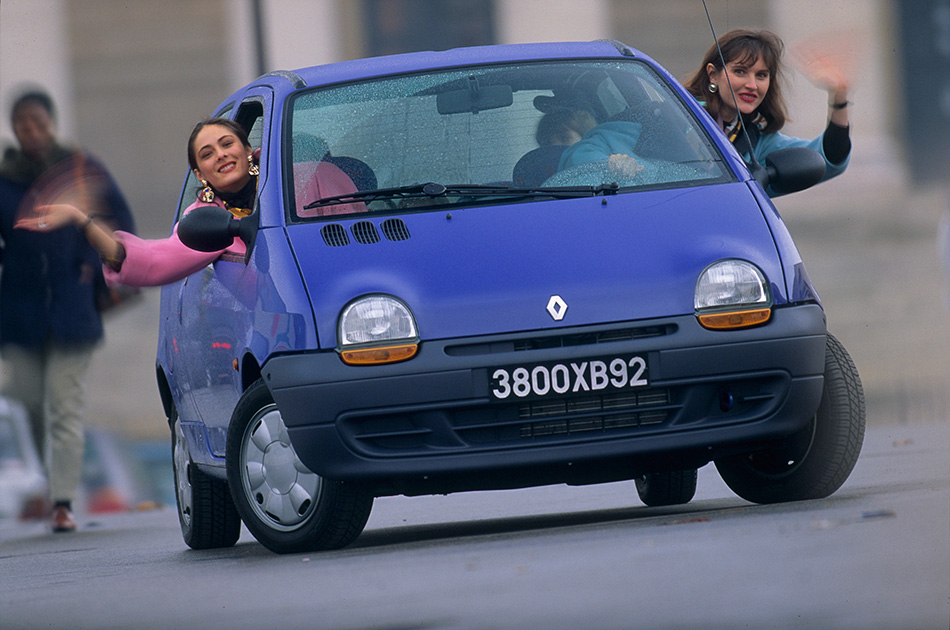 Nevertheless, choices were limited: a single engine, a restricted range of colors with 1 type of fabric, an extremely simple plastic dashboard and absolutely no options! Twingo was a completely new concept on the car market… and a great way to attract young customers unwilling to spend large amounts of money on a small car. This unique car had an equally unique price tag of just FF 55,000. An excellent deal for a car that reached new heights in original and functional design.
Over the years, a range of special series with alluring names – Air, Sari, Jungle, Elite and Emotion – attracted an even wider public.
"Twingomania"
Resembling a friendly frog with twinkling eyes for headlamps, Twingo had instant appeal. It notched up 174,259 happy owners in just 9 months of production! Buyers liked its strong character  –  Twingo does things its own way – and light-hearted approach to life. More than a new car, it was a new lifestyle. Public enthusiasm was such that a French weekly reported that the Twingo ranked among the vehicles preferred by… car thieves!
A few years after Twingo was launched, the "Le Monde" newspaper wrote: "Its original single-volume shape, a concept previously only found in large MPV sedans, conceals above-average manoeuvrability, the character of a close and conniving friend (each headlight resembles a winking eye) and a range of exterior and interior colours that are deliberately eye-catching". Some cars inspire conventionality, but Twingo is deliberately different.
A new design, a new life
The first-generation Twingo enjoyed an exceptionally long career of almost 14 years. In June 2007, the 2nd-generation Twingo replaced its venerable predecessor on European markets.
Twingo II, entirely manufactured in Slovenia at the Novo Mesto plant, was first presented at the 2007 Geneva Motor Show as a show car. The market version adopted the same platform as Clio II and featured major upgrades.
Source: Renault
Gallery:
Renault Twingo (1993)