A Pagani Zonda is never shy of a drive at the racetrack, a fact that was underminednumerous times in the past with records for production vehicles at the Nurburgring Nordschleife. With the input of its avid track focused customers, the Pagani team hascreated the Zonda R using bespoke engineering solutions to meet the performancedemands for a trackday version of the highly popular Zonda F.
The central monocoque is made of a Carbon-Titanium composite, increasing rigiditywhile reducing significantly the weight. Bolted directly to the chassis is the MercedesAMG 6.0 litre race derived V12 engine, with 750 hp and 710 Nm of torque. A direct throttle actuation via mechanical cable ensures immediate throttle response.The Xtrac Magnesium cased dog ring gearbox combined with tha Automac EngineeringAMT system performs gearshifts in 20ms, triggered by the drivers input on the paddlesbehind the steering wheel.
A 12-way Bosch Motorsport traction control and ABS system allows the driver to fully adjust the settings while driving the Zonda R.At the pits, each driver will be able to find a suitable setup thanks to a fully adjustablesuspension and wing configuration. The effectiveness of the rear is matched by a complexnew front bonnet, a masterpiece realised with the help of models by Ennegi, as well asthe closed underbody and rear diffusor.
Aerodynamic setups rage from a high downforcesetting of 1.500kg to a 350kmh top speed setting.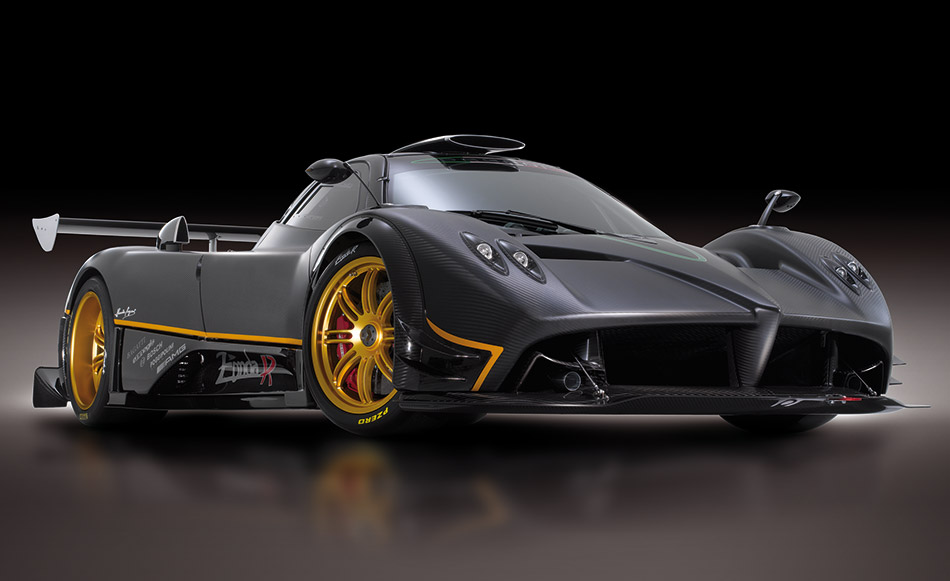 Aspa forged AvionAl suspension components as well as machined structural ErgAl partsholding the engine and gearbox have been designed to reduce the weight of the overallcar, Poggipolini Titanium screws are used on the whole car. These measures lead to adry weight of 1.070 kg.
The interior has been designed to offer a perfect environment for the driver. The controlsare limited to the indispensable, but the quality finish reflects the usual demanding Paganistandards. The bespoke Toora seats are FIA homologated and comply to latest HANSstandards, five-point safety belts and a CrMo roll-cage assure the occupants' safety.
The lucky owners of the Zonda R will experience a level of performance on the track,that is simply not possible on the road. A power-to-weight ratio of 701 hp-per-ton willcatapult them from 0 to 60 mph in less than 2,7 seconds, the Brembo carbon ceramicbrakes ensure the car comes to a standstill even quicker. The Zonda R is built in a limited production run and sold at a price of 1.460.000 Europlus taxes, a performance machine, a track toy, a collectors item, a masterpiece signedby Horacio Pagani.
Source: Pagani
Gallery:
Pagani Zonda R (2009)