Following the launches of New Mégane Hatchback and New Mégane Coupé, Renault will further extend the Mégane line-up this spring with the introduction of New Grand Scénic, followed by the release of New Scénic.
Building on the success of Scénic I and Scénic II, and profiting from its unrivalled expertise when it comes to user-friendly interiors, cabin space and travelling comfort, Renault is poised to renew the compact MPV segment's standard-setting model with the launch of New Grand Scénic (five and seven seats) and New Scénic (five seats).
New Renault Scénic and New Renault Grand Scénic both feature dynamic, distinctive styling, while their roomy interiors, comfort-related appointments, stowage solutions and high-tech equipment are destined to set new standards in their category.
Renault customers benefit from a choice of two MPVs which each have their own distinctive personalities. New Scénic and New Grand Scénic both feature taut, fluid lines that sweep across the generously-proportioned body panels to exude a sense of dynamism and robustness. Yet while the design of both versions shares an undeniable family likeness with the New Mégane line-up's other models, their profiles are quite different.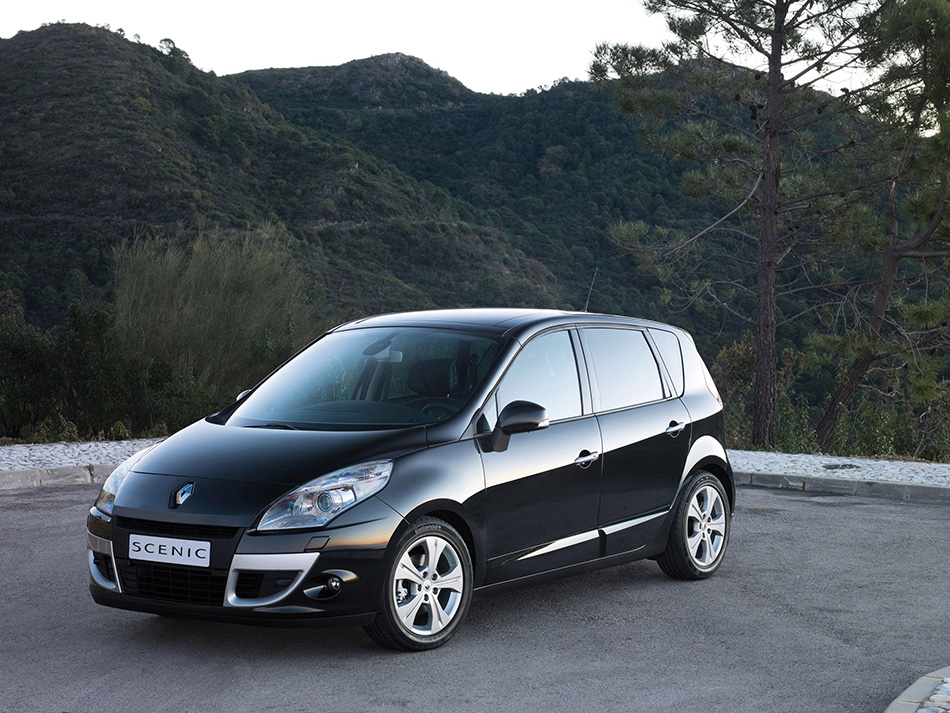 Like Mégane Coupé, New Scénic features a central grille flanked by satin-effect chrome finish air intakes. This sporty feel is reinforced by the headlamps which express the model's assertive personality. The combination of squat proportions and a length of 4.34 metres points to New Scénic's dynamism and manoeuvrability. New Grand Scénic (length: 4.56 metres) is available in five- and seven-seat form. Its proportions and extensive glazed area suggest similarly generous cabin space and the promise of a well-appointed interior.
Its boomerang-shaped rear lights produce a lighting signature unique to New Grand Scénic and an industry first for a production model. The lines of these clusters extend forward across the vehicle's flanks via the waistline to convey an unmistakable sense of dynamism when the car is seen from the side. This impression is further emphasized by the sloping roofline and raked rear screen. In addition to being a hallmark of the different models that make up the New Mégane family, these robust, dynamic lines are an eloquent sign of the range's outstanding roadholding ability.
CAREFUL ATTENTION TO TRAVELLING COMFORT
CABIN SPACE:
New Renault Scénic and New Renault Grand Scénic have been thought through carefully to ensure the highest possible standard of travelling comfort for all occupants. The driver and front passenger benefit from a wide field of vision thanks to wider spacing of the windscreen pillars which ensures enhanced visibility at roundabouts and junctions.
The lateral field of vision has been extended by more than eight per cent and the vertical field of vision has been improved by more than 15 per cent. The longer wheelbase has led to improved comfort for second row occupants who will appreciate the best-in-class kneeroom of 235mm and 275mm provided by Scénic and Grand Scénic respectively.
Occupants of the third row seats benefit from headroom of 842mm and kneeroom of 102mm. Indeed, Grand Scénic stands out as the roomiest compact seven-seat MPV on the market.
OCCUPANT FRIENDLY:
The wave-like forms of the dashboard, which are reminiscent of those of New Mégane, are fluid and uncluttered. The controls are intuitive and fall readily to hand, and the centre console houses the main controls (electric parking brake assist, cruise control with speed limiter), multimedia connections (MP3, USB key, iPod©) and a 12V power supply.
The adjustable driver's seat features a segment-leading range of 70mm for the height of the seat cushion, while lumbar-adjustment is now also available for entry level versions. The combination of the different adjustment options and the more vertical position of the steeringwheel enables the drivers to find a combination which is more akin to that of a saloon car, without detracting from the high-up driving position that is particularly appreciated by MPV owners.
STOWAGE:
New Renault Scénic and New Renault Grand Scénic provide up to 92 litres of stowage space (a market best), with a range of clever, practical solutions for all occupants:
four underfloor compartments, two drawers underneath the front seats, plus two more drawers underneath the outer rear seats (except seven-seat Grand Scénic), 
an illuminated, chilled 11-litre glovebox,
non-lidded stowage in the centre console for small items such as mobile phones,
the sliding centre console and sliding central armrest provide nine litres of stowage divided into two parts: fragile items can be stored away underneath the armrest, while the principal bin is ideal for holding larger objects, such as a 1.5-litre bottle,
six map pockets on the front seatbacks (two small pockets for stashing items such as portable video players and soft toys, and larger map pockets located beneath the aviation-style tables),
three separate 12V power supplies (one on the centre console at the front, one for second row occupants and a third in the boot) to run and charge portable electronic items such as game consoles, MP3 players and video players, or for an electric fridgebox (available as an accessory),
two lidded stowage spaces underneath the third-row armrests.
The boot of New Scénic is particularly practical, thanks not only its appreciable capacity of 522dm3 (up to parcel shelf) but also because of the vehicle's low rear sill height and wide tailgate access. The boot capacity of five-seat Grand Scénic is 752dm3, while that of seven-seat Grand Scénic is 702dm3 (in its five-seat layout), an increase of 10 per cent over Scénic II. When carrying bulky loads, the baggage cover can be swiftly stored away in a bespoke compartment underneath the boot mat.
MODULAR LAYOUT:
New Renault Scénic and New Renault Grand Scénic both boast extremely modular interiors thanks to the forward-folding front passenger seat and second-row seatbacks. Carrying capacity can be further extended by removing the second row seats altogether. The boot space of seven-seat Grand Scénic can be increased thanks to the design of the third row seats which fold away into the floor. With the second row seats removed and the third row seats fully folded, the carrying capacity of seven-seat Grand Scénic exceeds two cubic metres.
To ease access for third row passengers, a handle located on the sides of the outer second row seats instantly folds the seatback. At the same time, a small hoist helps tip the seat forward to provide access to the rear seats with just one, quick, simple movement.
COMFORT:
New Renault Scénic and New Renault Grand Scénic are available with dual-zone automatic climate control with the same Soft-Auto-Fast mode functions as those first seen on New Laguna and carried over since to the New Mégane range. The grand comfort headrests are new for the segment and ensure outstanding support, comfort and safety thanks to their enveloping form, as well as to the range of positions to which they can be adjusted.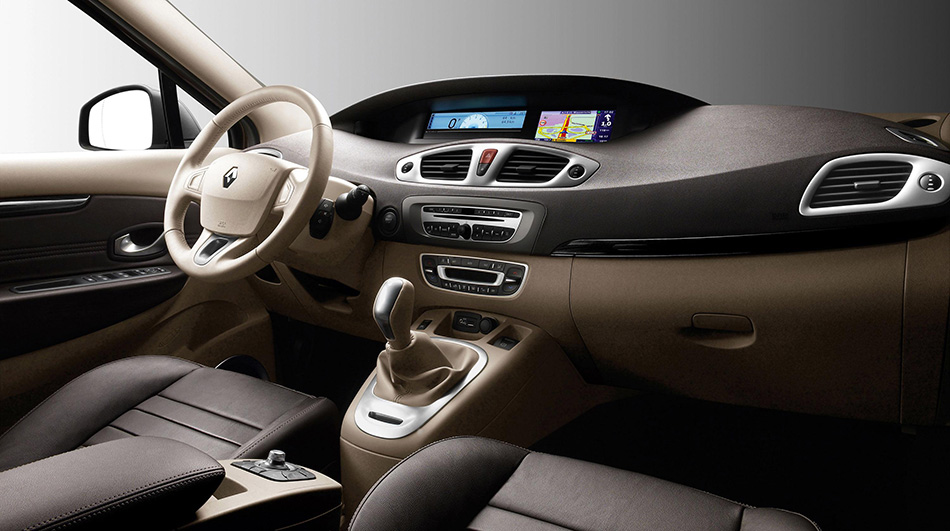 TECHNOLOGIES THAT FACILITATE DAY-TO-DAY MOTORING
New Renault Scénic and New Renault Grand Scénic benefit from numerous technological features designed to facilitate driving and enhance travelling comfort.
New Renault Scénic and New Renault Grand Scénic are the first vehicles at this level to employ a TFT (Thin Film Transistor) screen which provides a customizable, clear, high-resolution display of data such as vehicle speed, cruise control/speed limiter settings (on/off, selected speed), door-open alert and tyre pressures, as well as the image seen by the reversing camera (in addition to audible warning). It takes drivers no time at all to adapt this interface to their individual taste thanks to the set-up menu which can be accessed thanks to a button located between the steering wheel and the display.
This menu is derived from that of New Laguna and permits the driver to activate or modify the parameters of certain functions, such as the volume of the audible parking proximity sensor warning, the language employed and the automatic headlamp activation. Meanwhile, the contrast of the entry level monochrome LCD display (white on black background) is 30 times superior to that of preceding technology, while screen reflections and transparency are automatically corrected.
A choice of two navigation systems:
The brand new integrated Carminat TomTom® system is the fruit of a partnership with TomTom and costs less than €500. Particularly easy to use, and ready to run as soon as the car starts, it provides all the functions expected of a top satnav system, including precise, detailed maps on a large 5.8-inch screen, birdview display and reliable navigation complete with traffic information, alternative routes, speed restrictions, speed camera location alerts (depending on country), a plethora of points of interest and a wide range of customizable parameters. The SD Card makes it easy for owners to update their Carminat TomTom® system to be sure of benefiting from the very latest navigation data and customization options.
Carminat Bluetooth® DVD is an upper-range integrated dashboard-mounted navigation system incorporating a seven-inch screen, centralized navigation controls and a six-CD multi-changer (MP3/wma compatible), plus voice recognition for its navigation and Bluetooth® telephone functions.
New Renault Scénic and New Renault Grand Scénic are also the first MPVs to feature an audible rear parking proximity sensor plus reversing camera. To facilitate safe reversing and parking, the camera displays the image of the zone situated behind the vehicle on the screen of the navigation system. Meanwhile, the central TFT screen displays the vehicle and the proximity of obstacles using a colour code.
Like New Mégane Hatchback and New Mégane Coupé, New Renault Scénic and New Renault Grand Scénic are available with the new radio-CD/MP3 complete with Bluetooth® connectivity, Plug & Music multimedia connections (USB and iPod sockets) and the upper-range 3D Sound by Arkamys® audio system.
RESPONSIVE, EFFICIENT, DYNAMIC HANDLING
Reassuring, predictable handling
New Renault Scénic and New Renault Grand Scénic ensure precise, agile cornering performance. Their chassis benefits from the same advances as those seen on New Mégane Hatchback and New Mégane Coupé, and consequently delivers the same rigorous handling, without detracting from the high standard of comfort pioneered by their respective predecessors:
MacPherson-type front suspension linked to a horned subframe which minimizes lateral movement of the subframe to ensure perfect steering precision.
the rear suspension employs a programmed deflection closed-section torsion beam for enhanced stiffness and less weight.
With this set-up, the specific roll angle (i.e. a vehicle's angle of inclination when cornering, and consequently a pointer to its ability to corner 'flat') of New Scénic and New Grand Scénic is 0.40 degrees, the best of their segment. The average for this class of vehicle is 0.43 degrees.
A new electric power steering system
New Renault Scénic's electric power steering has been entirely revised and the result is greater steering precision plus enhanced driving comfort. Optimization of the steering's performance and components, plus modifications to its calibration have led to improved synchronisation of its response to instructions from the driver via the steeringwheel. The feedback of information from the road is more accurate, while the combination of the stiffer front suspension and the closer ratio steering has also contributed to making the system more responsive.
The more precise steering and reduced body roll through corners ensures a level of driving pleasure and reassuring handling that puts the performance of New Renault Scénic and New Renault Grand Scénic on a par with that of a saloon car.
Source: Renault
Gallery:
Renault Scenic (2009)