While to a high degree machines have replaced people in conventional automotive manufacturing, the finest quality work and detailing can only be achieved by hand. However machines have the advantage over traditional hand building in their consistency and precision. Combine the two though – hand-built quality with the intelligent assistance and quality assurance of the latest technology – and it is possible to produce a hand-built car that is right first time, every time.   This is one of the things which makes the Rolls-Royce Phantom such a special motor car.
Aluminum Space Frame
The Phantom's aluminium space frame is the largest of its kind ever built for automotive use. Made up of more than 200 extruded aluminium profiles and 300 sheet parts, it combines low weight with extreme strength. The whole bodyshell weighs just 550 kg yet has a torsional rigidity of more than 40,000 Nm/degree – making it at least twice as stiff as any previous Rolls-Royce.
Each frame has 120 metres of welds at over 2,000 separate points, every one completed by hand. The weld at the rear C pillar alone is almost 2 feet long. The expertise of the highly specialised team, based at Dingolfing, combined with state-of-the-art measuring equipment means that the entire body is constructed to within a plus / minus tolerance of just 0.1mm (0.004in). This level of accuracy allows the coach doors, for example, to clear each other by just 2.7 mm.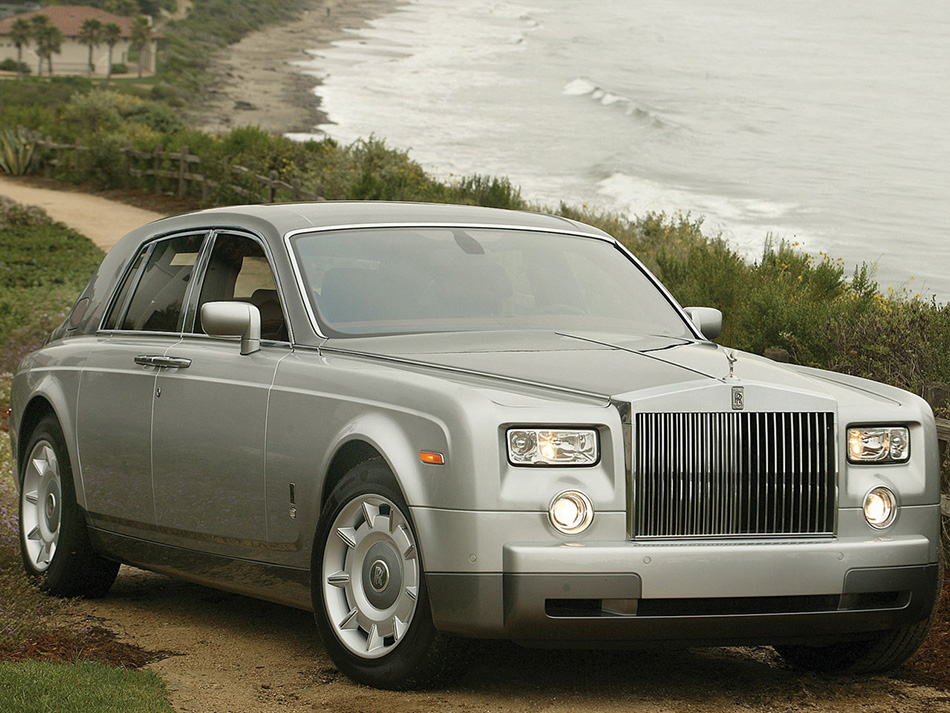 Driveline
The driveline of the new Phantom is unique to Rolls-Royce, delivering all the virtues and traditional characteristics of a Rolls-Royce engine, and making use of the latest engineering technology. A Rolls-Royce motor car has a specific type of performance which has been referred to as "waftability". This means a powerful performance without apparent effort or disturbance to the driver and passengers. To deliver this the power unit needs to produce tremendous levels of torque, extremely smoothly, whatever the engine speed, but especially at low revs.
Each engine is hand-built by a team of specialists based in Munich, in the same facility where the BMW M Series engines are produced. Hand-building means that every component can be selected and assembled by some of the most skilled power train engineers in the world. The result is an exceptional engine which has been specifically designed for Rolls-Royce to give exactly the correct power characteristics – quite different to those required for a BMW. It is unique to the marque.
This lightweight, normally aspirated, 6.75 litre V12 engine develops its peak torque of 720 Nm (531 lb ft) at 3500 rpm – an impressive figure. More impressive still, is that 78 per cent of this (or 560 Nm) is produced at just 1000rpm – fractionally above tick over. This makes for smooth, effortless and extremely rapid acceleration from a standstill. The sprint to 60 mph takes 5.7 seconds (0-100 kph in 5.9 seconds).
Lying within the engine is the very latest technology, including direct injection, variable valve timing and variable valve lift – the latter which removes the need for throttle butterflies and their accompanying efficiency losses. The result is an engine which is not only powerful, but also extremely fuel efficient, returning 25.7 mpg (11.0 l/100 km) on the extra urban cycle and a combined figure of 17.8 mpg (15.9 l/100 km) – remarkable figures for a motor car of this size and performance.
Wood Veneers
About six times a year, the manager of the interior wood trim meets the supplier – the only one of its kind in England – to select personally the veneers for the Phantom. This painstaking process ensures that the highest quality veneers of the correct colour and grain characteristics are chosen.
The woodshop team has been carefully selected too and comes from a variety of backgrounds. Each member brings specialist skills to the team - true craft skills, like musical instrument making, the construction of fine furniture and cabinet work, and also from the fitting of luxury yachts. Intensive training allows them to turn these skills to the production of Rolls-Royce motor cars.
Throughout the new Phantom, wood take an architectural form, not merely an ornamental one. Each of the 60 separate panels is constructed of a core wood and an aluminium substrate of up to 40 layers. This lengthy process helps deliver the best crashworthiness properties and means that the wood parts are not simply veneers glued to aluminum or plastic.
The craftsmen hand select the veneers to apply to each panel. A complete "wood set" of matching and complementary veneers is constructed to give each individual motor car its own special character. The wood grain is bookmatched on each panel – the right and left grain structures are mirror images of each other. More elaborate woodwork to a customer's specificiation is also possible. The effect is aesthetically pleasing and demonstrates the meticulous attention to detail that is essential for Rolls-Royce.
Leatherwork
The hides used in the new Phantom come only from carefully controlled breeders. Hides are sourced from mature bulls that have been breed for their meat, producing leather as a by-product. The animals are kept in conditions as close to their natural habitat as possible.
Rolls-Royce Motor Cars uses a newly developed colouring process whereby the dye permeates through the depth of the hide. This produces a supremely soft, natural finish that will not fade or crack. Conventional methods require the final colour to be painted on to the surface before being covered with a clear lacquer. This can produce shrinkage and creaking as the leather moves and can eventually lead to a cracked appearance.
Between 15 and 18 hides are used in each motor car and each one is checked by hand for blemishes before laser equipment is used to assist in laying out the pattern pieces. The interior of the Phantom is made up of 450 pieces of leather, which are cut by a computer-guided knife. The individual panels are sewn together by a highly experienced team before the completed parts are fitted to the interior panels on custom built jigs. Ergonomically designed to allow the optimum working angles, the jigs have continually running vacuums to extract any fumes.
Source: Rolls-Royce
Gallery:
Rolls-Royce Phantom (2004)