Bringing a new charge into the small-car segment, the 2003 Saturn ION sets itself apart from competitors with innovative features, unique personalization opportunities and surprising levels of safety, sophistication and fun. New from the ground up, the front-wheel-drive ION sedan and quad coupe models replace the pioneering S-Series in Saturn's lineup. The four-door sedan debuts in the fourth quarter of 2002, followed by introduction of the quad coupe in early 2003. The new models were designed to compete head-on with the best cars in the segment. Among the customer-friendly features are a larger exterior, more interior room, a new powertrain, enhanced ride, and responsive, sporty handling.
The ION sedan and quad coupe - so named because it features dual rear-access doors (RADs) - will play an important part in GM's entry-level strategy. The dual RADs are an industry first, effectively creating a new category of vehicle and providing customers with unmatched functionality without compromising the coupe's sleek lines.
"The ION will bring new energy to the small-car segment," said Jill Lajdziak, vice president of Saturn Sales, Service and Marketing. "We developed these new models to appeal specifically to young customers by offering them more - more sophistication, more content, more fun and more functionality."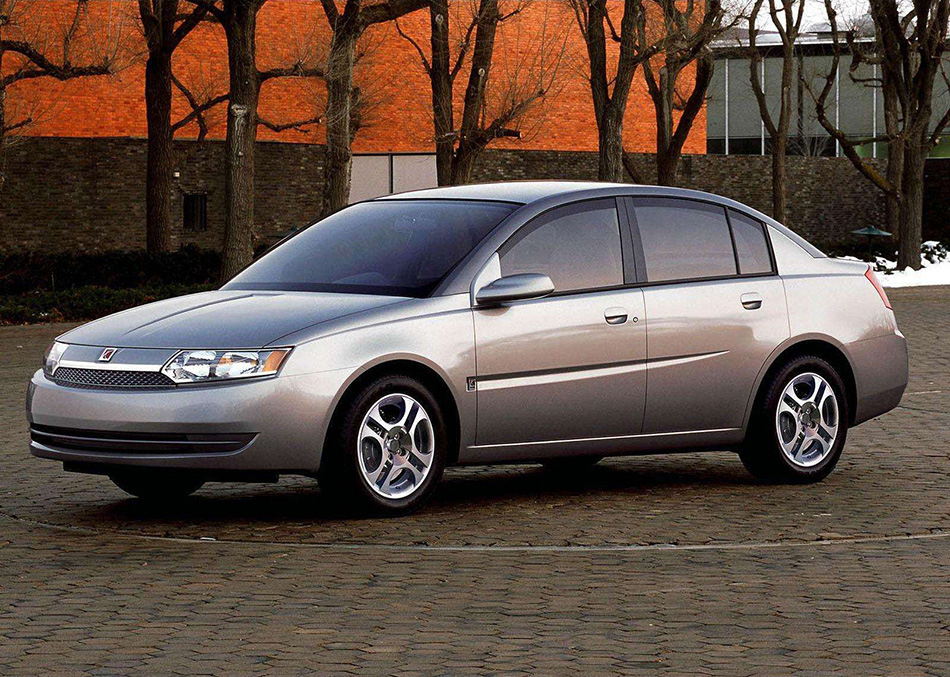 While siblings, the sedan and quad coupe use distinct exterior styling cues. The ION sedan brings a refined, sophisticated, contemporary look to the segment. The ION quad coupe, including its RADs on both the driver and passenger sides, exudes an overall sporty flair. Both maintain the Saturn tradition of polymer side panels, which incorporate the integral Saturn upswept "swoosh" body-side styling element.
In line with reaching out to younger customers, the ION sedan and quad coupe make personalization easy by offering personal-accents kits in a variety of styles and colors. These kits include unique, interchangeable exterior roof-rail kits that are color-coordinated with interior trim kits.
SMALL-CAR SEGMENT
The Saturn ION sedan and quad coupe will compete in a small-car segment that accounts for sales of more than two million units per year, which is about 14 percent of the total U.S. new vehicles market, and 28 percent of the Canadian market. Approximately 30 percent of small-car purchasers are first-time new vehicle buyers. The ION models continue Saturn's legacy of offering innovative small cars - competing primarily with Asian imports - that target a more educated, informed, and safety- and quality-conscious consumer.
Like all Saturn models, the ION sedan and quad coupe were designed to appeal to customers who would have otherwise purchased or leased a non-GM product. In 2001, 79 percent of Saturn buyers listed a non-GM make as their second-choice vehicle, with 55 percent saying they would have bought an import brand.
One of ION's distinctive advantages is the Saturn retail network. Saturn retailers are recognized leaders in satisfying customers in the areas of sales and service. For seven of the last eight years, Saturn has finished No. 1 in the J.D. Power and Associates Sales Satisfaction Index. Saturn recently took the top position in the 2002 J. D. Power and Associates Customer Service Index, the first time in 16 years that a non-luxury brand has earned that honor.
INNOVATION
In keeping with Saturn's heritage of innovative products, services and features, the ION incorporates several innovations that deliver real customer benefits. These innovations, not available on any other car in the segment, include:
Dual RADs on the quad coupe. The rear-access doors - combined with a front-passenger fold-flat seat and the lack of a B-pillar - help a customer fully utilize the interior space by making it easy to load and unload passengers and cargo, including larger objects that typically wouldn't fit in a traditional compact car.
A unique, and practical, center-mounted cluster. The center-mounted cluster is on the same horizontal sight line as the side-view mirrors. This design allows the driver to set the steering wheel in the most comfortable position without needing to adjust it in order to see the instruments. It also enabled designers to equip ION models with a smaller steering wheel, allowing easier entry and exit and helping to create a more open and airy interior environment.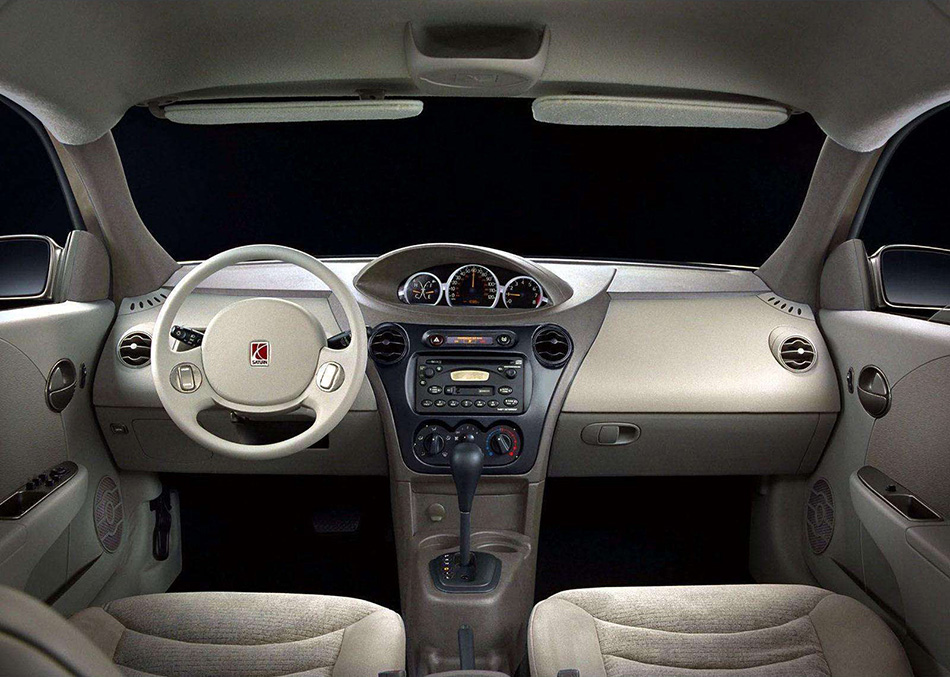 The VTi variable transmission available on the quad coupe, the first application of a continuously variable transmission on a high-volume compact car in North America. It brings a surprisingly fun-to-drive sporty feel, plus improvements in fuel economy when compared with traditional step-gear transmissions.
One of the first North American applications of variable-ratio electric power steering, tuned to each trim level. The system enhances driver "feel" by allowing customized steering assist for different tire/wheel combinations and suspension levels, with improved fuel economy as an added benefit.
Interchangeable roof rails that can be color-coordinated with interior trim accessories, presenting unique personalization opportunities.
SAFETY AND SECURITY
The ION sedan and quad coupe are designed to carry on the Saturn tradition of being at the top of the class when it comes to safety and security. The world-class structural design provides the foundation for this focus on safety. The steel spaceframe's front and rear crush zones help absorb the energy of a crash while protecting the integrity of the safety cage.
Dual-stage driver and passenger air bags are standard, and Saturn's segment-exclusive head-curtain side air-bag system - which provides protection to both front and rear occupants - is optional. Unique in the small-car segment, the ION's head-curtain bags help provide protection to the head and neck in certain side-impact collisions.
The ION sedan and quad coupe offer an optional antilock braking system (ABS), and unlike almost all small-car entries they also offer traction control across all models. These safety features are not restricted to specific trim levels.
Also unlike major competitors, the ION sedan and quad coupe offer a factory-installed anti-theft system with remote keyless entry, standard on uplevel models and optional on midlevel cars. An engine immobilizer - which prevents car theft by shutting off fuel to the engine if the correct ignition key isn't used - is standard on every ION.
OnStar, with its array of safety, security and convenience features, is available as an option on both the ION sedan and quad coupe - a segment first which takes Saturn's reputation for safety and security to an even higher level.
Source: Saturn
Gallery:
Saturn ION Sedan (2003)