The 2004 VUE Red Line, the first in Saturn's new series of performance-tuned vehicles, represents the next step in Saturn's drive to generate new interest in the brand. Scheduled for public debut at the New York Auto Show, the limited-production sport utility features a lowered body, sport-tuned suspension and steering, a monochromatic exterior including ground effects, and aggressive 18-inch wheels and tires. The VUE Red Line also has upgrades that will be featured across the 2004 VUE lineup, including a newly available 3.5-liter, 250-horsepower V-6 engine and a number of exterior and interior refinements.
The VUE Red Line will be available in both front-wheel drive and all-wheel drive. It is scheduled for production around the first of next year at Saturn's manufacturing facility in Spring Hill, Tenn.
"The VUE Red Line is designed for drivers who enjoy sporty ride and handling, but don't want to sacrifice the VUE's exceptional versatility," said Jill Lajdziak, Saturn's vice president for sales, service and marketing. "This specialty vehicle breaks new ground in the small SUV market and is positioned at the intersection of three important industry trends: surging small SUV sales, strong truck personalization and sport tuning. At the same time, the VUE Red Line calls attention to the many enhancements that we are making on the entire 2004 VUE lineup."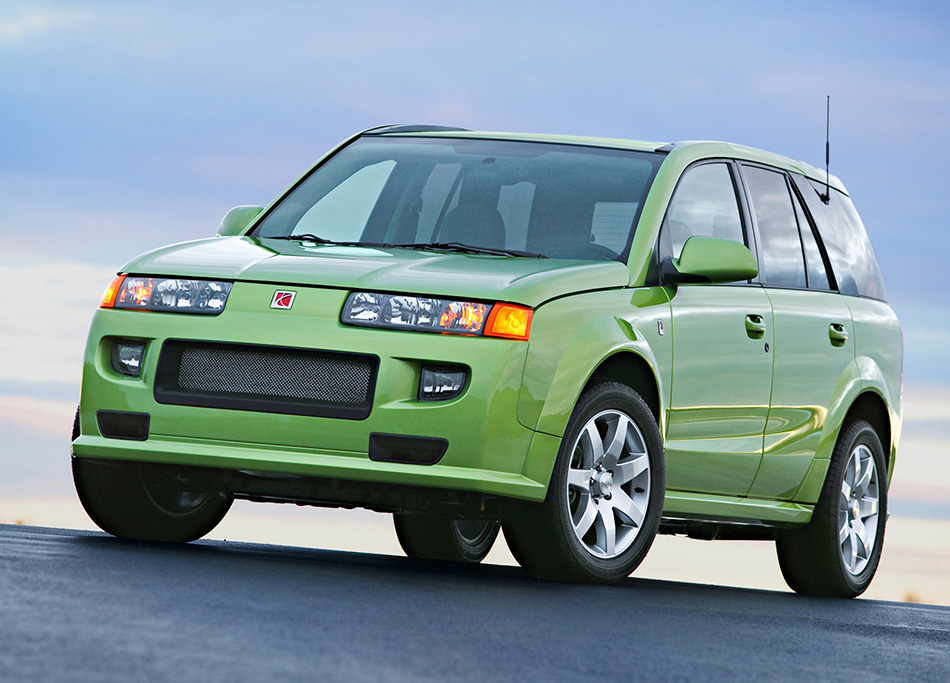 "Red Line" is the name that will be used on all future Saturn performance-tuned vehicles, including a special edition of the ION quad coupe that will come to market in early 2004. Red Line vehicles will carry a specific exterior emblem denoting its status within the Saturn family.
Saturn is developing the Red Line vehicles with assistance from the General Motors Performance Division, an in-house center designed to explore potential enthusiast-oriented versions of production models.
"Like the ION quad coupe, the VUE was designed for personalization, and Saturn was excited to work with the Performance Division on the Red Line series," said Doug Parks, VUE chief engineer. "In the VUE, we took an already significantly enhanced 2004 model and kicked it up a notch."
Performance-tuned features of the VUE Red Line include lower (by 26 mm) vehicle ride height and stiffer springs to reduce the center of gravity and body roll. A sport steering calibration improves responsiveness and has a firmer on-center feel. An aggressive 18-inch aluminum wheel and P245/50R18 Bridgestone Turanza performance touring tire package are also VUE Red Line exclusives. The combination significantly improves ride and handling, increases max lateral g's and gives the vehicle a distinctive "slammed" appearance.
Its custom looks include new rockers, rear fascia, front fascia with black air intakes, and chrome exhaust tip. Door and liftgate handles, along with mirror housings, are painted body color to finish off the monochromatic theme. The VUE Red Line will be available in Onyx Black, Silver Nickel or Electric Lime.
2004 VUE
The VUE Red Line comes standard with the new, advanced V-6 engine that delivers 250 hp at 5800 rpm and 242 lb.-ft. of torque at 4500 rpm. Available as optional equipment on the 2004 VUE, the 3.5L V-6 will give the vehicle an estimated 0-60 mph time of approximately 7 seconds.
In the standard VUE, the new powertrain also increases towing ability to 3,500 pounds and permits the vehicle to be flat-towed, compared to the 2,500-pound capacity of the 3.0L V-6 engine it replaces. VUEs equipped with the new V-6 will meet the California ULEV-II emissions standard (ultra-low emissions vehicle).
The new V-6, which is mated to a five-speed automatic transmission, is just one of the enhancements Saturn is making to its VUE lineup for 2004. VUE customers can also continue to choose an Ecotec inline four-cylinder engine, available with either a five-speed manual or the advanced VTi variable transmission.
Like the powertrain, the VUE Red Line benefits from enhancements being made to the interior of all 2004 VUE models, including new acoustical treatments to reduce noise inside the cabin, available six-way power driver seat, two new CD radios with MP3 readability, a leather-wrapped three-spoke steering wheel and shift knob (V-6 models), a back-lit instrument cluster with white gauge faces and chrome rings, and automatic headlamp control (standard on V-6, optional on I-4).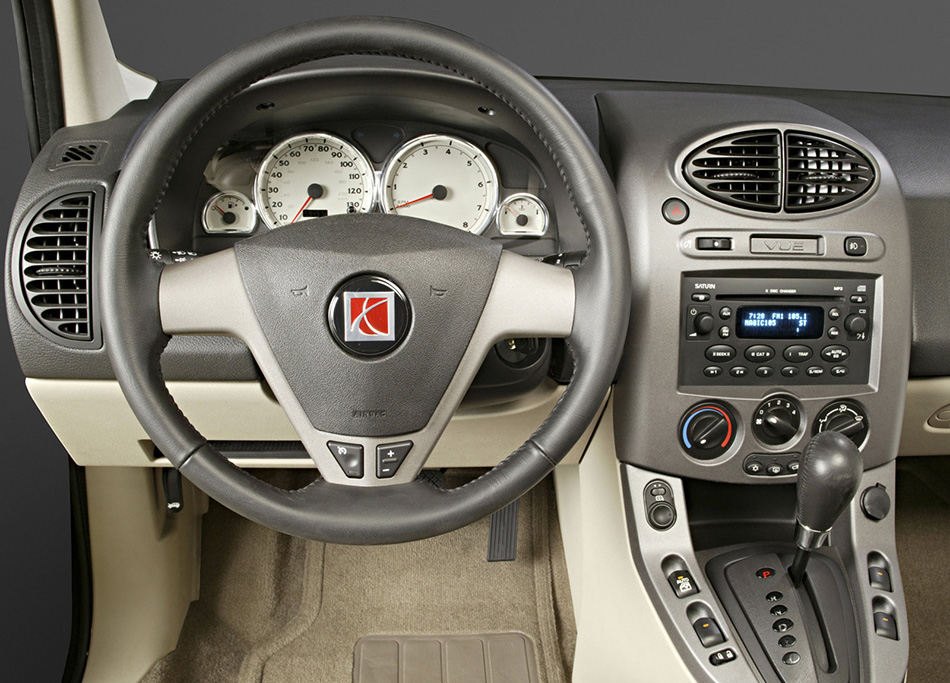 Safety enhancements on all 2004 VUE models include front seat-belt pretensioners and dual-stage air bags. Dual-stage air bags are designed to detect vehicle deceleration and, based on the deceleration data, provide an appropriate amount of air-bag inflation. The dual-level air-bag system senses the severity of a crash and determines whether to deploy the air bag with primary or "lower" amount of inflation or with primary and secondary "higher" amount of inflation. Dual-stage air bags are designed to help reduce the occurrence of inflation-induced injuries by deploying the air bag less forcefully in lower speed crashes.
Exterior changes for 2004 include dark-tinted rear door glass and new 17-inch machined aluminum wheels that are standard on all-wheel-drive V-6 models, optional on the front-wheel-drive V-6. Body-color door handles and chrome "SATURN" lettering in the liftgate eyebrow will be standard on non-Red Line V-6 models.
Source: Saturn
Gallery:
Saturn Vue Red Line (2004)