Subaru's fastest and most powerful Impreza ever – the WRX STi WR1 – is about to enter dealer showrooms, with more than half of the 500 limited run already spoken for.
The special edition Impreza WRX STi celebrates Petter Solberg winning the Driver's Title in the 2003 World Rally Championship. It features a power upgrade to 320 PS plus a host of technical and visual upgrades and costs Ј29,995 on-the-road.
First unveiled in January at the 'Autosport' show, the Prodrive-developed 'WR1' has just received official Subaru (UK) engineering approval after recording the best performance figures ever for a road-going UK-spec Impreza.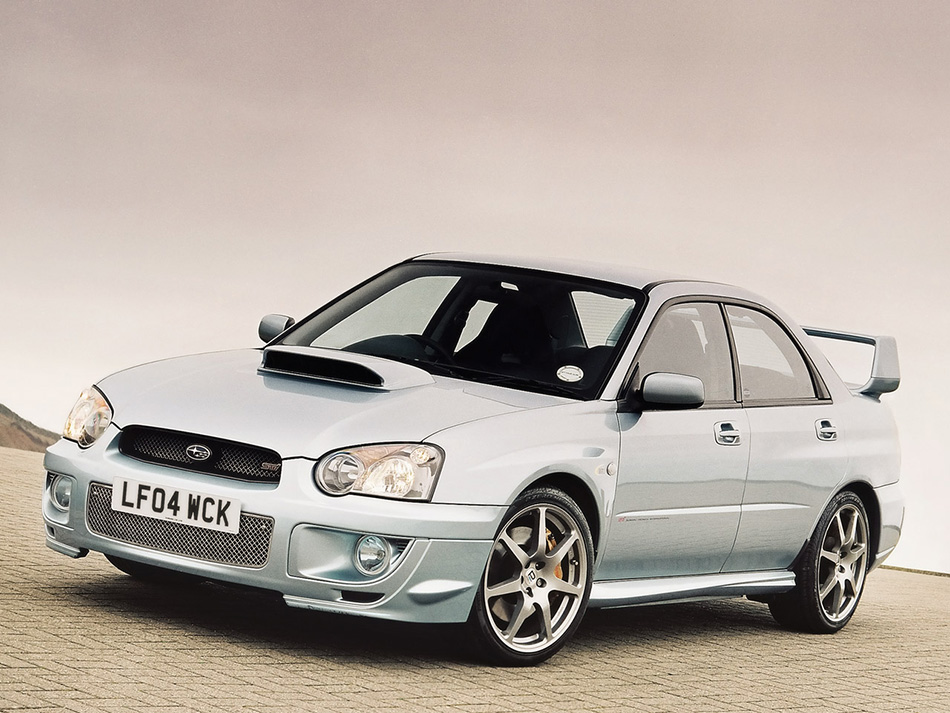 Only 4.25 Seconds To Reach 60 mph
For example, 60 mph is reached in an astonishing 4.25 seconds with the 0-100 mph time at an equally impressive 10.67 seconds. Prodrive technicians also logged a quarter mile time of 12.8 seconds while the top speed is limited to 155 mph.
By comparison, the 'standard' 265 PS Impreza STi is quoted with a 0-60 mph time of 5.1 seconds and a top speed of 151.5 mph.
Peak power for the 'WR1' is 320 PS at a relatively low 5,800 rpm, with maximum torque or pulling power of 309.8 lb.ft at 4,000 rpm.
The 'standard' STi produces 265 PS at 6,000 rpm and 253 lb.ft torque at 4,000 rpm while the optional Prodrive-developed Performance Pack liberates 305 PS and 299 lb.ft torque at the same revs and reaches 60 mph in 4.6 seconds and 100 mph in 12.2 seconds.
Other test track statistics see the 'WR1' shaving 0.7 seconds off the STi's 30-50 mph time in 4th gear – down to 4.0 seconds – and 0.8 seconds off the 50-70 mph time in 5th – now 4.6 seconds.
Finally, illustrating its supercar-like performance, the new 'WR1' boasts an 80-100 mph time of a staggering 3.6 seconds in 4th gear and 6.5 seconds in 6th (4.6 and 7.8 seconds for the 265 PS STi).
The 'WR1's extra power and torque are achieved thanks to a revised engine control unit (ECU), high-flow catalyst and sports silencer.
Driver-Selected Torque Split Tailors Handling Balance
Also guaranteed to excite enthusiasts is a driver's control centre-differential (DCCD) via a switch mounted next to the handbrake.
It means the torque distribution between front and rear wheels can be manually selected. This allows the choice, for example, between a sharper cornering turn-in or more stable straight-line running. The system defaults to 'automatic' mode whenever the ignition is restarted.
Also new for the 'WR1' are special, Prodrive-developed uprated springs and bump-stops with a 25 mm lower ride-height.
Special Wheels, Body Colour And Interior
Other handling-enhancing features include 18 ins diameter P-FF7 (Prodrive Flow Forming seven-spoke) alloy wheels with 225/45 Pirelli PZero tyres.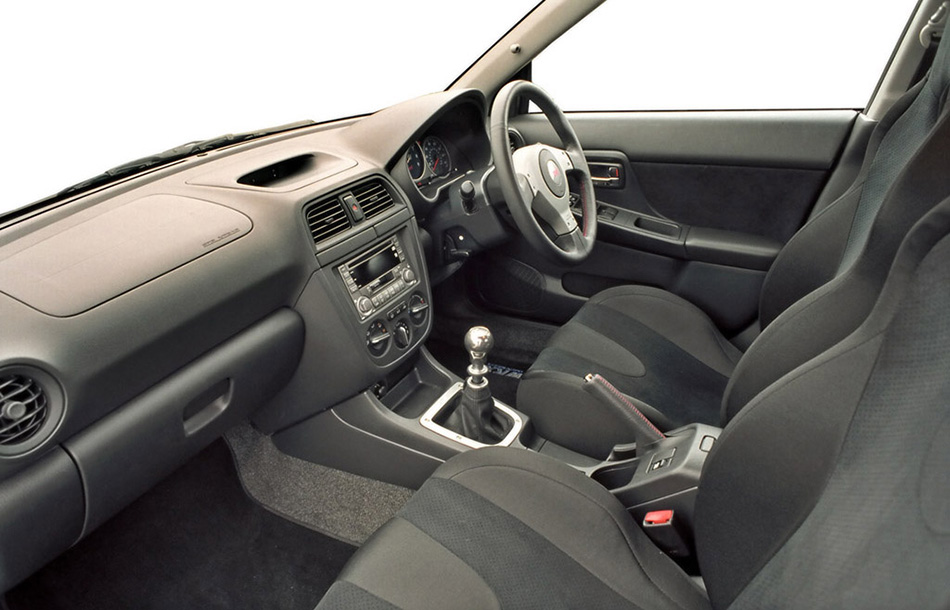 Externally, the new 'WR1' is instantly recognisable thanks to its new Ice Blue Metallic paint plus driving lamps and a stainless steel mesh grille.
Interior changes include anthracite instead of blue suede-effect seats, a special gear knob, imaged carpet mats and a tax disc holder engraved with the special edition number.
Features shared with all Impreza WRX STi's range from a six-speed gearbox to Brembo brakes and front and rear 'Suretrac' differentials.
Source: Subaru
Gallery:
Subaru Impreza WRX STi WR1 (2004)