American Suzuki Motor Corporation (ASMC) today debuted the all-new 2007 Suzuki XL7 midsize crossover SUV at the 2006 New York International Auto Show (NYIAS). With the introduction of the new front-wheel-drive/all-wheel-drive crossover SUV, Suzuki is moving forward to the next chapter in its ongoing SUV success story.
The 2007 XL7 is bigger, bolder and more powerful than the previous generation XL-7 and retains Suzuki's strong styling cues, while offering available all-wheel drive and available seven-passenger seating. In creating the all-new XL7, Suzuki leveraged its SUV heritage and expertise to design an all-new vehicle for the midsize SUV crossover segment that provides style, room and adaptability for active, mobile lifestyles.
"The all-new XL7 was designed to blend SUV versatility and safety with increased driver and passenger comfort," said Koji Yamada, chief engineer, XL7. "The XL7 not only offers the cargo and seating flexibility for all aspects of a consumer's active lifestyle, but performance capabilities and safety features that give them the confidence of being in control."
Performance and Powertrain
The all-new 2007 Suzuki XL7 evolves from a rear-wheel-drive, truck chassis SUV into a crossover SUV based on the sophisticated GM Theta platform with full-length underbody rails for added strength. The XL7 is now a front-wheel-drive vehicle that features four-wheel independent suspension and available all-wheel drive. The standard powertrain for the Suzuki XL7 is a GM-designed, Suzuki-built 3.6-liter, V6 DOHC engine rated at an estimated 250 hp with 243 lb-ft of torque.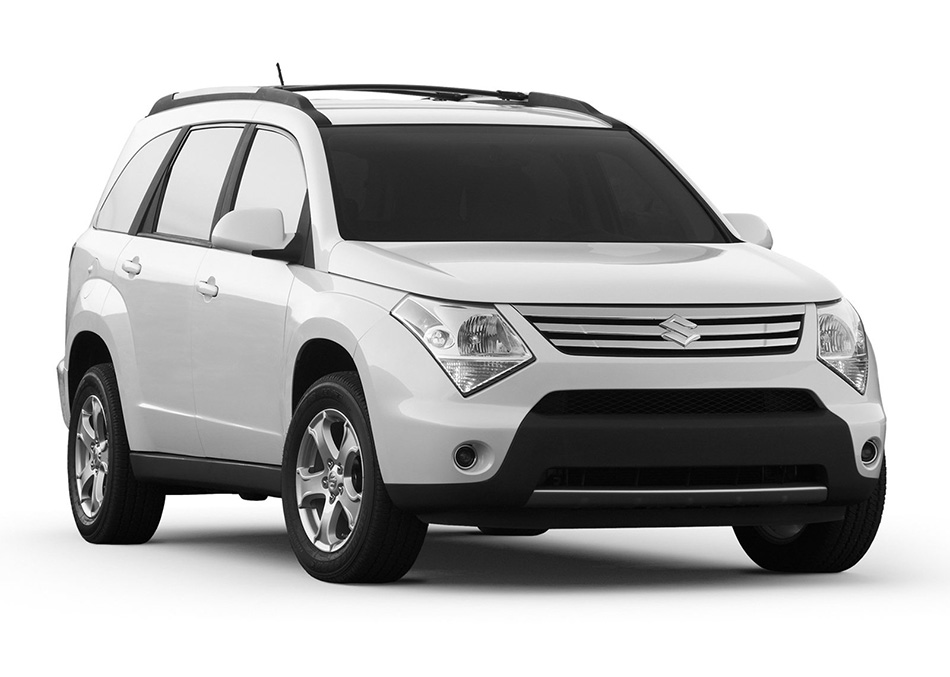 The XL7's 3.6-liter, High Feature (HF) engine with variable valve timing will be built under license by Suzuki in Japan using Suzuki engine-building technology at the Sagara engine plant.
The XL7 engine was developed as a joint effort between Suzuki and GM engineering and features unique Engine Control Unit (ECU) calibration. The use of the existing platform architecture accelerated the completion of the vehicle, which has been in development for three years.
The 3.6-liter, six-cylinder, DOHC engine is matched to a five-speed automatic transmission that features a manual-shifting (manumatic) mode. Although the new engine is nearly one liter larger than the 2.7-liter engine used in the previous XL-7, the new, larger XL7 was designed to deliver fuel economy equal to or better than its predecessor. EPA fuel economy estimates are 18 mpg/city and 24 mpg/highway for front-wheel-drive variants and 17 mpg/city and 23 mpg/highway for all-wheel drive. Towing capacity is rated at 3,500 pounds.
Advanced Chassis Design
The sophisticated chassis delivers nimble, car-like ride and comfort whether driving on the highway, city streets or rural roads. The XL7's responsive road manners communicate a sense of confidence and control in virtually every driving scenario, while still providing refined Noise, Vibration and Harshness (NVH) performance at or near the top of the midsize SUV category.
The XL7 features four-wheel independent suspension with MacPherson struts in the front and a multilink design in the rear. The independent rear suspension is fitted with hydraulic shock absorbers in the five-passenger configuration and Nivomat self-leveling rear shock absorbers when configured for the available seven-passenger design.
The small details add up to provide a car-like ride. The MacPherson strut-type front suspension is designed with long wheel travel, and the design of the struts compensates for coil spring side loads. The bottom of the coil spring is anchored more outboard in the spring perch to relieve the bending load on the strut caused when it was located further outboard to improve stability.
The multilink rear suspension design features a trailing arm plus three additional locating links to allow a low, wide load floor and maximum rear passenger space. The rear-trailing arm is a vertical design that provides flexibility in the twisting direction so the wheel can maintain camber as it moves vertically. The three locating links are designed to manage lateral loads and control the dynamic toe-in of the rear wheel.
The 3.6-liter, V6 DOHC engine is mounted in a double-isolated engine cradle system; the engine mounts to the cradle at four points and the cradle mounts to the rails at four points, providing double isolation from the body. The cradle system features two side load-bearing mounts and front and rear torque reaction mounts. There also is a friction snubber mounted on the passenger side of the engine to help control engine movement sometimes experienced during shifting.
All-Wheel Drive
The available all-wheel-drive system uses an active, electronically controlled rear differential module. The system responds immediately to all-wheel-drive requests and effectively eliminates lag times. A four-mount cradle secures the rear drive module, which is regulated by its own dedicated electronic controller. A new-design propeller shaft fitted with upgraded universal joints handles the added torque.
Hydraulic-Assist Rack-and-Pinion Steering
The fixed-rate rack-and-pinion steering is tuned for responsiveness and good on-center feel. Turning diameter is relatively tight, needing only 41.8 feet for a curb-to-curb turn and the steering wheel requires 2.7 turns for lock-to-lock operation. In addition, the steering column can be adjusted up and down (four degrees) to provide added driver comfort.
Stainless Steel Dual Exhaust System
The all-new XL7 is fitted with a true dual exhaust system, constructed of durable, long-lasting stainless steel. The system was designed for quiet, refined exhaust tones to achieve "best in class" NVH in terms of quietness and tonal quality. The exhaust system features two downpipes, two catalytic converters, a center muffler, two side mufflers and two 3.5-inch diameter exhaust tips.
Sleek Sophistication and Functionality
Evolved from the Suzuki Concept-X, which debuted at the 2005 North American International Auto Show in Detroit, the all-new XL7 features a modern, sleek and expressive design with Suzuki styling cues, such as triangle-shaped turn lamps, bold three-bar grille with large Suzuki "S," muscular wheel arches, dual exhaust with chrome tips and integrated roof racks.
Plush Interior
The 2007 Suzuki XL7 offers the driver and passengers a spacious, functional interior that provides upscale sophistication and refinement. The unique third-row seat delivers seven-passenger capability and real comfort.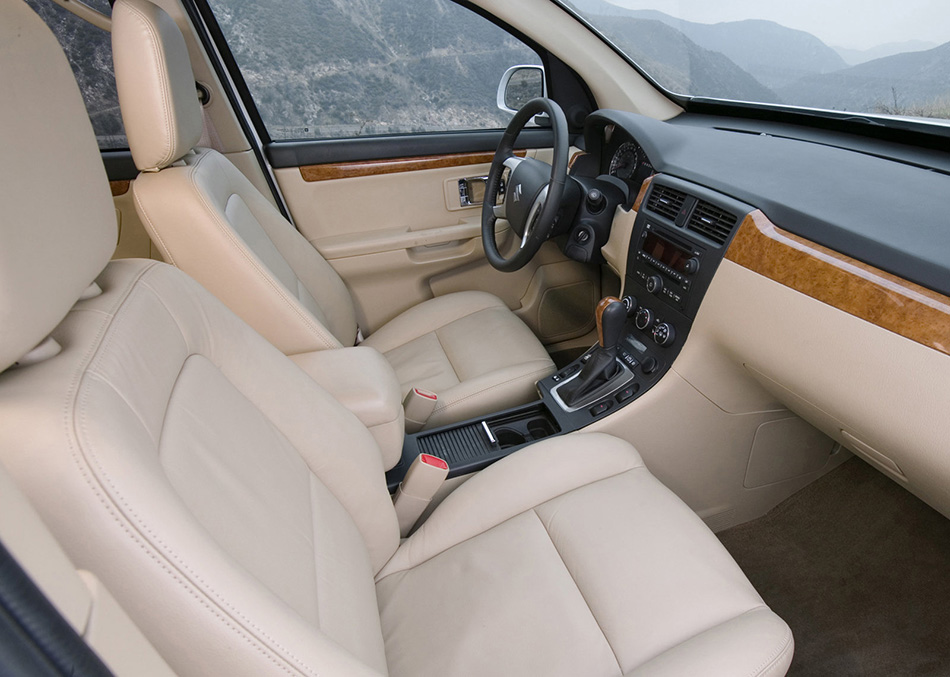 With its six-inch deep footwell, the stretched platform delivers comfortable third-row seating, offering nearly 40 inches of legroom and 38.8 inches of headroom. In addition, the 50/50 split folding third-row seat can be folded flat into the floor for additional cargo carrying room, and the fold-flat front-passenger seat allows room for longer items such as skis, surfboards or even a small kayak.
In addition to the practicality of ample storage consoles and areas and the convenience of four 12-volt power outlets, the interior of the 2007 Suzuki XL7 features upscale wood or satin nickel appliqués on the instrument panel and doors, chrome accents throughout and matte black, low-gloss surfaces. Leather seating surfaces and leather-wrapped steering wheel are also part of certain trim packages.
Safety Features
The XL7's safety features start with the body structure itself – a combination of computer-designed high-strength, dual-phase and galvanized steels. The body structure is computer-designed to manage loads – to effectively transfer energy absorbed during impacts around the interior compartment and occupants – in both front and rear crashes.
In addition, rollover sensing is standard on both five- and seven-passenger XL7 vehicles. The technology uses sensors to proactively predict vehicle "tip up" on a flat road surface and applies brake force to the outside front and rear wheels in order to reduce lateral force in the vehicle.
The unibody construction is a high-strength steel structure, incorporating full-length frame rails and a safety cage in the middle into a single, welded unit. It also is designed with front and rear crush zones engineered to collapse in a controlled manner to help absorb crash energy while protecting the integrity of the occupant safety cage.
The safety cage is reinforced with welded, tubular-section members that frame door openings and support the roof and steel members in the doors. The combination of single-piece door aperture and door beam reinforcements help resist side-impact intrusion.
The all-new 2007 Suzuki XL7 is fitted with driver and passenger front airbags and side-curtain airbags. The XL7 also features a four-wheel anti-lock brake system (ABS) with electronic brake-force distribution (EBD), Electronic Stability Program® (ESP) (including traction control). In addition, the standard tire-pressure monitoring system continuously monitors critical tire pressures.
ESP, which is standard equipment on all XL7 models, provides a technically sophisticated safety net for the driver. The system uses a yaw sensor, lateral accelerometer and steering angle sensor to monitor vehicle stability and driver inputs. Working with the standard ABS with EBD and traction control system (TCS), the system can apply individual brakes selectively to control oversteer and understeer as needed to help the driver maintain control on slippery surfaces or during emergency maneuvers. Being able to control any or all of the brakes allows the ESP system to provide maximum responsiveness, control and enhanced accident avoidance capabilities, although ESP is not a substitute for safe driving practices.
The TCS uses brake and engine torque intervention to enhance traction during launch and acceleration on all road surfaces. If the ABS system detects impending wheel slip, it signals the powertrain Engine Control Unit (ECU) to adjust engine torque output accordingly. TCS also senses when one or more wheels spin faster than the vehicle speed and applies the brakes at that wheel or wheels. Working together, the two systems limit wheel spin and help maintain control and forward progress quickly and efficiently.
Additional safety features include three-point seatbelts in all five- or seven-passenger seating positions, seatbelt pretensioners, seatbelt load limiters in front-seat retractors, child latching system that meets Federal Motor Vehicle Safety Standard 225 requirements, five-mph bumpers and low front bumpers for optimum safety in the event of a collision with an automobile.
Packages and Pricing
Currently, Premium and Luxury trim levels are planned. Both will be offered with front-wheel drive or available all-wheel drive. Two Premium models will be available in five-passenger seating configuration and a third Premium model will be in seven-passenger configuration. Premium models can be outfitted with leather seating surfaces and sunroof.
Two Luxury trim level models will be offered. Both will offer seven-passenger seating and a rear-seat DVD entertainment system. One will offer standard front-wheel drive while the other will come with all-wheel drive. Additionally, a navigation system and sunroof will be offered. The navigation system and the DVD system cannot be packaged together, so Luxury models equipped with the navigation system will omit the DVD System.
The Premium models feature 16-inch alloy wheels with P235/65R16 tires, while Luxury models are fitted with 17-inch alloy wheels and P235/60R17 tires. The 16-inch spare tire is carried in an outside-the-cabin underfloor area equipped with a hoist system.
Current projections call for 50 percent sales of front-wheel-drive and 50 percent sales of all-wheel-drive models. While prices will not be set until the vehicle goes on sale in the fourth quarter of 2006, the manufacturer's suggested retail price is expected to range from $23,000 to $29,000.
Source: Suzuki
Gallery:
Suzuki XL7 (2007)