Toyota, unveiled the all-new 2007 Camry and Camry Hybrid at a press conference today at the 2006 North American International Auto Show (NAIAS). In the 23 years since it was introduced as a 1983 model, Camry has evolved to the quintessential American family sedan with iconic status.
The Toyota Camry, the best-selling car in America four years running and eight of the past nine years, is completely new for 2007 as Toyota engineers and designers follow a strategy that refuses to take continued success for granted. Toyota set out to redefine the new Camry. To accomplish this, Toyota chose to expand the very definition of Camry and in the process create a new benchmark for sedans. Designers rethought every aspect of the Camry, from its chassis to its body, interior, accessories and drivetrain. The result is a world-class sedan that not only redefines global standards for comfort, performance and intelligent design, but also is available, for the first time, with Toyota's Hybrid Synergy Drive.
"With the new 2007 Camry, Toyota once again raised the bar with the family sedan," said Don Esmond, senior vice president, automotive operations, Toyota Motor Sales, U.S.A., Inc. "Camry's reputation as the gold standard was developed over more than 20 years of refining this excellent package and this new Camry continues that reputation."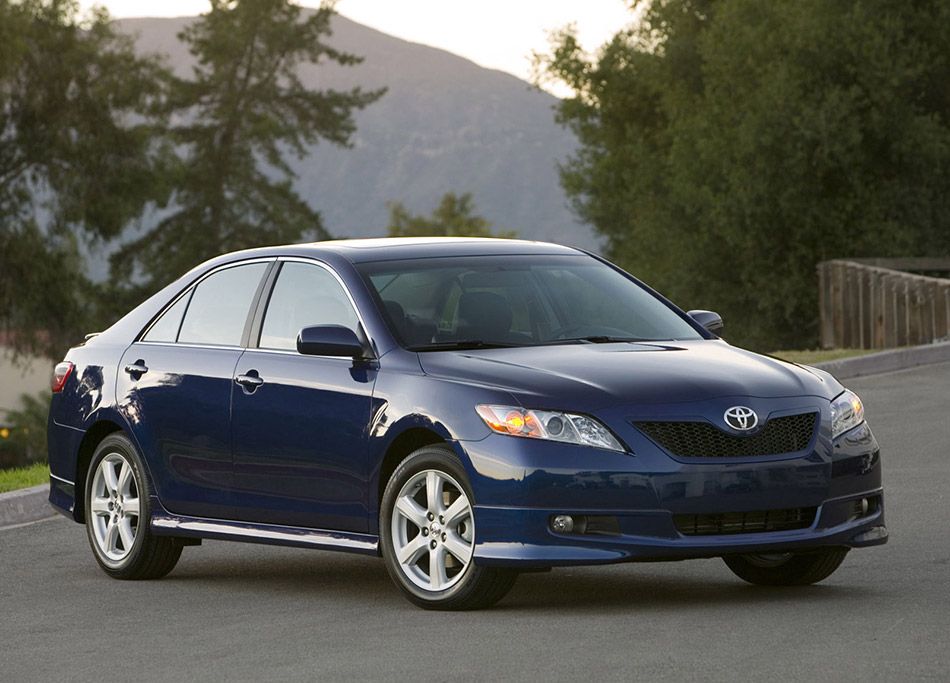 As designers and engineers refined their goals, they focused on trading what some owners felt was a conservative image for a more stylish, athletic, modern image. At the same time, they sought new standards of performance for both standard and hybrid models.
The challenge was to accomplish a thorough redesign without sacrificing traditional Camry qualities, including roomy interior, comfortable ride, low noise levels, and class-leading value. Toyota designers accomplished those goals by rethinking every aspect of the Camry, with special attention paid to improving driving dynamics, comfort, low noise and
As interested as drivers will be in Camry's enhanced performance, refinement, value and style, they'll also be interested in its fuel-economy numbers. The standard four-cylinder CE model has EPA-estimated city/highway fuel economy ratings of 24/34. Camrys equipped with V6 engines have EPA-estimated fuel economy ratings of 22 mpg city/31 mpg highway, while the Camry hybrid has fuel economy ratings of 43 mpg city/37 mpg highway.
Exterior
An all-new exterior design provides the 2007 Camry with a visual impact that signals a departure from the upright style of its predecessor. This new Camry shape is athletic and modern, with a long, high-visibility cabin set on a horizontal underbody with strong, rounded planes and elongated structures. The wheelbase now is longer than before, and track is wider, with the wheels pushed toward the extremes of each of the car's four corners.
Under the flowing lines of this sheetmetal is a body structure designed to absorb collision-impact forces and help minimize impact deformation to the passenger cabin. High-strength steel is used for B-pillar and rocker panel reinforcement to help manage overall body deformation in the event of a side collision.
Inside the passenger cabin, even the seat frames are designed to receive and help absorb side collision loads and a cross member in the center of the floor is used for the same reason.
The chassis was made more rigid by connecting the cowl front to the upper suspension towers. Additionally, the Camry's hood, fenders and their brackets, and cowl are designed to crumple and absorb impact energy.
As a final design touch, these same panels feature an eye-appealing appearance. The new Camry's front fascia, defined by hood, grille, bumper and logo, is dignified and innovative and is completed by headlights that incorporate a projector-type low beam that offer both beauty and high performance.
Chassis
While designers optimized the Camry's visual image, they also paid attention to generating a sense of excitement in the driving experience without sacrificing ride quality. To do that, they increased wheelbase (109.3 in., up from 107.1 in.) but maintained the same overall length, with a shortened rear overhang. Even with this lengthened wheelbase, engineers delivered a reduced turning radius.
Setting the stage for improved grip and driver feel are upgraded wheels for all four Camry grades. Gone are the 15-inch wheels previously standard on the LE. For 2007, the CE, LE, XLE and Camry Hybrid will ride on 16-inch wheels of either steel or aluminum, while the sporty SE gets unique aluminum 17-inch wheels with six spokes. These are optimized to help ensure brake-heat dissipation.
Thanks to the use of enlarged wheels, brake discs also were enlarged for improved feel and stopping power. Up front, ventilated 11.65-inch discs are used, with solid 11.06-inch discs at the rear. A new brake pad is adopted that provides 10 percent higher coefficient of friction for increased stopping power over the previous model. Finally, Toyota's Brake Assist, an electronic function that senses an emergency stop and applies increased braking power once the driver touches the brake pedal, is standard.
Front suspension is via MacPherson struts. At the rear, a dual-link strut system helps provide an optimal balance between smooth ride and secure handling. To help improve the Camry's handling and driver feel, all lower control arms were lengthened, all spring, shock-absorber and antiroll-bar values, and all suspension geometries, were rethought and recalibrated.
The completely revised chassis was lab-tested using specs simulating the road surfaces in every country in which Camry is sold. Then, to add real-world verification to their new design, engineers road-tested the new suspension design for more than 60,000 miles in more than a dozen countries.
Grades

An essential and primary goal was to ensure that even the least expensive Camry is equipped with a comprehensive list of features to enhance its comfort, convenience and value.
The CE gets an impressive list of standard features, including halogen headlamps with an automatic on/off feature, a tilt and telescopic steering wheel, a six-speaker 160-watt digital AM/FM/CD audio system with an auxiliary audio jack and a 2.4L four-cylinder engine with a five-speed manual transmission. It also comes with 16-inch wheels, a full complement of seven airbags, a vehicle immobilizer and four-wheel disc brakes.
The Camry LE adds to this package a long list of additional features, including an in-key remote keyless entry and eight-way-adjustable power driver's seat. A V6 engine with dual exhausts is also available.
Toyota's decision to distance the sporty Camry SE from the other grades had a significant effect upon the chassis specifications being developed for the new Camry SE. As was the case in previous years, LE and XLE use basically the same chassis specs while the SE uses springs, antiroll bars, shocks and bushings with firmer, sportier values than those used in the other two grades.
But for 2007, there are other differences, as well. The SE has a standard full body kit that positions the car 0.4-inches (10mm) lower than other Camry grades. In addition, a V-shaped brace is added to the SE's body between trunk and cabin and stabilizing braces were added to the underbody to increase the body's torsional rigidity. Finally, to make the SE more appealing to buyers seeking a more dynamic driving experience, the SE delivers performance enhanced by underbody aerodynamics borrowed from Toyota's experience in Formula One.
Tuning the SE chassis involved making the underbody as flat as possible to smooth the airflow under the car, and also to increase the speed of the airflow. Engineers also carefully adjusted the balance between front and rear downforce. The result is exceptional stability at elevated speeds.
Features standard on the SE include sporty 17-inch aluminum wheels, its own distinct black, honeycomb-style grille, ground effects body enhancement, smoked tint halogen headlamps, unique sport-trimmed interior in dark charcoal or medium gray with a leather-wrapped, three-spoke steering wheel and amber-colored optitron gauges.
The XLE's list of standard features includes an upgraded dual-zone automatic climate controlled system with steering-wheel controls, a premium 440-watt JBL audio system with Bluetooth™ technology for hands-free calling, wood-style trim, moonroof, rear reclining seats, fog lamps and 16-inch aluminum wheels. Four-cylinder models are equipped with standard special seat fabric designed to be gentle on the skin, while V6 models feature standard leather-trimmed seats.
Options available on select Camry grades include a tilt/slide moonroof, heated seats, voice-command DVD navigation system, leather-trimmed seating, rear spoiler, Vehicle Stability Control and a Smart Entry and Smart Start system with push-button start that allows drivers to lock, unlock, or start the car just by carrying the Smart Key on his/her person.
Interior

One of the primary goals the new Camry's design team set for itself was to come up with a stylish design and a roomy, comfortable interior.
The team turned its attention to maximizing interior space – in particular, fore-and-aft space - without significantly enlarging the Camry's exterior. It started by pushing the cowl, the bottom of the car's windshield, forward for an increased sense of openness and room in the Camry's passenger cabin.
Redesigned front seats also played a role in adding a feeling of spaciousness to the Camry cabin. Additionally, seat-slide length was increased to accommodate comfortable driving positions for larger drivers and passengers. Manual seats have a range of 10 inches, and power seats offer 10.2 inches of travel.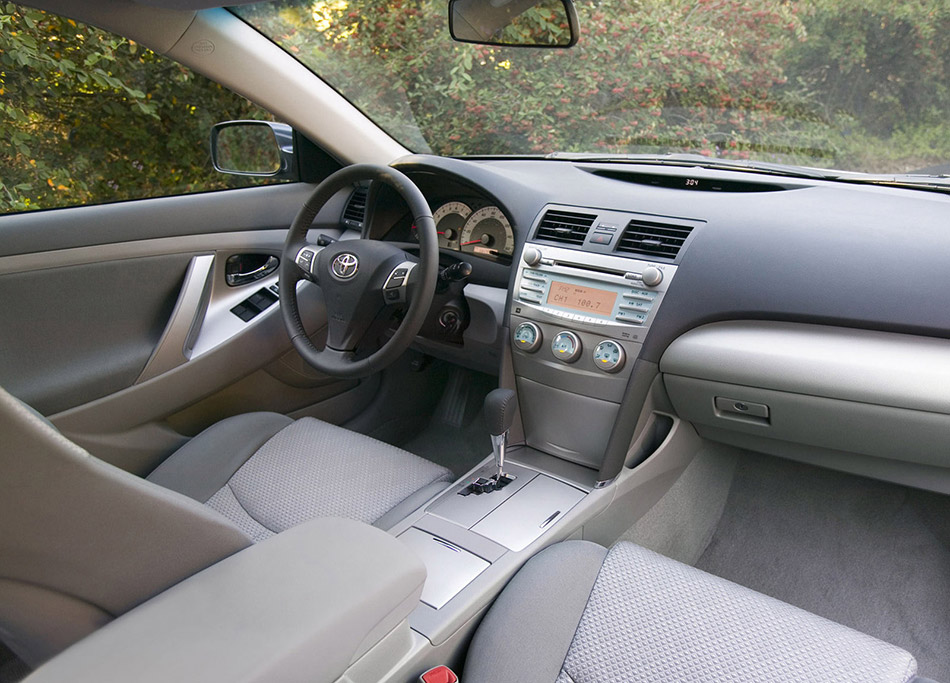 As a thoughtful detail, an assist plate - a place on which to position one's hand for support while entering and exiting the vehicle- was added to the outboard side of each front power seat-bottom surround panel.
In an expansion of a seat technology first seen on the Toyota Prius, the Camry's seats use Toyota's Whiplash Injury Lessening (WIL) seat design. That means that each seat is designed to help manage whiplash injury.
The 2007 Camry's door trim was redesigned for improved ease of use of the door handles and switches. Designers maximized the size of the space around the door handles for easier access.
Designers also paid careful attention to improving the comfort available to rear-seat passengers. Footwell space for the rear seat was enlarged, and additional rear seat legroom was provided. Available rear legroom now measures 38.3 inches, up from 37.8 inches in the previous generation Camry. To enhance comfort for rear-seat XLE passengers, seatbacks now recline eight degrees from their standard position. Alternately, a 60/40 non-reclining fold-down rear seat is standard on CE and LE grades. Rear-seat passengers also get dedicated personal reading lamps on moonroof-equipped Camrys.
So complete was the rethink of the Camry's interior that even the seat fabric was redesigned. Used exclusively on the top-of-the-line XLE four-cylinder model, the new standard fabric is treated by the Fraichir process. In this process, fabric is coated with a naturally occurring component called Sericin, which is extracted from silkworm cocoons and refined. This substance is used because it contains a natural moisturizing component.
Additionally, in their search for increased space, designers did not overlook the Camry's trunk. With the 60/40 fold down rear seats, it offers 15 cubic feet of luggage space. With the reclining or fixed rear seats, it delivers 14.5 cubic feet of storage space. It is equipped with a grocery hook, a utility box and a luggage net (on XLE) for added convenience.
The revised interior involved a complete redesign of every detail of the dash and console, in part to avoid the impression that the dash crowds the Camry's passengers, and also to improve instrument visibility and ease use of all controls.
The dash itself uses a two-level configuration with the upper level moved toward the front of the vehicle to improve the impression of roominess.
In the instrument panel, instruments are larger than before, with larger lettering and longer needles. The speedometer is marked in five-mph increments, a step that is important to American buyers because speed limits of 55, 65 and 75 mph are very common. Additionally, the odometer and trip meters are illuminated at all times to improve daytime visibility.
Special attention was paid to the audio/HVAC control panel. The control panel features switches that are slimmer and neater than previously, with larger lettering, and with surface luminescence for easier use at night.
A standard multi-information display offers outside temperature readings, possible cruising range, average speed, average fuel consumption and trip odometer.
Designers built in many storage spaces around the front-passenger area, including console side-pockets, marking the first use of this storage option in a sedan. Storage options also include a large front console box equipped with an accessory power socket and an auxiliary audio jack - this box is big enough to store eight CD jewel cases. Other storage areas include an accessory box behind the shift lever containing another accessory power socket, a 354 square inch rear-console box with a card holder and a movable tray, and, adjacent to the shift lever, holders for two large cups.
A new HVAC system, standard on the XLE and Hybrid, incorporates automatic climate-control with separate left and right zones. This new system uses Plasmacluster ionizer technology to help reduce airborne mold spores, microbes, fungi, odors, germs and bacteria inside the passenger cabin. The plasmacluster ionizer does this by artificially creating positive and negative ions that seek out and surround harmful airborne substances.
Engines and Transmissions
The 2AZ-FE engine, standard across the Camry grade lineup, is based on the 2.4-liter four-cylinder engine from last year, but is substantially upgraded. This redesign employs optimized intake and exhaust systems, as well as strategies that reduce internal friction and enhance engine-block/crankcase rigidity. The result is improved power output with exceptional fuel economy and reduced noise and vibration levels.
This engine is based on bore/stroke dimensions of 3.48 x 3.78 inches (88.5 x 96mm) for a displacement of 2,362 cc, or 144.1 ci, and develops 158 SAE horsepower. During their revision of the existing engine, engineers boosted the compression ratio slightly to 9.8:1, altered the cam profile and paid particular attention to reducing friction through strategies such as reducing the tension of the piston rings while increasing their tensile strength. Finally, they reduced piston weight, optimized the balance shaft, improved sound insulation performance of the engine cover and improved the engine mounts.
With this engine, Camry buyers have the choice of either five-speed manual or electronically operated five-speed automatic transmission.
For those looking for more power, the new 2GR-FE engine – a 24-valve, DOHC 3.5L V6 - is available in the LE, SE and XLE. This engine is designed to deliver up to 40 percent better acceleration over the 2006 model year Camry 3.3-liter V6. The V6 is based on bore/stroke measurements of 3.70 x 3.27 inches (94.0 x 83.0 mm) for a displacement of 210.9 ci, or 3,459cc, and uses a compression ratio of 10.8:1 to generate 268 SAE horsepower.
The dual camshafts, which are chain-driven, employ Dual Variable Valve Timing with intelligence (Dual VVT-i) for optimal cam timing – and therefore maximum power production - at all RPM levels.
Engineers improved airflow through every element of the engine's intake tract. This includes improving air-cleaner shapes, intake ducts and the intake manifold and cylinder head intake ports. In addition, valve openings were enlarged and exhaust pressure loss was reduced from the exhaust manifold to the muffler. Engineers modified the shape of the Camry's taper-squish combustion chambers to make maximum use of that air. And they provided exhaust manifolds that incorporate catalytic converters for greater efficiency.
Harnessing this engine's output is an all-new six-speed automatic transmission that uses 21 percent fewer parts than the conventional five-speed automatic transmission it replaces. This new transmission, which can be shifted sequentially, relies upon a newly developed gear train that uses a Ravigneaux-type compound planetary gear for reduced size, weight and friction.
This new transmission also uses a quick-response, low-friction clutch pack for enhanced fuel economy; an ultra-flat, low-inertia torque converter for high transmission efficiency; a set of high-response, low-slip clutch packs and new electronic and hydraulic control systems that incorporate an intelligent shift control that learns driver's driving style and selects gears based on that style.
As a result of this development, transmission kickdown response was cut to 0.5 seconds, more than twice as fast as the response of the transmission this new one replaces.
Audio
The standard audio system in the 2007 Camry incorporates an AM/FM/six-disc in-dash CD changer with six speakers and uses a four-channel digital amplifier that produces 160 watts of output. Additionally, all audio systems are capable for reading CDs with MP3 files.
The premium JBL system, standard in the XLE and Hybrid, offers AM/FM/six-disc in-dash CD changer with eight speakers and an eight-channel, 440-watt digital amplifier for low distortion and faithful reproduction of a wide range of musical types and styles. When a navigation system is added, the premium JBL system integrates that system and comes with a four-disc in-dash CD changer. The JBL audio system includes Bluetooth® technology for hands-free telephone compatibility.
Safety
All 2007 Camrys come equipped with an Antilock Brake System (ABS), Electronic Brake-force Distribution (EBD), and Brake Assist. Vehicle Stability Control (VSC) with traction control, an electronic system that controls engine output and brake application on individual wheels to help control loss of traction in turns, is available as an option.
Dual-stage advanced SRS airbags are standard on all Camry models. Standard seat-mounted side airbags and side curtain airbags help provide coverage for the length of the passenger compartment. A driver's knee airbag also is standard.
Source: Toyota
Gallery:
Toyota Camry SE (2007)