VATH automobile and engine techniques at the Bavarian Hoesbach – this is a name with indeed worldwide reputation. Besides ordinary performances in fields of car ennobling, like power improvement, chassis tuning, light alloy rims or made of carbon aerodynamics, the tuning master shows excellent work when it matters to "reanimate" classic cars.
 
By the way, the X 156 is everything else than a classic car – it is nothing else than the internal code for the Mercedes-Benz GLA class. A GLA 200 with serial maximal values of 156 HP (= 115 kW) and 250 Nm of max, torque has been subjected by the VATH team to an optimization. Now, by means of the V20 tuning kit for 850 Euro plus 200 Euro for mounting, the 1.6 liters engine splutters now 184 PS (= 135 kW) with 310 Nm of torque thanks to the individual engine electronics fine tuning.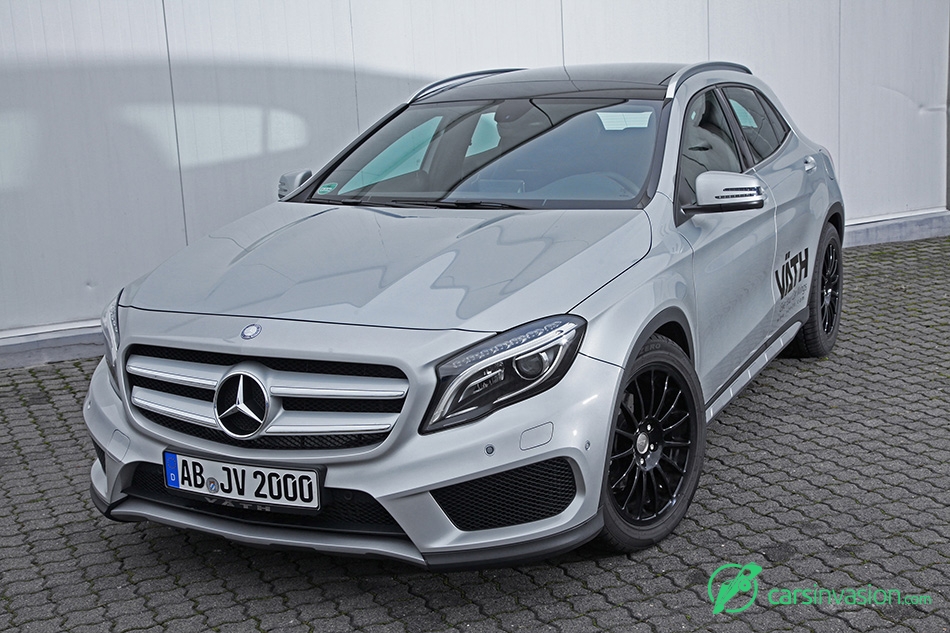 A 270 EVO made of VA stainless steel down pipe sports exhaust system with 200 cells tri metal cat offers five to eight percent more of performance for only 1,690 Euro plus 250 Euro for mounting. The likewise made of VA stainless steel axle back valve exhaust system with each one oval end pipe in 110 x 90 mm and crimped end pipe edges on the right and left have been installed by the VATH professionals, demanding 2,890 Euro plus 550 Euro for mounting, including electrics kit.
 
The braking system has also been modified, namely by steel flex tubes including type approval and Castrol SRF racing braking fluid. Therefore, VATH demands 390 Euro and 200 Euro for mounting.
 
Single-piece VATH 18" rims in black with matching tires are installed on the front axle in 8.5 x 18" (420 Euro) and on the rear in 9.5 x 18" (444 Euro), together with the indispensable rim mounting set for 250 Euro.
Source: VATH
Gallery:
VATH Mercedes-Benz GLA 200 (2015)