As well known, car and engine techniques are the field of business of the worldwide renown VAETH company at the Bavarian city of Hoesbach near Aschaffenburg. Center of attention are both car tuning in ever new variations and restoration of old cars. By the way, the latter is most near and dear of the company's leading team. And the customers' response shows that this field of commerce is absolutely trendy. The whole aims to present the exceptional in its most beautiful shape, at the end.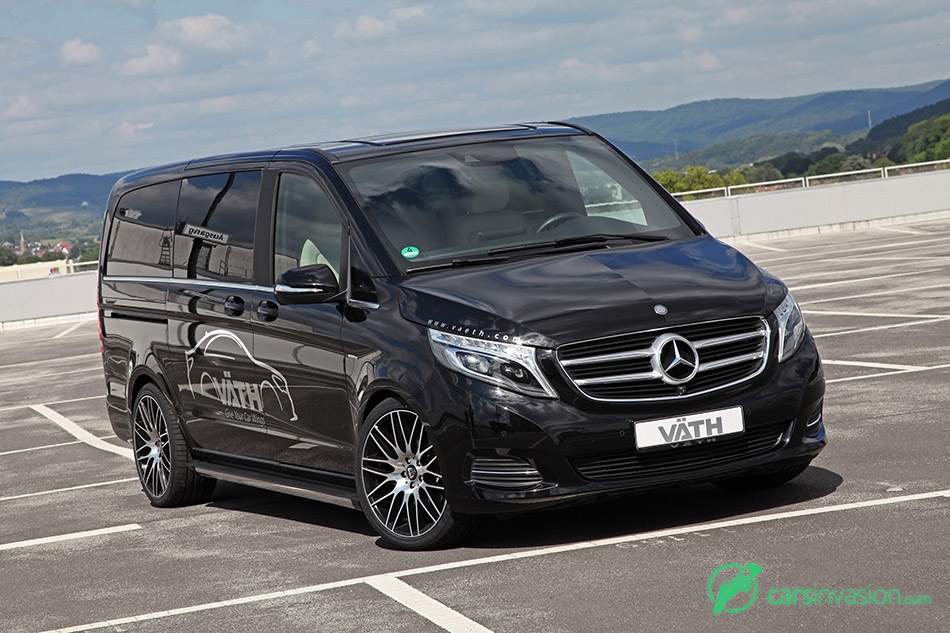 The recent object of desire is a Mercedes-Benz series 447 V-class model, available since 2014. The star ennobled third generation van has been significantly upgraded by the VAETH team with relatively few of effort and correspondingly reasonable low costs. At first, there is to be mentioned the handsome wheel-tire-combination consisting in one-part light alloy wheels in black with burnished front, dimensioned 9x20 ET42, with Bridgestone tires in 265/35R20 for 2,975.00 Euro. The smart lowering by 25 mm with spring kit demands another 566.20 Euro. Furthermore, the mounted on both sides running boards for 629.00 Euro ease the transporter image of the van.
It goes without saying that power uprating is observed at VAETH. In this case it was made by chip tuning box up to 225 HP (= 165 kW) and adding 60 Nm up to 500 Nm of max. torque, anyway, which demands 1,011.50 Euro in account. And, finally, the TV release (224,91 Euro) comes in useful for entertainment of the passengers.
Source: VATH
Gallery:
VATH Mercedes-Benz V-class (2015)