The all-new Volkswagen Golf has been unveiled in Berlin, 36 years after the original model redefined the small family car. The seventh generation VW Golf builds on the success of its predecessors, of which over 29 million have been sold, bringing new levels of comfort, practicality, safety and efficiency to the class.
Despite offering more room for passengers and more advanced technological features than ever before, new production techniques contribute to the Volkswagen Golf Mk VII being up to 100 kg lighter than the car it replaces, helping to make it up to 23 per cent more efficient than before. On top of this, the new Golf is also safer than ever, thanks not just to a stronger body structure (which is also 23 kg lighter) but also to a raft of standard and optional passive and active safety systems.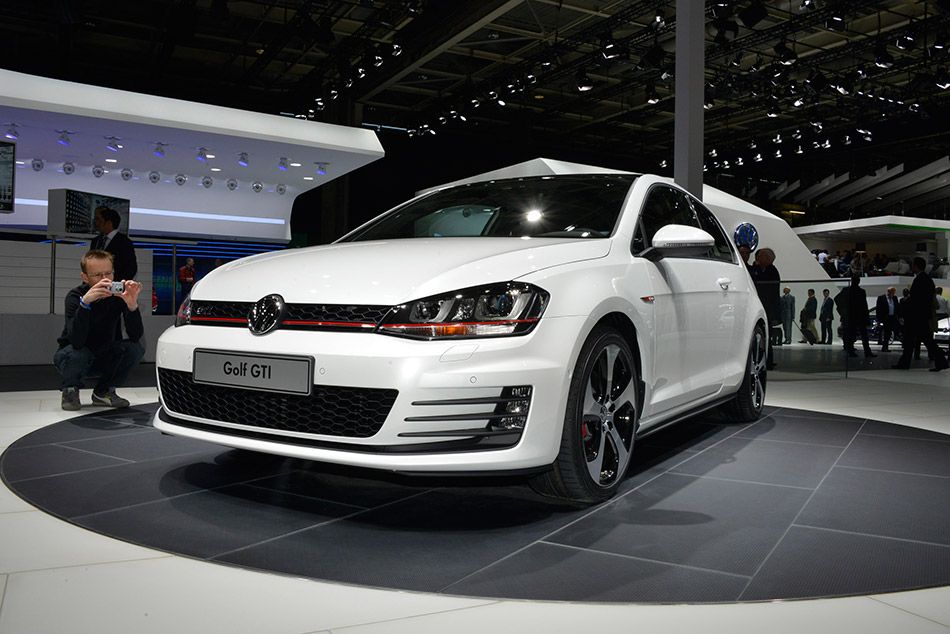 The new Volkswagen Golf is built on the so-called MQB (Modularer Querbaukasten) platform or Modular Transverse Matrix. This standardises many vehicle component parameters across brands and vehicle classes, and allows access to new powertrains and technologies, including innovations in the areas of safety and infotainment, which until now were reserved for vehicles in higher segments.
At 4,255 mm long, the new Volkswagen Golf is 56 mm longer than its predecessor, with a 59 mm longer wheelbase of 2,637 mm. The front wheels are 43 mm further forward, helping to generate more interior space, while the Golf is also 13 mm wider, at 1,799 mm, and 28 mm lower, at 1,452 mm. This helps to create a 10 per cent improvement in the drag co-efficient, which is now 0.27 Cd.
Though the new car's dimensions are larger, its overall design is unmistakeably that of a Volkswagen Golf, thanks to a design DNA that has evolved through the decades. Walter de Silva, Head of Design for Volkswagen AG, said: 'One of the keys to the Golf's success lies in its continuity. There are a handful of cars with a design that, like the Volkswagen Golf's, has been refined, tweaked and enhanced down the decades and thus become timeless.'
Inside the Golf there is more room than ever. Rear legroom is improved by 15 mm, and the front seats have been moved 20 mm further back, benefitting taller drivers. Front shoulder room is improved by 31 mm to 1,420 mm (at the rear it is 30 mm wider) and elbow room by 22 mm to 1,469 mm (20 mm wider at the rear). There is more room for luggage, too: the boot is 30 litres larger, at 380 litres, with a low 685 mm sill to make loading effortless. The front passenger seat can also optionally fold fully forward, creating a loadspace which is up to 2,412 mm long.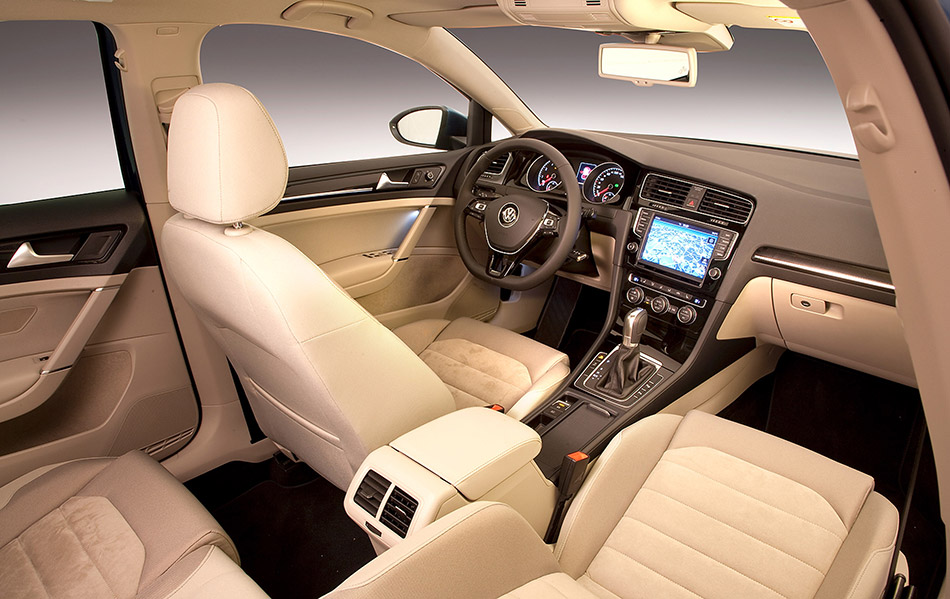 In the cockpit, the centre console is now angled more towards the driver, giving them easier, more ergonomic and direct access to auxiliary controls, including the new generation of touchscreen infotainment systems that is available on the Volkswagen Golf. All Golf models now have touchscreen systems as standard, starting in the UK with a 5.8-inch colour display system, and rising to the range-topping satellite navigation system with eight-inch colour display. It operates with finger gestures that will be familiar to smartphone users. Features include DAB digital radio, auxiliary inputs (including USB), Bluetooth telephone preparation and access to vehicle trip information.
Between the front seats, space is increased by virtue of the new electronic parking brake with auto-hold feature. And for the first time in a Volkswagen, the compartment under the centre armrest optionally includes a universal phone holder with inductive aerial, which not only increases the signal strength of a phone placed in it, but also reduces the drain on the phone's battery.
The new VW Golf also features a number of innovative standard safety systems, while optional systems include many previously only available on vehicles in a class above. Standard on all new Golf models is a multi-collision brake system. This automatically brakes the vehicle after a collision, to reduce kinetic energy significantly and thus minimise the chance of a second impact. Research in Germany shows that around a quarter of accidents involving personal injury are multi-collision events. Also standard is the PreCrash system that made its debut on the Touareg. If it detects the possibility of an accident, it pre-tensions seatbelts and closes the windows and sunroof, leaving just a small gap, to ensure the best possible protection from the airbags.
Other electronic aids include Adaptive Cruise Control (standard in the UK from SE models upwards), which uses radar sensors to maintain a set distance from the vehicle in front; Front Assist, which can bring the vehicle to a complete stop and operates at speeds of up to 150 km/h (approx. 93 mph); and City Emergency Braking, which operates at up to 30 km/h (approx. 19 mph), and can reduce or prevent the chance of accidents occurring. A Driver Alert System, as introduced on the Passat, monitors the driver's inputs, to detect any signs of tiredness; while a camera-operated Lane Assist system can help keep the car in a specific lane, providing countersteering assistance where necessary. A Dynamic Light Assist system optionally masks the vehicle's high beam lighting, making for brilliant illumination without dazzling on-coming traffic.
The VW Golf's steering now uses a variable ratio system that offers more agile steering in dynamic driving situations, while ensuring high-speed stability, and easy manoeuvring in the city. Specify the latest generation Park Assist, and the new Golf VII will even park itself in a space no more than 80 cm longer than the vehicle.
For the first time, the Volkswagen Golf is also available with driver profile selection, which allows the driver to choose from four modes - Eco, Sport, Normal and Individual; with a DSG gearbox a fifth option - Comfort - is also offered. Each of these modes alters the throttle mapping and engine management (among other parameters) to the chosen style, so in Eco mode, for example, the engine management, air conditioning and ancillary systems are controlled to achieve maximum fuel consumption.
Powering the VW Golf VII is a new range of petrol and diesel engines, all of which incorporate Stop/Start and battery regeneration systems. At launch, the petrol engines are a 1.2-litre TSI 85 PS unit returning 4.9 l/100 km (around 57.6 mpg and 113 g/km), and a 1.4-litre TSI 140 PS unit with Active Cylinder Technology, which can deactivate two of the cylinders, and achieves up to 4.8 l/100 km (58.9 mpg and 112 g/km). The launch diesel engines are a 1.6-litre unit with 105 PS, which returns 3.8 l/100 km (74.3 mpg and 99 g/km), and a 2.0-litre 150 PS unit which returns 4.1 l/100 km (68.9 mpg and 106 g/km).
Source: Volkswagen
Gallery:
Volkswagen Golf (2013)