Opel today reveals the new, fifth generation of the Corsa. Opel's bestseller aims to offer a new driving experience in the small-car market segment by raising the bar for chassis, engine and gearbox performance. The new, refined and efficient 1.0-liter three-cylinder turbo engines, smooth-shifting transmissions, the new suspension and optimized steering deliver class-leading levels of comfort and precision. The new Corsa also comes with a totally new interior that enhances the perception of high quality and spaciousness, including best-connected IntelliLink infotainment technology and ultra-modern driver assistance systems. Opel's designers have also given the new Corsa a dynamic shape in line with the brand's design philosophy, introducing flowing, sculptural forms and precise detailing. The new Corsa is equipped with everything required to ensure continuation of 32 years of success in a highly competitive market segment. The fifth generation of Opel's bestseller will make its world premiere at the "Mondial de l'Automobile 2014" in Paris (October 4 to 19), rolling off the assembly lines in Zaragoza and Eisenach before the end of the year.
"The Opel Corsa has always been widely praised, particularly for its appealing looks and an efficient use of space within compact dimensions," says Opel CEO Dr. Karl-Thomas Neumann. "This has been a decisive factor in the model's enduring popularity, and we are, of course, carrying this core appeal forward in the new generation. Thanks to many new technologies, we are also offering a fantastic driving experience, which raises the standard in this vehicle class. The fifth Corsa generation will be full of surprises."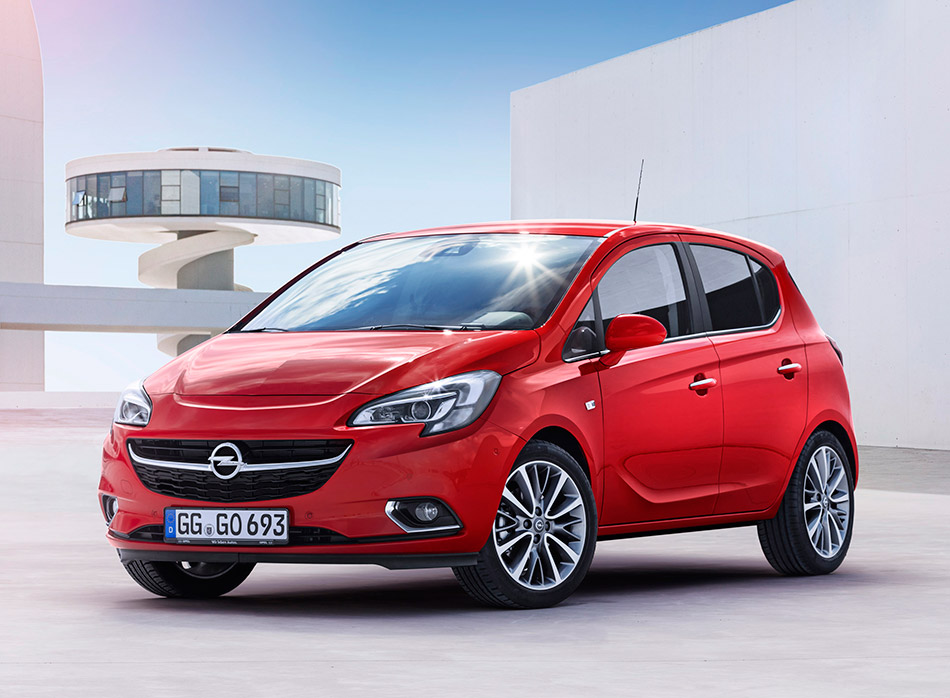 Recipe for success: Youthful design and generous space in compact dimensions
Across four generations spanning 32 years, almost 12 million Corsas have been sold in Europe, including 2.8 million from the current fourth generation. With average yearly sales of 370,000 units, the Opel Corsa is one of the most enduringly popular models in its segment. A key to its success is outstanding space efficiency: within a compact length of 4 meters, Opel's bestseller offers plenty of room for up to five occupants – in both family-friendly, five-door and dynamic, sporty three-door body formats. At the same time, the Corsa's exterior design conveys practicality and strong, stand-out appeal with its youthful, dynamic looks. The new Corsa generation now seamlessly carries forward this recipe for success – while being radically different. Its exterior design is fresher, more sophisticated and has even more character. The bold face is characterized by the "wing" shaped headlights incorporating Opel's signature "wing" LED daytime running lights and the low sporty trapezoidal grille, with its dynamic bar supporting the Opel emblem. The sculptured body sides feature Opel's typical dynamic "blade" body signature. At the rear end the wide horizontal split tail lights help to visually widen the car and flow through to the rear shoulders, giving it an even better stance. But it's when you sit in the new Corsa and drive it that the change is the most apparent. The completely new cabin featuring clear, elongated shapes and a mix of sophisticated materials, together with the substantially more comfortable chassis, sharper steering, all-new powertrains and significantly lower noise levels all combine to ensure a completely new driving experience.
Absolute precision: New chassis and new steering for highest driving stability
The top priority for the Opel engineering development team was to provide Corsa customers with a driving experience comparable to larger, more expensive cars in terms of comfort and precision. New chassis and steering systems provide the foundation. The chassis does not inherit a single component from the current Corsa. Straight line and cornering stability is increased thanks to a 5 millimeter lower center of gravity, a stiffer sub-frame, a new suspension geometry including a new front knuckle. Roll behavior, steering response and understeer characteristics are all improved. New damping characteristics also give the fifth-generation Corsa better filtration of disturbances from potholes and uneven road surfaces, providing exemplary comfort in a small car.
The development of a completely new electrical architecture for the fifth generation Corsa enables a more sophisticated level of interaction between its various systems. Together with a new steering geometry and steering software calibration, this enhanced system benefits the new, speed-sensitive electric power steering: it has a more precise response and improves both driving pleasure and comfort. A new standard feature in all Corsa models that allows reducing steering effort at low speeds, the City mode is easily activated at the press of a button.
As for the current Corsa, customers can choose between two chassis set-ups, Comfort and Sport. The Sport chassis has stiffer springs and shock absorbers as well as a specific steering geometry and calibration for a more direct response.
Engine highlight: Latest generation 1.0 ECOTEC Direct Injection Turbo  
The highlight under the hood of the new so-called "Corsa E" of the fifth generation is the installation of Opel's newly-developed three-cylinder, 1.0 ECOTEC Direct Injection Turbo, part of the brand's major powertrain offensive. This ultra-modern pocket powerhouse is the only 1,0-liter three-cylinder production engine with a balance shaft, which enables it set a new class benchmark for exceptionally low noise, vibration and harshness (NVH) characteristics, as well as high driving comfort. The compact, all-aluminum 1.0 ECOTEC Direct Injection Turbo, which of course already meets Euro 6 emission standards, is available in two output configurations, giving 66 kW/90 hp or 85 kW/115 hp. Both shine with excellent responsiveness and strong low-end torque, pumping out 170 Nm from just 1,800 rpm. Opel's new, small-displacement three-cylinder engine is fitted with Start/Stop technology as standard.
The new Corsa's gasoline powertrain line-up is also extended with the introduction of a new 74 kW/100 hp 1.4-liter turbo engine with 200 Nm maximum torque, as well as further developed, Euro 6 compliant 1.2 and 1.4-liter naturally-aspirated units. In addition, completely revised, more refined and now also Euro 6 compliant 1.3 CDTI engines with 55 kW/75 hp and 70 kW/95 hp expand the Corsa offer on the diesel side. At launch, the most frugal Corsa version – with 70 kW/95 hp, 5-speed manual transmission and Start/Stop – emits just 89 g/km CO2. Additional low emission variants will follow as soon as next spring.
But it is not just completely new and further developed engines that make driving the new Corsa even more fun and comfortable. The introduction of new transmissions also contributes to the enhanced driving experience and improvement in efficiency. Both versions of the 1.0 ECOTEC Direct Injection Turbo are mated to an all-new, compact six-speed manual gearbox. Highlights include greater efficiency, thanks to low friction design and a precise shift feel. Changing gears in the new Corsa is comfortable and smooth, as well as fast and precise. With the launch of the new Corsa, Opel also offers its newest-generation six-speed automatic transmission, as well as the completely new Easytronic 3.0 automated manual transmission giving enhanced, smoother responsiveness – the perfect way to affordably combine the comfort of an automatic with the efficiency of a manual.
Best connectivity with top safety: IntelliLink and driver assistance systems
Cleanly designed, the cabin of the new Corsa is organized around an eye-catching driver control center whose instrument panel fascia is designed around horizontal lines that optically enhance the generous interior spaciousness. The IntelliLink system's 7-inch color touchscreen is ideally located on the center stack, close to the gear shift. This allows the driver's hand to swiftly and naturally move between the transmission control and the touchscreen. The new Corsa's state-of-the-art infotainment system offers best connectivity opportunities, is compatible with Apple and Android devices and can be operated by voice command. Bluetooth and Siri Eyes Free can also be used. Several apps are available such as BringGo for navigation, as well as Stitcher and TuneIn for internet radio and podcasts, and there is a practical FlexDock parking and charging station for smartphones.
The new Corsa introduces a host of driver assistance systems, many of which are unrivalled in its vehicle class. Safety is increased thanks to new systems that are all available in the Corsa for the first time – such as bi-xenon headlamps with cornering light, the Side Blind Spot Alert and the Opel Eye front camera with Road Sign Recognition, Lane Departure Warning, High Beam Assist, Following Distance Indication and Forward Collision Warning. To provide maximum safety, Forward Collision Alert uses a red, head-up warning that is projected into the windscreen. In addition, the Tire Pressure Monitoring System display warns the driver in the event of excessive pressure loss in one of the tires.
Driving comfort is also improved by the Advanced Park Assist that automatically steers during parking maneuvers, as well as by the Rear View Camera and the Hill Start Assist. The steering wheel, front seats and now the windshield can all be heated to provide cozy warmth in the cabin and good visibility on cold days. The high-class interior features finely sculpted front seats boasting superb workmanship, a large panorama roof, and pleasant ambient lighting, which lends the cabin a warm, welcoming atmosphere.
And for active sportsmen and women, the new Corsa's characteristic rear end optionally integrates the practical FlexFix bicycle carrier, which is exclusively offered by Opel.
Source: Opel
Gallery:
Opel Corsa (2015)