The XC70 AT features a 2.5-liter inline 5-cylinder engine that is normally found in the V70 R sport wagon. But where the V70 R makes an impressive 300 horsepower, the XC70 AT, with its Garrett GT2835R turbocharger and ipd/MTE Stage III software upgrade makes 408 horsepower at 6,200 rpm. Keeping the hot-blooded engine cool is an Aquamist in-cylinder intercooling system and an extra large top-mounted intercooler. Low restriction 3-inch stainless steel exhaust pipes emit a husky sound that would be more familiar coming from a Volvo XC90 V8.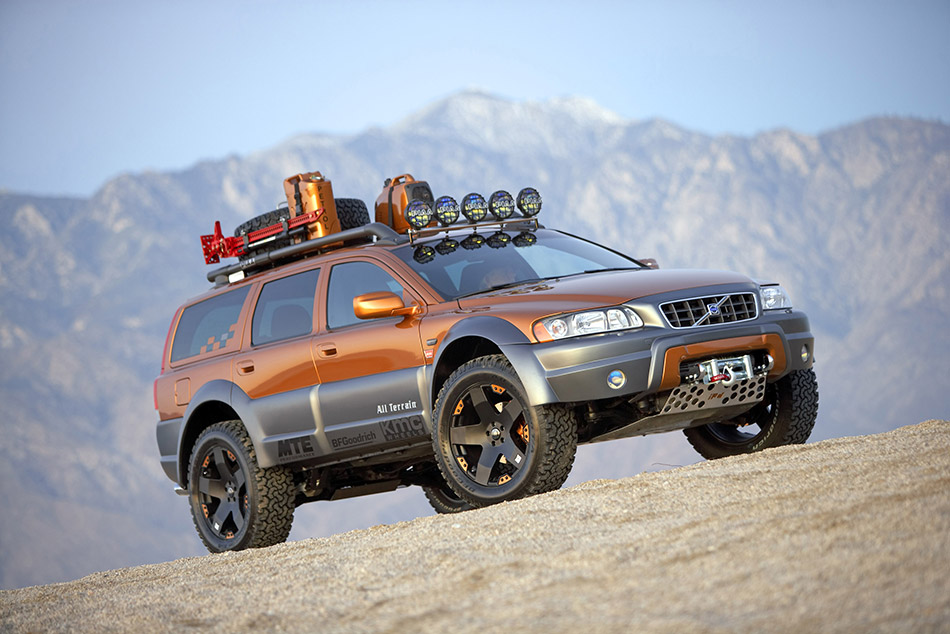 Producing an amazing 398 lb-ft of torque at a low 4,000 rpm, the XC70 AT uses the same 6-speed automatic transmission that is standard in the XC90 V8 and the 2006 V70 R. Making sure all four wheels get the most of the broad torque curve is Volvo's legendary fully automatic all-wheel-drive system by Haldex.
New on the production XC70 for 2005 is Volvo's remarkable Four-C adaptive chassis ride system with Sport and Comfort modes. Taking this concept to the next level, ipd developed a custom fully independent air ride suspension offering 4-inches of adjustability via dash-mounted buttons. Add in the ipd designed 4-inch lift kit and the XC70 AT can ride up to 8 inches higher than the production Volvo XC70. To keep body roll in check, ipd 25-mm front and 28-mm rear anti-sway bars have been fitted.
Additional accessories include a 1,000 generator, high-lift jack, spare jerry can and tire and remote exterior battery terminal connections.
Source: Volvo