WIMMER racing sports techniques company in the former Hanseatic city of Solingen is the venue for electronic and mechanical power uprating and most diverse special issues of sports exhaust systems and, as generally known, authorized service partner of the essentially specialized on bikes Austrian manufacturer KTM. Essentially …
 
Since the beginning of the enterprise in 2006, the latter co-operated with a designer and a vehicle manufacturer, so that he could present two years later the prototype of a "puristic super sports car" named "X-Bow" ("crossbow"). The KTM X-Bow is available in the variations Street (for beginners), Clubsport (for the racing circuit) and ROC (= Race of Champions for the professional motorsport) with different subgroups.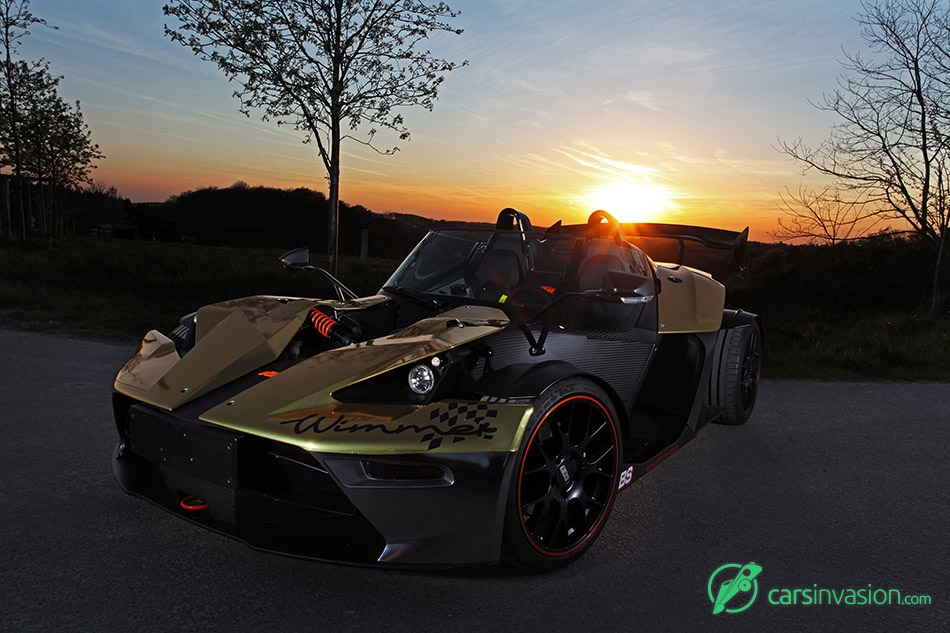 Even such a X-Bow GT – an eye catcher already in "normal state", wherever it appears – the WIMMER racing sports techniques team has submitted to an absolutely special treatment upon customer's demand. This way, now, the engine, on the one hand, thanks to software optimization and miscellaneous modifications has impressive 485 HP (= 357 kW) of power and 520 Nm of max. torque on output, allowing fantastic acceleration values: from zero up to 100 kmph (60 mph) within 2.97 and from 0 to 200 kmph within 9.9 seconds!
On the other hand, large body parts have been in a spectacular way gold foil wrapped. The whole runs under the name "Dubai-Gold-Edition" – a fact that in any way allows to guess the customer's origin. One can imagine this vehicle on the 1.7 km long Dubai "The Walk" strolling promenade all too well…
Source: WIMMER
Gallery:
Wimmer KTM Gold Edition (2015)