On some snakes, the color already serves as a warning to keep your distance – regardless of their size. At the Essen Motor Show 2018, the ABT RS3 uses its viper-green color to signal that compact cars deserve some respect as well. With the ultimate ABT Power R performance kit, the car boasts 500 HP (368 kW) and a maximum torque of 570 Nm. In addition to the auxiliary ABT Engine Control (AEC) unit, an ABT intercooler and the ABT exhaust system are also on board. The production model has 400 HP (294 kW) and 480 Nm.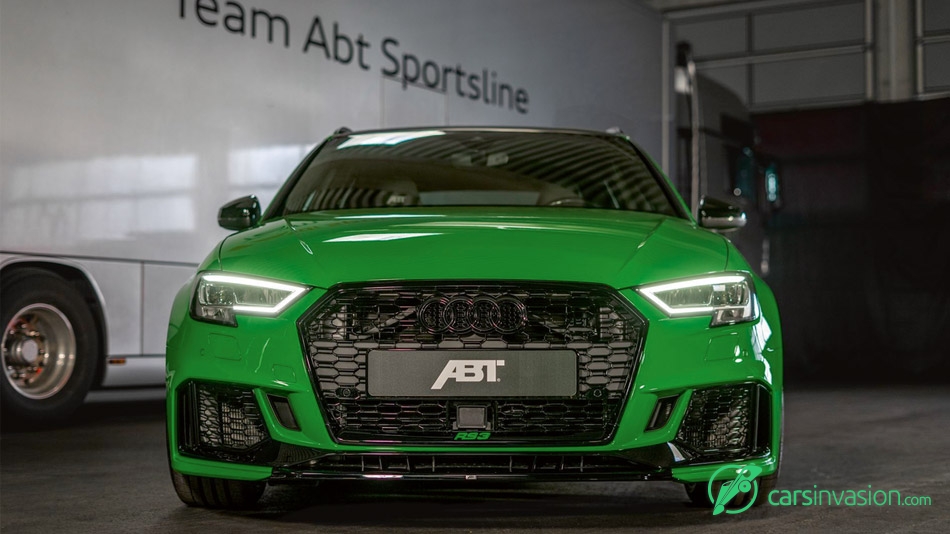 With ABT suspension springs and ABT sport stabilizers, the ABT RS3 perfectly brings the power of the 2.5 liter, 5-cylinder in-line engine onto the road. The ABT height-adjustable suspension kit is available as an option. Visually, the ABT RS3 is always in the green with its outfit: The car in the picture is fitted with 20 inch ABT SPORT GR. Other 19 and 20-inch sizes are available as alternatives – ER-C, ER-F and FR.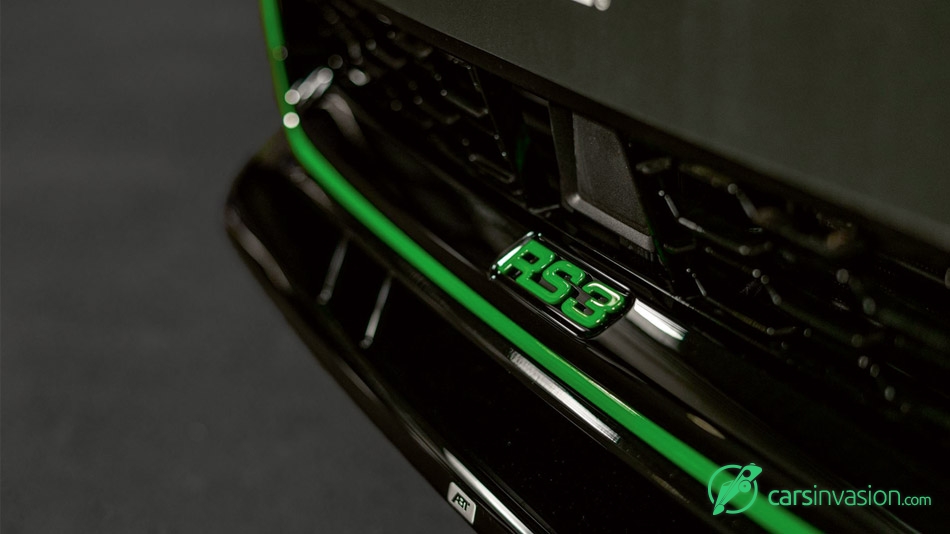 When it comes to the design, ABT Sportsline did not miss the opportunity to complement the car with a number of additional aerodynamic elements and interior upgrades to make it stand out. The ABT RS3 now features a front lip add-on, a front grille add-on with RS3 logo, the ABT fender inserts and the glossy black ABT rear skirt set including tailpipe shaft and ABT muffler system with two 102 mm double pipes in matt black. For the interior, the Bavaria-based company offers different finishing upgrades in carbon fiber and integrated entrance lights with ABT branding, a gearshift lever badge, and the start/stop button.
With its brilliant appearance, the ABT RS3 could stop large crowds not only at exhibitions. The car itself has no problem with stopping – especially not if the optional ABT brake upgrade kit with its gigantic 380 mm discs is installed.
Gallery:
ABT Audi RS3 (2018)