In 1992, the Alfa 155 introduced a new Alfa Romeo concept of sportiness that became enshrined in the codename Q4. Now the same glorious name returns on the new Alfa Crosswagon Q4 and Alfa Sportwagon Q4, the models that mark Alfa Romeo's return to the world of four wheel drive. Both models mark the first outing for a new transmission with 4 permanently engaged drive wheels, three differentials and preferential torque distribution to the rear. Alfa reveals it is still able to stay one step ahead of its time and set new trends: its new Crosswagon and Sportwagon Q4 go one better than the current crop of all-terrain vehicles and take the concept of elegant sportiness to a radically new and unique dimension.
The model, designed by the Arese Style Centre, features an unmistakable Alfa Romeo shape with features that shout 'versatility'. The new car combines the off-road performance of an SUV (Sport Utility Vehicle) with the driving satisfaction and handling of a compact Alfa Romeo while offering a versatile, functional Station Wagon passenger compartment.
Subtlety, well-proportioned lines and compactness: these are the keywords that sum up the style of the Alfa Crosswagon Q4. The new car is 444 cm long, 176 cm wide and 149 cm high with a wheelbase of 259 cm. It is outstanding for its greater versatility (greater ground clearance, improved front and rear incidence angles and special All Seasons tyres), distinctive good looks, great safety and sturdiness and outstanding comfort under all service conditions. These features make the new model perfectly at ease around town or on unsurfaced roads which do not detract from its sporty, stylish, clean-cut line: a trait shared by all Alfa Romeos.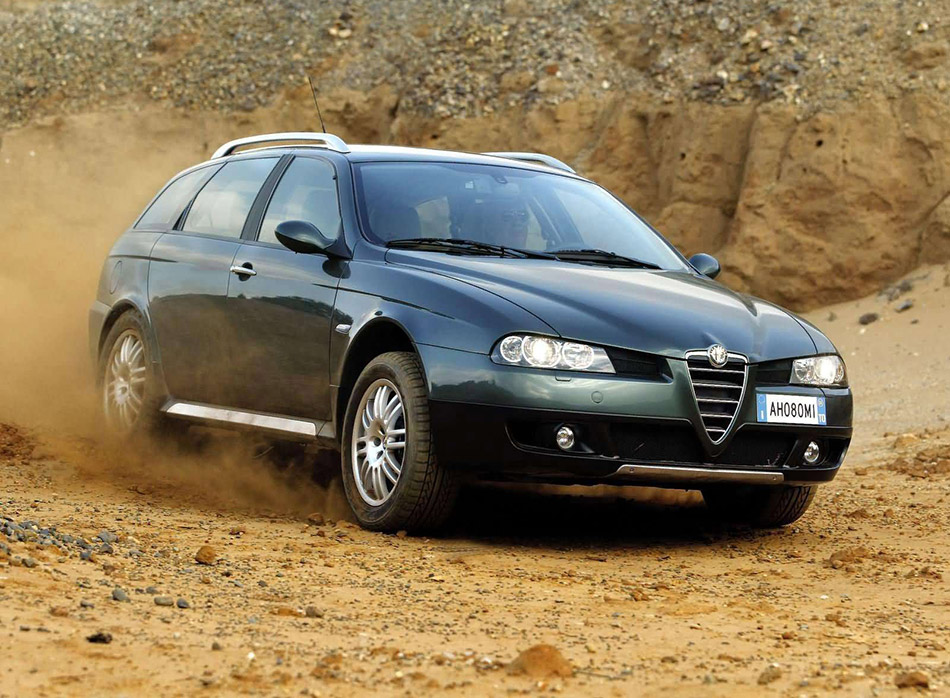 The Crosswagon Q4 owes its all-terrain look in particular to underdoor steel protections, special front and rear bumpers with steel inserts, an original bumper grille, carrier bars and broad wings. Altogether, the Crosswagon Q4 was created to overcome any road situation without ever stooping to compromises. Examples include ride set-up raised by nearly 6.5 cm and 225/55 R17 All Seasons tyres with a special compound and special tread. The tyres are also designed to offer great comfort under normal driving conditions with good grip and a safe drive on snow, unsurfaced or uneven roads, mud or treacherous roads in general.
Inside, the new model also offers an instrument panel of revolutionary design, a compass built into the mirror, special carpets and mats, a stylish new high-tech trim on the facia and a brand new treatment for the central console and steering wheel panels. Options include a top-quality interior with seats, facia and panels trimmed in grosgrain leather. Not to mention the fact that the model offers five true seats that make for an ideal environment on long motorway trips or thrilling short-cuts.
Lastly, the new model also offers a choice of three specifications (Progression, Distinctive and Luxury) and nine body shades of which 4 designed specially for the model by the Arese style centre. All body shades feature a distinctive tone on tone treatment process. But all this is packaging; the truly radical new feature of the Alfa Crosswagon Q4 is its permanent Q4 four wheel drive system with three differentials (the central one is a self-locking Torsen C system) that permanently distributes drive over the front and rear wheels.
This innovative system is designed to offer peak performance in the toughest conditions. The new Alfa Crosswagon Q4 is the natural beneficiary of studies, research and advances in the four wheel drive field that have resulted in a cutting-edge all-terrain vehicle able to satisfy the most demanding customers.
Permanent four wheel drive offers peak performance because transverse grip is maximised due to a reduction in the longitudinal engagement of each tyre. The permanent aspect of the system allows an outstanding balance between understeer and oversteer, worthy of a true sports car, able to offer drivers an easy, satisfying drive together with the greatest active safety: understeer is minimised while oversteer is easy to control because it is contained and gradual.
A mountain road, a stony track, a snowy surface or a bend taken in driving rain: all tough situations and ideal places to test the new car's agility and strength to the limit. Customers driving an Alfa Crosswagon Q4 can enjoy a dynamic, sporty drive over conventional road and motorway routes while benefiting from the car's vice-like grip and performance over less conventional routes. With this brief in mind, the engineers and technicians employed at the Arese plant have come up with a car that may be described as an innovative all-rounder. The heart of the design is the Alfa Romeo Q4 four wheel drive system that allows dynamic distribution of traction during acceleration and over-run according to the level of grip on the ground. The Torsen C self-locking differential manages drive torque in the most appropriate way: when accelerating, to avoid excessive understeer, it can direct some 80% of torque to the rear wheels to leave more side grip for the front wheels. Conversely, when oversteering, it can transfer only 40% to ensure improved side grip for the rear wheels.
The new Crosswagon Q4 is thus an agile off-road car that is self-avowedly an Alfa in its uncompromising sense of control and driving satisfaction. Driving comfort and dynamic behaviour have always been specific features of Alfa Romeo cars: on the Crosswagon Q4, they amount to a real strength. Hence the adoption of a suspension layout that is bound to appeal: the revised front suspension features a high double wishbone configuration while the rear is MacPherson type with transverse rods of different lengths. This offers a greater ability to absorb the surface roughness typical of off road routes because the wheel withdraws lengthways without affecting the steering and the antisquat angle has been increased. The steering response also offers the greatest linearity and precision due to the double wishbone configuration. Outstanding roadholding means the car is able to self-align itself superlatively, even under the toughest conditions because the rear wheels steer steadily even when subject to lateral load. The rear end assures the greatest stability during high speed manoeuvres and offers all the agility of a true Alfa Romeo on narrow mixed routes.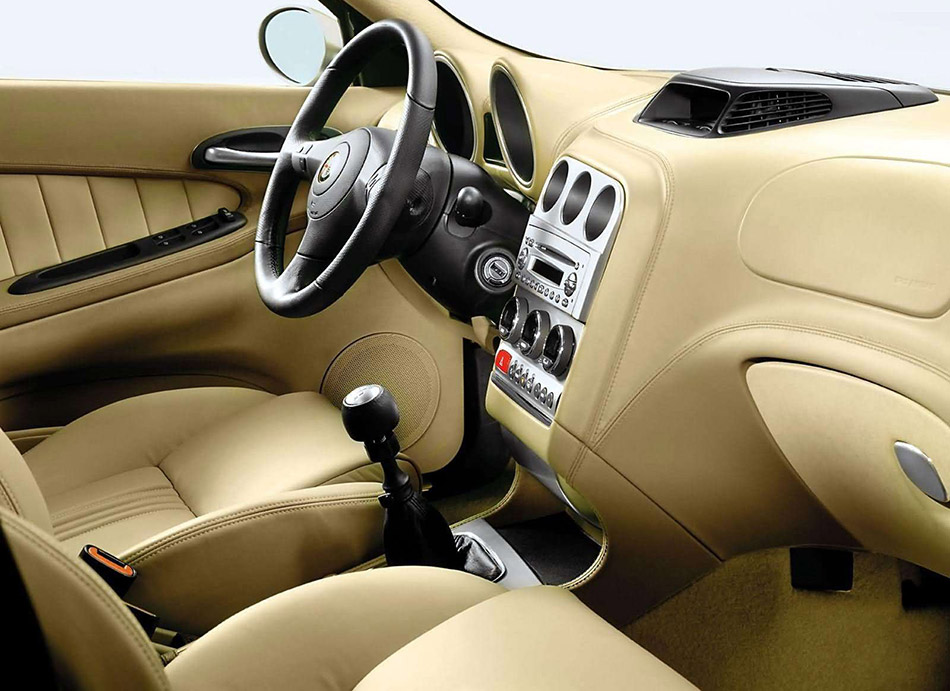 The Crosswagon Q4 combines great driving comfort with all the boisterous character of an Alfa sports model. This is because the new model comes with a power unit that allows the car to deal with any on-road situation: the powerful 110 kW (150 bhp) 1.9 JTD 16v M-Jet engine is combined with a sporty 6-speed manual gearbox. The 4 cylinder in line engine with a bore of 82 millimetres and a stroke of 90.4 mm is capable of delivering a power output of 110 kW at 4000 rpm and a torque of 305 Nm (31 kgm) at 2000 rpm.
The new turbodiesel has undergone several engineering changes to increase performance and engine torque at low speeds and to reduce noise and vibration levels. For example, the Common Rail system used on the 1.9 JTD 16v M-Jet includes two new strategies for automatically calibrating and balancing the diesel injected to lower noise and reduce vibration.
On the safety front, the Alfa Crosswagon Q4 is also unrivalled. This is due to a braking system that assures fast, gradual braking and also shorter stopping distances; ventilated front discs with a diameter of 330 millimetres with Brembo fixed aluminium callipers with four pistons (38 and 42 mm) - and an ABS system with four active sensors complete with an EBD electronic brakeforce distributor. Absolute mastery of the road in all conditions, however tough, is also assured by VDC (Vehicle Dynamic Control), Alfa Romeo's version of the ESP (Electronic Stability Program). This sporty feature is not intrusive - as one would expect from a true Alfa - because it allows the driver the full satisfaction of controlling the vehicle as long as the conditions are controllable and does not intervene until immediately before the situation becomes critical. ASR (Anti Slip Regulation), an integral part of the VDC, optimises traction at any speed with the aid of the brakes and engine control. If the car skids, the ASR cuts in automatically to load the traction onto the opposite wheel with good grip to achieve an effect similar to that of a self-locking differential on both front and rear axles. If the driver changes down abruptly in poor grip conditions, the MSR (Motor Schleppmoment Regelung) cuts in to restore torque to the engine and prevent skidding as a result of wheel lock.
The Alfa Crosswagon Q4 is due to go on sale in October in Italy and then later in other countries.
A car for drivers who want the very most in terms of safety and driving satisfaction, and want it to be known without ostentation. The Alfa Sportwagon Q4, the latest version of the Sportwagon, can offer better pick-up and speed than the Crosswagon Q4. The performance is due to the 150 bhp 1.9 JTD 16v M-Jet combined with a sporty six-speed manual gearbox that propels the car to a top speed of 200 km/h and takes just 10.2 seconds to speed from 0 to 100 km/h.
The Alfa Sportwagon Q4 transmission features 4 permanently engaged drive wheels, three differentials and torque distribution preferentially to the rear. In any case, the Q4 name leaves you in no doubt: this particular Sportwagon has been specifically created for a satisfying drive in complete safety.
Outside, the car displays a few distinctive features that add extra strength to the model's sporty looks: including a special exhaust tailpipe and 17" x 7 alloy wheels. The red 205/50 R17 Pirelli Pzero low profile tyres assure very sporty qualities and excellent roadholding. The range is also made up of two specifications: Progression and Distinctive.
The Sportwagon Q4 is altogether the ideal car for people who are less interested in an out-and-out off-roader and more interested in the satisfaction of an even sportier drive in total safety. Due to a special sports suspension setting, the adoption of the most sophisticated safety systems and devices currently available and the Alfa Romeo Q4 four wheel drive system, the new Sportswagon Q4 offers true sensation and authentic driving satisfaction with something extra: more performance, more handling, better braking capacity.
Source: Alfa Romeo
Gallery:
Alfa Romeo Crosswagon Q4 (2004)