Toyota will introduce the 2006 Highlander Hybrid gas/electric mid-size sport utility vehicle (SUV) – the industry's first seven-passenger hybrid SUV – in June 2005. The Highlander Hybrid will join the popular Prius sedan, making Toyota the first brand to offer both a passenger car and an SUV with hybrid powertrains. The Highlander Hybrid combines a 3.3-liter V6 engine with a high-torque electric drive motor-generator to deliver exhilarating performance, fuel economy ratings better than many four-cylinder compact cars, as well as remarkably low emissions.
"The Highlander Hybrid marks the launch of a second all-new hybrid vehicle from Toyota before most manufacturers have launched their first," said Don Esmond, senior vice president – automotive operation. "The addition of the Hybrid Synergy Drive system in our best-selling SUV, further affirms the company's leadership role as hybrid gas-electric vehicles continue to emerge into the mainstream consumer mindset."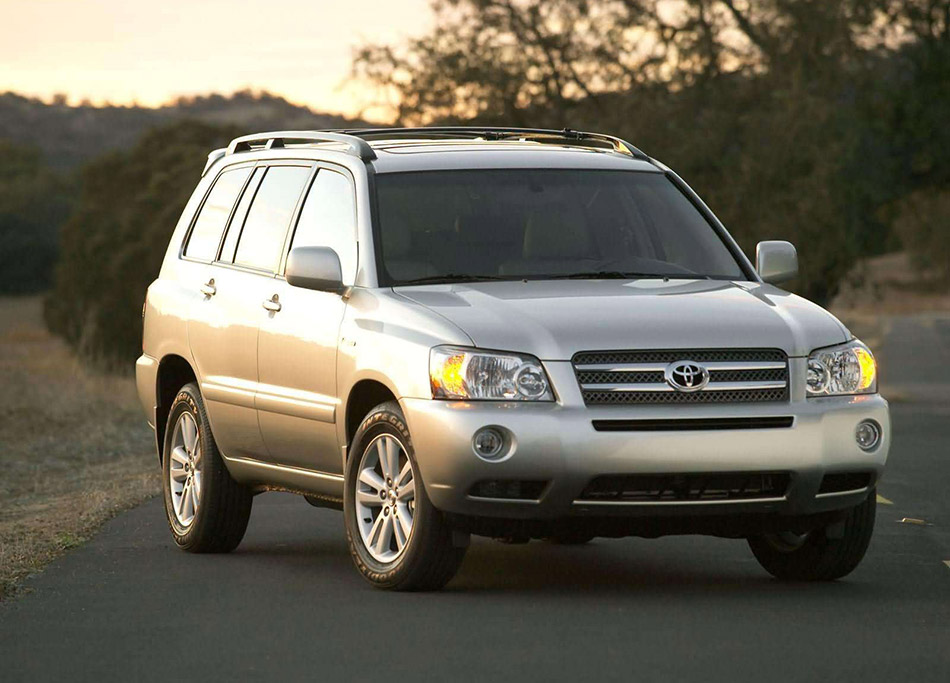 The Highlander Hybrid will be powered by a new version of Toyota's Hybrid Synergy Drive powertrain specifically developed to meet the load-carrying requirements and performance expectations of mid-size SUV buyers. Its all-new high-speed electric motor operates at twice the speed and delivers more than twice the power as the motor used in the four-cylinder Prius, producing 268 peak combined horsepower with a standard towing capacity of 3,500 pounds. Highlander Hybrid provides rapid acceleration with a 0-60 MPH time of just 7.3 seconds for the electric four-wheel-drive with intelligence (4WD-i) and delivers the best fuel economy ratings in the mid-size SUV segment.
The Highlander Hybrid 4x2 carries an estimated EPA fuel efficiency rating of 33 mpg in city driving, 28 mpg on the highway. Its combined city/highway estimated EPA fuel efficiency rating of 30 mpg exceeds most V8 powered SUV's by more than 100 percent and is better than the current EPA average – 27.1 mpg - for a four-cylinder compact sedan. The estimated EPA city/highway average for all 4WD-i models is an impressive 31/27 with a combined rating of 29 mpg. In addition, Highlander Hybrid will be rated as a Super Ultra Low Emissions Vehicle (SULEV). One of the most stringent emissions ratings in the industry, SULEV-rated vehicles emit 80 percent fewer smog-forming emissions than conventionally-powered SUV's.
Hybrid Technology
The Highlander Hybrid is defined as a high-power, high-voltage full hybrid, which means it is capable of operating in electric-only or gas engine-only mode as well as a mode that combines the power of the gas engine and electric motor. In contrast, other hybrid technologies are not capable of running only on electrical power, but instead require constant gas engine operation.
The Highlander Hybrid's 3.3-liter V6 engine is based on the engine in the conventional Highlander but with significant revisions to promote smooth integration with the hybrid system. These include revised calibrations to the Variable Valve Timing with intelligence (VVT-i) and Electronic Throttle Control (ETC) systems.
In making the transition to a hybrid powertrain, the alternator, power steering pump, water pump and AC compressor are no longer engine belt-driven. This is because the gas engine often shuts down—a fuel-saving benefit of the hybrid system — especially when the vehicle is stopped or driven slowly through traffic. With the exception of the alternator, which is replaced by motor-generators, all components are now electrically powered which means notably lower parasitic losses to the engine, lower noise, and improved fuel consumption.
The hybrid system uses a 288-volt DC Nickel metal hydride (Ni-MH) battery pack that fits neatly under the middle seat. The battery's power is directed through a "boost converter" that efficiently raises voltage to 650V DC. An inverter changes this to 650V AC, providing its elevated power to a front-mounted 123-kW electric motor that turns as high as 12,500 RPM.
There are two motor-generators in the 4x2 models and three motor-generators employed in the 4WD-i models. Internally referred to as MG1, MG2 and MGR for the rear electric motor in the 4WD-i, each has a specific function and each does double duty as both drive motor and generator (although MG1 is a starter and provides no motive force). The engine-driven generator (MG1) and rear electric motor (MGR) can charge the battery pack, which powers other electric motors as needed.
Power from the gas engine and front electric-drive motor (MG2) is distributed to the drive wheels via a planetary gear-type continuously variable transmission, which eliminates specific gear ratios. Two planetary gear units are used in the system. The Power-Split unit divides the engine's drive force two ways: one to drive the wheels and the other to drive MG1 so it may function as a generator. The Motor Speed Reduction unit reduces the speed of MG2 and increases its drive torque, significantly boosting acceleration performance.
In addition to its motor-generator duties, the crucial MG1 adds two functions: one as a starter motor for the gas engine; and two, by regulating the amount of electrical power it generates (which varies its RPM), MG1 controls the output speed of the transaxle through the planetary gear set—without clutches or viscous couplings. This is one of the key elements of the hybrid powertrain and the reason why Highlander Hybrid eliminates the "shift shock" that can typically be felt as even the most refined modern automatic transmissions change gears.
In conventional 4WD vehicles, the weight and friction of the additional drive components reduce the vehicle's acceleration performance compared to the same model with 2WD. Not so with the Highlander Hybrid. The innovative electric 4WD-i system employs a separate 50-kW electric motor (MGR) at the rear that provides up to 96 lb.-ft. of additional drive torque as required. The system electronically varies front and rear torque distribution depending on driving conditions.
The Toyota hybrid technology also allows extended electric-mode operation during low speed or stop-and-go driving conditions. The permanent-magnet front electric drive motor (MG2) produces peak torque from zero-to-1,500 RPM, giving the Highlander Hybrid powerful and instantaneous response that will be especially felt and appreciated in low- and mid-speed performance and in merging and passing maneuvers.
A regenerative braking system further boosts system efficiency. When the Highlander Hybrid is coasting or the brakes are applied, the electric motors function as generators, capturing kinetic energy that would normally be lost as heat through the brakes and transforming it into useable electricity to recharge the batteries.
Four-Wheel Drive With Intelligence and Advanced Vehicle Dynamics

In addition to providing the fuel economy ratings of the average compact four-cylinder sedan, the Highlander hybrid offers the versatility, refinement, and comfort expected in a mid-size SUV. Highlander Hybrid comes standard with front-wheel-drive and offers 4WD-i – the world's first application of electric four-wheel-drive with intelligence in the non-luxury mid-size SUV segment. Toyota introduced its Star Safety System on all 2005 model year SUVs. The new standard safety system includes Vehicle Stability Control (VSC), Traction Control (TRAC), Anti-Lock Brake System (ABS) with Electronic Brake-force Distribution (EBD) and Brake Assist (BA). The Highlander Hybrid enhances the Star Safety System with the addition of the all-new Vehicle Dynamics Integrated Management (VDIM) system. This new system goes well beyond conventional traction control systems, which react to challenging conditions. Instead, VDIM anticipates loss of vehicle control in virtually any direction and makes corrections while allowing higher dynamic capability.A vital component of VDIM is a new Electronically Controlled Braking system (ECB). The ECB system translates brake pedal stroke and pressure and generates the precise amount of combined electric regeneration and hydraulic pressure needed for virtually any driving condition.
Under guidance from VDIM, such precise brake control at individual wheels allows more optimized operation of the vehicle's dynamic handling systems that employ the brakes: ABS, Brake Assist, Vehicle Stability Control (VSC) and traction control (TRAC). VDIM also interfaces with the Hybrid System, allowing it to modify vehicle power when needed, and a new Electronic Power Steering system (EPS) to optimize steering assist for each situation.
The EPS uses a DC motor and gear reduction system built into the steering gear housing to provide steering assist. This compact unit contributes to fuel economy by eliminating the traditional power steering pump and by providing its computer-controlled assist only when called for by the driver. EPS also allows a more precise and timely control of steering assist than conventional engine-driven hydraulic systems.
VDIM constantly calculates vehicle motion based on signals from a yaw rate and deceleration sensor, wheel speed sensor and steering angle sensor. Using these inputs, VDIM controls all of the vehicle's dynamic handling systems and can employ them collectively and seamlessly, allowing it to quickly detect the onset of a loss of vehicle control and help correct it. The ability to operate 'proactively' means that corrections to vehicle attitude are typically faster, more accurate and subtle, than traditional systems, making VDIM feel smooth and essentially transparent to the driver.
VDIM dramatically enhances the Highlander Hybrid dynamic qualities and maximizes its performance capability, driving pleasure and safety.
No-Compromise Versatility
The Highlander Hybrid provides enhanced ride comfort with the same versatility as the conventional seven-passenger Highlander. Inside, the Highlander Hybrid features three seating rows in all models, rear privacy glass, a rear heater system, and rear seat cupholders. "Walk-in" steps and a second-row sliding seat make it easy to enter and exit the third row. The third-row seat reclines and also folds completely flat into the floor to create added cargo space. The second-row 60/40 split fold-down seat also reclines and folds forward flat for added comfort and utility.
The exterior styling will be freshened with the addition of a new chrome accented front grille and integrated bumper, smoked headlamp trim, rear LED tail lamps and chrome license plate garnish. The Highlander Hybrid will ride on new 17-inch split five-spoke alloy wheels and will come well equipped with the amenities customers have come to expect in premium mid-size SUVs.
Safety Systems for Peace of Mind
Highlander Hybrid provides an impressive array of standard safety technology. The front seats with height-adjustable headrests are designed to help reduce the possibility of whiplash-type injuries, and include three-point seatbelts with pretensioners and belt-force limiters. The second- and third-row seats also incorporate height-adjustable headrests and three-point seatbelts in all seating positions.
The driver and passenger advanced dual-stage front airbags inflate according to collision severity. A front seat passenger sensor is designed to determine if there is a person in the seat and is also equipped with an occupant classification system to verify the front passengers' weight category to determine whether the airbag should inflate. Front-seat-mounted side airbags, which include first and second row side curtain airbags with rollover sensor, are also standard equipment.
The second-row seat is equipped with a Child Restraint LATCH System (Lower Anchors and Tethers for Children) that provides top tether anchors for all three seating positions and lower anchors for outboard seating positions.
Comfortable and Easy To Drive
Highlander is based on a unibody platform with four-wheel independent suspension. This type of construction provides a smooth, quiet, refined ride like that expected in a high-quality premium passenger car. The higher ride height provides a commanding view of the road, while a tight 37.4-foot turning circle makes Highlander easy to maneuver.
The Highlander Hybrid interior offers comfortable and durable fabric seats on the standard grade with a lengthy standard equipment list across all grades that includes defroster-linked air conditioning with a cabin air filter, an eight-way power driver seat with power lumbar support, power windows and door locks, deluxe 3-in-1 AM/FM/ETR cassette/CD sound system with six speakers, seventeen-inch split five-spoke aluminum alloy wheels, remote keyless entry, tounneau cover, UV-reduction glass, HomeLink® universal remote control system, engine immobilizer, cruise control, roof rack, rear privacy glass, daytime running lights, tow prep package and mudguards.
The steering wheel features controls for the audio system when ordered in conjunction with the JBL premium audio option. The steering wheel controls are easy to use, allowing the driver to select system mode, radio stations or CD tracks, and to adjust volume without averting eyes from the road.
The Highlander Hybrid Limited model adds a level of luxury and refinement. Standard features on the Limited include heated, leather-trimmed seats, an automatic climate control system with humidity control sensors, the addition of a four-way power passenger seat, leather-trimmed steering wheel with audio controls, a JBL premium 3-in-1 audio system with a six disk CD-changer and eight speakers in six locations, anti-theft alarm system, silver and burled maple wood-grain style interior trim and a leather-trimmed shift handle.
Additional standard features on Limited models include, door scuff plates and an auto-dimming mirror with integrated electronic compass. Limited models can also be equipped with an optional touch-screen DVD navigation system offering high-speed directional processing.
Source: Toyota
Gallery:
Toyota Highlander Hybrid (2005)