Aston Martin is unveiling two exclusive new special editions at the 84th Geneva International Motor Show. The great British sports car marque, now in its 101st year, is debuting a bold addition to its iconic V8 Vantage range as well as dramatic new special editions of the timeless DB9. Building on the appeal of the sports-focused Vantage range, and enhancing the enduring allure of Aston Martin's seminal GT, the DB9, the new models deliver eye-catching looks and classic elegance. V8 Vantage N430: race breeding, sports styling Pure, unadulterated fun is what lies at the heart of the new V8 Vantage N430.
Honed on the track to excel on the road, N430 – available in Coupe or Roadster form – boasts a power hike to 436 PS at 7,300 rpm that brings its output up to that of the spirited V8 Vantage S. Ian Minards, Director of Product Development at Aston Martin, said of the new car: "N430 is all about bringing track-honed excitement to the road in an accessible, emotionally engaging, and authentically 'analogue' way.
"The dynamic exhilaration of Vantage is the perfect complement to the eye-catching looks of the N430." Ally that inherent dynamic capability to lightweight and sporting-biased features as standard such as carbon fibre and Kevlar® seats and ten-spoke forged alloy wheels in a new graphite painted finish – together yielding a weight saving of 20 kg – and it's clear that the GT4-inspired N430 has been created to deliver exceptional performance with a club sport ethos. No surprise, then, that the new V8 Vantage N430 is capable of 190 mph, with a 0-60 mph time that drops to 4.6 seconds.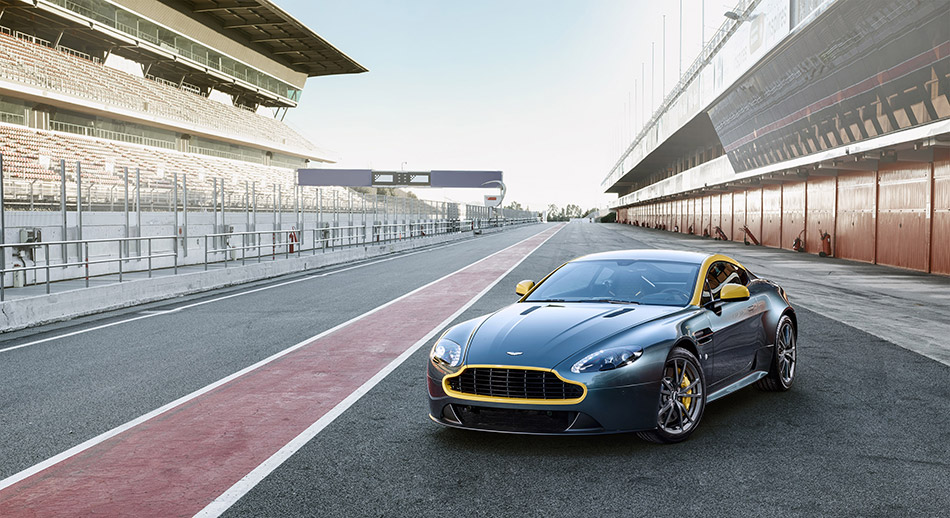 That power feeds the rear wheels through a sporty six-speed manual gearbox; with the option of a close-ratio seven-speed Sportshift™II automated manual transmission with short final-drive ratio for those demanding the most driver-focused yet involving set-up. N430's front mid-mounted, 4.7-litre, all-alloy, quad overhead cam, dry-sumped V8 engine is complemented by a rousing sports exhaust, aerodynamics honed through numerous wins in GT racing and a competition-derived braking system.
The compact proportions and inherent balance of the Vantage design are supported by a carefully calibrated sports suspension tune and quick-ratio steering rack that rewards the true enthusiast driver on road, and on track. Countless hours testing at circuits around the globe, including the Nürburgring's Nordschleife which is home to a dedicated Aston Martin Test Centre, have delivered a machine truly worthy to join Aston Martin's family of 'N' cars. Styled to evoke thoughts of the track, N430 celebrates Aston Martin's sporting heritage and motorsport success.
A purposeful package of dark-themed exterior details – graphite painted forged alloy wheels alongside black front grille, headlamp bezels, exterior meshes, side window surrounds and textured tailpipe finishers and clear rear lamps with black surrounds convey the appropriate air of menace and excitement. This neatly offsets the eye-catching liveries with optional club sports graphics packs – inspired in part by the exceptional CC100 Speedster concept and nodding to Aston Martin's most famous motorsport triumph, the DBR1 – that leave no doubt to the car's identity or character.
Inside, as out, N430's sporting associations are unmistakable with new interior features and materials such as machined carbon sill plaques, N430 seat logos, black magnesium paddle-shifts or carbon fibre gearshift surround; contemporary driver instrument panel; black anodised rotaries; leather steering wheel with contrasting on-centre stitch feature (or Alcantara with matching stitch); seat and door inserts in technical PlissèAlcantara – indented leather on Roadster models – and unique seat trim patterns.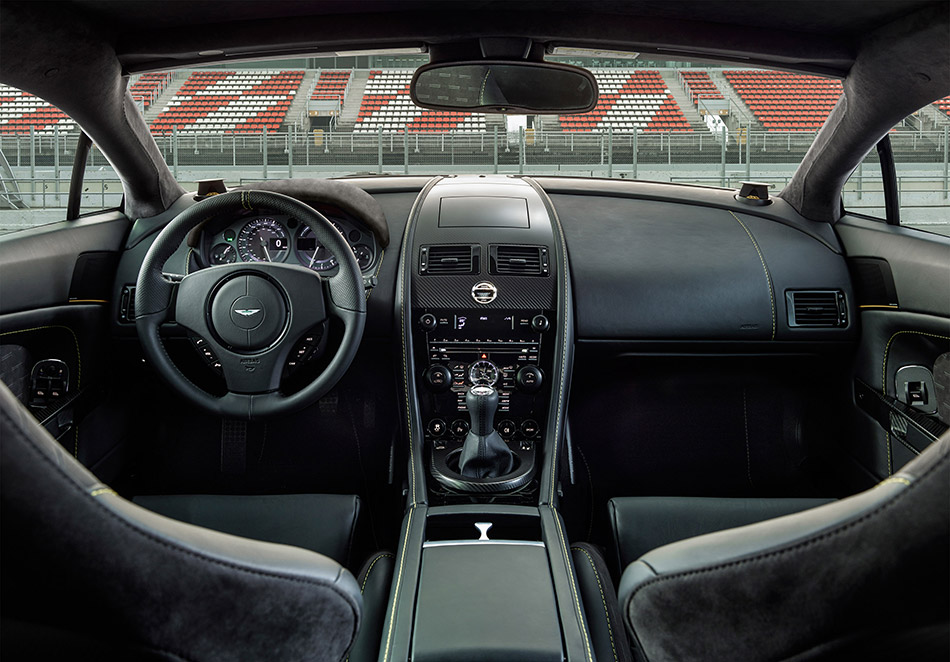 Additional complementary features from the Vantage range as standard include a carbon fibre facia trim, Piano Black interior trim, black anodised tread plates and black pedals. Finally, new and special features underpin the fun and sporting personality of N430 and demonstrate Aston Martin's ability to create products which sit apart from the mainstream. Optional features available to N430 customers include a state-of-the-art 1000W Bang & Olufsen BeoSound audio system with ICEpower®technology. It features distinctive speaker grille and lens detailing to enhance its visual as well as audio appeal. Priced from £89,995 RRP, first deliveries of the new N430 are expected to begin in September this year.
Source: Aston Martin
Gallery:
Aston Martin V8 Vantage N430 (2014)