The Mazda B2500 has always stood out as a pickup that combines strength and stylishness to be something far more than just another commercial vehicle. Its youthful and active design language combined with high build quality give it a passenger car-like stylishness. This is combined with four distinct body styles — Regular, Stretch, Freestyle and Double Cabs — with room for two, four or five people and varying cargo deck lengths, for a vehicle that is at home at the beach or at the opera. Several new external enhancements are added to the Mazda B2500 model year 2004, including two new 15-inch alloy wheel designs, a body colour package and three new colours (depending on grade), new clear type side markers and a remote fuel cap opener. Also available in selected markets is a new special version for the Double and Freestyle Cabs that feature chrome body enhancements, fog lights, special version badging and a protective cargo deck liner.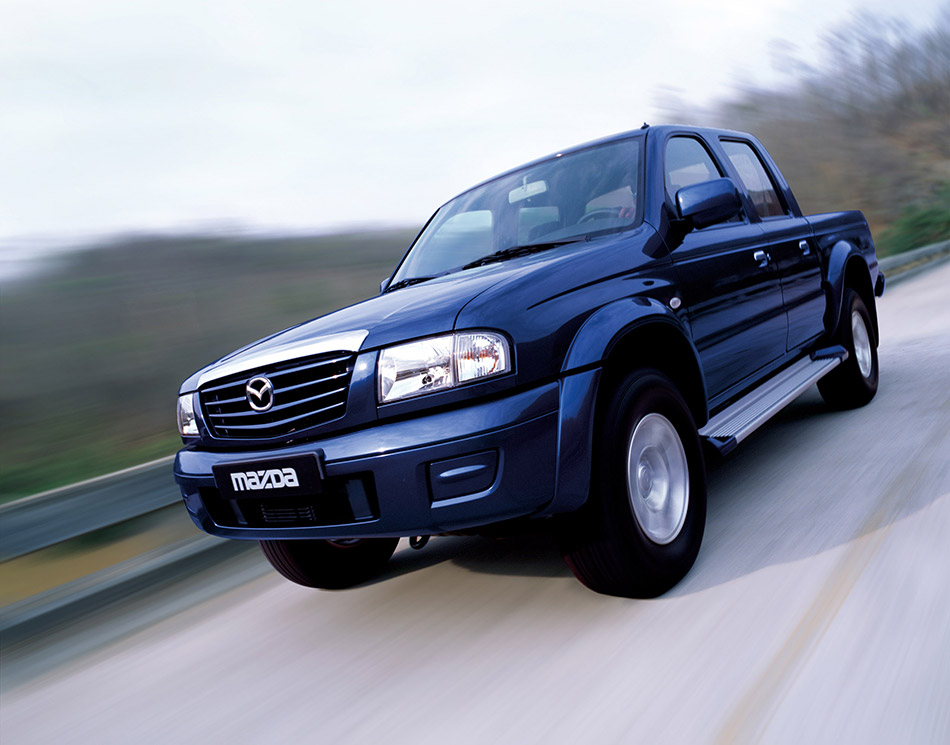 Interior — Comfortable and Spacious
The inside of the Mazda B2500 has always been a great combination of roominess, comfort and style, with interior stowage rivalling that of a modern compact car. Added to its range of available interior features are several new upgrades for the Mazda B2500 model year 2004, including new seat and door trim fabrics for even more stylishness and comfort, a new ivory background colour for the driver instruments with daytime black and night time blue illuminated numbers, and a new "double-lid" console box with a large bin and tray for Stretch, Freestyle and Double Cab versions. Additional upgrades include a rear compartment triple cup holder for the Double Cab High Grade version, new seatback pockets and a Jack-Knife key with a moulded product badge.
Chassis — Feel the Adventure
The Mazda B2500 chassis is rugged and durable, designed not only to take whatever the road can throw at it, but to give road feedback in a way that is tangible at all times. To live the adventure, you have to feel it, and the Mazda B2500 provides this, while still providing for good levels of driving comfort. The cabin and engine compartments feature robust reinforcement members that help it to resist torsional and flexural bending. The cabin and cargo deck of the Mazda B2500 are mounted to a robust cross- braced ladder frame via shear type mounts, which are normally used in passenger cars. This combination delivers excellent overall body rigidity, for good handling and steering characteristics, and helps isolate the cabin area from vibrations when travelling off the beaten path. The suspension features double wishbones in the front with torsion bar springs and a robust stabiliser bar, a rigid rear axle system with progressive semi-elliptical springs, along with gas-filled front and rear dampers; all of which combines to deliver a balance between strength and stability, on the one hand, and acceptable all-day ride comfort on the other.
Hydraulic power-assisted steering is standard on all models, which provides an ideal combination of comfort and steering feedback in all driving situations. Mazda B2500 features a robust braking system with large 256 mm ventilated front discs and 270 mm rear drums for the standard engine, and 274 mm ventilated front discs and 295 mm rear drums for vehicles with the high power engine. In the front are large disc pads, for improved heat handling capacity, while a proportioning valve system regulates brake force to the rear brakes for optimum performance. These features combine to make the braking system effective in a variety of load situations, whether pulling a trailer, driving fully loaded on the beach or cruising down the motorway. An anti-lock brake system (ABS) with electronic brake distribution (EBD) with 289 mm front disc brakes is available as an option as well, which improves traction and braking performance on slippery surfaces.
Powertrains — Power and Durability
Mazda B2500 features two versions of a powerful SOHC 2.5-litre turbo diesel engine — the standard power version with 62 kW/84 PS and the high power version with 80 kW/109 PS. Both derivatives feature high torque across the speed range, good performance and acceptable fuel consumption.
The engine is combined with a rear-wheel drive five-speed manual transmission in either two-wheel drive (2WD) or engageable four-wheel drive (4WD) versions. The Regular Cab comes with 2WD or engageable 4WD, the Stretch Cab with 2WD only, and the Freestyle and Double Cab versions with engageable 4WD. Mazda B2500's 4WD system is very flexible on or off-road, with 4WD-Low for extreme situations like pulling heavy loads up steep hills, and 4WD-High for normal adventures. Added to this is a Remote Free Wheel (RFW) system, which automatically engages in situations when 4WD is selected, and allows the driver to shift between 2WD and 4WD-High while driving or in reverse. Rear limited slip differential is standard for all models, which applies torque to the wheels in such a way to improve traction on slippery roads. The result is a powertrain that can take literally every kind of load and driving situation a driver can think of.
Safety — Fun without Worry
Mazda's rugged adventure mobile has safety systems designed to protect occupants wherever they may be driving at the time. Its high seating position provides good visibility, and combines this with predictable steering and handling, large front disc brakes and rear drums, along with optional ABS with EBD, to help the driver avoid an accident before it occurs. If this is not possible, it has a robust body structure with reinforcements that help the cabin resist bending on impact. On the inside there are front airbags, adjustable headrests and three-point seatbelts, and three-point seatbelts at the outer two seats in the back. For added safety, the Mazda B2500 has a collapsible steering column and a fuel tank shield that protects the tank from being damaged by stones, or helps prevent rupture, when driving over rough terrain.
Source: Mazda
Gallery:
Mazda B2500 (2004)