The latest-generation R-Class shows a new self-confidence. Its entire appearance is noticeably more attractive, underlining the unique character of this multi-talented vehicle. The focus of the designers was on the completely restyled front section, with an emphasis on width and a horizontally structured bonnet to make the vehicle appear more harmonious, muscular and dynamic.
Expressive: the new front section is full of character
At the front end of the R-Class, the bonnet, wings, radiator grille, headlamps and bumper have been completely redesigned. On request, in conjunction with bi-xenon headlamps, a chrome insert enhances the integrated LED daytime driving lights. The character of the R-Class can also be underlined by an optional, strikingly contoured, chrome-look underguard.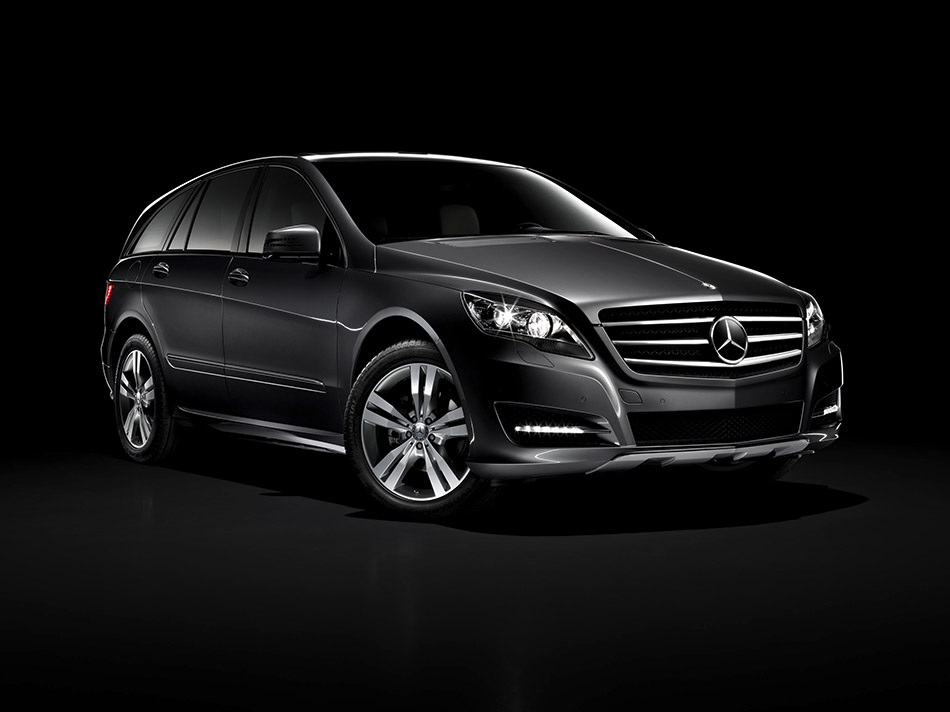 The new bonnet has more marked contours, and is more arrow-shaped at the front edge. The wider, higher radiator grille is more steeply angled, while the bumper cladding is more striking, with clear-cut lines. The side recesses in the bumper, where the fog lamps and daytime driving lights are located, are spaced well apart and give the front section an impression of width. The lines of the side skirts are harmoniously continued forward in the updated wings and grille. The new, dynamic "face" of the R-Class is particularly impressive. The newly designed headlamps blend perfectly into the front end, emphasising the horizontal lines. The "eyelids" continue the beltline along the flanks, and are arranged above the chromed headlamp tubes to produce an assertive, concentrated gaze.
Perfect proportions
Dynamism is also the order of the day where the side aspect is concerned. With the coupé-like lines of the window area, the luxury tourer distinguishes itself attractively from conventional MPVs. Eye-catching details of the clearly contoured flanks include the larger exterior mirror housings, which are set well away from the doors and are held by slim stems. The strikingly designed mirror housings in the vehicle colour have integrated indicator repeaters in the form of a stylised arrow. The new wheel designs are equally eye-catching: the range includes light-alloy wheels in 5-spoke, 5-twin-spoke or 10-spoke designs in sizes from 43.2 to 53.3 centimetres (17 to 21 inches).
Perfect finish: the rear section of the R-Class
The rear section harmoniously continues the design idiom of the front, with a new bumper cladding, modified tail lights, a diffuser and integrated tailpipe trim emphasising the width with more horizontal structures, as at the front. The bumper also picks up the line of the side skirts, giving the effect of a continuous line running around the entire bodywork. Tail lights with LED and fibre optic technology, new exterior contours and horizontally arranged lighting functions lend the finishing touches to the rear section.
The 2010 model year R-Class looks particularly attractive in the new "diamond white" paint finish.
Source: Mercedes-Benz
Gallery:
Mercedes-Benz R-Class (2011)