Felly, Frame, Finished! – That is the name of the frequently quoted 3F base formula adopted for a successful tuning project. For a few years now, some others have also been replacing the last point of these three features with "foil-wrapping", since full and partial wrapping have increasingly become popular as affordable and reversible means of styling. SR Performance from Hilden underscores the spectacular result that can be achieved with this "clear and modest" catalog of actions on wheels through the Audi S3 Limousine shown here.
Its most striking modification is no doubt, the brute lowering that was realized by SR Performance through a special gepfeffert.com made my KW coilover kit, which has an adjustable suspension strut bearing on the front axle.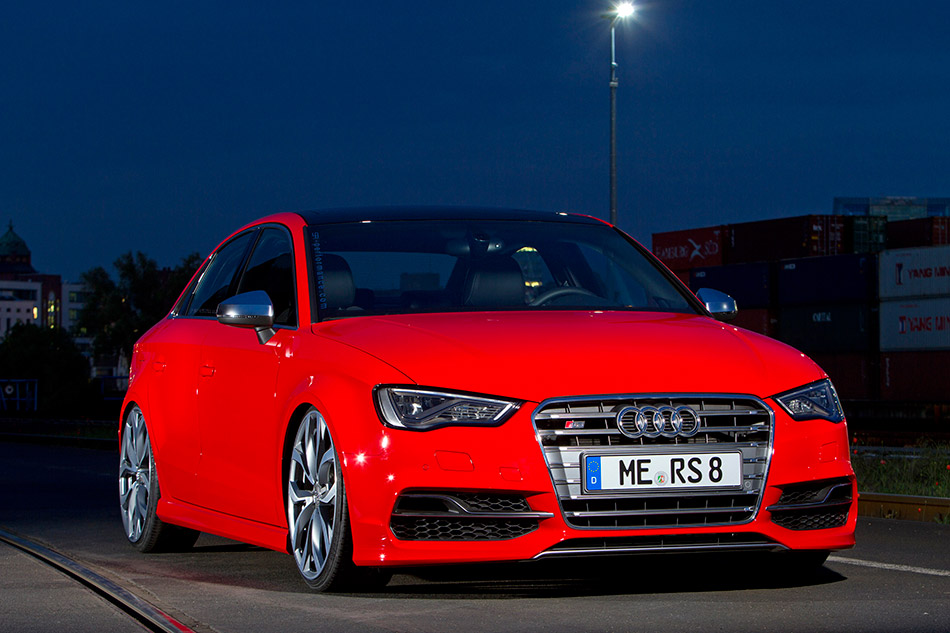 The most conspicuous element in the face of the massive lowering are the huge wheels, which are authentic OEM products: The 8.5x20-inch forged wheels (ET45) in 10-spoke V-design were initially conceived by the car-builders from Ingolstadt, for the bigger brother Audi A6 4G, but also fits perfectly well, into the notchback S3. Vredestein Ultrac Sessanta tires of the dimension 225/30R20 were drawn all over the partially polished single piece by SR Performance. 5-millimeter spacing rings were additionally applied for the horizontal fitting accuracy of the wheel/tire combination.
Moreover, the roof was fully wrapped all over in glittering black for a harmonious design in such a way that the hard "edge" was eliminated after the (all-round black) panorama roof. This factor finally completed the 3F recipe.
Yet SR Performance undertook a few more modifications on the technical details of S3 that are definitely palpable even though they are so invisible. The team led by Simon Rogge thus endowed the 2.0-liter turbo engine with an MTM M-Cantronic performance boost and a BN pipes-downpipe and a 200-cell HJS catalyzer (with EC licensing). The pipe of the exhaust system – that is left in its original form once again, as from the middle silencer – measures 85/76 millimeter in diameter. Equipped in this form, the charged four-cylinder engine generates a massive 380 horse power and a maximum torque of 470 Nm in the drive chain (standard production: 300 horse power / 380 Nm). The SR Performance S3 accelerates from 0 to 100 km/h in just 4.6 seconds, which leaves it very much in the same category with Porsche 991 Carrera.
Source: SR Performance
Gallery:
SR Performance Audi S3 Limousine (2014)