As BMW continues to push ahead with the development of intelligent hybrid drive systems, the second generation of the BMW ActiveHybrid 7 is set to celebrate its premiere in 2012. The updated model sets itself apart with lower fuel consumption and emissions, as well as innovative auxiliary functions. This latest evolution stage uses a six-cylinder in-line engine displaying impressive high-revving characteristics, torque and efficiency. The cutting-edge petrol engine with BMW TwinPower Turbo technology is the 235 kW/320 hp variant of the unit fitted in the new BMW 740i and replaces the eight-cylinder engine used up to now. Other hybrid components include the 40 kW/55 hp synchronous electric motor, the hybrid-spec eight-speed automatic transmission, a lithium-ion high-performance battery and power electronics underpinning intelligent energy management. The various components come together into a powerful and harmonious whole, giving the new BMW ActiveHybrid 7 exceptional dynamics and an outstanding balance between performance and fuel economy - and not only in relation to its predecessor.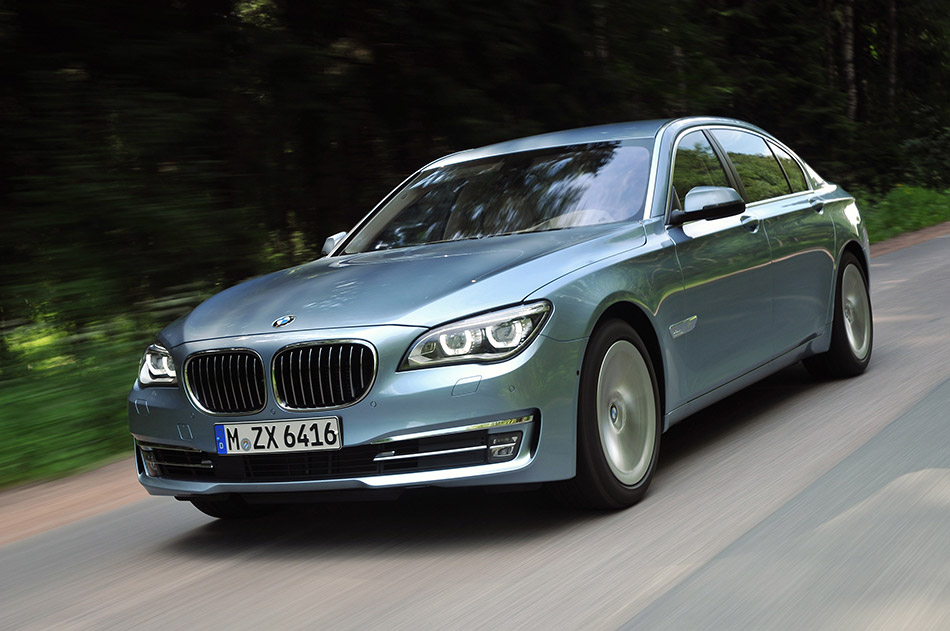 With system output of 260 kW/354 hp and peak torque of 500 Newton metres (369 lb-ft), the new BMW ActiveHybrid 7 accelerates from 0 to 100 km/h (62 mph) in just 5.7 seconds. At the same time, the Sedan posts average fuel economy of 6.8 litres per 100 kilometres (41.5 mpg) and CO2 emissions of 158 g/km. That means the more powerful hybrid technology uses some 14 per cent less fuel than a BMW 740i with a conventional drive system.
A host of innovative functions are involved in enhancing the car's dynamics and achieving the excellent efficiency of the overall system. For example, the electric motor hands the six-cylinder an extra 210 Newton metres (155 lb-ft) of torque through the boost function, should the driver need to nail a quick sprint or call on some hard mid-range acceleration. In addition, Brake Energy Regeneration, the Hybrid Start Stop function, ECO PRO mode with coasting function and proactive analysis - to prepare the car's drive system in advance for upcoming situations on the road - ensure the available energy is used as efficiently as possible (more details in the "BMW EfficientDynamics" chapter). The new BMW ActiveHybrid 7 can also run purely on electric power. If the hybrid battery has sufficient charge and the driver goes easy on the accelerator, the car can cover a distance of up to four kilometres (just under 2.5 miles) almost silently and without producing any tailpipe emissions. The top speed possible using electric power alone is 60 km/h (37 mph).
Source: BMW
Gallery:
BMW ActiveHybrid 7 (2013)