The Audi S5 Sportback is a known quantity in the segment of high-performance coupé limousines; its sportive gene is craftily packaged in gorgeously formed bodywork. Yet Senner Tuning saw the need for a little optimization. The Audi specialists therefore endowed the S5 Sportback with an interesting optical and technical package.
Exclusive Work Schwert SC1 rims in chromium-silver finishing as well as high-gloss anodized outer rims thus rotate in the wheel houses. The rims in front measure 9x20 inches with 91 millimeter-wide outer rims and are covered with tires of the dimension 245/30R20. The rear axle is fitted with the high-grade Work wheels of size 10.5x20 inches with 100 millimeters outer rim and tires of size 295/25R20. The high-performance tires are products of Continental and are of the type Sport Contact 5P. The tuner from Ingelheim close to Mainz installed a KW variation 3 coilover kit for an optically impressive lowering with an adjustable rebound and compression damping.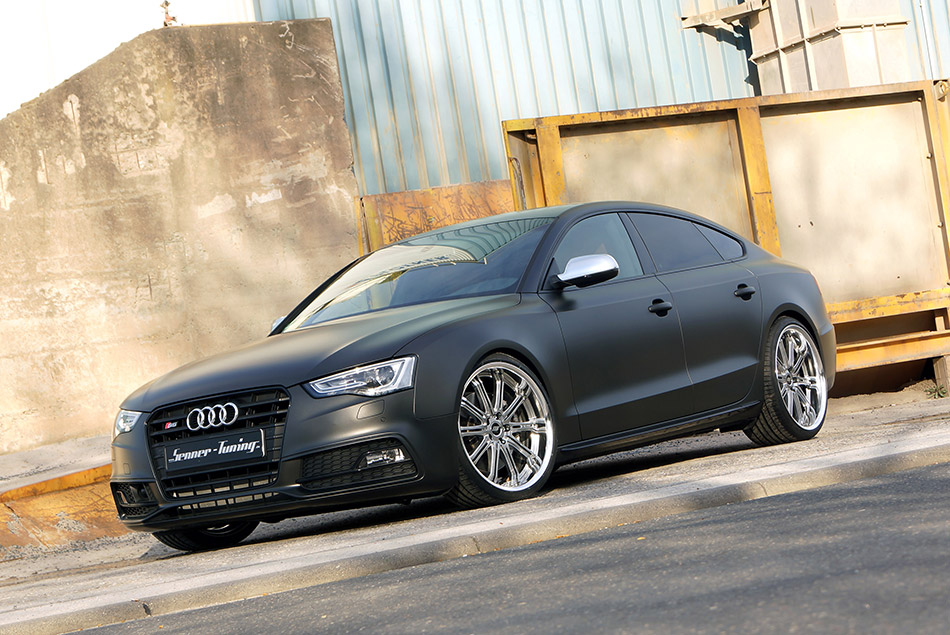 To enhance improved performance, Senner Tuning endowed the Audi S5 Sportback with a palpable upgrade: The overall power of the V6 compressor engine is boosted from 333 to its present 446 horse power and the maximum torque that was formerly 440 Nm is boosted to 511 Nm thanks to optimized engine software. Together with the elimination of the Vmax blockade, the coupé limousine from Ingolstadt now runs at a speed of 300! There was also a power converter for the elimination of the electronic drag moment during throttle response as well as an Injen Cold Air Intake system including power pipe (black edition) for the improved ventilation of the drive unit. A specially manufactured valve-type sports exhaust system (as from the catalyzer version) with a control system of the exhaust valves that are regulated on the basis of load status/dynamic pressure takes charge of processing the high-grade exhaust gases. There is also a sophisticated radio remote control system which facilitates the individual switching of the valve control system between three different modes such as: travel, sports, race. The driver is thus able to adjust the volume of the system individually. The respective status will also be shown on the MMI display if required. Finally, the S5 Sportback was also fitted with a complete vehicle wrap in black matt metallic and an LED number-plate illumination and activation of the DVD function while driving.
The costs of conversion are EUR 19,900 including 19% VAT.
Source: Senner Tuning
Gallery:
Senner Tuning Audi S5 Sportback (2014)