With the BMW 760i and BMW 760Li twelve-cylinder petrol engine, the fifth generation of BMW 7 Series continues to offer the BMW 7 Series as top-of-the-line models. The BMW TwinPower Turbo V12 accelerates the Sedan from 0 to 100 km/h in 4.6 seconds. The 8-gear Steptronic transmission changes almost imperceptibly and keeps the revs low even at high speeds.
The unique sound of the V8 engine in the BMW 750i/Li is instantly recognisable. The M Performance TwinPower Turbo inline 6-cylinder diesel engine in the BMW 750d/Ld xDrive sends a very distinct message – this is the new benchmark for diesel performance in the luxury segment.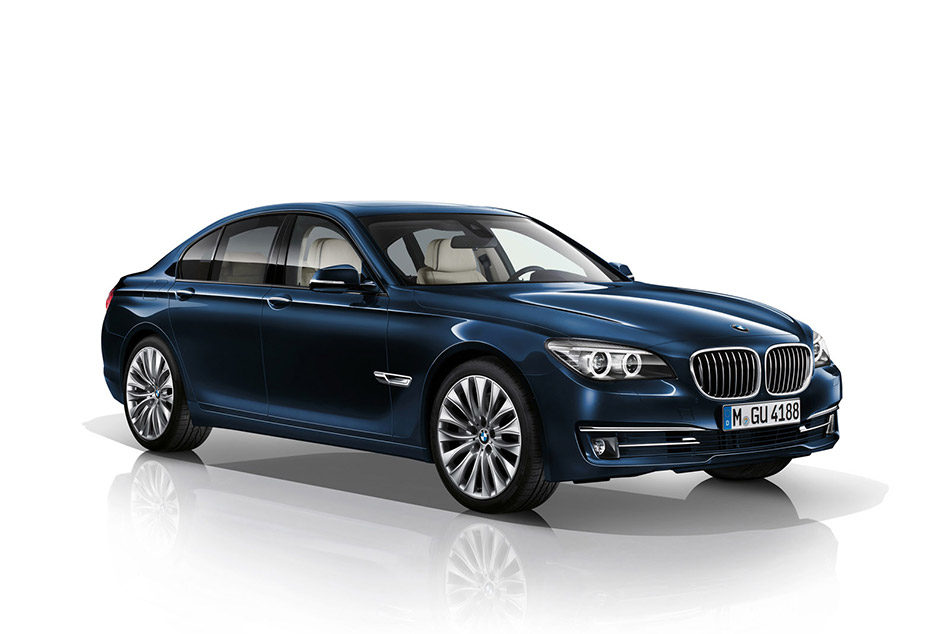 In addition, BMW xDrive, the intelligent all-wheel drive system, guarantees perfect traction on every road, in every corner and in every driving situation. Inline 6-cylinder with classic smoothness: the BMW 740i/Li and 740d/Ld. Particularly economical: the BMW 730d, which, with its 560 Nm leaves no doubt about its strength – not even in the long version as the BMW 730Ld. 14 extra centimetres of leg room in the rear make the long version of the BMW 7 Series the first choice in chauffeur-driven sedans for all those who always want to arrive well-rested, but are unwilling to compromise on dynamics.
The BMW ActiveHybrid 7 is the perfect combination of comfort and dynamics in a luxury sedan. It's finally possible to enjoy the agility and performance of a BMW 7 Series while noticeably saving petrol and CO2, without compromising on comfort or roominess. The recipe for success of the BMW 7 Series as an active hybrid: BMW EfficientDynamics and the combination of highly-efficient BMW TwinPower Turbo V8 and high-torque electrical engine that either provides extra thrust or generates energy when braking – for other electrical appliances or for the next boost.
BMW Individual allows you to customise your BMW 7 Series Sedan to suit your needs: with exclusive paintwork, leather accessories and woods. Give your vehicle the personal touch and discover something that isn't obvious at first glance: just how special and rare individuality is. Exclusivity that's reflected in even the tiniest detail of the BMW Individual 7 Series sedan. Whether you are interested in a new BMW 7 Series or used BMW 7 Series, financing or leasing, test drive or dealer inquiry – this page will give you all the facts about the BMW 7 Series models.
Source: BMW
Gallery:
BMW 7 Series Edition Exclusive (2014)