Lamborghini Murciélago LP 640 is a beast! No doubt about it! An alphanumeric designation indicates the engine's orientation (Longitudinale Posteriore), along with the newly updated power output. With displacement now increased to 6.5 liters, the new car makes 631 hp at 8000 rpm.
In all things considered, this is one fast and aggressive looking vehicle. An exciting car, but it was 2008 when it was seen in Batman: Dark Knight. It definitely needed a touch up in the looks department. A car of this stature needs only subtle and impacting changes and a set of our wheels was definitely the right choice for it. A set of CV11?s was chosen to lift it to its former glory.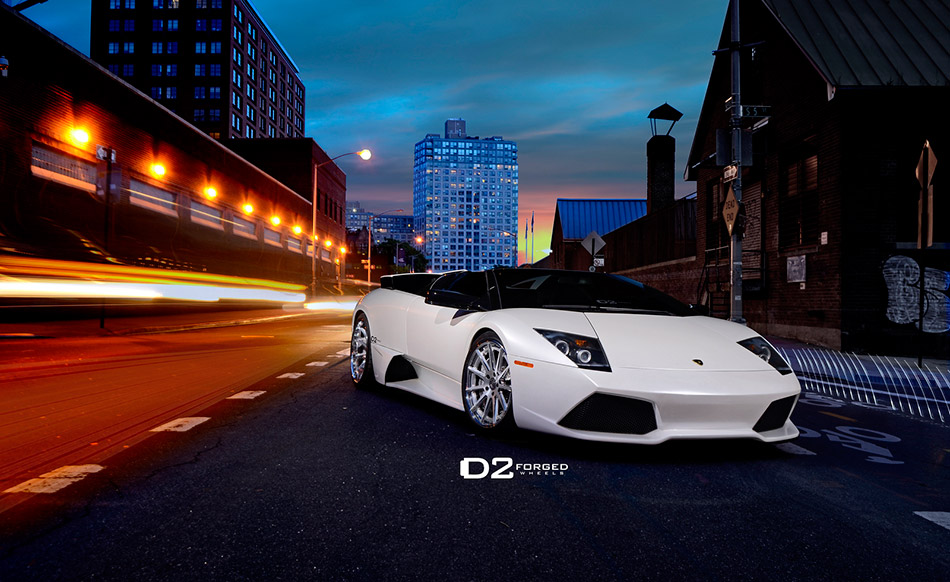 Working diligently with our customer we were able to create the perfect set of wheels for this baloon white Murci, making it one of the sickest Lambo's out there. We also made sure a never before seen 13.5? of rear width was installed successfully as well. Simply put, this is a wet dream of every Lamborghini Murciélago LP 640 owner and we will definitely be busy milling these on a full scheduled.
For any information on a set of CV11 wheels make sure to send us an e-mail at [email protected] or give us a call at 800.913.3513 and we'll help you out, choosing a perfect set of wheels. D2FORGED CV11 Wheels 19×8.5? Shallow Concave 20×13.5? Deep Concave BBC Finish – Brilliant Brushed Cleared with Chrome Lips / Black Inner Barrel
Source: D2Forged
Gallery:
D2Forged Lamborghini Murcielago LP 640 (2013)