The all-new high-performance Kia pro_cee'd GT and cee'd GT will make their global debuts at the 83rd Salon International de l'Automobile in Geneva on 5 March 2013. Kia's racy new urban concept will also make its world premiere, and will be joined on the show stand by the all-new Kia Carens and the upgraded Kia Optima Hybrid.
The Kia pro_cee'd GT and cee'd GT are new entrants from Kia into one of the most high-profile market segments in Europe, and are the brand's most performance-focused production cars ever.
Designed in Europe under the direction of President and Chief Design Officer, Peter Schreyer, the two models feature bold, athletic styling, LED daytime running lights, dual-exhaust pipes, 18-inch alloy wheels and eye-catching red brake calipers. Both will be powered by a new turbocharged 1.6-litre GDI gasoline engine producing 204 ps and 265 Nm, directed to the front wheels through a six-speed manual transmission and allowing the Kia pro_cee'd GT and cee'd GT to accelerate from 0 to 100 kph in 7.7 seconds.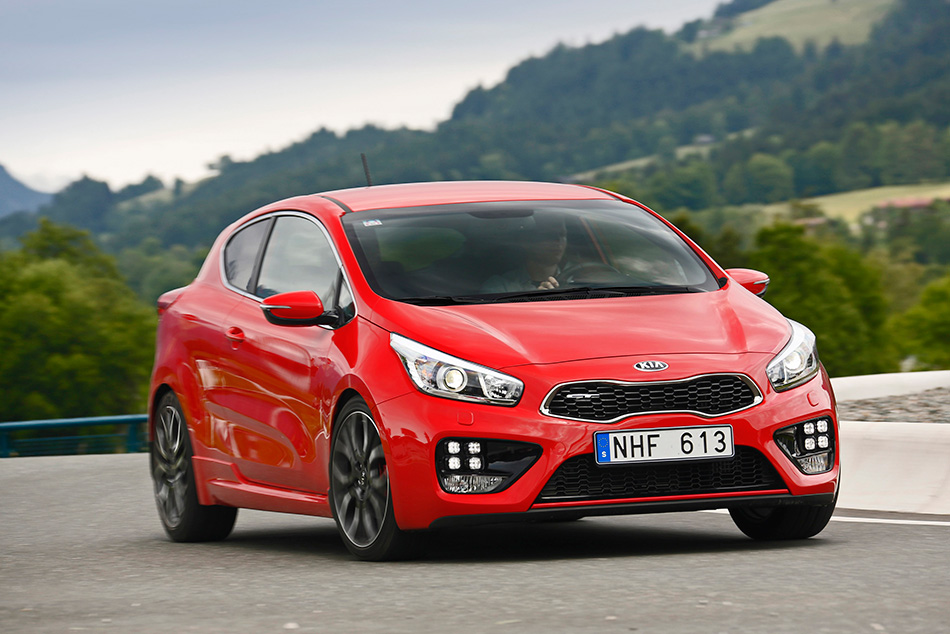 "The world premiere of Kia's new pro_cee'd GT and cee'd GT highlights the diversity of our current product line-up and underpins the natural expansion of the brand into the performance car market, an important step forward for Kia," comments Michael Cole, Chief Operating Officer, Kia Motors Europe. "The new Kia pro_cee'd GT will have great appeal for motorists looking for style, performance and dynamism in their next car – and the cee'd GT adds an extra level of practicality for buyers who prefer five doors."
Production of the new performance models is scheduled to start at Kia's Zilina plant in Slovakia in mid-May, and they will go on-sale across Europe from the middle of the year. Prices and specifications will be confirmed closer to the on-sale date.
Kia will also present a provocative and racy new urban concept car at Geneva. With the company's signature tiger-nose morphing into a mischievous yet friendly grille and headlight arrangement, coupled with strong styling lines that exude speed and energy from every angle, the concept will demonstrate Kia's commitment to designing great-looking cars.
Unveiled in September 2012 at the Mondial de l'Automobile in Paris, the all-new Kia Carens compact MPV is designed and engineered to meet the needs and expectations of modern families. It features sleek aerodynamics, a cab-forward design that ensures generous interior space with a choice of five or seven seats, and a broad range of convenience and safety features. A choice of four powertrains will be available when the new Carens goes on sale across Europe in the coming months, with power ranging from 115 to 166 ps and CO2 emissions from 124 g/km.
The Kia Optima Hybrid is Europe's first D-segment gasoline hybrid, and features a truly innovative Kia-developed 'parallel hybrid system' with a 2.0-litre gasoline engine and a 30 kW electric motor. Upgraded for 2013, it now delivers its impressive performance – maximum power is 190 ps, acceleration to 100 kph takes 9.4 seconds and top speed is 192 kph – even more efficiently, with improved class-leading fuel economy of 5.1 l/100km (down from 5.4 l/100km), and lower CO2 emissions of 119 g/km (down from 125 g/km).
"It is also exciting for us to showcase the all-new Carens, which returns Kia to an important European vehicle segment with a highly competitive, modern MPV for families with an active lifestyle. And the upgraded Optima Hybrid showcases the brand's continuing commitment to developing our advanced technologies, with further improvements to fuel economy and performance from our advanced hybrid drivetrain," concludes Cole.
Source: Kia
Gallery:
Kia Pro Ceed GT 3-door (2014)