An all-new, two-color Redline Red & Graphite stripe runs from behind the front wheel arches to the tail. The rear-quarter section of the stripe features the "Redline" name in Red over Graphite color scheme.
Exterior: The two-color stripe & four available exterior color options of Billet Silver, Granite Crystal, Bright White & Pitch Black
20-inch Black Chrome wheels with a Redline Red lip & inner backbone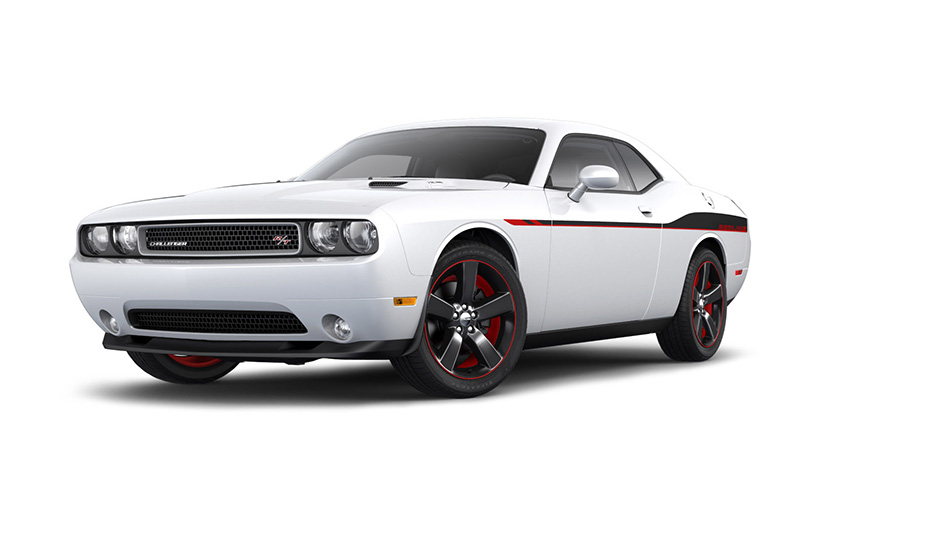 Interior: Dark Slate Gray interior with Dark Slate Gray (R/T) performance seats, or premium Nappa leather performance seats in Radar Red or Dark Slate Gray (R/T Plus)
Legendary 5.7-liter HEMI V-8 engine with up to 375 horsepower & 410 lb.-ft. of torque, & gets up to 25 mpg on the highway. When paired with the track-proven Tremec TR6060 six-speed manual transmission, the Dodge Challenger R/T delivers smooth shifts, while delivering even more power through unique performance-tuned dual exhaust & under-floor mufflers with low-restriction bottle resonators.
With the above combination you get: 0-60 mph runs in the low-5-second range & a sinister exhaust growl for the cars left in its rear-view mirror; a trademark of the original Challenger HEMI from more than 43 years ago.
The 5.7-liter HEMI V-8 engine is also available with a 5-speed automatic transmission for 372 horsepower & 400 lb.-ft. of torque.
The 2013 Dodge Challenger with R/T Redline Group is available for ordering now & arrives at dealerships in April with a U.S. MSRP of $1,995. When configured on the Challenger R/T or R/T Plus models, the MSRPs are $31,990 & $33,990 respectively (both prices exclude $995 destination).
Source: Dodge
Gallery:
Dodge Challenger Redline (2013)