Some minor changes to the Mustang occurred at the start of 1965 model year production, a mere five months after its introduction. First was an almost complete change to the engine lineup. The 170 in³ (2.8 L) I6 engine made way for a new 200 in³ (3.3 L) version which had 120 hp (89 kW) at 4400 rpm and 190 ft·lbf (258 N•m) at 2400 rpm. Production of the 260 in³ (4.2 L) engine ended with the close of the 1964 model year. With a new, two-barrel carbureted 200 hp (149 kW) 289 in³ (4.7 L) engine taking its place as the base V8, people started to get excited. A 225 hp (168 kW) four-barrel 289 in³ (4.7 L) was next in line, followed by the unchanged "Hi-Po" 289. The DC generator was replaced by a new AC alternator on all Fords and the now-famous Mustang GT was introduced. Available was a four-barrel engine with any body style. Additionally, reverse lights were an option added to the car in 1965. Originally, the Mustang was available as either a hardtop or convertible. During the car's early design phases, however, a fastback model was strongly considered. The Mustang 2+2 fastback made its inaugural debut with its swept-back rear glass and distinctive ventilation louvers.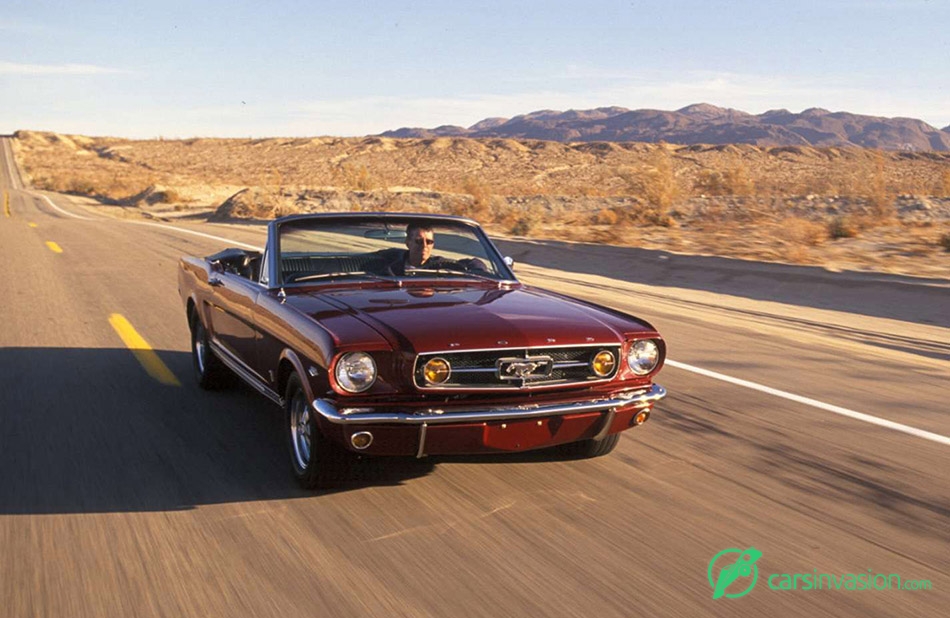 A machine built for the ages, Carroll Shelby converted (with Ford Motor Company's blessing), a special model designed with only two things in mind; winning races and beating the Chevrolet Corvette. Designated simply as the "GT-350", these purpose-built performance cars started as "Wimbledon White" fastbacks with black interiors. The fastbacks were shipped from the San Jose, California assembly plant and fitted with a Hi-Po 289, four-speed manual transmission, and included front disc brakes. Also shortened hoods and rear seats with identifying trim were among other visual variations. These few cars were converted to street, road racing, and drag cars in Shelby's plant at Los Angeles International Airport.
Modifications to both the street and racing versions included: side-exiting exhausts, Shelby 15 in (380 mm) magnesium wheels (though some early cars were fitted with the factory steel wheels), fiberglass hoods with functional scoops, relocated front control arms, (to reduce understeer and neutralize handling), quicker steering, Koni shock absorbers, a Detroit Locker rear end with Ford Galaxie drum brakes, metallic brake linings at all four corners, rear-mounted batteries, rear anti-sway bars with souped-up front anti-sway bar, dash-mounted gauges, a fiberglass parcel shelf and spare tire holder where the rear seat was intended to be. Among other engine modifications, considerable overhaul boosted output to 306 hp (228 kW). Hot Rod Magazine recorded a 0-60 time of 5.7 seconds.
Source: Wikipedia