Power came from re-designed heads and cams. As a "modular" family, earlier 4.6 L SOHC's can swap out their heads with "Power Improved" heads as offered through the Ford Parts Catalog. Due to a different combustion chamber and pistons, the compression gets bumped to about 10.7:1, and requires premium fuel. The Cobras received similar improvements, as a switch was made from "B" style heads as used in the early 32 valve DOHC Modulars to "C" heads (aka Tumbleports). Redline was set at 7000 rpm for the DOHC Cobra. The Cobra also received an independent rear suspension, which was also modular.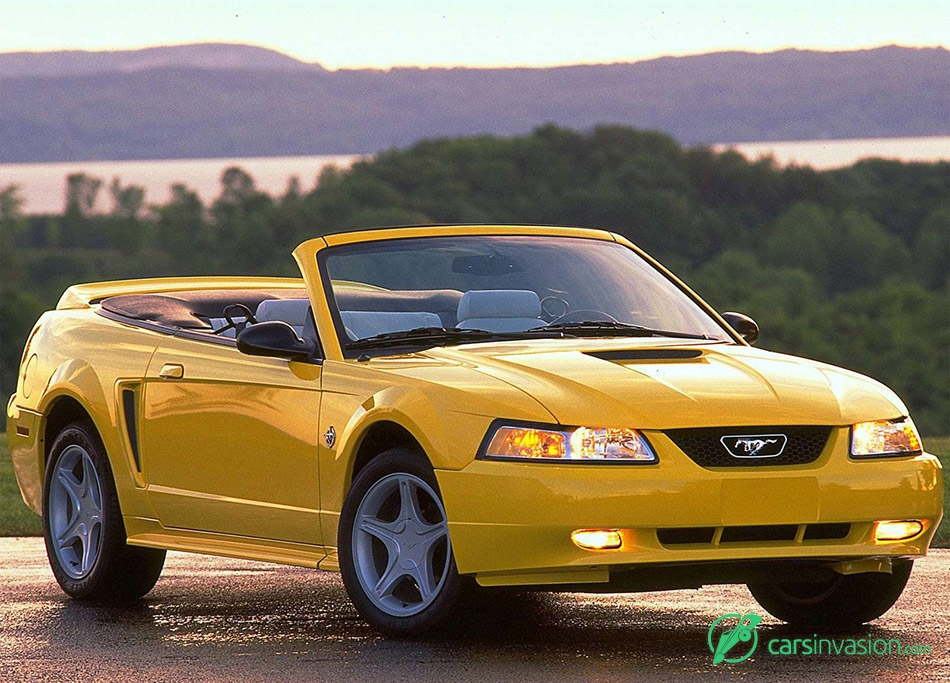 Special Cobra R versions were available in limited editions in 1993, 1995, and 2000. Made as race cars, they were stripped of air conditioning, radios, and back seats. Unlike the early R's, one did not need a racing license to buy one of these race Cobras. The suspensions were finely tuned, and in 1995 and 2000 the Cobra R's had increased displacement engines (5.8 L and 5.4 L, respectively) that made these cars extremely potent track machines. The 1995 Cobra R used a 5.8L V-8 with GT-40 induction and a flat tappet camshaft, and was conservatively rated at 300 hp. The 2000 Cobra R utilized a modular iron block and the best cylinder head/intake system yet for the modular motors, flowing staggering numbers even in stock form. Ford tagged the motor with ratings of 385 hp (287 kW) and 385 ft·lbf (522 Nm) torque.
Actual power was well over 400 hp. It received a Tremec T-56, 6-speed transmission, the same transmission used in the Chevrolet Corvette, Chevrolet Camaro, and the Dodge Viper. Minor exterior enhancements such as the addition of a front splitter and rear wing added down force and stability at speed. The Cobra used a side exiting exhaust system, utilizing actual shorty headers and three Borla mufflers. It also used "smoked" headlights, which made their way onto all Mustangs the following year.
Source: Wikipedia
Gallery:
Ford Mustang GT (1999)