In 1996, Mustang fans were expecting the 5.8 L (351 in³) V8 to make its return to the regular production. However, this is not what they got. The 5.0 GT engine was replaced by a 215 hp (160 kW) 4.6 L SOHC "Modular" V8 engine. This engine had been introduced in Lincoln models, and was part of Ford's plan to "modernize" its engine lineup. The engine has two valves per cylinders, one for intake and one for exhaust. Despite being SOHC, it was not much of a revver, and while torquey, didn't make much power past 5000 rpm. The Cobra version was updated that year with a high-revving 305 hp (227 kW) dual over head cam configuration of the 4.6 L V8. The Cobra's block, cast by Teksid of Italy, was an aluminum, cross-bolted block.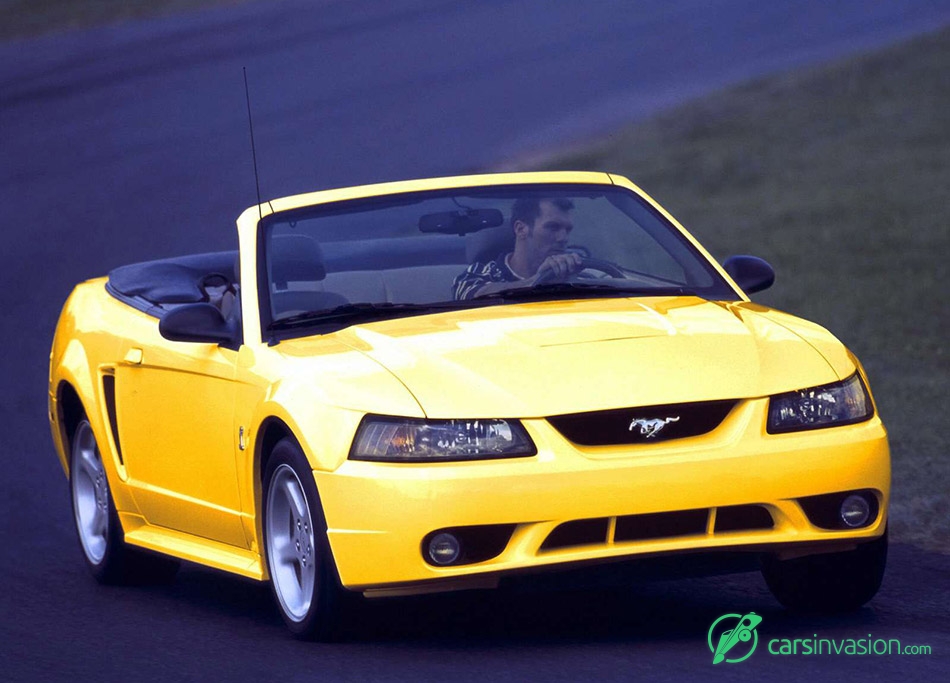 The heads had split ports and huge valves, and were arguably a little much for the street, but are still a favorite of modular race teams. To compensate for the relative lack of low end response associated with these kind of cylinder heads, SVT also put an intake manifold with dual runners on the Cobra, with the secondaries not opening until around 3000 rpm, making these early modular Cobras very responsive at low speeds. In 1996, the 3.8 L V6 was bumped to a 150 hp (112 kW) rating.
The longer valve covers for 8 cylinders not-withstanding, when the hood was opened up, the V6 mustangs were arguably more aesthetically pleasing than the V8 models, since the V8 engine bay was on the bland side, a far cry from the 5.0 engine bays, which the V6 actually resembles. In 1998 the SOHC 4.6 L V8 power was increased to 225 hp (168 kW) with a more aggressive computer and larger exhaust tail pipes. This was also the last year of the "Round Body Mustang." 1998 was also the only year that the "Sports" packaged was offered. It included unique black stripe (regardless of car color) on the hood which extended over to the wheel wells.
Source: Wikipedia
Gallery:
Ford Mustang SVT Cobra (2001)