However, 2002 saw a new Thunderbird launched; this Retro Bird was again a two-seater and received the model's third Motor Trend Car of the Year honor. It was also nominated for the North American Car of the Year award that year.
The new Thunderbird was based on the Ford DEW platform, shared with the Lincoln LS. It followed the recent trend for nostalgic recreations of old-fashioned (or "retro") styling (see VW New Beetle, Chrysler PT Cruiser), being a recreation of the 1955-1957 two-seat Thunderbird in a modern style. Available only as a convertible with a removable hardtop and, according to automotive writer Jerry Flint, the new Thunderbird "turned heads wherever it went."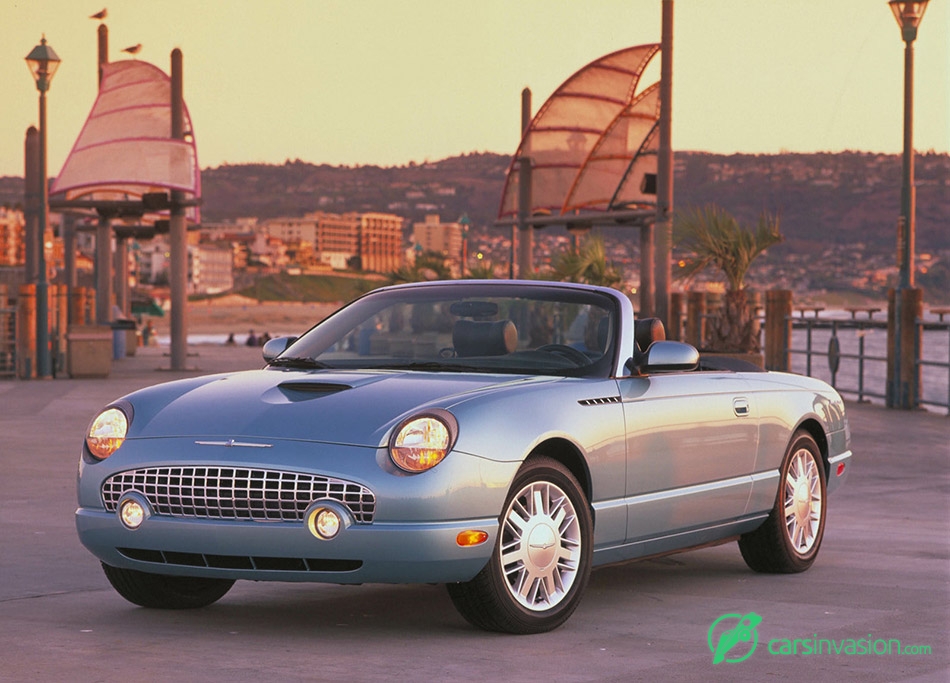 Ford expected sales of 25,000 units per year, but were never that high. Jerry Flint, writing for Forbes magazine on the demise of the newest Thunderbird, summed it all up by writing, "Ford dealers have been successful selling 35,000-45,000 USD trucks but have little experience selling automobiles in the near-luxury price range. If there was a marketing effort by Ford Motor, I wasn't aware of it. Naturally, sales didn't meet expectations."
The car had been intended for introduction during the 2001 model year, but instead was delayed for a year, probably dampening the initial enthusiasm of the buying public. The 40,000 USD price tag was considered steep, given the car's somewhat average handling and power (although the handling and power were both commensurate with that of the original 2-seater Thunderbird).
When the car was first introduced, demand far exceeded supply, which led to Ford dealers overcharging for the car. Then, when supply began to exceed demand, dealers began their usual pattern of "incentives" (discounting) to "move the car off of dealer lots," as reported in the 2004 New Car Buyers Guide, thus alienating original customers.
Though the Retro Bird body styling never changed, exterior and interior color packaging was inconsistent from year to year. For 2002, the car was available in bright red ("torch red"), bright yellow ("inspiration yellow"), and turquoise ("Thunderbird blue"), all reminiscent of 1950s colors. Furthermore, "retro" two-tone interiors (black and the color matching the exterior), were paired with these exterior colors.
"Whisper white" and "evening black" exteriors were also available in 2002, though with matching solid color interiors. They proved to be the model for the remaining years. Beginning with 2003, the two-tone "retro" interiors were sacked in favor of all-black (or other one-color) interiors. Gone were the bright yellow and turquoise exteriors, replaced with more subdued colors: "mountain shadow grey," "desert sky blue," and coral. Exterior and interior colors added for both the 2004 and 2005 model years remained subdued.
If Ford's tinkering with the exterior/interior packages were designed to boost sales, it didn't work, as sales continued to fall short of the company's hopes. Just 11,998 were sold in 2004. The Ford Motor Company announced in March 2005 that the Thunderbird would again be discontinued in July of that year, with 9,548 sold for 2005. Ford plans to release a new Thunderbird sometime in the years to come, but an exact date has not been specified. Interestingly enough, there was also talk of a performance edition from SVT, but once again, Ford decided it wasn't necessary. This could have been the savior of the retro birds however. The original 55-57 Thunderbirds came with several engine upgrades, and was definitely a high performance car of the day. Ford made no effort to give a performance image to the new Thunderbirds, and while the V-8 in the "Retro-birds" looked good on paper (280 hp, 286 ft·lbf), it failed to execute. At just 3.9Liters of displacement and a bodyweight of over 3700 lb, combined with rather poor gearing choice, it made for a feel more akin to a large luxury car than to a sport coupe. While a high performance version may not have saved the Thunderbird from what is at least a temporary extinction, it very possibly could have helped sales, as these cars had a stigma about them as an overpriced luxury car.
Source: Wikipedia
Gallery:
Ford Thunderbird (2002)