The Ford Thunderbird is a car manufactured in the United States by the Ford Motor Company. It entered production for the 1955 model year as a two-seater sporty car; unlike the superficially similar (and slightly earlier) Chevrolet Corvette, the Thunderbird was never sold as a full-blown sports car. Ford described it as a personal luxury car, a description which named a new market segment. In 1958, the Thunderbird gained a second row of seats for greater practicality. Succeeding generations became larger and more luxurious, until the line was downsized in 1977 and again in 1980. Sales were good until the 1990s, when large 2-door coupes became unpopular; production ceased after 1997. In 2002, a revived 2-seat model was launched, was available through the end of the 2005 model year.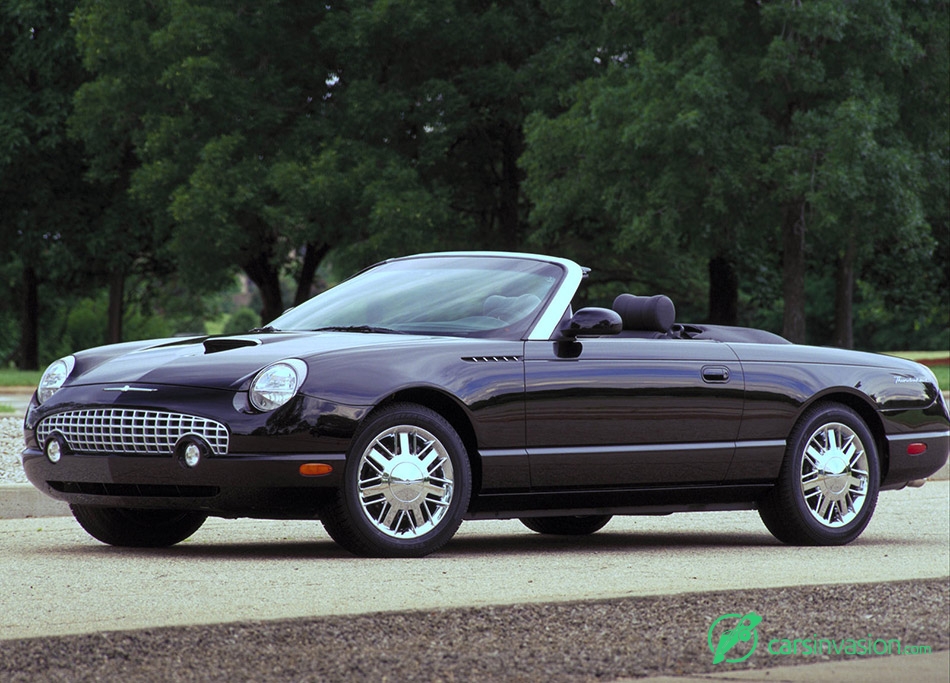 Genesis
Three men are generally credited with creating the original Thunderbird: Lewis D. Crusoe, a retired GM executive lured out of retirement by Henry Ford II; George Walker, chief stylist and a Ford vice-president; and Frank Hershey, a Ford designer. Crusoe and Walker met in France in October 1951. Walking in the Grand Palais in Paris, Crusoe pointed at a sports car and asked Walker, 'Why can't we have something like that?'
Walker promptly telephoned Ford's HQ in Dearborn and told designer Frank Hershey about the idea. Hershey took the idea and began working on the vehicle. The concept was for a two-passenger open car, with a target weight of 2525 lb (1145 kg), an Interceptor V8 engine and a top speed of over 100 mph (160 km/h). Crusoe saw a painted clay model on May 18, 1953, which corresponded closely to the final car; he gave the car the go-ahead in September after comparing it with current European trends.
Source: Wikipedia
Gallery:
Ford Thunderbird Neiman Marcus (2002)