Land Rover's on-going commitment to building vehicles that are more fuel and emissions-efficient reaches another milestone at the 2011 Geneva Motor Show with the first presentation of Land Rover Range_e. This development model is equipped with an advanced plug-in hybrid diesel-electric powertrain that Land Rover expects to make available in future production models, following the scheduled launch of its diesel-electric hybrid in 2013.
Land Rover Range_e is based on the Range Rover Sport and uses the current 245PS 3.0-litre TDV6 diesel engine, working with an eight-speed ZF automatic transmission and a 69kW electric motor. Using a parallel hybrid system, with a 14.2kW/h lithium-ion battery that can be recharged from an external 240V power source, Land Rover Range_e can be driven on electric power alone for more than 20 miles, with zero harmful tailpipe emissions.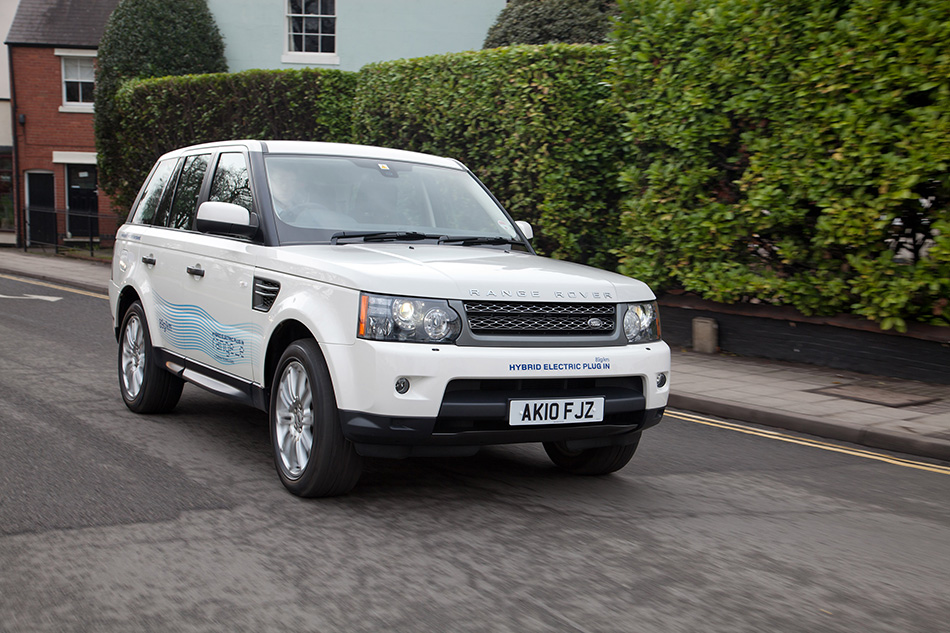 A full recharge from a standard domestic power supply can be accomplished in around four hours. Typically the majority of European car drivers cover less than 25 miles a day and therefore the EV range offered by this technology will support the majority of short urban journeys, where fuel economy and emissions are of prime concern. However, for longer journeys the diesel hybrid drivetrain will engage and continually optimise CO2 emissions.
Overall CO2 emissions are just 89g/km, yet Land Rover Range_e has a maximum system output of 339PS and a top speed of around 120mph, delivering a fuel economy of 85mpg. Improved fuel efficiency from the hybrid system makes 690 miles possible on a full tank of fuel.
Land Rover Range_e is also engineered with the same full 4WD capability as the standard Range Rover Sport, with high and low range in the transmission, front and rear differentials and a mechanical locking centre differential. Dependant on the driver demand, the car's intelligent system decides the most efficient method to deliver the power required, whether this is by electric, diesel or both. The Range_e also features regenerative braking to capture energy usually wasted in heat energy via the brakes. This energy can then be redeployed to drive the vehicle, further reducing fossil fuel consumption.
John Edwards, Land Rover Global Brand Director, said: "This system is the first example of a premium plug-in hybrid that also provides the full four-wheel-drive capability that you would expect from a Land Rover. It is an evolution of the production intent diesel-electric hybrid technology which will be launched in our next generation of SUVs and will be available for customers within the next two years."
Land Rover in Partnership with CABLED
The Land Rover Range_e is one of a number of Land Rover projects supported by the UK Government's Technology Strategy Board and five prototype models are currently engaged in a test programme with Land Rover's fellow members of the CABLED - Coventry and Birmingham Low Emissions Demonstrators - consortium. Land Rover anticipates its plug-in hybrid system will be brought to market in the near future, following on from the debut of its first standard diesel-electric hybrid models from 2013.
Pete Richings, Chief Engineer Hybrids, said: "We started the Range_e fleet trial in December 2010 and we have so far covered 12,000 miles on the trial between the five test vehicles. We are gathering invaluable real world data that will enable us to refine the technology ahead of introducing a production vehicle."
Land Rover continues to recognise the need to work on all aspects of our CO2 footprint such as reducing weight, reducing mechanical losses and increasing powertrain efficiency and our hybrid technology represents one part of the research and development journey.
Jaguar Land Rover is committed to spending £800 million on environmental technologies and has targeted a 25 per cent reduction in its fleet average CO2 emissions between 2008 and 2012.
Source: Land Rover
Gallery:
Range Rover Range eConcept (2011)