Ford Mustang GT Convertible concept arrive ready to take enthusiasts' breath away - three design-generations after the original made history in 1964. The latest legends of the American pony car are contemporary automobiles that capture the essence of Mustang's design and performance heritage.
Ford Mustang GT concepts are strong indicators of the next-generation Ford Mustang GT's design direction. They emerge as a bold testament to the timeless value that automotive enthusiasts hold for the original American pony car.
"These Mustang concepts are thoroughly modern automobiles that point to a bright future for Mustang," says J Mays, Ford Motor Company vice president of Design. "Their powerful stances, smooth surface language and ultra-modern interiors set new standards for muscle cars. Above all, these concepts communicate the soul of Mustang: a classic, cool and quintessentially American muscle car."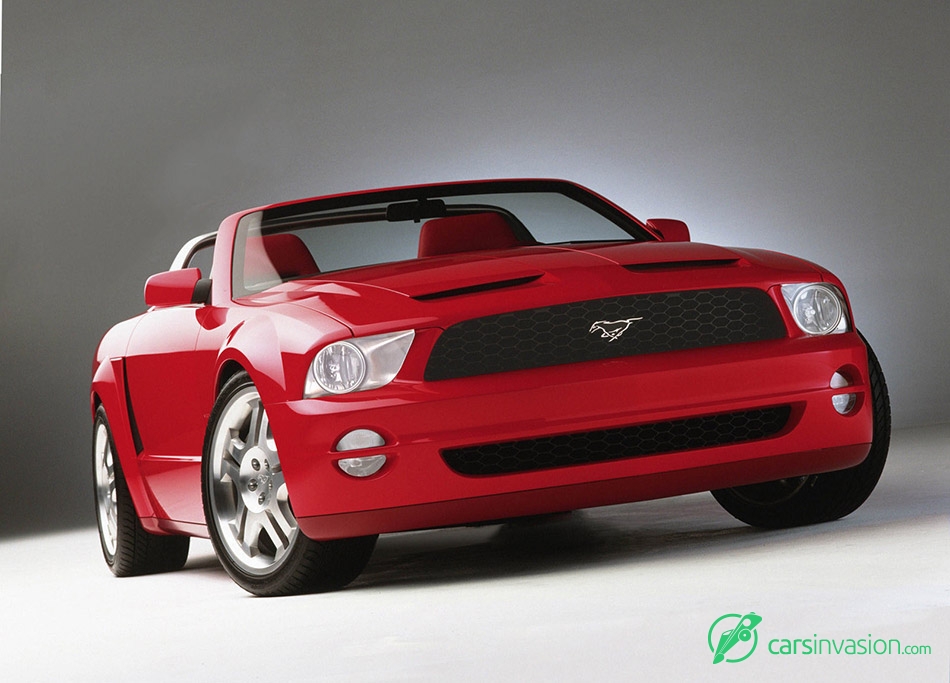 Introspective and Extroverted
The Ford Mustang GT concepts draw on the very elements that have made Mustang the definitive American sports car for nearly four decades. Their exterior designs are clearly inspired by some of the extroverted Mustangs of the past and have been created by a design team that took an introspective approach to updating a classic design.
The designs are modern, crisp and reveal the true character of what Mustang means to so many people. The original 1964½ Ford Mustang actually evolved from the racing-inspired, two-seat concept car called the Mustang 1. After reviewing archived files, Mustang's modern-day crafters were struck by how the original design embraced the same inspirational cues that communicate performance. The design team looked beyond production models to the Mustang 1 concept for modern inspiration. Much like the Mustang 1 and the later Mustang Mach 1 show car in 1968, the Ford Mustang GT concepts are rare, radical designs that will appeal to everyone.
"By melding the true character of Mustang into these fully modern offerings, we've ensured that even the uninitiated will instantly recognize these cars as Mustangs," says Mays. "We went beyond their exterior designs to truly understand the extent to which Mustang has embedded itself in American culture."
New Design
The Ford Mustang GT concepts are instantly recognizable as Mustangs, yet they stretch the design far into the future with a distinctly modern look. Like the Mustang 1 concept, the GT concepts are two-place sportscars: one a coupe and the other a convertible. Both cars started out with a significantly modified Ford Thunderbird rear-wheel-drive architecture. The platform was sectioned to achieve the proper proportion. The front-end geometry is all original - customized to accommodate the signature Mustang MOD 4.6-liter V-8.
In concert with plans for the all-new Ford Mustang, due in 2004, the exterior and interior designs of the Ford Mustang GT concepts were penned by designers in Ford's Living Legends Studio in Dearborn, Mich., and Ford's California Design Center in Southern California. The concept design execution was done exclusively at the California Design Center.
Source: Ford
Gallery:
Ford Mustang GT Convertible Concept (2003)