Shelby and Ford have returned with a Shelby-branded Mustang, the Shelby GT500, for the 2007 model year. Introduced at the 2005 New York International Auto Show, the GT500 makes use of a 5.4 L Modular supercharged V8, which shares components with the Ford GT supercar as well as the 2000 Cobra R.
The most powerful factory-produced Mustang ever is the new Shelby GT500. Car & Driver put the Shelby GT500 up against the Corvette (Z51 package) and could only get 12.9 sec quarter-mile while the Corvette ran a 12.8. Road & Track magazine could muster only a 13.1 quarter-mile out of the Shelby GT500. However, Muscle Mustangs and Fast Fords (August 2006 issue) recorded low-12 second performances (best: 12.257s), with trap speeds of over 117 mph (temperature 66 degrees F; humidity 46%; pressure 29.9).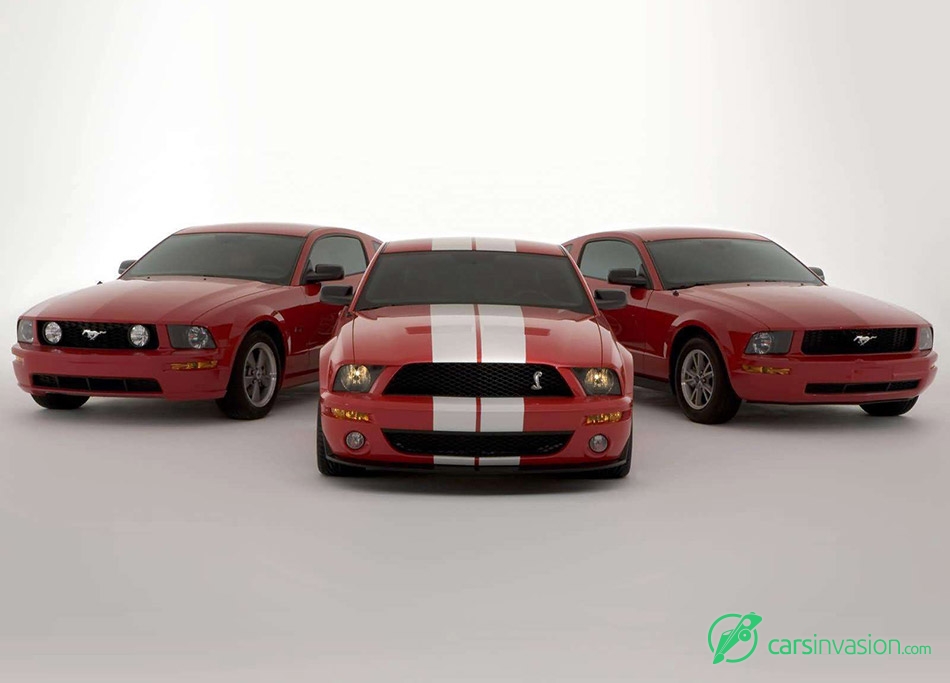 Transmission/Gearing/Clutch:
First gear is 2.97:1 (vs. 2.66 on the 2003 and 2004s). Rear-end ratio is 3.31 (vs 3.55 on the 2003). Overall gear ratio in 1st is 9.831 (vs 9.443 on the 2003). Also 6th is the same ratio as 2003 (0.63:1). Clutch is a double-disk unit (215 mm = 8.44 in) sourced from Valeo. (Smaller diameter reduces polar moment of mass inertia so less inertial loss during acceleration.)
Engine:
Wet-sumped 5.4 L 500 hp iron block with aluminum heads. Bore x Stroke is 3.552 x 4.165 inches, producing 330 in³ (5,409 cc) displacement. Static compression ratio is 8.4:1 (same as Ford GT, but vs. 8.5:1 on the 2003 Cobras.) Forged steel crankshaft is from the Ford GT. Manleys connecting rods which the engineers claim are on par with the Manleys in the 2003s, but less expensive. Heads are directly from the GT, including cams, valves, springs and ports and even have the same part number. The peak power rating is at 6000 rpm, and redline is at 6250 rpm.
Supercharger:
Eaton M122H (H for hybrid…revised 5th-gen blower) Roots-style blower with 9 psi of boost will be used. It has redesigned rotor and port design Eaton currently claims 15% improvement in adiabatic efficiency over the M112. SVT was considering using a Lysolm twin-screw unit, but decided against it for supply reasons.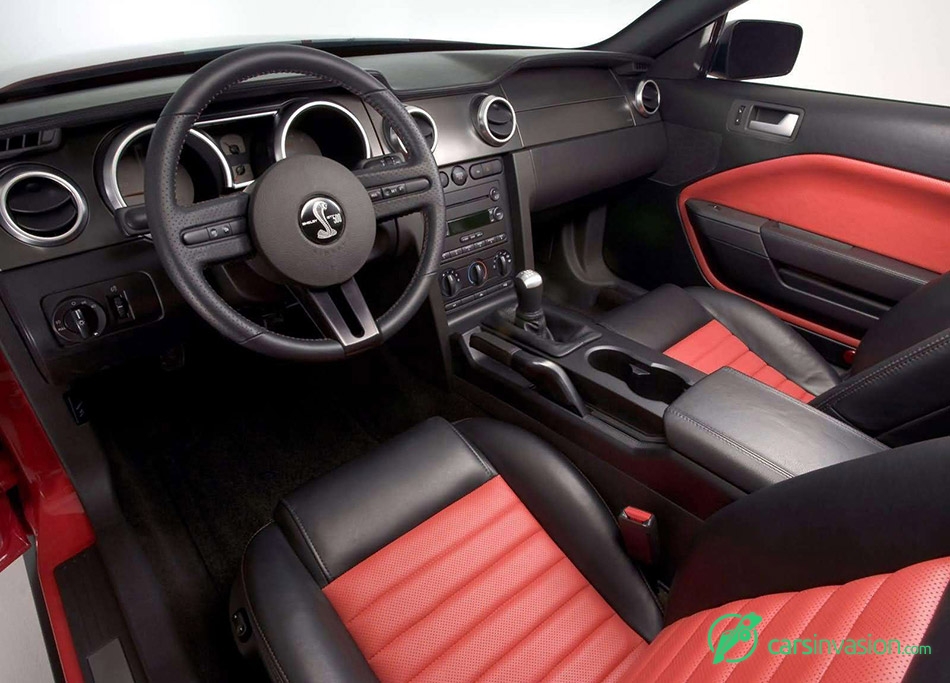 Weight:
3920 lb (1750 kg) with F/R distribution of 57/43 Coupe
4040 lb (1804 kg) with F/R distribution of 57/43 Convertible
Suspension:
Stock Mustang GT K-member. Revised bushings, spring rates and shock rates.
Brakes:
14" front disks with 4-piston Brembo calipers. Rears are stock Mustang GT, but different pads.
Tires:
285/40ZR18 rear and 255/45ZR18 front Goodyear Eagle Supercar.
Source: Wikipedia
Gallery:
Ford Shelby SVT Cobra GT500 Mustang Show Car (2005)