As you all know, this year, Bologna is becoming an International Motor Show. So it should be no surprise that we wanted to unveil the Auris here. Before introducing the new Auris to you, I would like to quickly talk about the European market this year. We are expecting the European market to end 3% higher than last year level.
However, this growth is mainly driven by Eastern Europe, where a 10% volume increase is expected. The Western European market should end 1% higher than last year.
Although it remains the most important segment in Europe, the C-segment is expected to decrease further with sales forecasted to be 8% below last year. Many customers seem to be attracted by other more innovative products on offer.
Within this environment, Toyota is launching the new Auris and we would like it to disturb the present equilibrium in the segment where the top 5 players have been contributing for almost 70% of the total sales in the C-segment. This concentration among other things is resulting in very competitive pricing. We now even see some C-segment cars sold at B-segment prices, while the fleet content has by now reached 50%.
First of all, Auris will deliver our superior quality promise. Quality starts at the factory where many new initiatives have been made to raise the level of quality even further. From the interior to the exterior, every aspect of the Auris has been carefully designed and developed to ensure it will provide superior quality.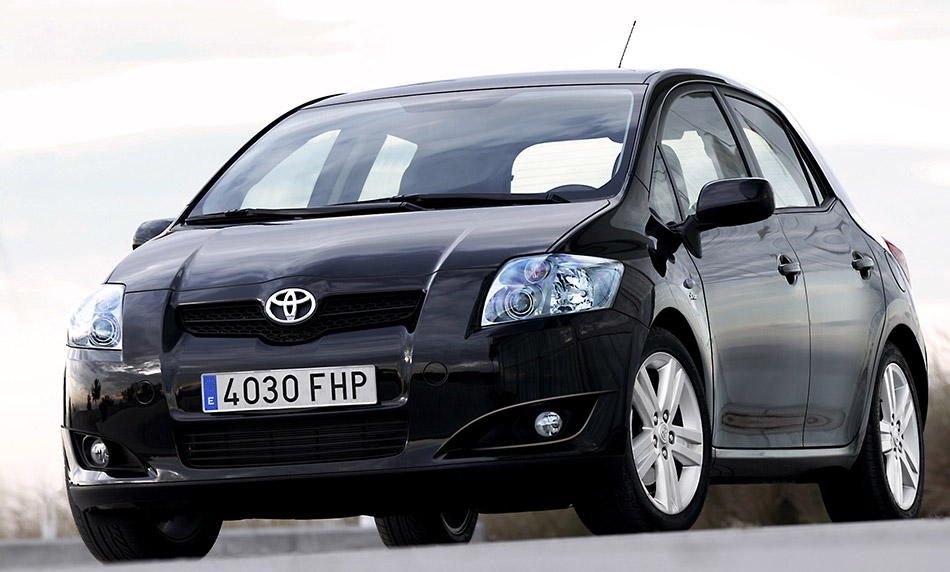 And while superior quality remains a key feature, we have sought to ensure that every new Toyota enjoys the highest levels of safety. We aim to achieve with Auris top class ratings in the Euro-NCAP crash testing.
Auris has been designed at ED², our design centre in the south of France. Our creative team worked from the inside out. This approach means that the interior design is steering the exterior shape of the car. The interior is dominated by the 'bridged centre console', which all focus groups attendants appreciated very much and which evokes a feeling of spaciousness. This new interior layout is highly functional. It gives to the driver the feeling that the car is built around him, with all major controls within reach.
Its exterior design does not only make Auris exciting to look at. It will also deliver an engaging driving experience thanks to its all-new platform and its full range of Toyota's advanced diesel and petrol engines. The Auris line-up will be topped by the flagship D-4D 180 Clean Power, which delivers 400 Nm of torque between 2,000 and 2,600 rpm. The new Toyota Auris will be produced in two sites in Europe. It will be manufactured by our plants in the UK and Turkey at the quality standards already seen in the Toyota Avensis and Toyota Verso built there.
Auris will be key for Toyota in achieving our ambitious growth targets in Europe. We expect to sell more than 150,000 units in 2007, with a plan to achieve more than 200,000 sales annually on a full year basis. The success of Yaris has helped to significantly improve Toyota's brand perception in Italy and Europe. With the launch of Auris, we want to achieve a step-change not only in sales volume but also in terms of brand image for Toyota. Ultimately, this is the reason why we changed the name.
Before I leave you I would like to give a quick update on our 2006 sales performance. We believe that we are going to sell more than 1.1 million units in Europe in 2006, Toyota and Lexus brands combined. This is the 10th consecutive record year for Toyota in Europe. This new record can be explained by several factors: The new AYGO, Yaris and RAV4 models have been extremely well received by our customers. AYGO and Yaris launches have generated more than 100,000 incremental small car sales, while the new RAV4 has once again conquered the leadership in its segment.
This is very interesting, as in spite of product proliferation, 4 car models including RAV4 will achieve more than 20% segment share this year. This demonstrates that when a product fully meets customers' expectations, this polarizes customers' choice, in spite of the number of competitors.
We are also consolidating our sales in the 5 largest European markets and are growing fast in Eastern Europe. We will close 2006 by selling for the first time over 100,000 cars in France and in Russia, in the latter we grew sales by more than 60%.
Lastly, our customer satisfaction continues to climb which is important both for loyalty and to conquer new customers to a positive word-of-mouth. The best ambassadors for our brand are our owners, without whom we would never be able to spread the word about Toyota's quality as fast as we have.
Hopefully, you will share our enthusiasm about the new Auris. Some people say it looks a bit like a big Yaris, which I think will definitely help us to increase sales here in Italy.
Source: Toyota
Gallery:
Toyota Auris (2006)