Ford Australia General Manager of Marketing, Rebecca Martin said the concept, dubbed 4-Trac, is a dynamic package that brings together Ford's 'tough truck' DNA with ideas that explore practical functionality, lifestyle and sporty uses for Ford trucks of the future.
"Our designers have taken the typical pick-up truck and given it a lot more sophistication, style and purpose. It's a workhorse that delivers on the 'Built Ford Tough' promise by offering true off-road capability, rugged features and durable aluminum surfaces.
"At the same time, owners would be proud to use it as stylish transport for their active families on weekends and holidays," Ms Martin said.
"Australian truck owners are passionate and highly discerning. Our consumer insight research has told us local customers need and want pick-ups that are rugged for the workplace and stylish for the family. We used that information to inspire the look for the 4-Trac concept."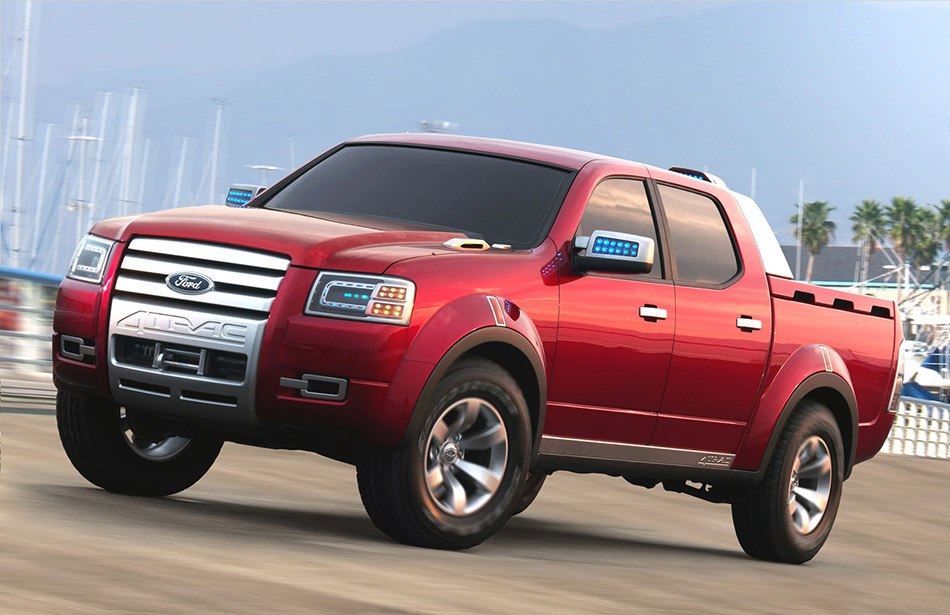 The Ford 4-Trac was designed by Ford Asia Pacific Chief Designer, Paul Gibson, and originally revealed at the Bangkok Auto Show in December 2005. Gibson is in charge of interior and exterior design for all Ford vehicles in the Asia-Pacific region. His team works closely with Ford regional and national marketing specialists in 12 countries throughout the region.
The Ford 4-Trac concept is the team's latest project following a Focus Concept sedan shown at Auto China 2004, followed by the region-wide launch of all-new Ford Focus and the unveiling of the Equator concept SUV at the 2005 Tokyo Motor Show.
"The 4-Trac is a response to the needs and aspirations of a new generation of consumers.
"It clearly shows Ford will continue to produce trucks that make a statement for a younger, bolder generation of consumers who want a vehicle that provides more possibilities for them to enjoy an active outdoor lifestyle," Gibson said.
An attention-grabbing four-door crew-cab, the Ford 4-Trac stands out from the crowd with its rugged aluminum surfaces and innovative design features.
In keeping with Ford "Tough Truck" heritage, the Ford 4-Trac has a large vertical face and prominent Ford oval in the middle of the signature three-bar grille. This dominant feature forms a power bulge that runs from the hood through to the undercarriage. It is flanked by high-tech headlamps and integrated fold-out rope hooks.
Contributing to its powerful on-road stance are a boldly embossed 4-Trac logo, large, clean surfaces down the body side, pronounced wheel arches with integrated side repeater lamps; and 17-inch six-spoke 'turbine' alloy wheels with all-terrain tyres.
The Ford 4-Trac's Tough Truck exterior, combined with its powerful engine, excellent 4x4 ability and dynamic stability control provide a vehicle designed to get consumers safely to their destination - and back.
Reflecting these attributes, the 4-Trac has a strong 'rescue' theme with its lustrous red paint, heavy-duty power winches front and rear, integrated rope hooks and tie-downs points. It can carry five adults with access through four large doors.
State-of-the-art LEDs - 172 in total - are used for high-intensity warning and rescue lamps on the roof, which are mounted on an integrated sports bar, as well as for the vehicle's headlamps, tail-lights and door mirrors.
At the rear, Ford 4-Trac features a unique double-folding, power assisted rear tray with three-step access. This 'tailgate within a tailgate' offers inner and outer sections operating together or independently: the outer body-color section folds down to the ground, acting as a ramp; the inner aluminum section, with unashamedly large 4-Trac branding, folds 90 degrees for ease of loading and unloading. It can also be folded flat to carry longer objects.
The rear cargo area features six portable containers - inspired by offshore rescue boats - for carrying a variety of gear.
Another innovative feature adding to the versatility of Ford 4-Trac is a rear hatch that enables access from the cargo area directly into the cabin.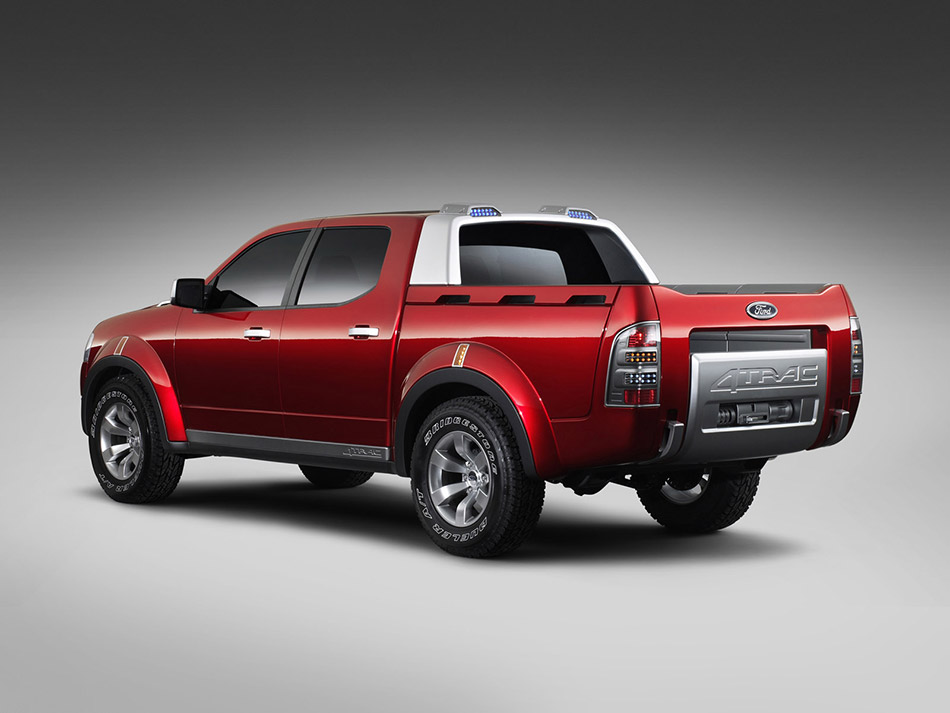 The style and innovation in the rugged 4-Trac concept help explain why Ford is the world's largest producer of trucks with a proud history of more than 88 years in truck production.
The Model TT chassis produced in July 1917 - the first specifically built for trucks and ready to serve as fire truck, delivery truck, ambulance, hauler and more - started Ford on its way to becoming a major manufacturer of the world's toughest trucks.
Ford Australia was a unique contributor to the company's truck heritage, when Lew Bandt designed the original Coupe Utility concept in 1934.
Today, Ford is known for its 'Tough Truck' heritage, including the ubiquitous F-Series, which has served generations of customers everywhere.
The 4-Trac is the latest example of Ford Motor Company's ability to respond to the needs and wants of a younger, bolder generation of customers - and to remain at the forefront of the truck market in Australia.
Source: Ford
Gallery:
Ford 4-Trac Concept (2006)