The all-new S-MAX is an exciting new addition to Ford of Europe's product portfolio, and will make its world debut at the Geneva Motor Show 2006. It shares many of the convenience, dynamic and safety features with its sister car, the new Ford Galaxy, but is a distinctly different vehicle.
The new Ford S-MAX offers 5+2 seating and distinctive styling, while the availability of a 220PS Duratec 5-cylinder turbo engine from the Focus ST, signals its sporty character. A range of new driver-focused technologies plus innovative approaches to seating, stowage and flexibility make the S-MAX one of the most exciting new Ford cars ever.
Exterior Design: The new Ford S-MAX is the first production Ford model to include elements of Ford of Europe's 'Kinetic Design' form language. Its distinctive lines were first previewed in the Ford SAV Concept vehicle at Geneva 2005.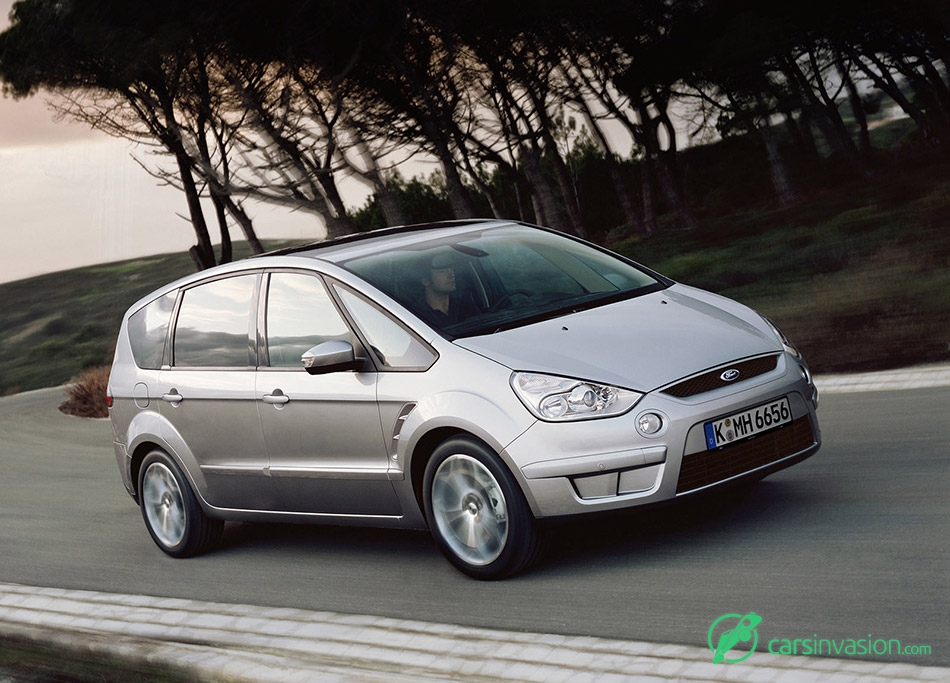 The front end of the new Ford S-MAX is characterised by its distinctively angled nose and dynamic headlamps which give it a purposeful appearance. Fog lamps are placed inbound and high on the front bumper, giving the vehicle a sporty look. The slim upper grille is complemented by a large inverted trapezoid below the number plate area. This is Ford signature, and adds a touch of aggression to the frontal appearance.
To each side of the lower grille area, distinctive "gills" which resemble cooling ducts give the vehicle its unique identity.
The athletic side profile of the new Ford S-MAX makes it easy to see what Ford's kinetic design is about: The fast roof line arching into the bonnet, the pronounced wheel arches with trailing-edge vents and the distinctive kick-up to the rear of the window glass area all help to indicate that this is a dynamic vehicle. An optional Panorama Roof gives occupants a view to the sky, and allows additional daylight into the vehicle interior.
Interior Design: Just as individual exterior styling reflects the different characters of S-MAX and new Galaxy even though they share a common architecture, the interior of the two cars is also distinctly different.
A new flexible seating system and a host of other innovative touches give the S-MAX interior its own personality.
Flexibility with all seats on board: Ford FoldFlatSystem (FFS): A new-to-the-segment feature is the Ford FoldFlatSystem (FFS). Second-row seats and the optional third-row seats don't have to be removed from the car to free up additional luggage space. The seats fold away individually to form a flat floor, giving up to 32 possible seating combinations, all attainable with ease. In S-MAX, an optional third seat row is available, making it a 5+2 seater. The S-MAX's third seating row has been designed to accommodate passengers with a height of up to 1.8 metres.
Cockpit feel: In S-MAX, the driver enjoys more of a 'cockpit-feel' driving position than in a traditional MPV. This is naturally feels more involving, and is complemented by a flow-through console and sports seats.
In creating the S-MAX interior, designers had 127mm more length to work with than in the original Ford Galaxy (4,768mm vs. 4,641mm). An overall width increase of 60mm (1,854mm vs. 1,794mm) is another ingredient in the recipe for a more passenger- and stowage-friendly vehicle. Designers also provided ample headroom while achieving an 83mm reduction in overall vehicle height (1,607mm vs. 1,692mm) for the sporty silhouette of the new S-MAX. Shoulder room now is best-in-class with 1,531mm, an increase of 27mm compared with the original Galaxy.
Supportive and comfortable seating: Matching the cockpit feel, Ford S-MAX offers an 8-way power adjustable sport seat for the driver. It provides separate adjustments for fore/aft, seating height, cushion angle and seat-back recline. There is an extensive amount of seat travel (319mm) to accommodate occupants within a body height range of 97.5 percent, ensuring that almost everyone will find a comfortable seating position. S-MAX also offers a manual seat with 6-way adjustment and lumbar support, depending on series.
Roominess and comfort for second-row passengers: Compared with the previous Galaxy, S-MAX offers second-row passengers a seating height elevated by 64mm, 60mm more legroom up to a class-leading 1,062mm, and more shoulder room (1,535mm vs. 1,523mm). In addition, each of the three individual seats can be adjusted independently. For an even more relaxed posture during long trips, the second-row seats feature a refined recline system with a lower pivot point. When reclining the backrest of the seat, the cushion will adjust by automatically inclining down.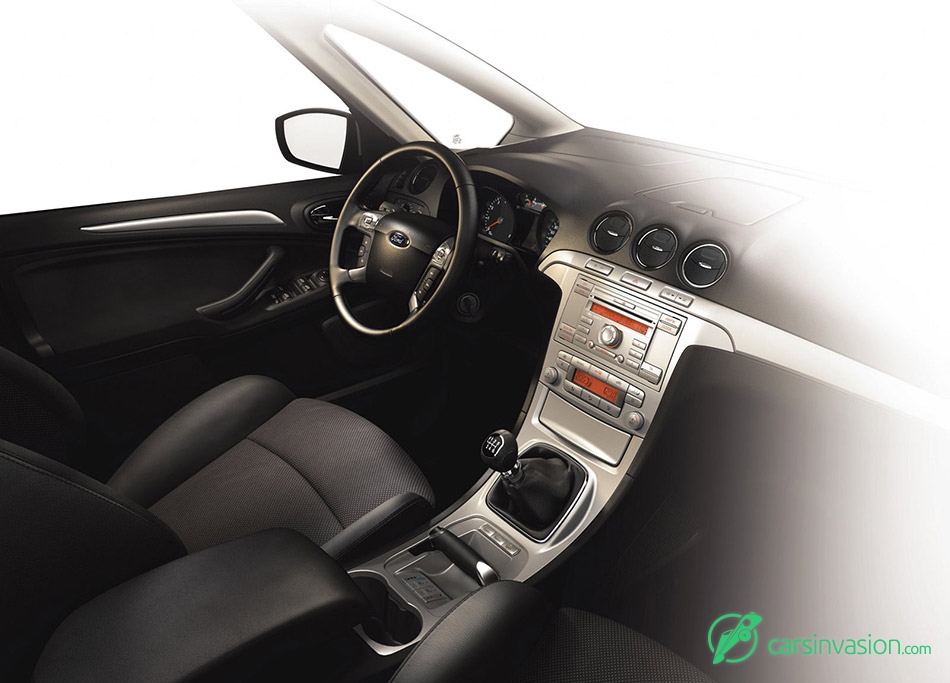 Advanced ventilation and air-conditioning: Air conditioning is standard equipment on all new S-MAX models, and for maximum interior climate control, dual Electronic Automatic Temperature Control (EATC) is available. The EATC system features separate temperature controls for the driver, the front passenger and the second row passengers.
Human Machine Interface (HMI): Two sets of sophisticated steering wheel-mounted toggle switches in combination with an easy to read instrument cluster centre display form the basis for Ford's latest-generation HMI (Human Machine Interface). HMI is standard on all Ford S-MAX models. It is simple and intuitive to operate, thanks to a newly developed chime system. This categorizes each warning sound according to their purpose giving the driver greater control over the audio warnings he/she receives.
Outstanding versatility: In addition to the Ford FoldFlatSystem (FFS), several tie-down points are located across the floor and up the sides of the vehicle, helping secure items placed in the rear compartment. With all seven seats up and in position, S-MAX offers an impressive 18-per cent increase in luggage volume over the original Galaxy (285 litres vs. 235 litres). This allows room for luggage even when the seats are fully occupied. Maximum luggage capacity is an impressive 2,000 litres (all rear seats down, loaded to roof). With all rear seats folded flat, the load floor offers a space 2m deep and 1.15m wide.
Sliding load floor for easy cargo loading: In lieu of the third seat row, customers can specify an optional sliding cargo platform on the new S-MAX. This convenience feature allows the loading of shopping goods or travel bags with ease. With the tailgate open, the platform can be pulled out by 48 cm. It then slides back into the vehicle with a drawer-type motion once loading has finished.
Source: Ford
Gallery:
Ford S-MAX (2006)