Ford of Europe is launching the most stylish and technologically advanced Ford Mondeo model ever. With a fresh, restyled exterior, an enhanced interior, plus new high-efficiency Ford EcoBoost petrol and TDCi diesel powertrains and a host of new driver comfort and convenience features and safety technologies, the new Mondeo completes the rejuvenation of Ford's large car range, and takes its position as the flagship model in the company's European portfolio.
Following significant updates to the Ford S-MAX and Galaxy, the new Ford Mondeo is the latest Ford car to benefit from the continuing evolution of Ford kinetic design, with subtle visual differences incorporated into key areas such as the front and rear end.
The Ford Mondeo interior has also benefitted from a comprehensive rework with changes to the centre console and door panels, plus a range of new, high quality materials.
New Mondeo will see the first application of a higher performance 240 PS derivative of the efficient new 2.0-litre Ford EcoBoost turbocharged petrol engine, joining the existing 203 PS version of this engine, introduced in Ford Mondeo, new S-MAX and new Galaxy early in 2010.
The latest Ford Mondeo also introduces a comprehensively revised version of the 2.2-litre Ford Duratorq TDCi diesel engine, which boasts a 12 per cent power increase to 200 PS, making it the most powerful Ford Duratorq diesel engine so far.
Ford ECOnetic Technologies are also applied to the new Mondeo range to enhance efficiency and economy, and include new features like Smart Regenerative Charging, the Ford Eco Mode driver information system and - a Ford first - an Active Grille Shutter system.
Driver assistance, comfort and convenience features abound in the new Ford Mondeo and many of these are appearing for the first time in a Ford model, including systems for Lane Departure Warning, Driver Alert and Auto High Beam.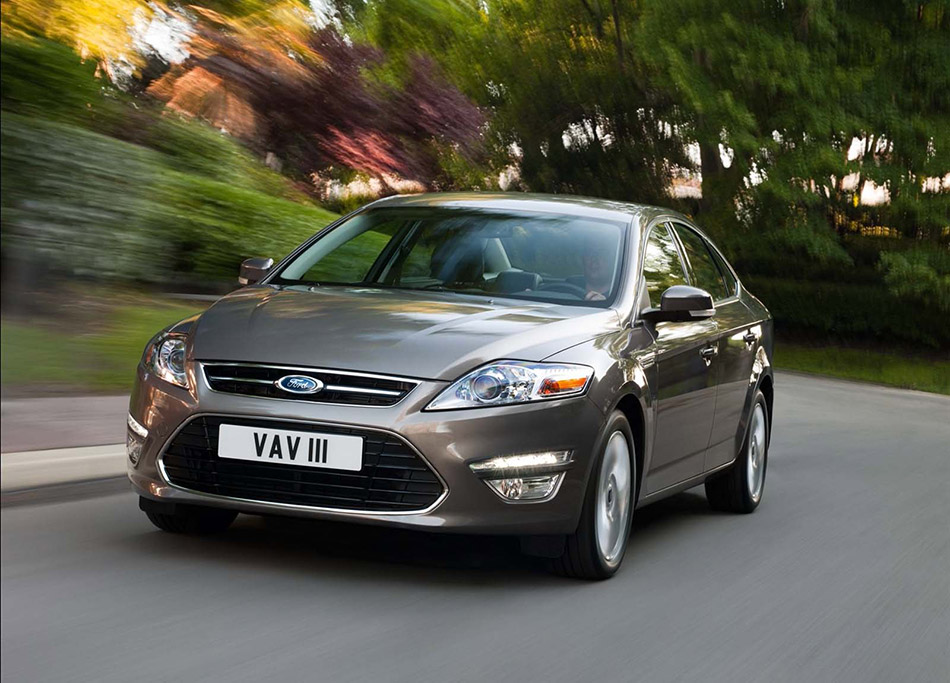 Mondeo Design
The new Ford Mondeo is set to build on the model's established reputation as a stylish, versatile and great-to-drive vehicle, and for offering high levels of driving enjoyment and comfort to its occupants.
Central to this is the application of a fresh look for all three body styles, four-door, five-door and wagon, to distinguish the new model. Ford's design team set out to emphasise further the kinetic design signatures in each body style while incorporating new technologies such as LED lighting.
Bolder graphics and proportions at the front end, including larger lower trapezoidal and slimmer upper grilles, plus a revised bonnet profile and integral new LED day running lights further emphasise the Ford Mondeo's premium appeal and sporty stance.
New Mondeo's sleek lines are emphasised in the side profile by a new, full chrome window surround for the higher series models, while larger, re-designed, LED tail lamps give additional kinetic movement to the rear.
Overall the revised exterior design for new Ford Mondeo complements its premium feel and enhanced quality while hinting strongly at the model's sporty dynamics and performance.
Sophisticated Interior
The interior of the new Mondeo has also been comprehensively reworked to give it a higher level of quality and sophistication through meticulous attention to detail, and by employing new, higher quality trim materials.
The re-designed centre console flows more elegantly, while the door panels feature a new 'toproll' and flush, integrated, door release mechanisms. Further enhancements include a new central overhead console featuring LED ambient lighting, and a woven headliner.
The use of new high quality interior trim materials in new Ford Mondeo boost the overall feeling of craftsmanship and are complemented by high-class inlay foils and new 'jewel' detailing on switches and vents in satin chrome. New interior colour schemes also offer two new lighter interior executions for a rich, premium, appeal.
A wide range of new interior features also is introduced on the new Mondeo. As well as the introduction of LED interior lighting, improved audio and new Sat-Nav systems, music lovers will be able to enjoy the new Ford Premium Sound System option - an all-new audiophile system offering an eight-channel amplifier unit with total power output of 265 Watts, an all-new speaker system, which includes an instrument panel-mounted centre unit and a large 17-litre subwoofer located in the luggage compartment.
New Powertrains: Ford EcoBoost, Ford Duratorq TDCi and Ford PowerShift
The new Ford Mondeo offers a wide range of Ford's latest high-efficiency powertrain technologies, delivering a key combination of fuel efficiency and low emissions, yet still maintaining Ford's renowned driving enjoyment. The range includes Ford EcoBoost petrol, Duratorq diesel and E85 Bio ethanol Flexifuel options.
New Mondeo is the first Ford of Europe model to feature a more powerful 240 PS version of the 2.0-litre Ford EcoBoost power unit. This joins the existing 203 PS engine already available in Ford Mondeo and the new S-MAX and Galaxy,
Lightweight all-aluminum construction is the key to the new 2.0-litre Ford EcoBoost engine, which features latest-generation high-pressure direct injection, low-inertia turbocharging and twin independent variable cam timing. It has an advanced combustion system which contributes significantly to achieving new levels of performance and fuel efficiency for petrol engines in this power range.
Average CO2 emissions of just 179 g/km are achieved for the 2.0-litre Ford EcoBoost engine, regardless of the power rating or body style. Ford EcoBoost technology offers fuel consumption and emission reductions of up to 20 per cent compared with conventional petrol engines of a similar performance.
New Ford Mondeo also introduces a significantly re-engineered version of the 2.2-litre Ford Duratorq TDCi diesel engine, which now boasts a 12 per cent peak power increase to 200 PS, making it the most powerful Ford Duratorq diesel to date.
This new powerhouse is joined by the significantly improved 2.0-litre Duratorq TDCi diesel introduced to the Mondeo range earlier this year, and available with 115, 140 or 163 PS power ratings, all three of which deliver average CO2 emissions of just 139 g/km with a six-speed manual transmission and regardless of body style.
Existing 1.6- and 2.0-litre Ford Duratec petrol engines have also been retained, offering 120 and 145 PS outputs
For customers seeking a Flexible Fuel option - capable of running on a selection of fuel from regular petrol to E85 bio ethanol - the 2.0-litre petrol engine can be specified.
New 1.6-litre engines from the Ford EcoBoost petrol and Duratorq TDCi diesel engine families will be available in the future to extend the wide powertrain choice even further.
New Ford ECOnetic Technologies are also available on new Ford Mondeo to help ensure efficient and economical motoring. Innovations include Smart Regenerative Charging, the Ford Eco Mode driver information system and, for the first time in a Ford model, an Active Grille Shutter system. This electronically controlled device regulates the airflow through the radiator and engine compartment, reducing aerodynamic drag and benefitting engine heating characteristics to improve fuel economy and warm-up performance, particularly in cold climates.
Powertrain advances seen in the new Ford Mondeo also extend to the transmission, with the latest Ford PowerShift double wet-clutch transmission system fitted as standard equipment with Ford EcoBoost petrol engines and available as an option with 140 PS and 163 PS versions of the 2.0-litre Duratorq TDCi.
New Technologies for Enhanced Safety and Comfort
The new Mondeo range is packed with available technologies to provide customers with even higher levels of comfort and confidence.
A wide range of the latest driver assistance technologies includes Lane Departure Warning, Driver Alert and Auto High Beam, all of which utilise a new high sensitivity camera unit located at the top of the windscreen in front of the rear view mirror.
Also extending to Ford Mondeo are many features already introduced on the latest S-MAX and Galaxy models, including Ford's Blind Spot Information System, Speed Limiter, Rear Door Power Child Locks and Rear View Camera. LED lighting technology is used for the daytime running lights and rear tail and brake lamps as well as inside the car.
More And Smarter Technology For Safety and Convenience
The new Mondeo is the most technologically advanced Mondeo model to date, and is packed with next generation driver assistance features - some are all-new to Ford of Europe and others are already proven in other Ford vehicles such as the new S-MAX and Galaxy models.
With all-new high-tech features, like Lane Departure Warning, Driver Alert and Auto High Beam, Ford is setting new standards of expectation for customers in driver assistance aids, all of which are based around a high-sensitivity camera unit located in the top of the windscreen ahead of the rear view mirror.
"Like all driver assistance technologies offered by Ford, these have not been developed to take away overall responsibility from the driver. They do, though, offer valuable support and contribute to higher levels of driver comfort and confidence" said Rolf Deges.
Significantly, all of the new technologies introduced for new Ford Mondeo will also be concurrently shared with the latest S-MAX and Galaxy models.
New Lane Departure Warning
This system employs the forward-looking camera to continuously monitor the road ahead and evaluate where the car is in relation to lane markings. If it detects that a wheel is approaching a lane marking, the driver is alerted to this by a vibration through the steering wheel and is able to take appropriate avoiding action.
This feedback is achieved using an electric motor with asymmetric mass, which generates the vibrations and feeds them into the steering wheel. If the driver uses the turn indicator, or the driving situation suggests an intended lane change, the alert is suppressed. The system's sensitivity has a two-stage adjustment to suit driver preference, while the warning intensity can also be altered to meet an individual driver's taste.
The Lane Departure Warning system is deactivated at speeds below 60 km/h (37 mph) to avoid distraction in urban conditions and can also be switched off manually if desired.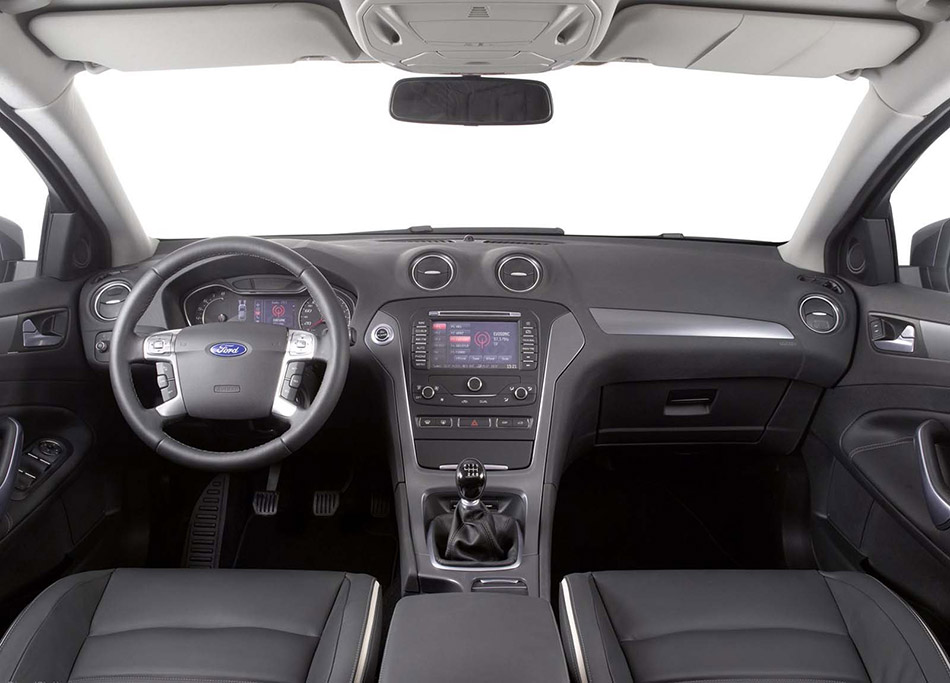 New Driver Alert
Driver Alert computes the driver's awareness level, based on statistical analysis of lane information collected by the forward looking camera and the vehicle yaw behaviour, and shows it in the instrument cluster on request.
Additionally, if the computed awareness level falls below a pre-set point - for instance, if the driver is getting tired or potentially even falls into micro-sleep - a warning chime sounds along with driver advice in the instrument cluster to take a break.
New Auto High Beam
This new system maximises the usage of the headlamp high beam facility to improve driver vision significantly during night conditions. It also makes use of the forward-looking camera to detect light sources ahead and, in the case of oncoming vehicles, automatically switches the lights to low beam to avoid glare.
Additionally, the system will detect red tail lights ahead, even those with lower luminance, to make sure motorists in front are not distracted by high beam lights shining in their rear view mirrors. The high beam is also automatically deactivated in urban areas.
Blind Spot Information System
This radar-based system encourages the driver to be even more thorough when checking for passing vehicles, by providing an alert to any adjacent vehicle in the driver's blind spot zones on both left and right sides of the vehicle.
It utilises two multiple-beam radar modules located on the outer corners of the rear bumper, which identify vehicles entering a defined blind spot zone and illuminate an LED indicator light on the corresponding side view mirror. This provides the driver with a strong visual warning that a vehicle is adjacent.
The defined blind spot area ranges from the side mirror to approximately three metres behind the rear of the vehicle, with a sidewards range of about three metres as well. The system automatically operates from speeds as low as 10 km/h - a much broader operational range than other comparable systems currently available on the market.
Speed Limiter
This is designed to help the driver set a speed limit of choice, which the vehicle will then prevent them from unintentionally exceeding. Independently of the vehicle's current speed, with Speed Limiter the driver can select a maximum speed (such the appropriate urban speed limit or a temporary roadworks speed limit) beyond which the accelerator pedal will not accept additional input. The driver can drive the car normally up to that pre-selected speed.
The instrument panel display provides the driver with information about the set speed and the system status. When necessary, the system can be overruled by throttle pedal "kick-down".
Rear Door Power Child Locks
When this option is taken, the rear power window deactivation switch in the driver's door panel also operates a rear door power lock. This feature offers customers more flexibility, convenience and control when carrying children in the rear seats.
LED Day Running Lights
The new Ford Mondeo Titanium and Titanium S models are fitted with distinctive LED daytime running lights as standard. Located on either side at the front, adjacent to the bumper vents, the four-LED units enhance Ford Mondeo's sporty appeal and create a unique appearance for the new model.
By using the latest LED technology, power consumed by the daytime running lights is limited and has virtually no impact on fuel consumption.
LED Tail Lamps
All versions of the new Mondeo have long-lasting LED tail and brake lights as standard, contributing to high visibility and adding a distinctive night time appearance.
Rear View Camera
A new tailgate-mounted camera is optional with new Ford Mondeo when equipped with the range-topping DVD/SD PLUS navigation system and Parking Distance Sensors. This provides a clear, wide view of the area to the rear of the car, displayed automatically on the seven-inch colour display screen when reverse gear is selected. The wide-angle view provided is of a sufficiently low level to help the driver avoid small obstacles and to reduce the risk of reversing into them.
New audio and infotainment features for Ford Mondeo
A choice of new audio and infotainment features enhance the already comprehensive list of options and include Digital Audio Broadcast capability.
All audio systems available in the new Mondeo are also now fully MP3 capable and the standard radio diversity antennas are now integrated into the window glass, helping to improve external appearance by removing the need for a roof-mounted aerial. Where fitted, the GPS antenna is also no longer visible being integrated into the rain sensor housing located behind the windscreen.
Ford Premium Sound System
A powerful new audiophile in-car music option, the Ford Premium Sound System, has been designed to offer a concert hall sound experience with detailed sound-staging and lots of dynamic headroom.
Available in conjunction with the Ford CD/SD PLUS navigation system and Sony CD systems, this all-new premium equipment offers a 265-watt (total power) eight-channel amplifier, an all-new speaker system, including a centrally-mounted instrument panel unit and 17-litre subwoofer located in the luggage compartment.
Full DSP (Digital Signal Processor) functionalities contribute to the high quality sound-staging and enable customers to adjust the sound to their personal tastes.
A total of 10 high performance speakers are integrated into the Ford Mondeo interior and, as a result of careful component matching and basic setup, the performance of the Ford Premium Sound System is ideal for the discerning audiophile - even at low volumes.
Source: Ford
Gallery:
Ford Mondeo 5-door (2011)