Ford of Europe is launching the most stylish and technologically advanced Ford Mondeo model ever. With a fresh, restyled exterior, an enhanced interior, plus new high-efficiency Ford EcoBoost petrol and TDCi diesel powertrains and a host of new driver comfort and convenience features and safety technologies, the new Mondeo completes the rejuvenation of Ford's large car range, and takes its position as the flagship model in the company's European portfolio.
Following significant updates to the Ford S-MAX and Galaxy, the new Ford Mondeo is the latest Ford car to benefit from the continuing evolution of Ford kinetic design, with subtle visual differences incorporated into key areas such as the front and rear end.
The Ford Mondeo interior has also benefitted from a comprehensive rework with changes to the centre console and door panels, plus a range of new, high quality materials.
New Mondeo will see the first application of a higher performance 240 PS derivative of the efficient new 2.0-litre Ford EcoBoost turbocharged petrol engine, joining the existing 203 PS version of this engine, introduced in Ford Mondeo, new S-MAX and new Galaxy early in 2010.
The latest Ford Mondeo also introduces a comprehensively revised version of the 2.2-litre Ford Duratorq TDCi diesel engine, which boasts a 12 per cent power increase to 200 PS, making it the most powerful Ford Duratorq diesel engine so far.
Ford ECOnetic Technologies are also applied to the new Mondeo range to enhance efficiency and economy, and include new features like Smart Regenerative Charging, the Ford Eco Mode driver information system and - a Ford first - an Active Grille Shutter system.
Driver assistance, comfort and convenience features abound in the new Ford Mondeo and many of these are appearing for the first time in a Ford model, including systems for Lane Departure Warning, Driver Alert and Auto High Beam.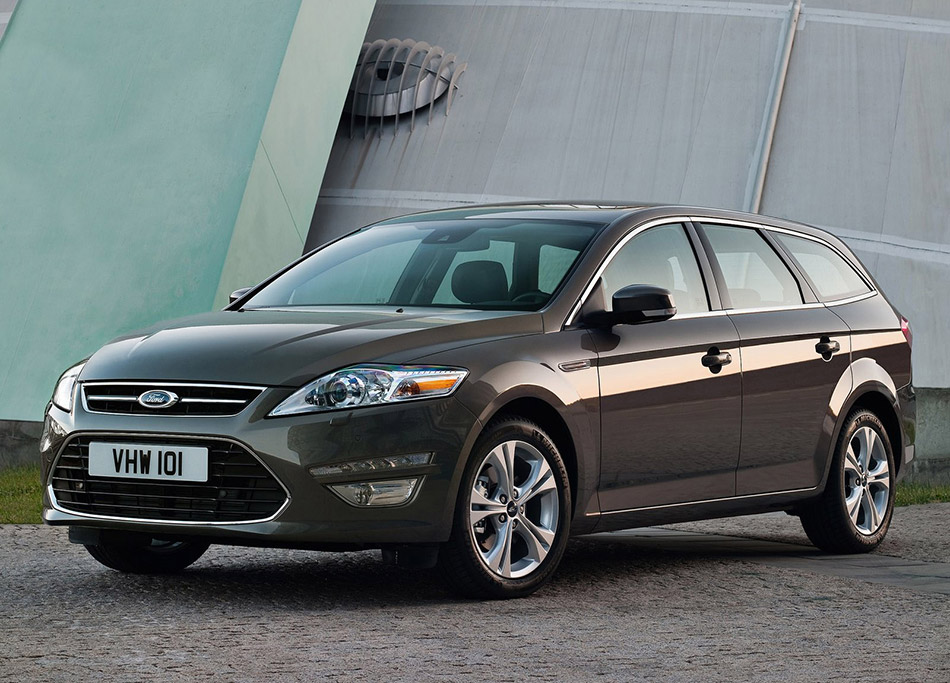 Mondeo Design
The new Ford Mondeo is set to build on the model's established reputation as a stylish, versatile and great-to-drive vehicle, and for offering high levels of driving enjoyment and comfort to its occupants.
Central to this is the application of a fresh look for all three body styles, four-door, five-door and wagon, to distinguish the new model. Ford's design team set out to emphasise further the kinetic design signatures in each body style while incorporating new technologies such as LED lighting.
Bolder graphics and proportions at the front end, including larger lower trapezoidal and slimmer upper grilles, plus a revised bonnet profile and integral new LED day running lights further emphasise the Ford Mondeo's premium appeal and sporty stance.
New Mondeo's sleek lines are emphasised in the side profile by a new, full chrome window surround for the higher series models, while larger, re-designed, LED tail lamps give additional kinetic movement to the rear.
Overall the revised exterior design for new Ford Mondeo complements its premium feel and enhanced quality while hinting strongly at the model's sporty dynamics and performance.
Sophisticated Interior
The interior of the new Mondeo has also been comprehensively reworked to give it a higher level of quality and sophistication through meticulous attention to detail, and by employing new, higher quality trim materials.
The re-designed centre console flows more elegantly, while the door panels feature a new 'toproll' and flush, integrated, door release mechanisms. Further enhancements include a new central overhead console featuring LED ambient lighting, and a woven headliner.
The use of new high quality interior trim materials in new Ford Mondeo boost the overall feeling of craftsmanship and are complemented by high-class inlay foils and new 'jewel' detailing on switches and vents in satin chrome. New interior colour schemes also offer two new lighter interior executions for a rich, premium, appeal.
A wide range of new interior features also is introduced on the new Mondeo. As well as the introduction of LED interior lighting, improved audio and new Sat-Nav systems, music lovers will be able to enjoy the new Ford Premium Sound System option - an all-new audiophile system offering an eight-channel amplifier unit with total power output of 265 Watts, an all-new speaker system, which includes an instrument panel-mounted centre unit and a large 17-litre subwoofer located in the luggage compartment.
New Powertrains: Ford EcoBoost, Ford Duratorq TDCi and Ford PowerShift
The new Ford Mondeo offers a wide range of Ford's latest high-efficiency powertrain technologies, delivering a key combination of fuel efficiency and low emissions, yet still maintaining Ford's renowned driving enjoyment. The range includes Ford EcoBoost petrol, Duratorq diesel and E85 Bio ethanol Flexifuel options.
New Mondeo is the first Ford of Europe model to feature a more powerful 240 PS version of the 2.0-litre Ford EcoBoost power unit. This joins the existing 203 PS engine already available in Ford Mondeo and the new S-MAX and Galaxy,
Lightweight all-aluminum construction is the key to the new 2.0-litre Ford EcoBoost engine, which features latest-generation high-pressure direct injection, low-inertia turbocharging and twin independent variable cam timing. It has an advanced combustion system which contributes significantly to achieving new levels of performance and fuel efficiency for petrol engines in this power range.
Average CO2 emissions of just 179 g/km are achieved for the 2.0-litre Ford EcoBoost engine, regardless of the power rating or body style. Ford EcoBoost technology offers fuel consumption and emission reductions of up to 20 per cent compared with conventional petrol engines of a similar performance.
New Ford Mondeo also introduces a significantly re-engineered version of the 2.2-litre Ford Duratorq TDCi diesel engine, which now boasts a 12 per cent peak power increase to 200 PS, making it the most powerful Ford Duratorq diesel to date.
This new powerhouse is joined by the significantly improved 2.0-litre Duratorq TDCi diesel introduced to the Mondeo range earlier this year, and available with 115, 140 or 163 PS power ratings, all three of which deliver average CO2 emissions of just 139 g/km with a six-speed manual transmission and regardless of body style.
Existing 1.6- and 2.0-litre Ford Duratec petrol engines have also been retained, offering 120 and 145 PS outputs
For customers seeking a Flexible Fuel option - capable of running on a selection of fuel from regular petrol to E85 bio ethanol - the 2.0-litre petrol engine can be specified.
New 1.6-litre engines from the Ford EcoBoost petrol and Duratorq TDCi diesel engine families will be available in the future to extend the wide powertrain choice even further.
New Ford ECOnetic Technologies are also available on new Ford Mondeo to help ensure efficient and economical motoring. Innovations include Smart Regenerative Charging, the Ford Eco Mode driver information system and, for the first time in a Ford model, an Active Grille Shutter system. This electronically controlled device regulates the airflow through the radiator and engine compartment, reducing aerodynamic drag and benefitting engine heating characteristics to improve fuel economy and warm-up performance, particularly in cold climates.
Powertrain advances seen in the new Ford Mondeo also extend to the transmission, with the latest Ford PowerShift double wet-clutch transmission system fitted as standard equipment with Ford EcoBoost petrol engines and available as an option with 140 PS and 163 PS versions of the 2.0-litre Duratorq TDCi.
New Technologies for Enhanced Safety and Comfort
The new Mondeo range is packed with available technologies to provide customers with even higher levels of comfort and confidence.
A wide range of the latest driver assistance technologies includes Lane Departure Warning, Driver Alert and Auto High Beam, all of which utilise a new high sensitivity camera unit located at the top of the windscreen in front of the rear view mirror.
Also extending to Ford Mondeo are many features already introduced on the latest S-MAX and Galaxy models, including Ford's Blind Spot Information System, Speed Limiter, Rear Door Power Child Locks and Rear View Camera. LED lighting technology is used for the daytime running lights and rear tail and brake lamps as well as inside the car.
More And Smarter Technology For Safety and Convenience
The new Mondeo is the most technologically advanced Mondeo model to date, and is packed with next generation driver assistance features - some are all-new to Ford of Europe and others are already proven in other Ford vehicles such as the new S-MAX and Galaxy models.
With all-new high-tech features, like Lane Departure Warning, Driver Alert and Auto High Beam, Ford is setting new standards of expectation for customers in driver assistance aids, all of which are based around a high-sensitivity camera unit located in the top of the windscreen ahead of the rear view mirror.
"Like all driver assistance technologies offered by Ford, these have not been developed to take away overall responsibility from the driver. They do, though, offer valuable support and contribute to higher levels of driver comfort and confidence" said Rolf Deges.
Significantly, all of the new technologies introduced for new Ford Mondeo will also be concurrently shared with the latest S-MAX and Galaxy models.
New Lane Departure Warning
This system employs the forward-looking camera to continuously monitor the road ahead and evaluate where the car is in relation to lane markings. If it detects that a wheel is approaching a lane marking, the driver is alerted to this by a vibration through the steering wheel and is able to take appropriate avoiding action.
This feedback is achieved using an electric motor with asymmetric mass, which generates the vibrations and feeds them into the steering wheel. If the driver uses the turn indicator, or the driving situation suggests an intended lane change, the alert is suppressed. The system's sensitivity has a two-stage adjustment to suit driver preference, while the warning intensity can also be altered to meet an individual driver's taste.
The Lane Departure Warning system is deactivated at speeds below 60 km/h (37 mph) to avoid distraction in urban conditions and can also be switched off manually if desired.
New Driver Alert
Driver Alert computes the driver's awareness level, based on statistical analysis of lane information collected by the forward looking camera and the vehicle yaw behaviour, and shows it in the instrument cluster on request.
Additionally, if the computed awareness level falls below a pre-set point - for instance, if the driver is getting tired or potentially even falls into micro-sleep - a warning chime sounds along with driver advice in the instrument cluster to take a break.
New Auto High Beam
This new system maximises the usage of the headlamp high beam facility to improve driver vision significantly during night conditions. It also makes use of the forward-looking camera to detect light sources ahead and, in the case of oncoming vehicles, automatically switches the lights to low beam to avoid glare.
Additionally, the system will detect red tail lights ahead, even those with lower luminance, to make sure motorists in front are not distracted by high beam lights shining in their rear view mirrors. The high beam is also automatically deactivated in urban areas.
Blind Spot Information System
This radar-based system encourages the driver to be even more thorough when checking for passing vehicles, by providing an alert to any adjacent vehicle in the driver's blind spot zones on both left and right sides of the vehicle.
It utilises two multiple-beam radar modules located on the outer corners of the rear bumper, which identify vehicles entering a defined blind spot zone and illuminate an LED indicator light on the corresponding side view mirror. This provides the driver with a strong visual warning that a vehicle is adjacent.
The defined blind spot area ranges from the side mirror to approximately three metres behind the rear of the vehicle, with a sidewards range of about three metres as well. The system automatically operates from speeds as low as 10 km/h - a much broader operational range than other comparable systems currently available on the market.
Speed Limiter
This is designed to help the driver set a speed limit of choice, which the vehicle will then prevent them from unintentionally exceeding. Independently of the vehicle's current speed, with Speed Limiter the driver can select a maximum speed (such the appropriate urban speed limit or a temporary roadworks speed limit) beyond which the accelerator pedal will not accept additional input. The driver can drive the car normally up to that pre-selected speed.
The instrument panel display provides the driver with information about the set speed and the system status. When necessary, the system can be overruled by throttle pedal "kick-down".
Rear Door Power Child Locks
When this option is taken, the rear power window deactivation switch in the driver's door panel also operates a rear door power lock. This feature offers customers more flexibility, convenience and control when carrying children in the rear seats.
LED Day Running Lights
The new Ford Mondeo Titanium and Titanium S models are fitted with distinctive LED daytime running lights as standard. Located on either side at the front, adjacent to the bumper vents, the four-LED units enhance Ford Mondeo's sporty appeal and create a unique appearance for the new model.
By using the latest LED technology, power consumed by the daytime running lights is limited and has virtually no impact on fuel consumption.
LED Tail Lamps
All versions of the new Mondeo have long-lasting LED tail and brake lights as standard, contributing to high visibility and adding a distinctive night time appearance.
Rear View Camera
A new tailgate-mounted camera is optional with new Ford Mondeo when equipped with the range-topping DVD/SD PLUS navigation system and Parking Distance Sensors. This provides a clear, wide view of the area to the rear of the car, displayed automatically on the seven-inch colour display screen when reverse gear is selected. The wide-angle view provided is of a sufficiently low level to help the driver avoid small obstacles and to reduce the risk of reversing into them.
New audio and infotainment features for Ford Mondeo
A choice of new audio and infotainment features enhance the already comprehensive list of options and include Digital Audio Broadcast capability.
All audio systems available in the new Mondeo are also now fully MP3 capable and the standard radio diversity antennas are now integrated into the window glass, helping to improve external appearance by removing the need for a roof-mounted aerial. Where fitted, the GPS antenna is also no longer visible being integrated into the rain sensor housing located behind the windscreen.
Ford Premium Sound System
A powerful new audiophile in-car music option, the Ford Premium Sound System, has been designed to offer a concert hall sound experience with detailed sound-staging and lots of dynamic headroom.
Available in conjunction with the Ford CD/SD PLUS navigation system and Sony CD systems, this all-new premium equipment offers a 265-watt (total power) eight-channel amplifier, an all-new speaker system, including a centrally-mounted instrument panel unit and 17-litre subwoofer located in the luggage compartment.
Full DSP (Digital Signal Processor) functionalities contribute to the high quality sound-staging and enable customers to adjust the sound to their personal tastes.
A total of 10 high performance speakers are integrated into the Ford Mondeo interior and, as a result of careful component matching and basic setup, the performance of the Ford Premium Sound System is ideal for the discerning audiophile - even at low volumes.
New Ford Navigation Systems
Two new navigation systems are introduced with the latest Mondeo range.
The CD/SD navigation system offers a seven-inch colour touch-screen with fresh new colour execution, a total of eight speakers, remote audio controls, MP3 compatibility and external AUX connection for external music sources. Touch-screen functionality allows control of radio, CD, the navigation system, dual electronic air conditioning and mobile phone. By employing three tuners and two antenna phase diversity radio systems, superior radio signal reception can be achieved and the new overall layout provides instantaneous response to any user input. Another new integrated feature in the map display is speed limit information. The package also includes Bluetooth® Hands-Free Phone and Voice Control System with USB/iPod® connectivity port.
CD/SD PLUS navigation system, also with a seven-inch colour touch-screen, comes with nine premium speakers - including one mounted in the central instrument panel - and offers full compatibility with the optional Rear View Camera and Premium Sound Systems.
An affordable alternative is the new Ford Mobile Navigation System, which enhances the standard in-car entertainment (ICE) system by adding the ability to integrate the latest generation of 'smart' mobile telephones, providing a practical satellite navigation facility for drivers to rival stand-alone accessory units usually seen fitted to the windscreen.
Multi-media DVD System
Rear seat passengers of the new Ford Mondeo are not forgotten either, with an optional Multi-media DVD system available for them. This includes a DVD player located under the front passenger's seat, two seven-inch LCD screens integrated into the rear of the front seat headrests, an infra-red remote control and two pairs of infra-red headphones.
More Performance: The 2.0-litre Ford EcoBoost Engine
The new global family of Ford EcoBoost engines features direct petrol injection, turbocharging and twin variable valve timing to maximise combustion efficiency, resulting in fuel consumption and CO2 emissions reduced by up to 20 per cent, compared with conventional petrol engines providing similar power output.
The core strategy behind Ford's EcoBoost programme is to achieve downsized petrol engines which use less fuel and lower emissions yet, through the use of turbocharging and other powertrain technologies, deliver significantly improved fuel economy and torque with the performance of larger capacity engines.
Mondeo's new 240 PS version of the 2.0-litre Ford EcoBoost engine shares the same basic technologies and design of the popular 203 PS version, which was launched in the S-MAX, Galaxy and Mondeo earlier in 2010 and which will continue to be available in the new Ford Mondeo range. It does, however, benefit from significant changes to the exhaust manifold and overall engine calibration to facilitate delivery of the extra 37 PS of power.
The 203 PS (149 kW) version delivers its impressive peak power at 6,000 rpm, combined with maximum torque of 300 Nm delivered across a broad 1,750-4,500 rpm range. The new engine produces its 240PS (176 kW) at 6,000rpm with maximum torque of 340 Nm, through the rev range from 1,900 to 3,500 rpm, with an impressive 320 Nm of torque still being available at 5,000 rpm.
Both of the 2.0-litre Ford EcoBoost engines are available exclusively with the smooth and effortless six-speed Ford PowerShift double wet-clutch automatic transmission, providing drivers with a powertrain which combines outstanding performance and efficiency with supreme refinement.
Despite the responsive performance figures, both versions of the new 2.0-litre Ford EcoBoost engine allow the new Mondeo to deliver impressive fuel economy and low CO2 emissions.
Irrespective of power output or body style a combined fuel consumption of 7.7 l/100 km (36.6 mpg) can be achieved. This translates into average CO2 emissions of just 179 g/km. Compared with the previous 161 PS 2.3-litre automatic powertrain of the previous Ford Mondeo, CO2 emissions are reduced by 19 per cent, even though the new 2.0-litre engine has up to almost 50 per cent more power and 60 per cent more torque.
The Sound of Power
Ford engineers have engineered the new Mondeo's 240 PS Ford EcoBoost engine to ensure its extra performance is heard as well as experienced.
A new exhaust manifold design was developed, based on that fitted to the 203 PS version, but further engineered to withstand the higher temperatures generated by the higher power output. This is particularly relevant when the engine is driven consistently hard over long distances, and it also delivers a perfect flow of exhaust gas to drive the Borg Warner K03 turbocharger in the most efficient way. In addition, the entire engine management system has been re-programmed and calibrated to achieve the higher power and torque levels without impacting fuel economy or CO2 levels.
One particularly significant change is aimed at the driver's emotions: "We felt obliged to reward drivers of the 240 PS version by including Ford's famous and sporty Sound Symposer technology," Dr. Rechs said.
Initially developed for the Ford Focus ST and RS performance cars, the 'Sound Symposer' system amplifies selected engine frequencies that convey satisfying engine sounds into the cabin by employing a purpose-designed link between the air intake manifold and the cabin's front bulkhead.
As with all aspects of the engine, the symposer system has been adapted and tuned to fit the specific character of the Ford Mondeo, providing a distinctive and sporty sound in the cabin, without any raw edge. Under full acceleration the symposer increases the sound envelope by 3 dB(A) on average, which results in more powerful and sporty sounding feedback than with the 203 PS version.
Ford EcoBoost benefits
Lightweight all-aluminium construction, the latest generation high-pressure direct-injection system, low-inertia turbocharging and twin independent variable cam timing, all contribute to the 2.0-litre Ford EcoBoost achieving new levels of performance and fuel efficiency for petrol engines in this power range. The company's powertrain engineers have maximised the improvements delivered by creating an advanced new combustion system combining the benefits of these three critical elements.
At the heart of the combustion system is the latest-generation high pressure direct-injection technology which injects fuel into each cylinder in small, precise amounts. The 2.0-litre EcoBoost engine features side-mounted seven-hole injectors which operate at 150 bar, using a system which directs the individual fuel plumes exactly where they are needed for efficient combustion. Compared to conventional fuel injection, direct-injection produces a cooler and denser charge, enabling the 2.0-litre Ford EcoBoost engine to operate with a higher compression ratio and increased boost from the turbocharger, resulting in improved fuel efficiency and strong low-end performance.
To maximise driver enjoyment, Ford EcoBoost engines deliver the same strong low-end torque which has made the latest diesel engines so popular, combined with refined and responsive performance across the full engine speed range. This is made possible by using advanced turbocharger technology, with small, low-inertia rotors that spin at speeds in excess of 200,000 rpm. The 2.0-litre engine features a Borg Warner K03 turbocharger with optimised design to ensure that maximum torque is achieved at very low engine revs (1,500 rpm), with the absolute minimum of delay (or 'turbo-lag') when the driver requires quick acceleration.
Conversely, careful matching of the turbo charger ensures that Ford EcoBoost engines remain powerful and responsive at speeds in excess of 5,000 rpm, providing a much wider spread of power than a typical diesel unit. For example, the driver can call upon 90 per cent of peak torque between 1,400 and 5,500 rpm. This broad spread of power also enables higher gearing to be used, further benefiting fuel economy and refinement.
The 2.0-litre Ford EcoBoost engine features independently variable timing on both intake and exhaust camshafts, optimising gas flow through the combustion chamber at all engine speeds. The TiVCT (Twin independent Variable Camshaft Timing) system plays a significant role in improving engine efficiency and performance, particularly at part load.
The use of TiVCT has also allowed engineers further to enhance low-end torque by exploiting a 'scavenging' effect. Scavenging takes advantage of pressure differences between the intake and exhaust manifolds to increase the flow of cooler, fresh air through the engine at low speeds, generating increased torque and helping the turbo to spin up more quickly. The TiVCT system uses vane-type actuators driven by oil pressure, and can vary the camshaft angle by 50 degrees on both individually the intake and exhaust valves.
Engine design has been optimised for maximum operating efficiency, with a particular focus on minimising friction and other parasitic losses. Specific features include the use of special low-friction coatings on the piston rings and highly polished surfaces on the tappets.
Because this 2.0-litre engine is downsized compared with the 2.5-litre five-cylinder engine it replaces, this brings additional efficiency advantages from reduced internal friction, lower pumping losses, lighter weight and quicker warm up and helps to ensure that the real-world fuel economy benefits of the engine are delivered in all driving conditions, including both city and motorway driving.
To ensure that optimum engine performance is maintained at all times, a state-of-the-art electronic management system monitors all key variables including the TiVCT system, turbo boost, electronic throttle position, ignition timing, fuel-injection pressure and delivery, and the knock sensor. The controller operates in real time, taking data samples from the engine thousands of times per second.
A key factor is the engine's ability to heat up the exhaust catalyst extremely quickly during critical cold start conditions. This is achieved by optimising the valve timing using the TiVCT system and using the capability of the fuel injection system to deliver multiple injections per combustion cycle.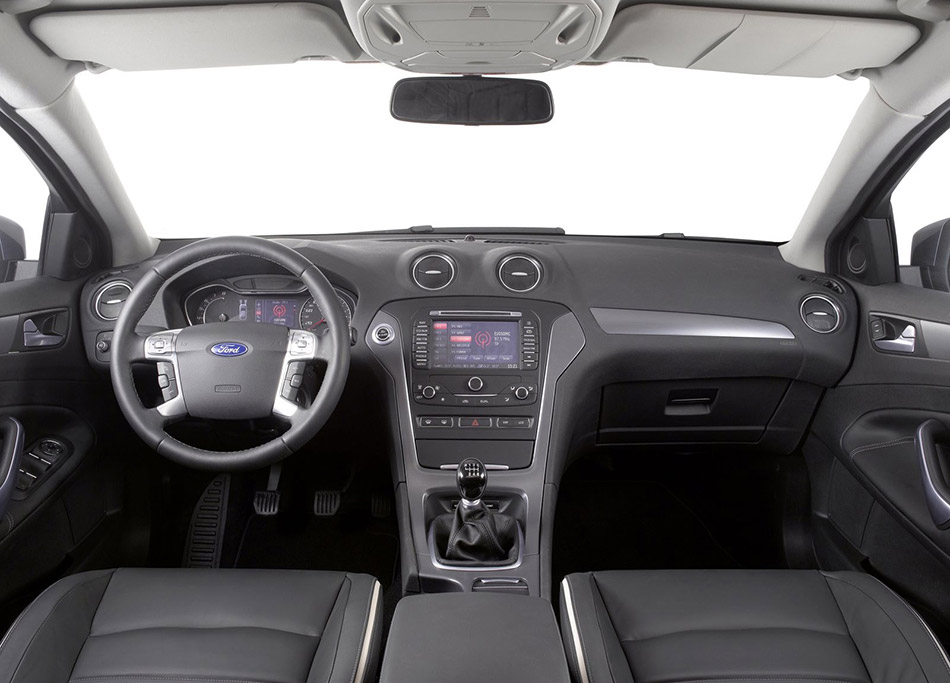 Refined Ford Duratorq TDCi 2.0-litre
At the heart of the new Mondeo's diesel engine line-up is a significantly improved 2.0-litre Ford Duratorq TDCi engine family, which fully complies with Stage V emission regulations and which is now available with three power outputs - 115 PS, 140 PS and 163 PS (85, 103 and 120 kW).
These engines are especially notable for their strong driveability, enhanced by delivery of high torque levels at low revs - 300 Nm at just 1,500 - 2,250 rpm in the case of the 115 PS version, 320 Nm at 1750 - 2.750 rpm with the 140 PS and 340 Nm at 2,000 - 3,250 rpm with the 163 PS engines.
With characteristically refined performance and low cost of ownership, the new Duratorq TDCi engines also deliver impressive combined fuel economy and CO2 performance. With fuel consumption of 5.3 l/100 km (53.2 mpg) and an average CO2 emission of just 139 g/km, all of the new Ford Mondeo TDCi models with six-speed manual transmission deliver figures that were formerly only achieved by the dedicated Mondeo ECOnetic model.
As an alternative to the manual transmission option, both 140 and 163 PS (103 and 120 kW) versions of the 2.0-litre Duratorq TDCi are also available with the acclaimed Ford PowerShift six-speed double wet-clutch automatic transmission, delivering a combined fuel economy of just 5.6 l/100km (50.4 mpg), with an average CO2 emission of 149 g/km.
Value powertrains complete the range
In addition to the new 2.0-litre EcoBoost petrol and 2.0- and 2.2-litre Duratorq TDCi diesel engines, the new Ford Mondeo range offers other petrol options for value-seeking customers in the large car market.
Also available are 1.6- and 2.0-litre Duratec petrol engines - the latter also offered as a Flexible Fuel Vehicle version capable of using each fuel blend from regular petrol to E85 bio ethanol - providing power outputs from 120 PS (88 kW) to 145 PS (107), coupled with a 5-speed manual transmissions. Details of these engines are provided in the technical specifications section.
More to Come
More exciting powertrains - including additional 1.6-litre displacement engines from the Ford EcoBoost and Duratorq TDCi families - will also be made available for the new Ford Mondeo shortly. Further information will be made available closer to launch.
Ford ECOnetic Technologies - For Fuel Economy and Lower CO2
Following the launch its first dedicated high-economy car in 2007 - the Focus ECOnetic - Ford has consistently ensured that key technologies applied to its ECOnetic range of vehicles are also available more widely to customers who choose regular versions, but still want to achieve the lowest possible carbon footprint in their motoring. To that end, Ford has introduced its Ford's ECOnetic Technologies programme, which clearly identifies for customers the features they can choose that have a beneficial impact on both fuel economy and emissions.
The new Ford Mondeo range includes two innovative Ford ECOnetic Technologies that have already been launched in the latest Focus ECOnetic. Smart Regenerative Charging and Ford Eco Mode will be included as standard equipment across the new Ford Mondeo range.
Ford's extensive experience with aerodynamic details has also resulted in another Ford ECOnetic Technologies feature making its debut in the European Ford range on the new Mondeo - Active Grille Shutter technology.
New Active Grille Shutter
Based on its experience with aerodynamic aids like grille blanking covers in the dedicated Ford ECOnetic models, Ford has now achieved another technology 'first' by realising significant cooling benefits from an Active Grille Shutter for the first time in a volume production car.
The new Ford Mondeo's Active Grille Shutter is located ahead of the front radiator on the bumper beam and automatically opens and closes in up to 15 different positions with six-degree incremental stages, altering both the overall aerodynamic drag of the vehicle and cooling level for the powertrain. Fully closed the Active Grille Shutter can improve aerodynamic drag by up to 6 per cent.
Optimised to achieve maximum fuel efficiency and guaranteed to help the engine warm up to its most efficient operating temperature quickly, a control unit keeps the shutter closed as long as possible during the initial start-up phase. Operating temperatures are continually monitored to ensure that any specific driving factors - including for instance high or low speed driving and towing - will not create undesirable temperature variations.
Active Grille Shutter will be standard on the new Mondeo where the 2.0-litre EcoBoost or 2.0-litre Duratorq TDCi engines are specified and will also be applied to other models in the future.
New Smart Regenerative Charging
The Smart Regenerative Charging system in new Mondeo uses advanced technology to ensure the battery stays efficiently charged, increasing alternator output during braking or deceleration and converting this kinetic energy into electric energy, without using additional fuel.
The 'free' electric current is then used to recharge the battery and can then be drawn on by the car's electrical systems at a later stage. An advanced management system continually monitors the battery status and communicates with the on-board electronics so the regenerative charging is most effectively applied.
Smart Regenerative Charging is standard on all versions of the new Ford Mondeo.
New Ford Eco Mode Driver Information System
Drivers of the new Ford Mondeo will not only be able to benefit from new technology hardware in achieving lower fuel consumption, but also from the introduction of the Ford Eco Mode smart, driver-focused software, which is standard equipment on all models.
Using algorithms developed from a comprehensive database of 'Eco-driving' techniques, Ford Eco Mode helps the driver to achieve maximum real-world fuel economy. The system is a new software application incorporated into the HMI instrument cluster of the new Mondeo and designed to give the driver useable and realistic Eco-driving advice.
It monitors the key parameters relevant to achieving optimal fuel consumption that can be influenced actively by altering driving behaviour. These include gear shifting, driver anticipation (driving as consistently and smoothly as possible) and motorway driving (driving at the most efficient speed in any conditions). The system even monitors the least-efficient cold-start short trips in its processing of data.
As a result of this, Ford Eco Mode provides the driver with an ongoing individual 'score' and offers information on how to improve fuel economy over time. It is a continual process that a driver can use to help make the best of the vehicle's array of onboard technology.
Ford PowerShift: Easy and Efficient
Ford PowerShift is standard equipment on new Ford Mondeo with either the 203 or 240 PS 2.0-litre EcoBoost engine - creating an advanced combination that delivers new levels of fuel efficiency and low CO2, yet still demonstrates that driving pleasure does not need to result in high CO2 emission levels. Ford PowerShift is also optional with 140 and 163 PS versions of the 2.0-litre Duratorq TDCi common rail turbo-diesel engine.
Developed by Getrag Ford Transmissions GmbH as a 50:50 Ford and GETRAG joint venture, the Ford Powershift transmission consists of two layshaft transmissions working in parallel, each with its own wet-clutch unit. Thanks to the layout of the intermediate shafts - one carrying the 'uneven' gears 1, 3 and 5, and the other the 'even' gears 2, 4 and 6 - subsequent gear changes can be prepared by pre-selecting the next gear while in motion and at full power. The change then takes place through the opposed activation of both clutches, this being co-ordinated to avoid torque interruption.
In contrast to conventional automatic transmissions, the basic technical configuration of the Ford PowerShift transmission offers numerous advantages. It does not, for instance, require any complex sub-systems such as torque converters, planetary gear sets, multiple wet-clutches and multiple bands - all of which significantly reduce gearbox efficiency through increased inertia and drag torque effects.
Homologated fuel economy data for the 203 and 240 PS 2.0-litre Ford EcoBoost engines paired with Ford PowerShift, clearly demonstrates how efficient a modern powertrain combination with automatic transmission can be. The new Mondeo with this state-of-the-art powertrain delivers a combined fuel economy of just 7.7 l/100 km (36.6 mpg) and an average CO2 emission level of just 179 g/km. The combination of Duratorq TDCi engine (140 or 163 PS) and Ford Powershift, generates an even more impressive combined fuel economy of just 5.6 l/100 km (50.4 mpg), with an average CO2 emission level of just 149 g/km.
For the driver, using Ford PowerShift is as simple and easy as a conventional automatic transmission, with a standard automatic gear lever in the centre console and the usual P, R, N and D settings available. In addition to this regular set-up, sport and manual modes can be selected by moving the gear lever to the right and into another adjacent position. In sport mode the transmission adjusts the shifting points to a higher revs for more performance, and down-shifts are executed more instantaneously if harder acceleration is required.
Enhanced Exterior
The most immediately obvious change to the new Ford Mondeo is its redesigned front end. Advanced pedestrian protection was a key factor in this re-design, which includes a new bonnet offering a more 3-D-like shape and enhanced profile.
The bonnet now has a sleeker, cleaner, finish, and the graphics and proportions of both upper and lower front grilles have also been modified. The upper grille is now slimmer, with a full chrome surround and, to boost the premium appearance (with high series models), chromed cross bars. The lower trapezoidal grille has been enlarged, to give a friendly and appealing look. On Ghia and Titanium versions both grilles are finished in high gloss black, with the lower grille also getting a full chrome surround.
Newly-designed fog lights flank the lower grille, and LED daytime running lights are integrated in the upper section of this area for Titanium and Titanium S versions. The combined effect of these changes is a lower and sleeker look, the bold front immediately differentiating the new Mondeo from its predecessor.
The side profile of high series models also benefits from the addition of a full chrome surround to the window area, creating the impression of a sleeker Ford Mondeo than before. New wheel designs, with up to 19-inch diameter options available for the first time, contribute to the distinctive new look.
At the rear, a larger tail lamp design incorporates the latest LED technology for rear and brake light functions. This striking 3-D appearance is both contemporary and elegant, providing a unique and strong night signature.
A re-designed rear deck lid matches the new rear light profile and also offers a more accentuated spoiler cut-off and three-dimensional graphics. Together with a new rear bumper design featuring a lower valence with integral fine mesh design and integrated tailpipes, the Mondeo's rear end looks sleeker, lower and wider, conveying both premium quality and sporty appeal.
Underlining attention to detail, another feature contributing to the clean overall appearance of the new exterior design is the integration of all radio diversity antennas into the window glass. This contributes to an improved aerodynamic drag for new Ford Mondeo, down to 0.29 for the four- and five-door versions and 0.30 for the wagon.
The choice of new exterior colours further enhances Mondeo's appeal and includes three elegant new options. 'Lunar Sky' is a mid-grey-brown that matches the new high-class exterior design perfectly, while the much lighter 'Micastone' and darker 'Midnight Sky' blue echo the latest in naturally-influenced tones. In all, customers have a choice of eight expressive metallic colours and two solid colours.
Fresh Interior
Turning their attention to the interior of Mondeo, Ford's designers focused on a more integrated and flush centre console as the point around which the new interior treatment would be created. In high series versions the integrated effect is even more pronounced, with a sliding cover that can be closed over the twin cup holders when not in use, and with a choice of high-quality inlay foils including high gloss black.
Subtle changes are also made to the graphic treatment flanking the centrally-mounted infotainment units in the instrument panel, with the latest Sony units finished in gloss black.
Other new foil finishes, including an elegant dark 'Mercury' theme for Ghia models, steel blue 'Brush Cool' for Titanium and sporty 'Carbotex' for Titanium S - perfectly complement the contrasting brightwork details on air vents and switches.
All instrument cluster graphics, including the HMI and Convers+ designs, have been thoroughly revised to provide enhanced clarity and integration.
A redesigned door card features a new 'toproll' and flush-fitting integrated door releases, plus larger, more dynamically shaped, deco spears running across the upper door area.
New materials and attention to detail - such as the new premium quality woven headliner and central overhead console with integrated switches and ambient LED lighting, contribute greatly to the fresh, highly integrated design. Upgraded fabrics and materials, including Alcantara and Windsor leather with contrasting inlaid seat piping help create the overall impression of premiumness and sporty elegance.
Completing the re-design of the interior and to match the sophistication of the exterior, new colour treatments have also been developed for Ford Mondeo, including light 'Micastone' grey or rich 'Cognac' brown leather seat trims.
Ford Individual
Additionally for new Mondeo, a range of Ford Individual vehicle personalisation options will be available, with three unique interior themes including full-leather trims in Beige with Ebony piping, Tan with Ebony and all-Ebony.
The Ford Individual Exterior Pack, available with all body styles and standard on the Titanium S, offers enhanced sportiness, including unique honeycomb-shaped upper and lower grille designs, body-coloured front and side skirts, a rear bumper with gloss black diffuser-style lower valence, and unique tailpipe finishers. A distinctive 18-inch five-spoke alloy wheel design in 'Mystique Silver' completes the Ford Individual approach.
Strong Series Differentiation to suit Customer Choice
The new Ford Mondeo has been developed to meet and exceed the high expectations of discerning customers for CD-Class cars. With its three available body styles - four-door saloon, five-door hatchback and wagon - as well as a comprehensive choice of equipment levels, Mondeo is more than capable of meeting the requirements of customers in this segment, regardless of whether they are private or fleet customers looking for premium levels of comfort and a sporty DNA.
"We have experienced growing demand for ever-higher specifications in recent years and expect this trend to continue. More than 50 per cent of Ford Mondeo customers in 2009 opted for high series 'Ghia' or 'Titanium' versions and there was also a high take-rate for the optional Ford Individual packs as well," said Klaus Scherzer. "With the new Mondeo we are offering even more comfort and convenience to these high series, but we have introduced a host of new benefits across the range, so there will be a Ford Mondeo to suit every taste."
The new Mondeo range begins with the Ambiente version, which delivers an impressive level of style, equipment and sophistication, including LED rear and brake lights, body-coloured door handles and door mirrors with integrated indicators, as well as a chrome surround for the upper front grille. Standard features include remote central locking, manual air-conditioning, power front windows and power adjustable and heated door mirrors, plus a multi-function steering wheel providing convenient controls for the HMI (Human Machine Interface) and infotainment electronics. In line with Ford's strong emphasis on safety, every Ford Mondeo features seven airbags, including a driver's knee airbag, plus Electronic Stability Control (ESC).
The Trend series gets additional standard equipment including fog lamps, front and rear power windows with global opening function, front and rear map reading lights and dual-zone automatic climate control. A leather covered steering wheel and gear lever knob also enhance the premium ambience of the interior.
Range-topping Ghia and Titanium versions of the new Ford Mondeo also offer additional equipment as standard and feature contrasting and themed interior treatments - Ghia offering an elegant, classic approach, with black 'Mercury' graphics, while the contemporary theme of the Titanium model is emphasised by brushed stainless-steel detailing. Both versions share key premium interior features, such as the soft-feel leather steering wheel, ambient lighting, footwell illumination, puddle lamps and an auto dimming rear view mirror, as well as cloth covered B-pillars with integrated ventilation vents. Externally both share full chrome surrounds for the side window area and both the upper and lower front grilles are finished in high gloss black, also with full chrome surround. The Titanium's contemporary approach additionally provides LED daytime running lights and Convers+ instrument cluster.
The Titanium S builds on these strengths even more to underline its sporty prowess, with a full body kit and unique honeycomb-design, 19-inch alloy wheels, sport suspension and HID Bi Xenon lamps. Inside, dedicated black Alcantara trim with contrasting red stitching, 'Carbotex' graphics and 'Ford Power' button keyless start enhance its athletic nature.
Optional "X-Packs" are also available for the two top of the range versions, combining features like Keyless Entry and Start with Bi Xenon HID headlamps and leather or Alcantara trims. The content and availability of these packs may vary by market.
Source: Ford
Gallery:
Ford Mondeo Wagon (2011)