The Tiida offers a premium-quality interior that exceeds expectations for cars of this class by making extensive use of soft materials that are combined to create an impression of luxury, without detracting from the unique texture of each material. Special care was given to the selection of high-quality seat fabrics and the quality of the stitching. Attention was also paid to tactile surfaces and softness in the instrument panel padding, door trim fabric and Tricot mesh headliner. The door and console armrests also feature soft-feel materials.
The Tiida is the first model to be fitted with Nissan's next-generation CARWINGS navigation system, which offers fastest-route search capability. This function uses past statistical traffic data and real-time VICS (Vehicle Information and Communication System) data obtained via Nissan's CARWINGS telematics service to find the fastest route to a driver's destination. A next-generation DVD-based TV/navigation system compatible with CARWINGS that incorporates Bluetooth-enabled hands-free functionality is also available as an option. Starting Oct. 1, operator-based CARWINGS services will be available 24 hours every day of the year, and all CARWINGS services will be offered free of charge for three years from the sign-up date.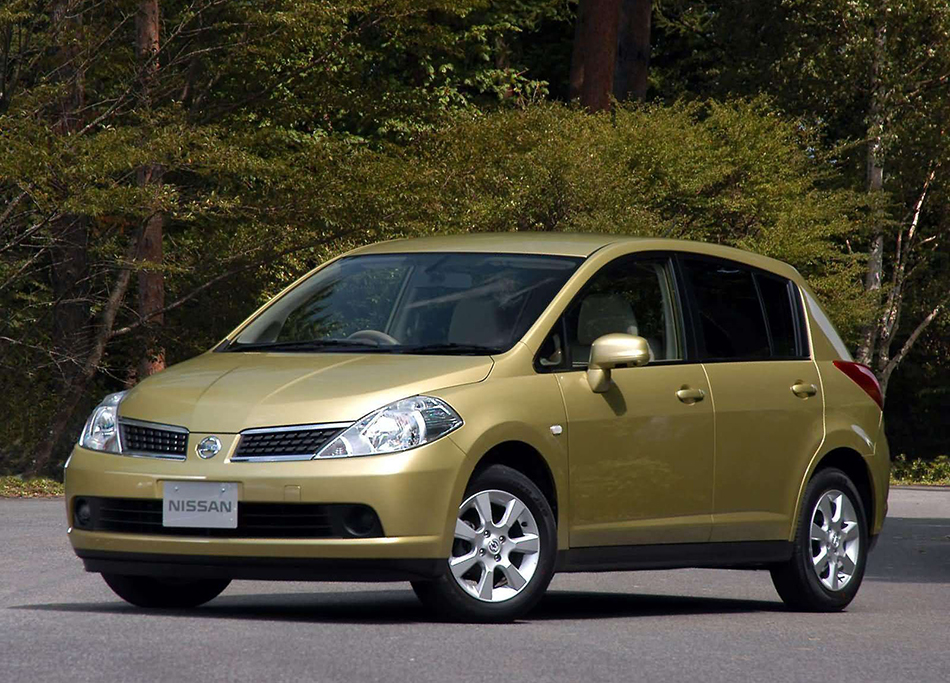 Interior roominess
The Tiida has an interior length, measured from the accelerator to the rear seat hip point, which is on par with the Cima luxury sedan.
The Tiida also features flexible rear seats that slide up to 240 mm. With the rear seats moved all the way back, the luggage area has a capacity of 289 liters (VDA). Sliding the rear seats forward 240 mm increases the capacity by more than 1.5 times to 463 liters.
First application of all-new 1.5 liter HR engine
The Tiida is fitted with the newly developed all-aluminum 1.5-liter HR engine. This advanced, in-line four-cylinder multi-valve engine offers improved fuel economy and acceleration when compared with previous engines of its size. The new all-aluminum HR15DE engine is a front intake/rear exhaust type. Steps were taken to reduce friction, improve thermal efficiency and boost charging efficiency, among other improvements, enabling the engine to deliver greater torque at low to medium speeds, operate more quietly and reduce fuel consumption.
A Tiida model fitted with a newly developed 1.8-liter inline four-cylinder engine will be released in early 2005.
The 15M and 15G models are fitted with Nissan's XTRONIC CVT (Continuously Variable Transmission) that provides quick vehicle response, smooth acceleration and improved fuel economy. The 15S and all e-4WD models are fitted with the proven E-ATx 4-speed automatic transmission.
The Tiida also features a suspension system derived from the specifications of high-end cars. A strut suspension system is used at the front, and an H-shaped torsion beam suspension is adopted at the rear. The suspension system incorporates internal rebound springs, ripple-control shock absorbers and other features normally found on high-end cars, enabling the Tiida to provide outstanding handling and stability combined with supple ride comfort.
The hardware is enclosed in a dynamic body form that achieves superior aerodynamics on a par with a sports car. With a low 0.29 drag coefficient (Cd) and zero body lift at the front, the Tiida also ranks among the best in its class in terms of aerodynamics. The result is that the Tiida delivers comfortable and enjoyable driving at all times, from everyday trips to expressway cruising and traveling on upland roads.
Certified as SU-LEV
The Tiida is certified as a SU-LEV because it emits 75% fewer emissions than the levels required by Japan's 2005 exhaust emission regulations. In addition, the Tiida's fuel economy ranks among the best in its class. Over 40 technical measures were adopted for improving fuel economy, resulting in an average improvement in practical fuel economy of more than 20% as measured under real-world driving conditions. The 2WD models are certified as achieving Japan's 2010 fuel economy standards plus an additional 5%, and the 4WD models are certified as achieving the 2010 standards. Because of this certification, both the 2WD and the 4WD models qualify for tax reductions under the Green Tax program in Japan.
Source: Nissan
Gallery:
Nissan Tiida (2004)